Best 10 Neutral Paint Colors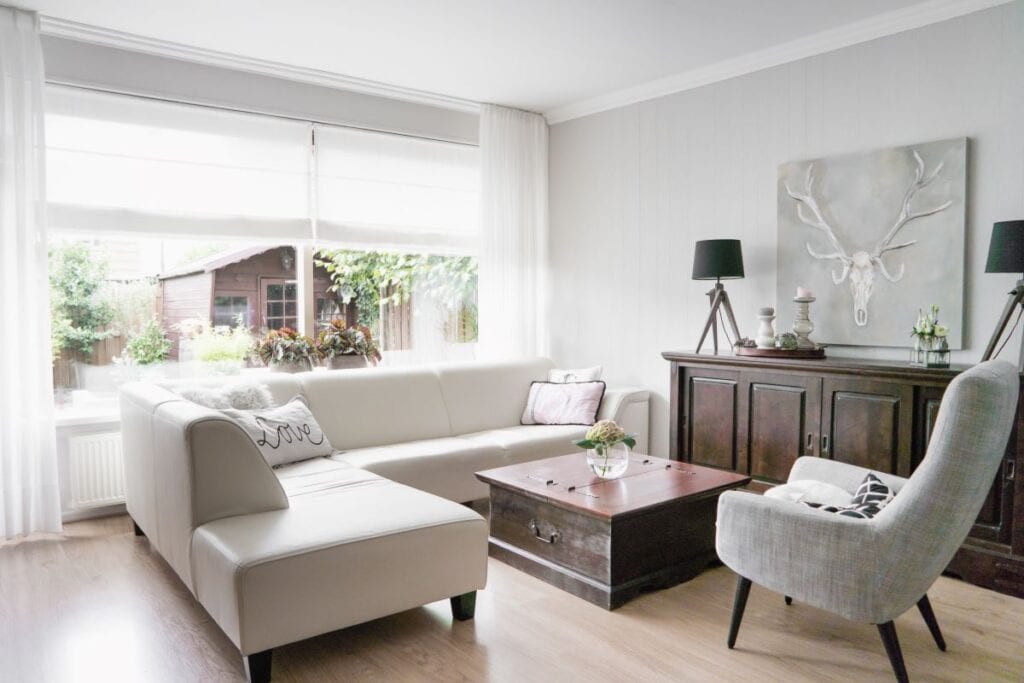 Muted colors can add sophistication to a room and, while many assume that neutral has to mean beige, there are many options that work in nearly any home and any setting. Neutral wall paint colors are timeless and provide the perfect backdrop for creative accents, whether you love clean, bright whites or deep, dark grays. 
Choosing the right neutral shade can be difficult. Even though neutral colors are typically seen as safe options, there is still a vast amount of color options; the wrong tone could throw off your look. Luckily, we're here to help.
The 10 best neutral paint colors
To help you find your favorite hue, here are our top 10 best neutral paint colors.
1. Elephant's Breath by Farrow & Ball
Farrow and Ball's flat-sheen paints are famously light-dependent. Elephant's Breath has a modern feel and will look like a different color when bathed in different lights. It can look almost lilac in rooms that get natural light in the evening, slightly beige in a south-facing room, and grayer in a north-facing room. 
Due to its changing nature, this color is universal — no doubt why it has become one of the most popular and recognizable paints on the market. Its versatility, and the fact it gives off different tones throughout the day, would be complemented well with white trim and accents. Just make sure to try a sample first and check it during different lights and times of the day.
Farrow and Ball, Elephant's Breath, No. 229
2. Revere Pewter by Benjamin Moore
A gray-beige, often referred to as "greige," Revere Pewter is one of the most popular neutral colors, often topping lists of favorite paint colors by interior designers due to its warm undertones.
Even though it's gray, it is softened by brown undertones which add warmth to a room. The luminous quality makes it suitable for a variety of rooms and looks great teamed with crisp white trims and dark wood.
Benjamin Moore, Revere Pewter, HC-172
3. Doeskin by Sherwin-Williams
This warm mauve-taupe is a firm favorite for those who want to add depth to a room while staying neutral. Beige with pale purple highlights, Doeskin's subtle pink tone is perfect for making a bedroom feel inviting. It pairs well with other neutrals like cream, gray and rich brown. The versatility of this color means you can easily update your room's style by swapping out the artwork or changing up the bed linen.
Sherwin-Williams, Doeskin, SW 6044
4. Stony Ground by Farrow & Ball
As mentioned earlier, Farrow & Ball paints tend to be chameleon-like; the colors can change depending on the light. Stony Ground can read as gray, taupe or green depending on the time of day and adds more depth to a room than a traditional off-white. It is a good bedroom color because it has an underlying red which adds warmth and creates a lovely soft beige finish. The color looks great teamed with natural woods, soft light tones and darker accents.
Farrow & Ball, Stony Ground, No. 211
5. Mocha Foam by Behr
This is a great color if you want more presence in your room than a light beige or off-white offers. Mocha is deeper and darker than a traditional beige but adds dimension to a room without making it feel too dark or oppressive. It would work well in a bedroom or living room due to its cozy hues and looks great paired with earthy colors such as greens, creams and whites. 
6. Country Whitewash by Valspar
If you love the all-white look but you're worried it will make your home feel clinical and sterile, try an off-white. Off-white adds a subtle, warm undertone to a room, making it seem less institutional than a brilliant or cooler-toned white. Country Whitewash pairs well with most colors and would be a great neutral for living rooms, kitchens or hallways. 
Valspar, Country Whitewash, 6008-1A
7. Shaker Beige by Benjamin Moore
Add a statement to your bathroom while creating soothing spa vibes. This color is a great sandy beige with a lovely orange undertone that makes it a good all-over color. Shaker Beige is great for bathrooms because it's both bright and warm, which works well against a white vanity, toilet, bath or shower. This color can also work well in a living room against stone and natural features, adding coziness to your family room.
Benjamin Moore, Shaker Beige, HC-45
8. Pale Powder by Farrow & Ball
This is another example of a neutral with a suggestion of color with lots of versatility. Pale Powder can look nearly white in large, bright spaces and more blue/green in smaller ones. The green undertones prevent this color from feeling too cold or lifeless. Try it in a bedroom or even on a ceiling to add softness to a room. There is a reason why this is one of Farrow & Ball's most popular paints. It adds a calm and relaxing feel to a room and can instantly make small spaces feel more spacious. 
Farrow & Ball, Pale Powder, No. 204
9. Swirling Smoke by PPG Paints
Swirling Smoke is a great gray option for open floor plans and can be used in the entire room or on just one wall as an accent. This shade wonderfully incorporates earthy tones like yellow and green. It can also work nicely in bedrooms if you want to invoke a feeling of calm. The soothing gray hue would be perfect for creating an inviting minimalist room, giving the sense of crisp openness. 
PPG Paints, Swirling Smoke, PPG1007-2
10. Graphic Charcoal by Behr
This dark gray injects bold and rich qualities into a room. It is modern and great for an industrial setting by adding sleek drama to walls. Use it for the bedroom, kitchen, and communal areas like hallways and entrances. For a clean and crisp finish, stick to white trims — or add oranges and yellows for a dramatic effect. The recent trend of whites-on-whites can sometimes benefit from a deeper neutral backdrop, and Graphic Charcoal is a great option. 
Behr, Graphic Charcoal, N500-6
The bottom line
Too often, neutrals are deemed boring and safe. But the best neutral paint colors can add more vibrancy and openness to a room than their bolder counterparts. Neutrals also allow you to show your personality through your trims, accents, and room accessories. 
Neutral colors also work if you are thinking of putting your house on the market. They show off your home in the best way and allow the buyer to envision their own decor inside. Whether you're looking for a bold gray or a light beige, there are so many different hues out there that it can be tricky to pick the one that works for your style and setting.