11 Refreshing Outdoor Shower Ideas For An Easy, Breezy Summer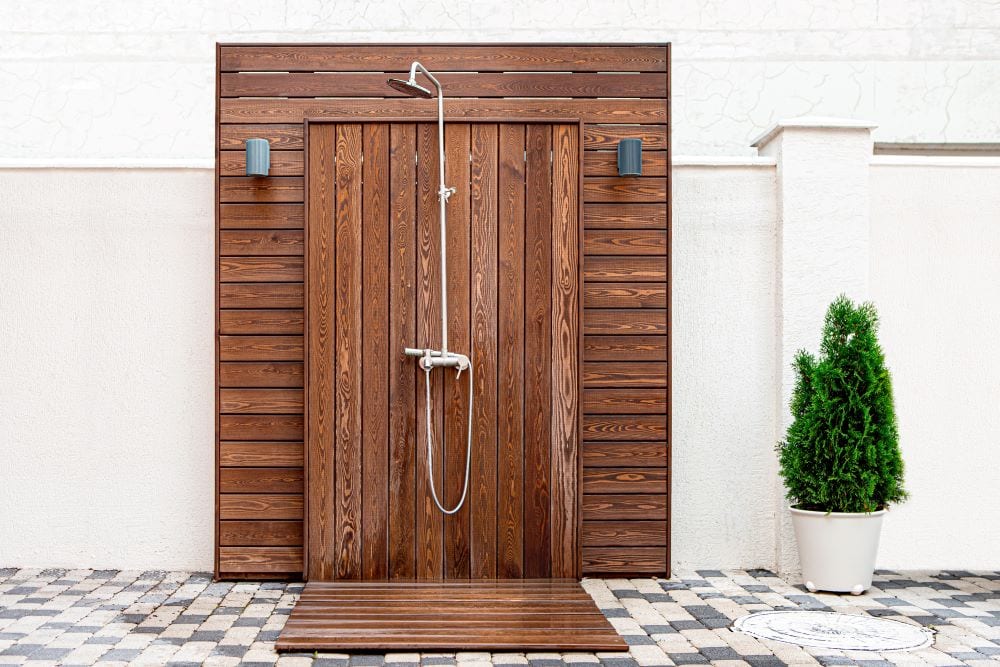 The products featured here are independently selected based on thorough research from our editorial team. If you buy something through links on our site, we may receive a commission.
Have you ever had a shower outside on a sunny, warm day? It's a great way to refresh yourself when it's hot. Plus, if you live near the beach, an outdoor shower makes it easy to rinse the sand off before going indoors. These outdoor shower ideas are an easy project that can add to your patio or yard, enhance the beauty of your landscaping, and add value to your home.
Ready-to-go outdoor showers
Adding an outdoor shower is as easy as converting a water hose or spigot into a shower. But that only offers a cold water shower, which may be all you need. Alternatively, you can call in a plumber to bring hot water to the spot. Buy one of these ready-to-go outdoor showers and you can get set up quickly and easily:
Ready to go, this shower includes the deck-like stand, shower hardware and wall shelf to hold your soaps, shampoo and hanging items.
If you prefer to have a warm water outdoor shower, this one uses solar power to heat the water supplied from your hose.
Shop This Product Now: Outdoor Solar Shower
Other outdoor shower ideas
If you really want to add lasting value to your home or condo, you'll need something more permanent. Check out these creative outdoor shower ideas that you can add to your space, large or small, to create your very own water oasis.
Here's a great way to add a designer feel to your simple outdoor shower. Create a sense of space using wood slats, stone or tile. Add a deck to help the water drain. And don't forget to landscape with water-loving plants.
When adding a simple outdoor shower, consider incorporating a bench and/or hooks for towels and other items.
For the ultimate indoor and outdoor experience, designers added a glass wall and door that leads from the bathroom to a small outdoor patio with an outdoor shower.
A panel of tiles and some landscaping give an outdoor shower a high-design look.
suchai.guai / Shutterstock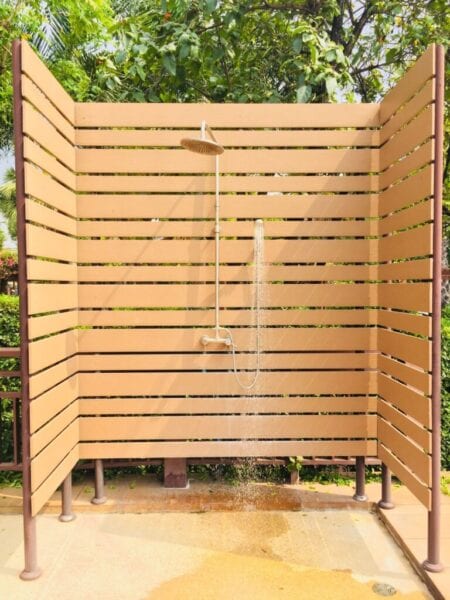 You can mount shower hardware on a wall like this simple wood fencing. Be sure to choose durable shower hardware in stainless steel.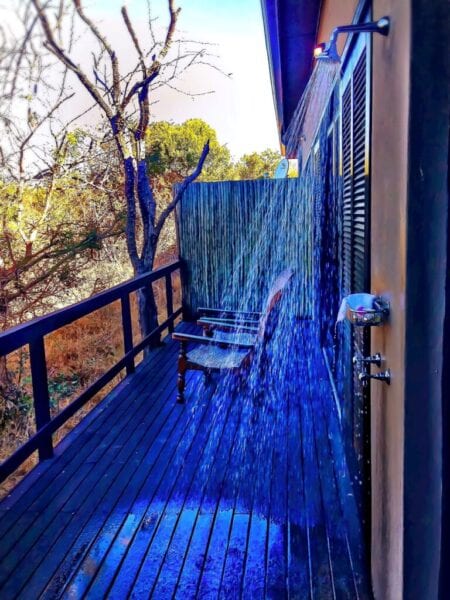 You don't need a lot of space to create a beautiful outdoor shower area. But it's helpful to add a shelf for soap or add hooks or a stool for towels and other items.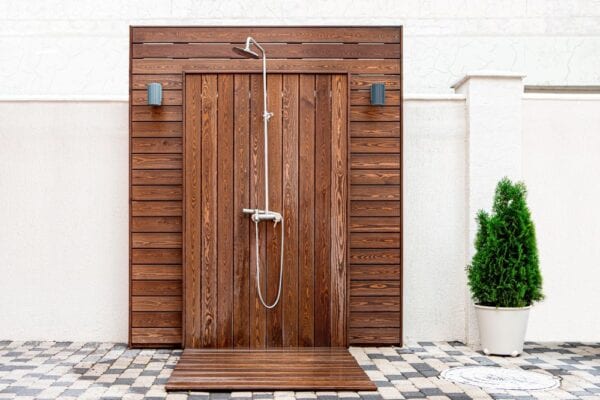 Add beauty to your outdoor shower area by finishing the space off with stone, tiles or wood deck walls.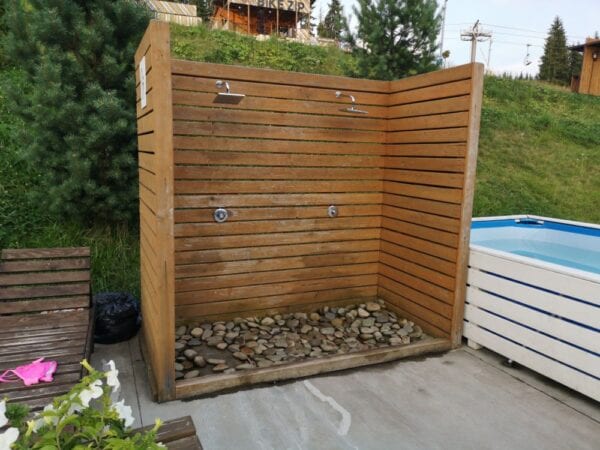 Dual rain shower heads were mounted from the wall and an enclosure was built from wood fence panels to add a bit of privacy.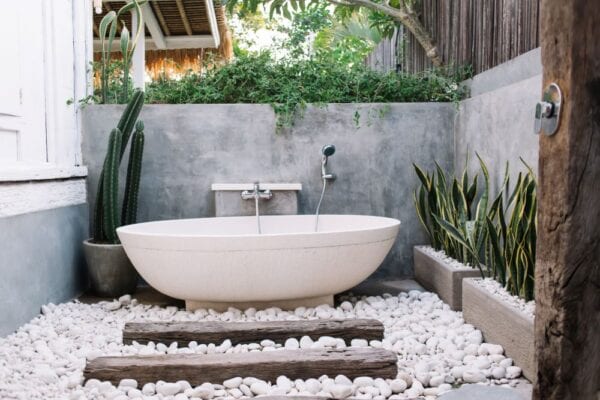 A small side patio deck is now a romantic and relaxing spot, thanks to the addition of a large tub and a large rain shower head.
What do you think of these outdoor shower ideas? Will you be adding one to your patio or backyard?