12 Ideas for Your Best Backyard Entertaining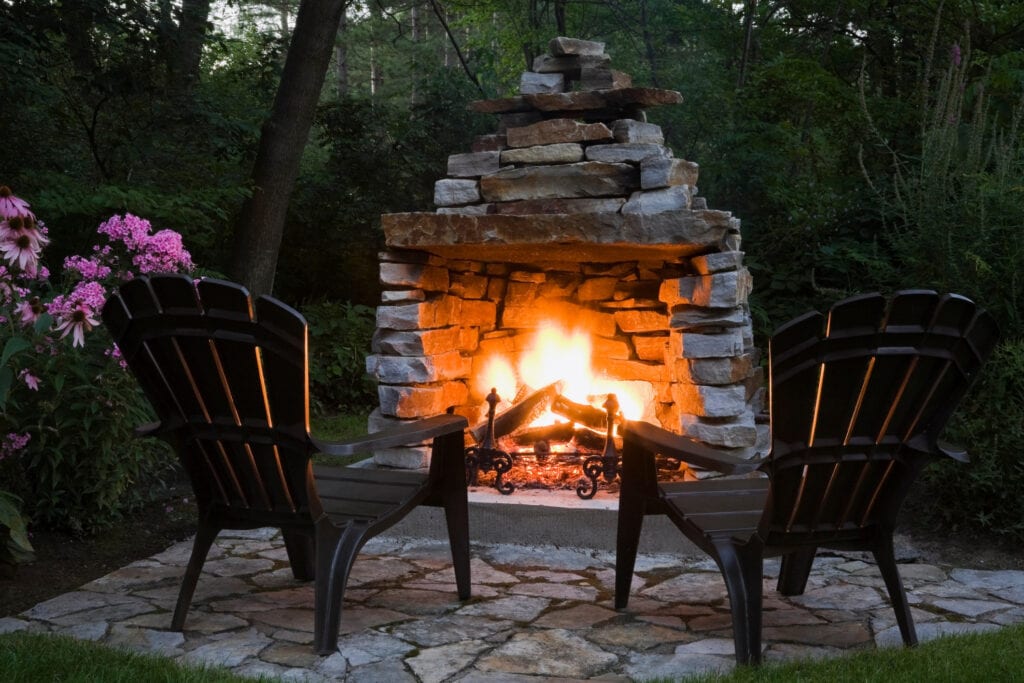 So, you have a few months of summer left. You have a backyard or patio or deck that's begging for some activity. And you have friends! It's about time you had a gathering to celebrate all of these things.
At-home entertaining can seem a bit daunting, but with just a few simple additions to your outdoor space, you can create a cozy, relaxing environment for party-goers to enjoy.
12 Ideas for Your Best Backyard Entertaining:
Light a fire
It doesn't have to be dark to get a fire going. A crackling fire warms up your backyard (aesthetically, but also literally), and there are plenty of options for fire pits. A traditional wood-burning fire pit surrounded by chairs is a backyard classic, but you could also skip the smoke with a gas pit. For those low on space, tiki torches or more modern fire heater are also excellent options for backyard entertaining ambiance.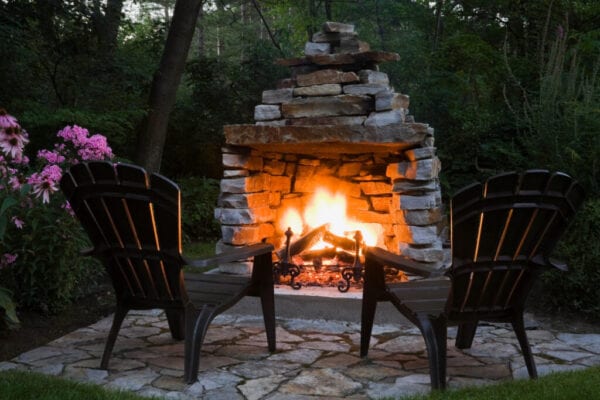 Perry Mastrovito / Getty Images
Throw down a rug
Outdoor carpet defines the entertaining space, warms up the environment, and as an added bonus, gives the littlest ones a place to play. Grab a fun color or print and throw it under the dining table, or create a faux-living room setting by placing it with chairs and poufs.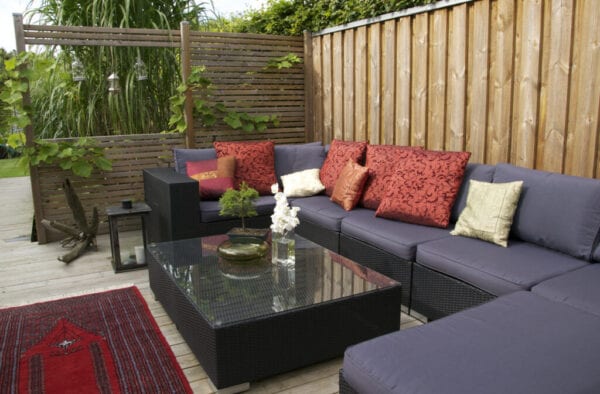 Eirasophie / Getty Images
String together mood lighting
String lights can transform a backyard and create cozy spaces on patios and under trees. Skip the Christmas lights and use bigger-bulbs for a more sophisticated, warm look.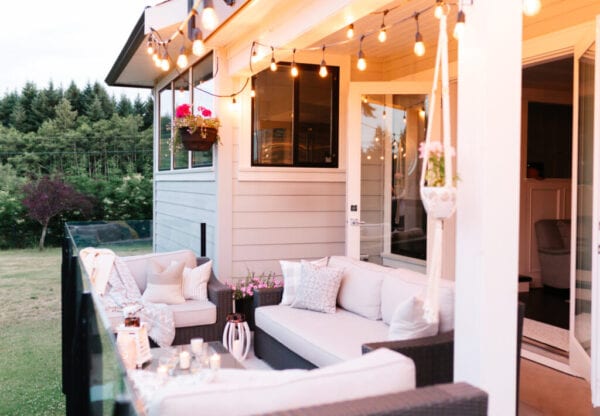 Cavan Images / Getty Images
Seat everyone together
For dinner parties, we love the aesthetic and convenience of seating everyone at a long table. The meal and conversation are easily shared in this family-style setting. Need to string together a few tables? Grab a tablecloth or two (no plastic, please) and your guests will be none-the-wiser as they gather around your new table.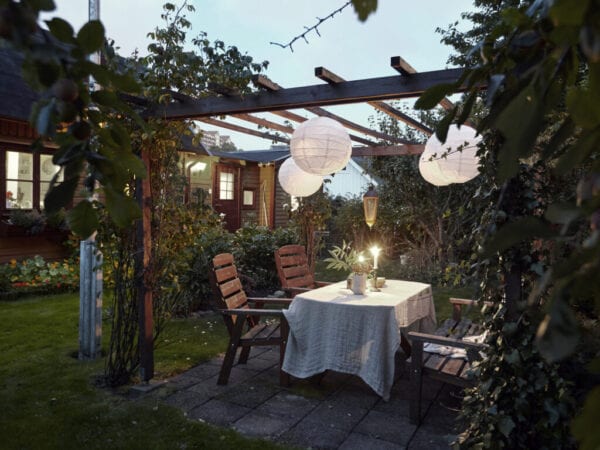 Johner Images / Getty Images
Switch up the casual seating
Not everyone wants to stand the entire evening, so having a variety of seating options keeps everyone comfortable while helping you designate separate entertainment spaces in your backyard. Grab seating from indoors that can do double duty — piano benches, poufs, dining room chairs make great additions to the classic lawn and camping chairs.
Don't be afraid to mix and match at the table, as well. A collection of chairs creates an eclectic look and gives guests an easier way to pick where to sit down.
Tune in
Music relieves you of awkward silence, and dulls out any crying babies or barking dogs next door. Set a playlist at the beginning of the party and then forget about it. Go for crowd-pleaser classics: the Rolling Stones, the Eagles, a little Tom Petty. And remember to respect your neighbors and keep the volume set as background music — you don't want to be the reason babies are crying and dogs are barking, either.
Up your game(s)
Games give guests something to do and will easily start the conversation (and competition) between new acquaintances. Backyard bocce is always a hit — so long as it doesn't hit anything else. Cornhole is a tried-and-true favorite, and you'll get bonus points if you DIY your own boards. And if you have the space, you're sure to have a real competition ensuing on a backyard badminton court.
Super low on space? Fearful of a stray bocce ball finding your kitchen window? Break out the board games! Easy card games and classic board games are a great thing to have laying out on the table before or after the meal.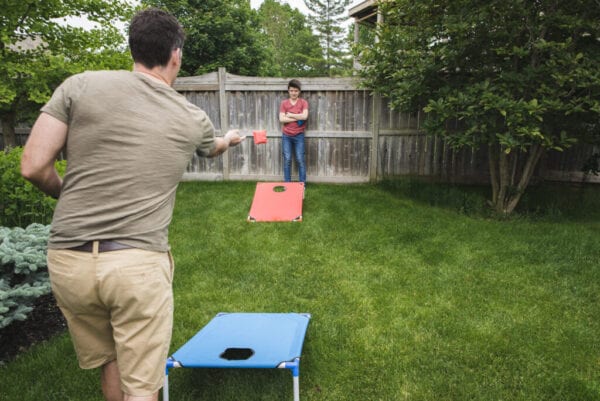 Cavan Images / Getty Images
Bundle up with blankets
Cold guests go home. Having a few wool blankets on hand is the perfect way to keep guests going as the temperature tapers off. Throw them in a basket, stack them on a chair or hang them from hooks up against your fence and get ready for your party to continue past the setting sun.
Make drinks easy to find
Guests should have easy access to whatever drinks you're serving, whether in an open cooler or drink dispensers. No one wants to have to ask the host where to get a water. Or, a not-water. Weddings do this best of all when it comes to creative storage ideas, so take a look at Pinterest for inspiration like bathtubs, wheelbarrows and more.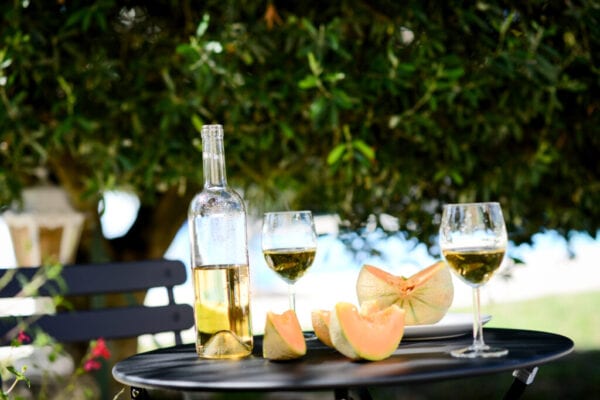 Jean-philippe WALLET / Getty Images
Put up a projector
Whether it's a true projector screen or a white sheet strung up, a backyard projector screen is a fun and impressive way to entertain your guests. Whether it's with a rolling slideshow they can tune in and out of all night, or a full-fledged movie night, there's something wonderful and memorable about gathering up before a screen under the stars. Just add popcorn!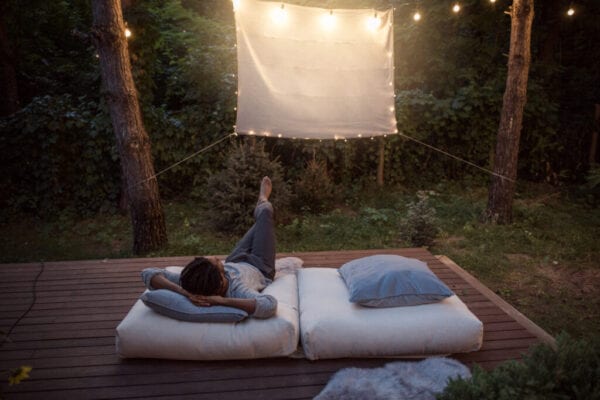 svetikd / Getty Images
Prepare food ahead of time
You want to enjoy your guests once they arrive instead of scrambling in the kitchen to finish the food. Choose a menu that can be mostly prepared ahead of time and have simple snacks on hand while you finish up cooking.
Hang a banner
Not sure how much decorating to do? Skip the streamers and balloons and adorn your backyard with a simple banner that is sure to have everyone oohing and ahhing. Whether it's a compliment to the theme of your gathering (Happy Birthday! Bon Voyage! Congrats!) or just a sweet sentiment (Welcome! What A Night!), they're sure to wow your guests and dress up the backyard fence.
Feeling inspired to host your own gathering? We'd love to hear from you in the comments section or on sial media!