6 Hacks to Maximize Space in Your Small Laundry Room
If you've ever lived in an apartment that had off-site laundry, you know that having a washer and dryer inside your home is a huge bonus. Even the tiniest laundry space is a complete game changer for people who've been hoarding their quarters for the local laundromat. That said, the novelty of in-unit laundry can wear off pretty quickly if you have a small laundry room. Confined laundry space doesn't seem capable of handling all the dirty clothes, lint piles and detergent drips. Sure, it's better than hauling your soiled clothes up the block, but a small laundry room still makes this chore – well, a real chore.You don't have to suffer in your tiny space. With a few tips and tricks, you can transform your cramped clothes-cleaning quarters. Making the most of every nook and cranny frees up precious inches, helping you create room to breathe in your laundry room. Here are six hacks to maximize space in your small laundry room.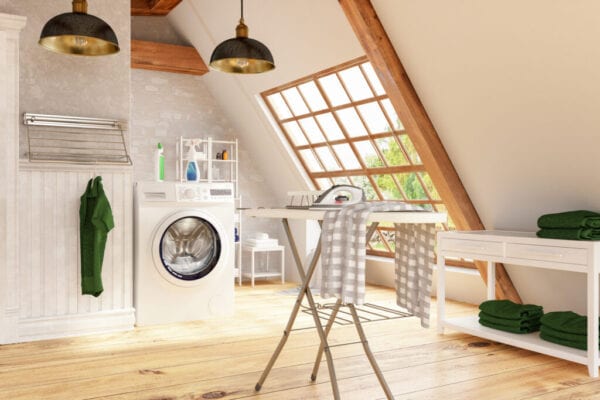 asbe / Getty Images
Hang it out to dry
One of the biggest frustrations in having a small laundry room is dealing with clothes that need to air dry. Do you move them all to your shower curtain rod and temporarily convert your bathroom to a drying chamber? Do you add a clothing line to your outdoor space – if you're lucky enough to have one? These are options, albeit somewhat risky ones. Fortunately, there are ways to add a drying area to your small laundry room without taking up much room. A simple rod installed at the bottom of a cabinet or, if you want to get really fancy, a pull-out drying rack can solve your air-dry woes.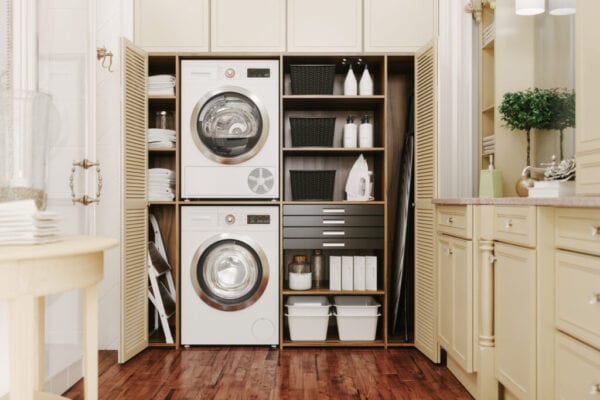 imaginima / Getty Images
Take the straight and narrow
Don't waste any inch of space in your small laundry room. If you've got a narrow nook for your washer and dryer, you probably have them centered in it. If you pushed them to one side, you may be able to free up just enough space for a narrow bookshelf or slide-out cart. These provide ample storage space for softener and detergent bottles.
gerenme / Getty Images
Extend shelf life
If you have front-loading machines, the area on top of your washer and dryer can become a sad space that gathers lint. But, with very little work, it can be a useful surface. Install a shelf across the tops of your machines to create an area for folding, organizing your detergent or even putting a vase of flowers. You never thought you had room in your laundry room – until now! A butcher block is a great option for a solid, laundry-friendly surface that fits right on top of your washer and dryer.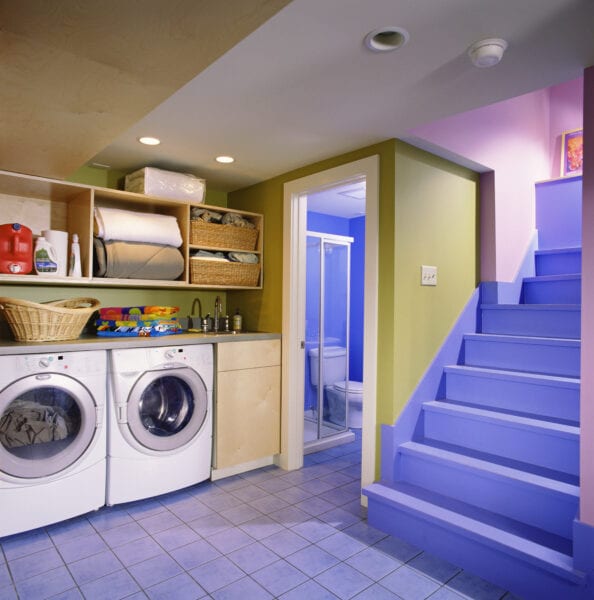 Andrea Rugg / Getty Images
Level up (your washer and dryer)
Alternatively (or even additionally, if you've got high ceilings), you can maximize the space underneath your washer and dryer. Lofting them even a foot or two off the ground creates a perfect cubby for dirty laundry. If you keep your unclean clothes somewhere else (as most of us do when we have limited laundry room space), those open spaces can store detergent, dryer sheets, a small bin for single socks and whatever else you need in order to tackle this recurring chore.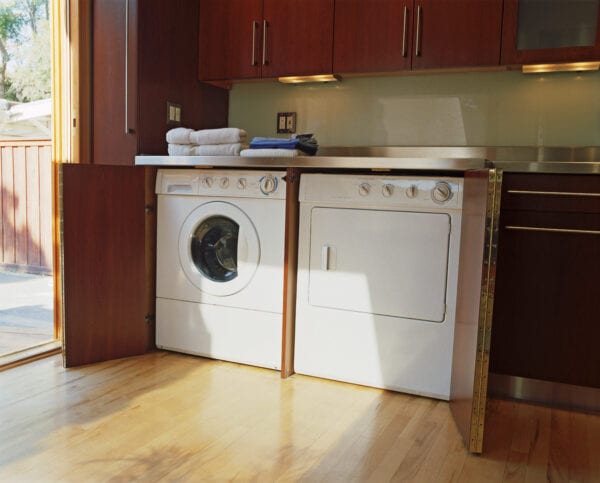 Schmelzer / Getty Images
Iron in your ironing board
If you have a compact laundry area, it might feel like a good idea to store your ironing board somewhere else. But then you have to find additional space in which to store it. You don't have to leave it in the guest closet until it topples out onto an unsuspecting visitor. Consider a pull-out or pull-down ironing board in your laundry area. Once you install the mechanism and attach the board, it takes up minimal space.
Think outside the box
Who says your laundry room has to be indoors? If you're frustrated with your small laundry room, consider moving it to the garage or another covered outdoor space. You could even install a shed next to water hookups to create a spacious laundry area while simultaneously freeing up square footage in your home or apartment.
More small laundry room ideas
If you're looking for more ways to amp up your small laundry room, check out these three tips or this roundup of 10 creative laundry room ideas. Or, if you're ready to really start from scratch, use this guide to laying out the most efficient laundry room possible.Do you havany other laundry room hacks we should know about?