12 Whimsical Ways We Add Color to a Kids Room
When decorating a kids room, obnoxiously colored walls don't have to be your first step.In fact, we believe that keeping walls white or gray and adding in smaller bits of color gives you even more possibilities to make a kids room creative and playful. That, and it will keep you from repainting when they outgrow lime green or Barbie pink walls in three years. Trust us.When it comes to finding colorful accents, first consider what your child already has. Children's books and stuffed animals are often fun colors, so put them in a place that doubles as decor. Wall decals, bedding, and rugs all can add color and pattern to a kids room, but can be easily changed with age.
Here are 12 ideas for a neutral-based kids room: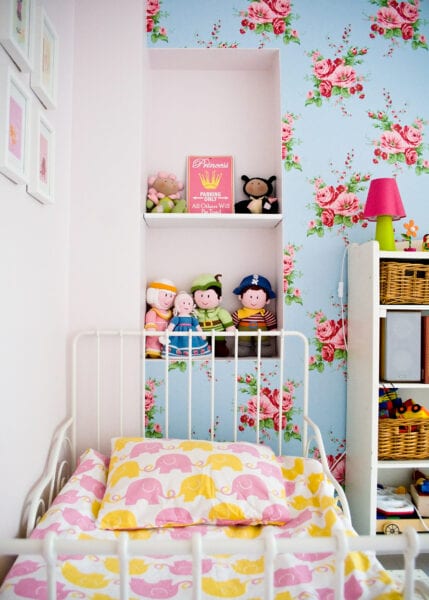 Soderberg / Getty Images
Bright Books
This kids room comes to life with shelving that showcases a children's book collection. This makes the books easier to access, looks organized, and the covers add bright colors to an otherwise neutral room. Once the kids are grown, swapping out the toys and books for other accent pieces is simple.
Removable Wallpaper
This pick of removable wallpaper adds a bit of whimsy but looks adult enough to redecorate the room for a growing girl.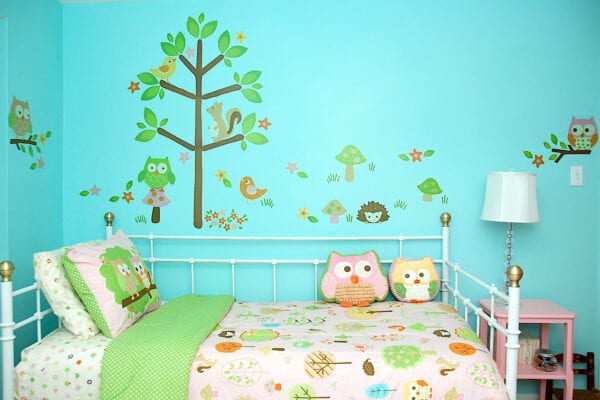 Melissa Ross / Getty Images
Vibrant Furniture and Accessories
This bedframe is a funky statement piece that says "big girl" without saying "too big". A decal, a floral pillow, and touches of color make this kids room sweet and simple.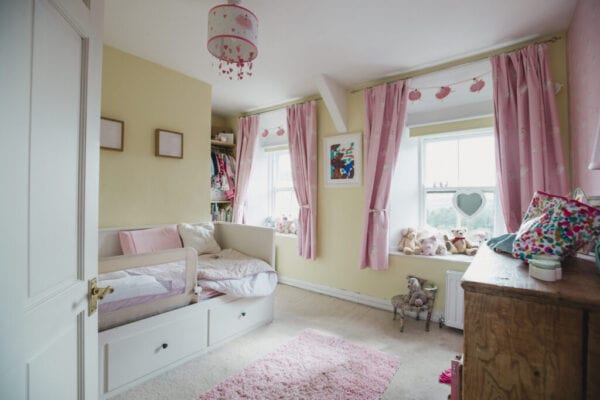 SolStock / Getty Images
Perfectly Patterned
The collection of children's books and mixing of patterns on this bed compliment the cool tones in the rest of the kids room, leading to a youthful-yet-sophisticated style.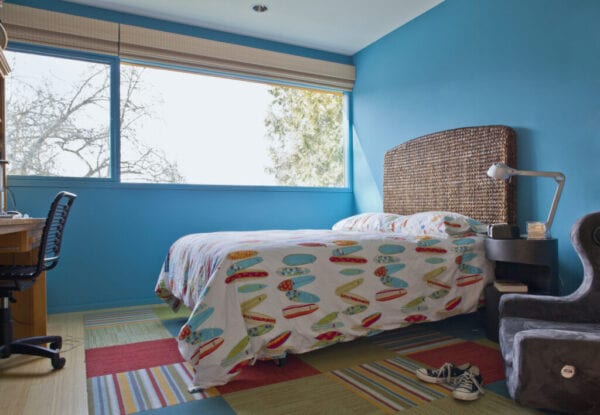 Mint Images / Getty Images
Shaped Up
The accents of triangles, stripes, and circles in this room add interest and playfulness to this Scandinavian space.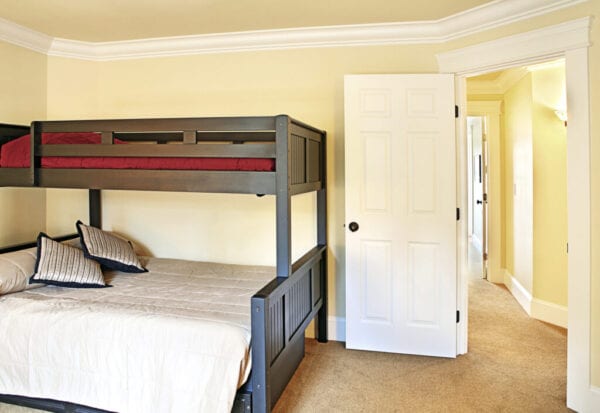 Mint Images / Getty Images
Room for Three
When three's company, the room needs to be good. Platform and lofted beds save space and look simple, leaving accent pieces such as books and pillows to create the kid-vibes.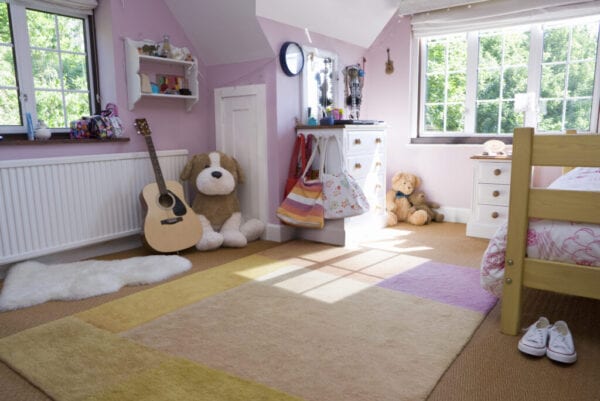 Turner / Getty Images
Touches of Love
Tiny bits of red go a long way in this bedroom. Every accent piece is dainty and adds a tiny bit of color. Except the bear.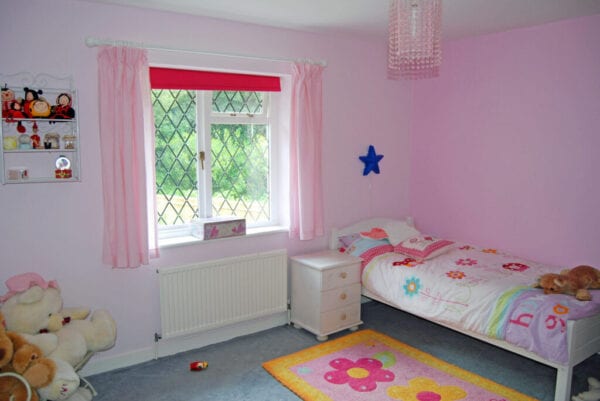 Vos-Arnold / Getty Images
Patterned Pink
Though the walls are neutral, this room is packed with colors and patterns that pop. Even teenage girls wouldn't mind sharing this room.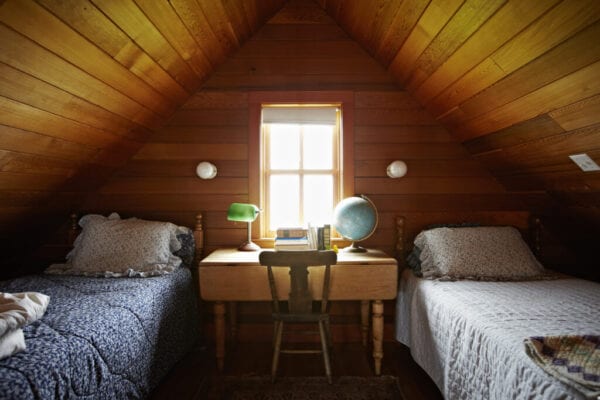 Barwick / Getty Images
Cottage-Styled Bedroom
So many sweet accent pieces in this room, but we love the ombre dresser, bed pillows, and pompom rug.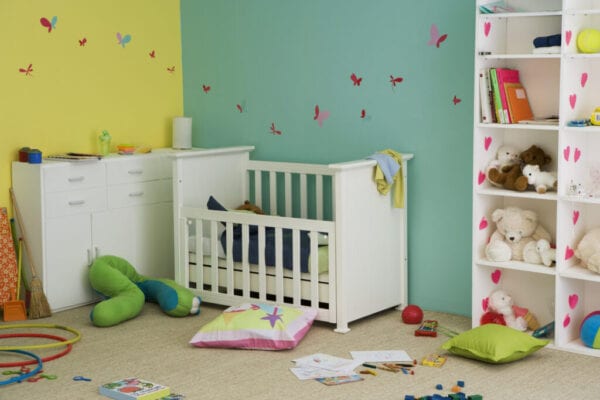 PhotoAlto / Getty Images
3D Butterfly Collage
A little overwhelming, but amazingly beautiful. These butterflies stick onto walls like decals. Meaning they look great on, but come off without a fight.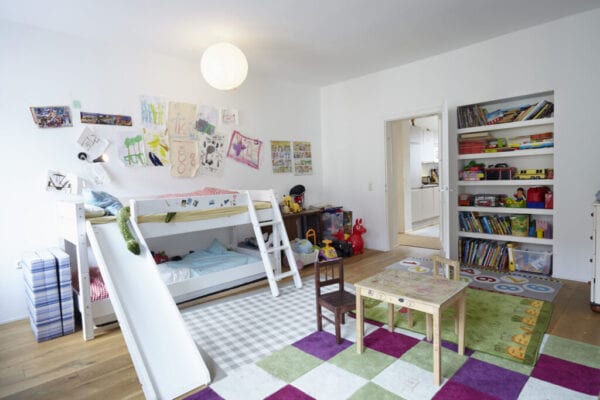 Westend61 / Getty Images
Stuffed Shelves
Stuffed animals and brightly colored book spines add youthfulness to a contemporary bedroom.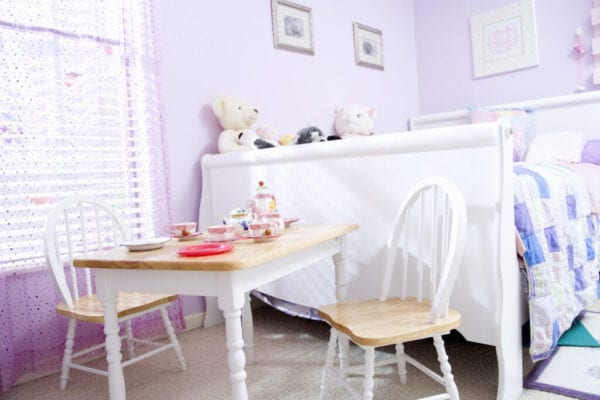 Aossey / Getty Images
Positively Pink
Pink and teal go together like peanut butter and jelly. We can't even single out a favorite part of this girly space.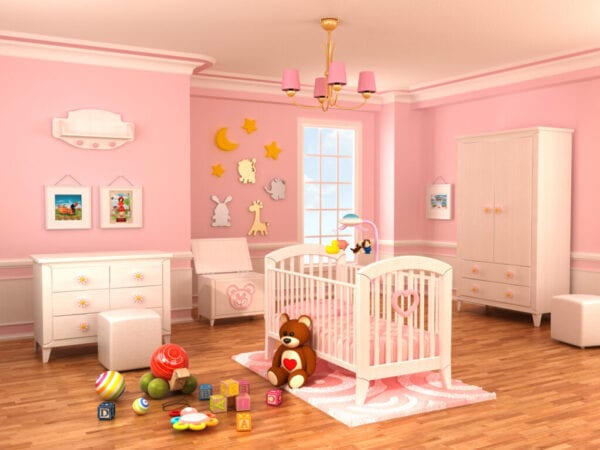 Adventtr / Getty Images
Nature-Loving Nursery
The eye is immediately drawn to the silhouetted pine tree decals, but the rustic accents in the rest of this nursery (like the unique crib textiles) make it feel like a modern cabin.