How to Light Your Hallway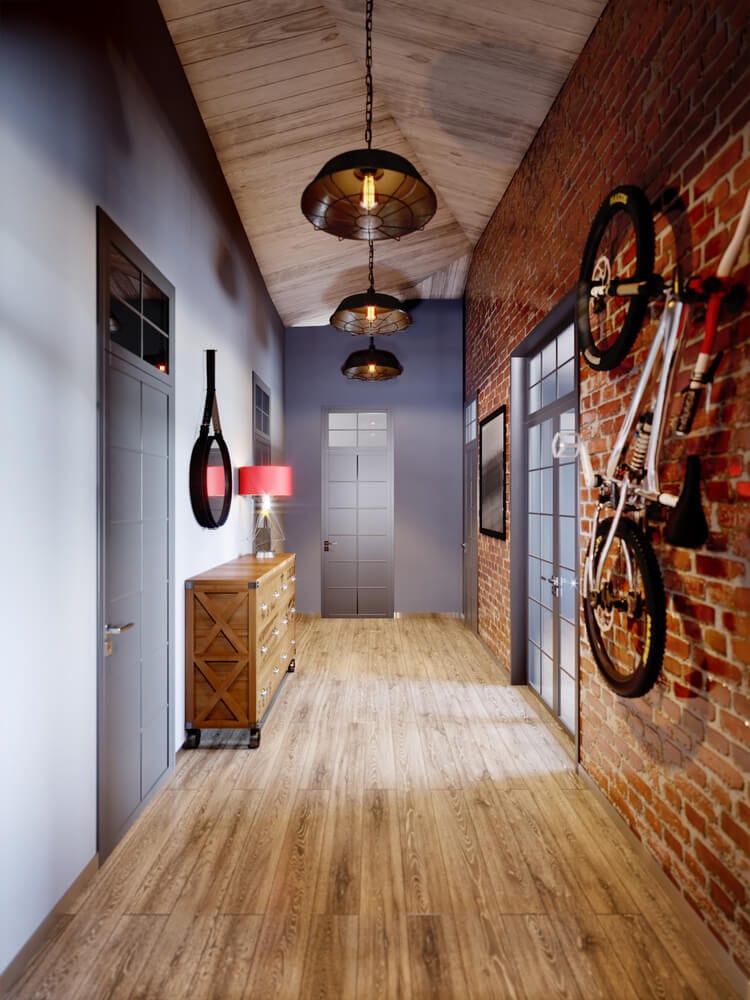 Shop These Products Now: Wooden Flooring – Brick Wallpaper

Lighting is important. Interior designers, real estate agents and staging pros will all tell you it's true. If you want your home or apartment to feel inviting, it needs to be well lit. That's pretty straightforward in most of your home. You put a lamp on your nightstand. You hang a pendant above your dining table. But what about the smaller, trickier spaces? Specifically, how do you light your hallway well?

[deals-hub-ad]

Because hallways are so narrow, they present two problems. First, the minimal available floor space necessitates a certain kind of light. And, of course, it's the harder type of light. You can't simply place a lamp here. When you need to light your hallway but keep walkways clear, mounted lighting is your only option.

The other hallway lighting challenge results, again, from the hallway's narrow design, which can make it feel claustrophobic. Your hallway needs to be thoroughly and brightly lit. Otherwise, it risks feeling too confined.

But don't worry. There are solutions to both of these problems. The need for maximal free floor space might force your hand in choosing certain types of lighting, but there are still plenty of good options available. And you can easily fend off that claustrophobic feeling by mounting lights at strategically placed locations throughout your hallway. Use this guide to get all the details you need to light your hallway beautifully.

Shop These Products Now: Flooring Tiles – Planter Basket
Choosing your lighting
Most hallways are designed to be wide enough to allow a single person to move through them comfortably — and not much else. If your hallway is wide enough to accommodate a console table, count yourself lucky. For those of us with hallways that need every available inch of width to feel comfortable, wall- or ceiling-mounted lighting is the way to go. With these options, you keep the walkways open but can still wash your hallway in a warm and inviting glow.
Pendant lighting
Pendant lights can make a statement in your hallway. Find one that really catches your eye and hang it to transform what would have been a very forgettable space. Pendant lighting is best for hallways with high ceilings. Otherwise, a low hanging fixture could induce that sense of claustrophobia you're trying so hard to avoid.
Wall sconces
You don't necessarily have to rig something to your ceiling to light your hallway. Sconces can help you provide ample lighting without ever needing to pull out more than a step stool to change the bulb. This type of lighting is best for wider hallways, though, since the sconces will protrude from the walls, encroaching on the space of your hallway walkers.
Shop These Products Now: Console Storage Table – Ceiling Light
Can lighting
Sometimes the simple solution is the right one. Can lighting is an easy and effective way to light your hallways. Since the fixtures themselves will probably go largely unnoticed, this lighting style works with virtually any home style.
Track lighting
If you want to add an architectural feel and give yourself highly customizable lighting, track lighting delivers. This style is ideal for industrial and contemporary spaces.
Mixed lighting
Who says you can't have it all? You can mix and match these lighting types to find the ideal way to light your hallway.
Shop These Products Now: Wooden Flooring – Wall Sconce
Placing your lights
Now that you've chosen your light style, you need to make sure you have enough of the light itself to make your hallway feel sufficiently lit. Here are a few quick and easy tips to help:
Place lights every eight feet, at least. Smaller lights with lower-wattage bulbs should be placed more frequently.
Draw the eye down the hallway by placing a light close to either end.
If you're choosing sconces, place them high on the wall to draw the eye up and make the space feel open. Otherwise, you risk that whole medieval, torch-on-the-wall-of-a-castle vibe.
Stand at both ends of the hall and check for dark spots. Make sure the light stays consistent and doesn't dip in brightness between light fixtures. Brighten shadowed parts of the hallway as needed to keep the space feeling open and inviting.
That's it! You're now ready to light your hallway like a total champ. And, sure, your guests may never notice what a great job you did. But they'll also never feel like they're traversing through a cavern when they're walking down your hl.