15 Gorgeous Desk Designs for any Office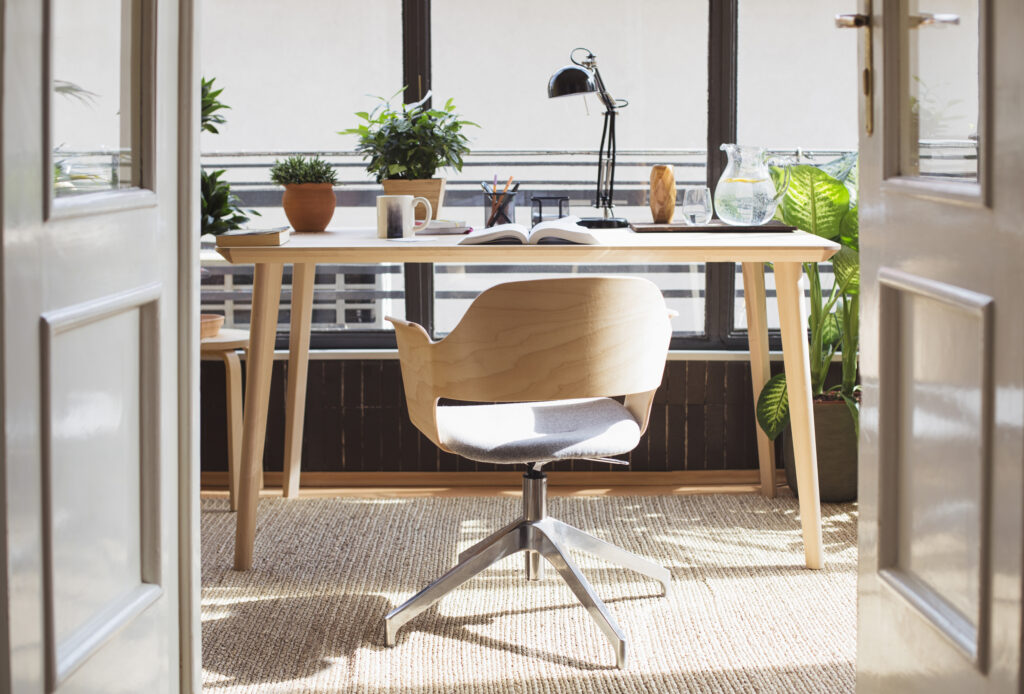 There are many good furniture designs, a lot of different materials that compose a beautiful desk. Some of them save space in the room because a designer created a functional design that would not only deal with your problem of having too little room for a desk but also look incredible in that small space. Some of the desks are suited only for large rooms that accentuate their gorgeous shape.
And then there are those desks that can transform from a small, one-man workstation to a large, conferential table. It all depends on your taste and needs, so enjoy the next 42 desk designs that we fell in love with. Also if you need more inspiration for your office you should check : 5 Creative Home Office Ideas: Working from Home in Style
1. The Covet Desk
This is one of the best desk designs when it comes to storage space. The Covet Desk by Shin Azumi holds stacks of paper and files in a neat compartment under the desk, helping you clear all the clutter on the desks` surface. Even if underneath the desk there are files and folders, this is not an impediment for a comfortable seating experience.
2. The Reindeer Desk
Gracefully resembling the shape of a deer, the Reindeer Desk by Alex Kozynets inspires purity and dynamicity. The white desk explores the form of a reindeer`s silhouette and offers a beautiful, contemporary alternative to an usual desk. An art form in itself, this desk offers a place for creating, writing or reading.
3. The Duplex Workspace Desk
Designer Sophie Kirkpatrick found a solution to crowded spaces with no intimacy in the form of this Duplex Workspace Desk. A hooded desk is perfect for those times when you need to concentrate on your work with no disturbance from other people. Having an ash veneered surface and hood and solid ash turned legs, the desk is a beautiful working space that will ensure your privacy.
4. The WD Desk
Elena Rurua presented this sleek desk in two versions: white and black with a swirl pattern on one side. Simple, clean lines make this desk perfect for a modern office or home office. The desk features a small platform underneath that can hold files or even a box with brick-a-bracks.
5. The Treasury Table
This is a special desk – it`s equipped with different sized drawers (from small to A2 format) and a translucent mat surfaced glass desk that keeps your things hidden underneath. Designers from Process created this versatile desk to be used in many situations: it can be a desk or a working station or even a place to keep tools in the garage.
6. The Wave Desk
Robert Brou, designer and craftsman, created the undulating Wave Desk with the help of a new technique of slicing the wood. Two towers of sliced wood support a large poplar surface. Drawers and a pull out work surface were built in the design.
7. The Villa Rose Desk
Designer Francois Azambourg created this black-stained solid oak desk with minimalist lines. Beautiful features like the single solid walnut storage niche and the hand-veneered edges of the legs speak about the need to minimize materials while maximizing the design.
8. The Max Ingrand Desk
French designer and artist Max Ingrand created this combination of art and functional design back in 1966. Still looking modern, the Max Ingrand Desk consists of a single continuous form bended into a whole seat-inclusive workstation. The stainless steel from which it was made gives it an industrial-chic look and places this desk ahead of its time.
9. The Luna Desk
The next stylish and contemporary desk from Italian company Uffix, named Luna, is an interesting concept with futuristic lines and a courageous approach to desk design. Luna is a desk that, due to its design, can be placed in the middle of the room and impress anyone with its design.
10. The Life Desk
This desk was born out of the desire to minimize the danger of hiding under a desk during an earthquake. Designer Haishan Deng wanted to create a desk based on the "Triangle of Life" principle that would be able to protect people in case of an earthquake. Made from high strength steel and nylon board, it also has a side structure made from molten steel.
11. Le Orchidee Desk
Astonishing in every detail, Marc Fish`s Le Orchidee Desk was inspired by a desk with the same name from Musee d`Orsay. What seems to be a seamless tambour roll top is actually made from veneered canvas layered upon strips of wood.
12. The Kkanapetko Desk
A desk that transforms from a tiny working surface into a two or three person workstation. Versatility stands at the base of this design by Krassi Dimitrov. With 3 drawers on either side, a drawer for printer/scanner, extendable cable and stereo speakers to connect your music players, the KKanapetko Desk unfolds for more work space and has cool features that make it awesome.
13. The Track Desk
Based on an open framed ash structure that provides support for various folded steel doors, shelves and surfaces, the Track Desk designed by Mark Holmes is a contemporary desk that gives a playful vibe. The designer says: "The idea of folded metal shelves and doors backed with felt, sliding smoothly over the bars of an open timber frame seemed a delightfully simple solution."
14. The Airia Desk
This design created by Kaiju Studios has a beautiful shape, perfect for any room, even a teen room: "The desk features a primary work surface and an elevated rear peripheral surface, which encloses a space for cable management. In the large central drawer are three removable cork-lined trays." The white legs contrast with the wooden surface to give it a contemporary look.
15. The OneLessDesk
A simple, yet highly functional desk created by Heckler Design offers an interesting new way to look at furniture design. The OneLessDesk is part of the OneLessOffice suite of products and is based on the idea that you don`t need as much space as you used to when technology was not this advanced. Just pop it under for more space in the room!