Do's and Don'ts of Finishing a Basement and Creating the Perfect Bonus Space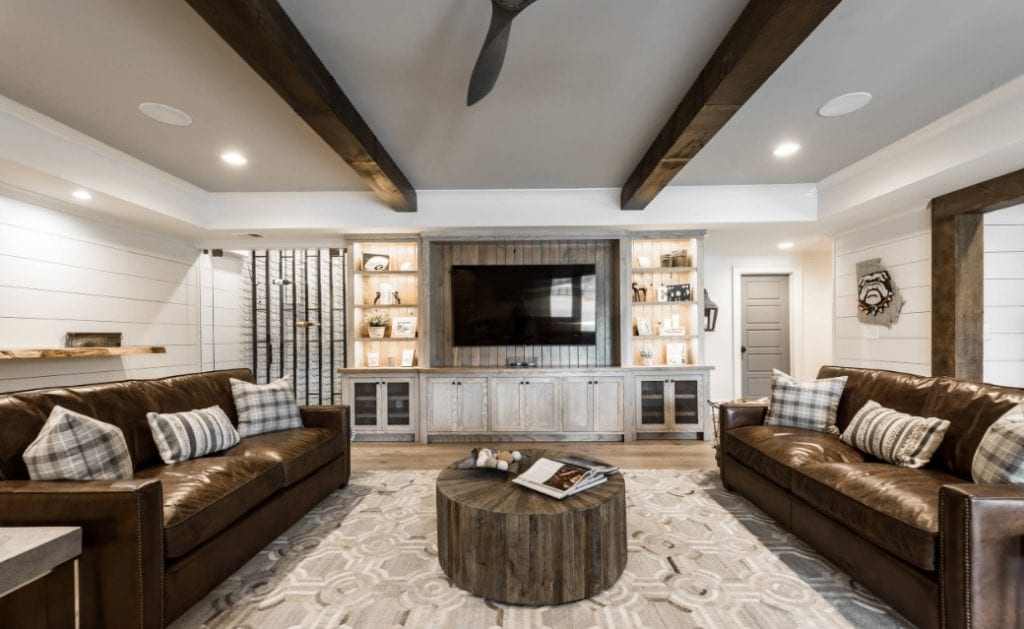 We hope you like the products we recommend. Just so you are aware, Freshome may collect a share of sales from the links on this page.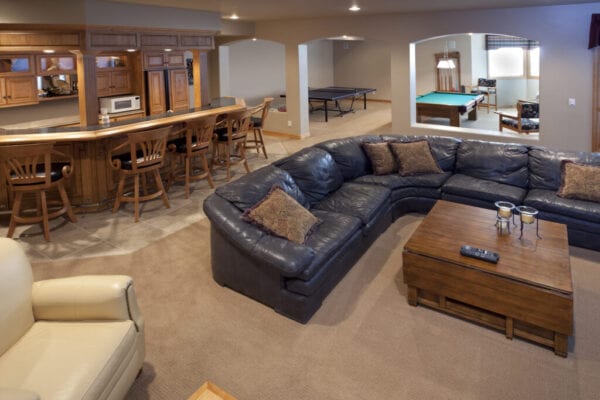 JamesBrey / Getty Images
Finishing a basement feels like the ultimate goal for many homeowners. Not only is it a chance to add some more — probably much needed — living space to your home, but it allows you the rare opportunity to design a room from the ground up. Working with that much flexibility can often feel overwhelming, especially if you're dealing with it for the first time.If you're ready to finish your basement, but aren't quite sure where to start, this post is for you. We've outlined all the do's and don'ts you need to know to tackle this project from start to finish. Use this as a guide to creating a bonus space that works for you.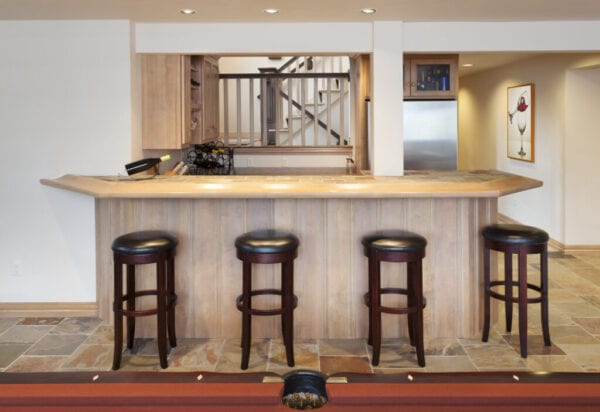 JamesBrey / Getty Images
DO: Consider utility first
Remember that even though you'll be taking your basement to the next level, it still needs to be a highly utilitarian area. Whether you currently use the space for storage, laundry facilities, a home office or some combination of all three, you want your new design to enhance that functionality rather than take away from it.As you consider your new layout, there are three key rules to keep in mind. They are:
Wall off any areas that need extra privacy.
Leave the area around your water heater unfinished in case of leaks.
Keep your plumbing in place whenever possible to cut down on cost.
Beyond that, the sky is the limit. Before you get started on your project, think about all the ways you're hoping to use your finished basement. Maybe you've been thinking about adding a guest bedroom or another powder room or maybe there's some wasted space that can take on a new purpose.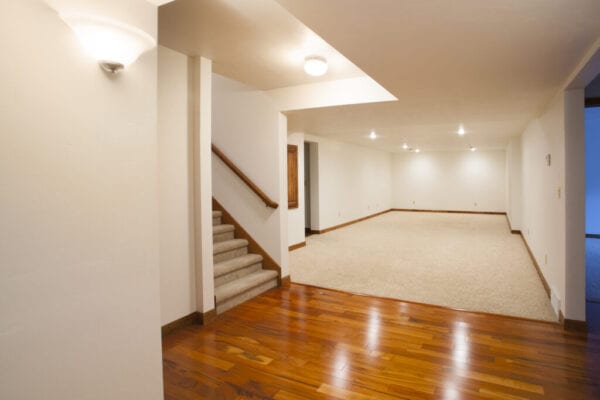 JamesBrey / Getty Images
DON'T: Underestimate the construction
Finishing a basement is different than the other design projects we've covered because, in this case, you're starting from scratch. While that does give you more freedom to customize the space as you see fit, there's also more legwork to be done in the beginning to ensure it stays warm and dry.Unless you have a true background in construction, this is one area where we truly recommend hiring a contractor. Shoring up any foundation cracks and framing around your existing ductwork are projects best left to the pros. No one wants to see their hard work dampened by an errant rainstorm or frigid temperatures.Before you sign any contracts, make sure the team your hire has the skills to take on your unique vision. Select someone who is familiar with the permitting and zoning regulations in your municipality and, if possible, bring in specialists to handle any necessary plumbing and electrical work.
phototropic / Getty Images
DO: Master the art of open-concept spaces
Most finished basements tend to involve some sort of open-concept arrangement. With that in mind, it's vital to know how to construct these spaces in the right manner.Start by creating distinct groupings based on how you want to use the space. Maybe you have a TV area in mind, a dining table or a play area for the kids. Regardless of which groupings you're creating, you want to ground it with its own light fixture, as seen in the picture above. If appropriate, don't hesitate to add an area rug as well.Then, be sure to leave plenty of negative space between each segment you've created. Not only will this ensure there is plenty of space to walk around, it will also help visually separate these areas so they don't seem overwhelming to the eye.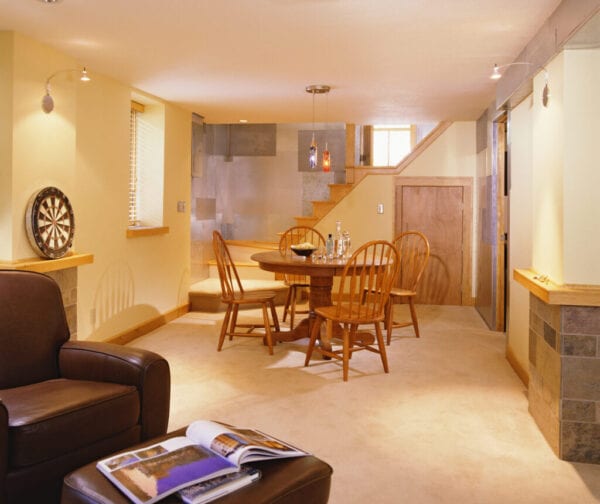 Andrea Rugg / Getty Images
DON'T: Discount aesthetics
Finished basements have a long history of being relegated to enduring bare walls and mismatched furniture. This has to stop. We're of the mind that if you're going to spend the time, energy and money to finish a basement, you should treat its aesthetics like any other space in your house.Color can do a lot to unify a space. Consider using one cohesive color scheme to run through every part of the room. Even if you're not quite up to committing to the usual 60/30/10 color scheme, aim to use a similar shade through all of your furniture and cohesive hues throughout your accessories.Speaking of accessories, layering a few, carefully selected pieces can do a lot to finish off a space. Make sure to include plenty of wall art, throw pillows, blankets and even strict décor elements until you feel as though your new basement is welcoming and cozy.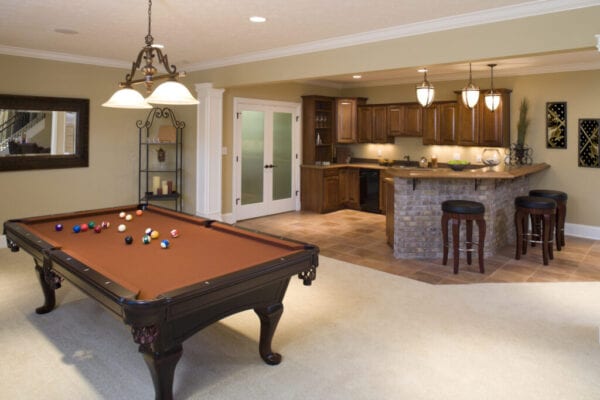 Jimkruger / Getty Images
Most homeowners dream of finishing a basement one day. This improvement offers the unique opportunity to create a one-of-a-kind design. That said, when you're given that level of creative freedom for the first time, it can be difficult to figure out where to start. If you need a little help sorting out your plans for finishing your basement, keep these tips in mind. We'll help you build a space that truly fits your needs.What was your experience finishing a basement like? Do you have any tips you canhare with others? Tell us in the comments!