How to Set Up Your At-Home Gym for Cheap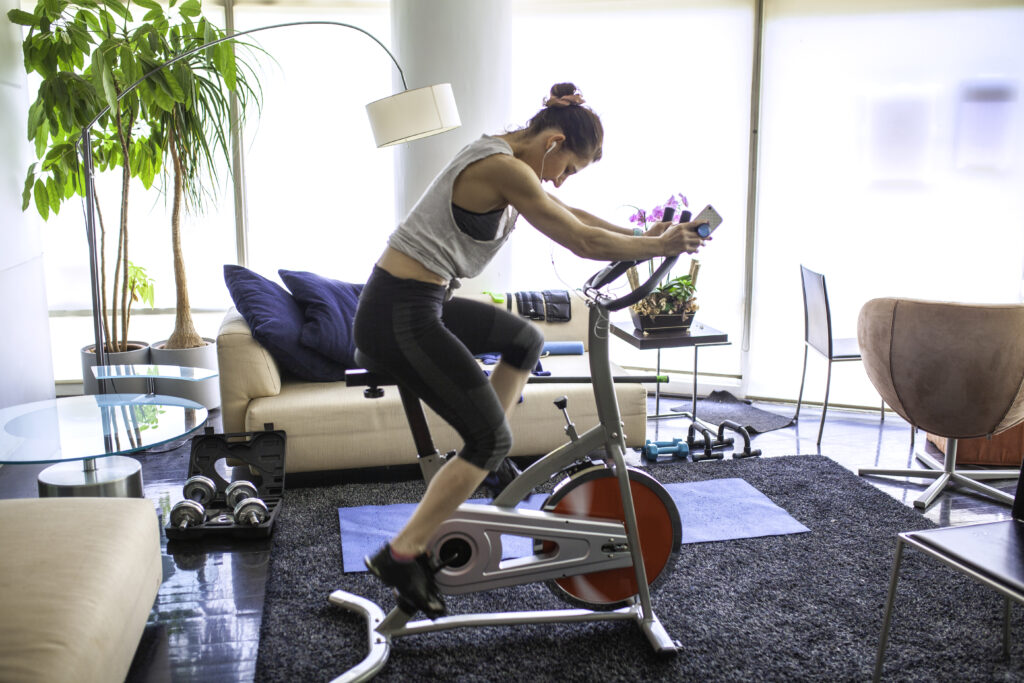 COVID-19 has redefined everything from how we work to how we work out. Luckily, you can get your heart racing without ever leaving the comfort of your home.
If you're looking to set up a home gym on a budget, our guide will help. We provide home gym ideas you can employ using exercise equipment while maximizing your space. You'll also receive tips on how to save money when shopping for your gear.
How to set up the best home gym on a budget:
When crafting home gym ideas, your space plays a primary role.
Step 1: Find a place for your home gym equipment.
Look for underutilized space in your home. It could be a spare bedroom, or you can set up a home gym in the basement. You could also create a garage gym if you don't plan to park your vehicles in there.
Step 2: Make a shopping list.
Once you have a workout space determined, you can decide which exercise equipment you need. Consider the needs of everyone in your household who's working out. Then, create a list of all the items you need with your budget in mind.
Step 3: Bargain hunt for your garage gym must-haves.
If you need gym ideas on the cheap, one smart suggestion is to buy your gym equipment used. You can shop for exercise equipment on Facebook Marketplace, Nextdoor, and other websites. Also, you can scour your local garage sales, as these are great places to score affordable items.
Step 4: Protect your flooring.
After purchasing your cheap gym items, you want to be careful how you set them up. A piece of plywood flooring can support up to 50 pounds at one time. However, if you place a weight rack containing hundreds of pounds on top of it, over time, it could warp. Therefore, be sure to buy rubber mats to protect your flooring.
Step 5: Organize your gear.
For weight equipment, you'll need a weight rack. It keeps your weights organized and tucked away. You could also purchase storage containers to house jump ropes, towels, and more.
Step 5: Give the space some personality.
You can create a basement gym on a budget while also making a space where you can't wait to work out. If it's within your budget, add a fresh coat of paint, live plants (for yoga studios), or artwork that inspires you. Make this room a space where you can escape from the daily noise while also helping you achieve your fitness goals.
Cheap weight sets and other home gym essentials: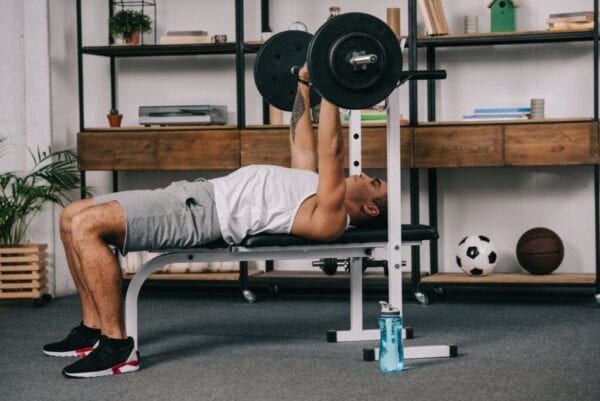 To create the best home gym sets, here are some must-haves you should consider getting:
How to find home gym sets for cheap:
Home gym sets could run you thousands of dollars if you buy them brand new. An inexpensive alternative is to shop for gently used equipment. You can use online marketplaces like Facebook and Craigslist to find local gym sets.
Before purchasing them, inspect the equipment to make sure it functions well. You'll also want to sanitize all items before bringing them into your home. You can spray or apply sanitizing solution to the equipment, then wipe each down thoroughly.
Your big-box retailers are also wise places to turn for what you need. Target, Walmart, and Costco all offer affordable exercise equipment. You can even use financing to break up the costs monthly. However, if you go this route, you need to pay off the balance during the promotional period, or else you will have to pay expensive interest charges.
Home gym DIY hacks: How to build your dream workout equipment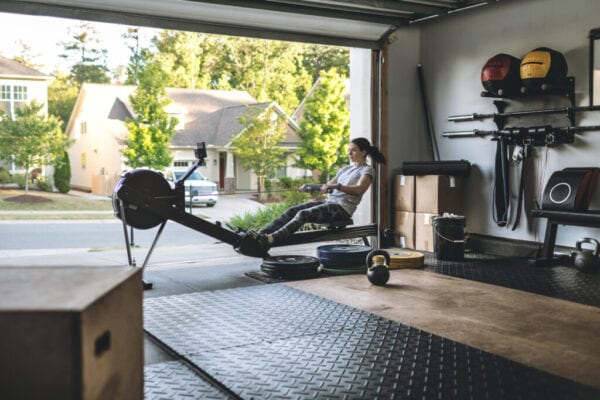 Do you need to save even more money? Then you can be creative when crafting your exercise equipment. Instead of paying over a thousand dollars for a Peloton bike, you can use an inexpensive electric bike and pair it with the Peloton app. You might not have access to all of the app's features, but combined with a heart-rate monitor, you can receive pedal-rate data and much more.
Meanwhile, if you have stellar woodworking skills, you could bypass the higher costs of buying a treadmill and make one instead. This informative video shows you how.
Along with equipment, you can receive training. Since personal training might be an expensive option, a smart alternative is to use fitness apps like the Adidas running app, Fitbit Premium, and more. Each of these apps has workouts you can do from the comfort of your home.
The bottom line
The pandemic makes going to the gym a difficult choice for many. Instead of venturing out, you can bring the gym to you. And for those wanting home gym ideas on a budget, you can find inexpensive exercise equipment through an online marketplace or use innovative fitness apps to craft your workout. Ultimately, you can create a little sanctuary away from the everyday routine to help you reach your fitness goals conveniently.
Frequently asked questions
Q:
What should I put in my home gym?
A:
While your needs might vary, it is ideal to have at least some free weights, cardio equipment like a treadmill, a yoga mat for stretching, or jump rope, and rubber mats. Rubber mats protect the flooring while also absorbing some of the noise.
Q:
What is a good size home gym?
A:
A spare bedroom, basement, or garage are great options for home gym ideas. If you want larger equipment like a treadmill, make sure to measure the room dimensions to ensure it will fit while also giving you room to do other exercises.
Q:
How much does a decent home gym cost?
A:
If you bought everything brand new, the cost could easily exceed a thousand dollars. However, there are cheap weight sets and other equipment you can buy used on Craigslist and other online marketplaces to keep things more affordable.
Q:
What kind of flooring can my home gym have?
A:
You can use a room with carpet or vinyl flooring. However, to protect your flooring, you'll want to apply rubber mats, as these prevent floors from warping due to heavy equipment and are easy to clean.