10 Creative Ways to Decorate Your Non-Working Fireplace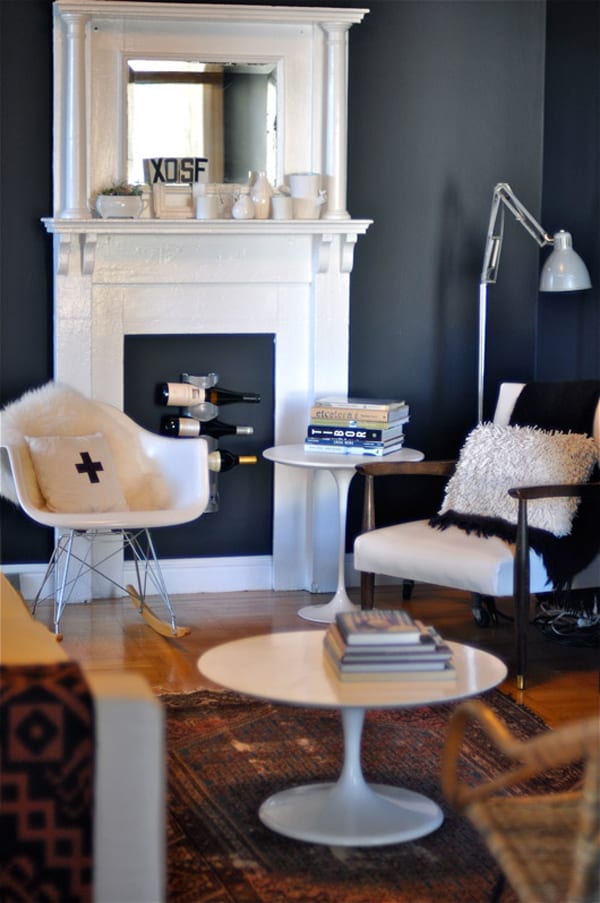 Shop These Products Now: Wine Bottle Rack – Round Table
There's something warm and welcoming about a fireplace. There's something completely romantic about fireplaces. We tend to think of these spaces most often as the temperatures start to dip, as we get ready to fill their empty voids with stacks of wood, then set them ablaze as we bask in their warmth and glow. Many fireplaces in many homes, however, are non-functioning or simply never used. Your fireplace should never have to look empty, stark or lonely. We're offering you a few ideas to help you fill your hearth.
1. Create a whimsical display!
We love fun and the fun-natured way the owners of the above fireplace chose to use their space as a wine bottle display. How nice to have a bottle of red right by! Now I wonder, might there be a wine bottle opener hidden in one of the vases on the mantel?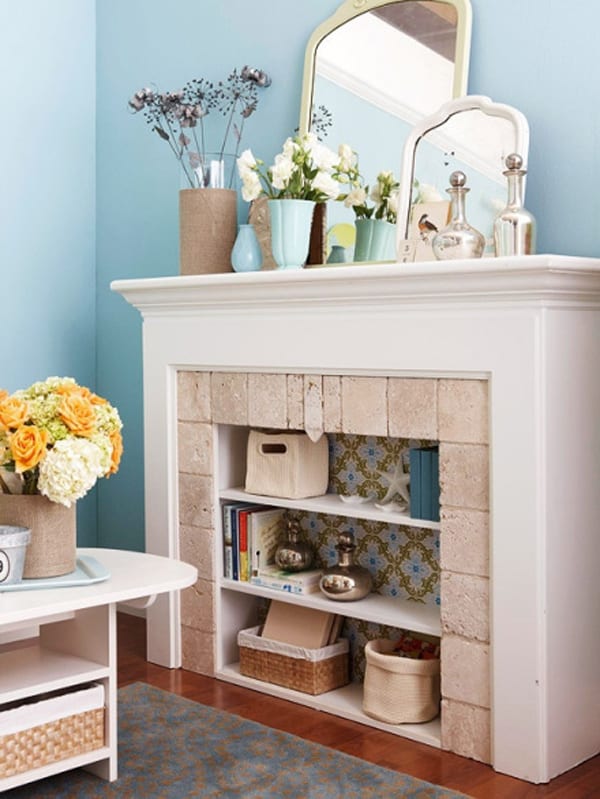 Shop These Products Now: Storage Basket – Vase Decor
2. Fireplace turned into storage space!
We love this clever idea created when shelving units were added to the interior, turning it into extra storage space. The printed wallpaper in the background adds a fun and pleasant design element. This is a great idea for apartments and smaller spaces where storage can be tight.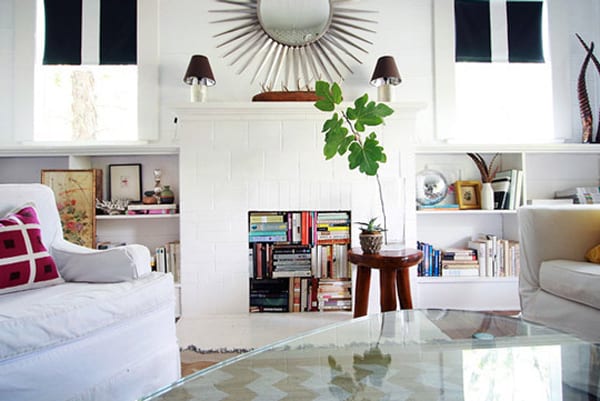 Shop These Products Now: Side Table – Sunburst Wall Mirror
3. Create a book lover's nook!
We love the creative way the space was used to house books. The books aren't seemingly tossed in haphazardly, but they have been cleverly arranged both vertically and horizontally to develop a fun pattern. This adds a nice design element to the room while using what the owners already have. Here the books are all easily accessible should someone want to reach in and retrieve one.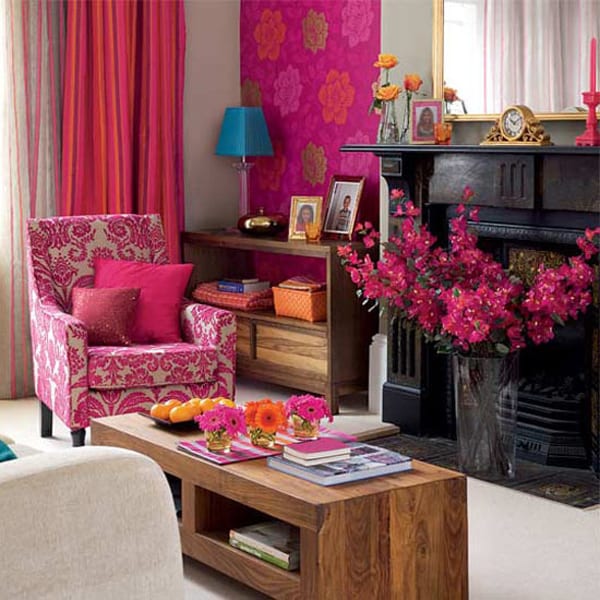 Shop These Products Now: Accent Chair – Flower Pot
4. Nothing says it like flowers!
At Freshome we love and embrace everything natural and green. The large vase of flowers does not obstruct, but rather enhances the elegant fireplace. The flowers add color and vibrancy to the room and are easily interchanged to reflect the seasons. Replace fresh flowers with fresh branches of pine or holly for a more Holiday-like feel.
Shop These Products Now: Tufted Stool – Decorative Tree
5. Put a log in the fireplace.
There's something warm and inviting, festive, and fun about this log-filled fireplace. Without even being lit, the wood evokes a feeling of warmth and a homeyness. The wood gives an eco-friendly, natural and organic feel to the space. The logs, of all shapes and sizes, add texture and pattern all their own. We love this look whether your home is in the city or the country.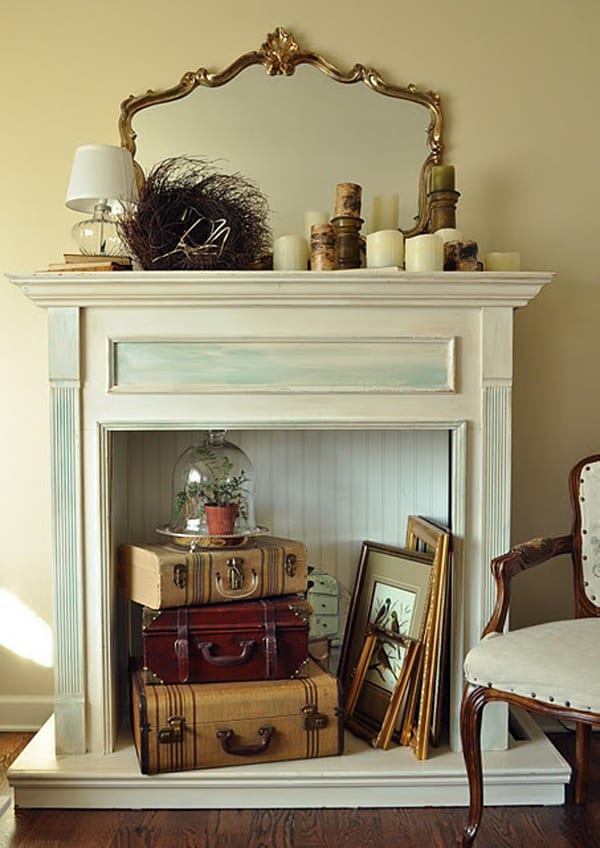 Shop These Products Now: Storage Suitcase – Candle Stand
6. Create a vignette or display your collectibles.
An empty fireplace is a wonderful way to share your collectibles. Be careful that they are not too small or fragile so as not to be easily damaged. Fireplaces can get dusty, so a few big items are preferable to many smaller items when it comes time to clean them all. If you're not the collectibles type create a small vignette.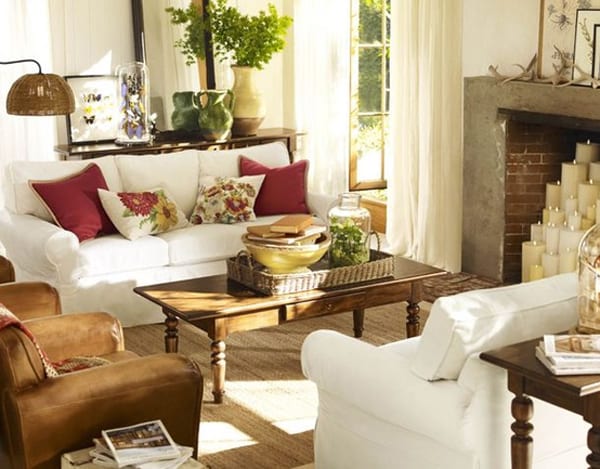 Shop These Products Now: Decorative Tray – Vase Decor
7. Burn baby burn!
We love Pottery Barn's beautiful and clever placement of pillar candles. Whether you prefer flames or flame-less this is a perfect solution for those who want to create the effect of warmth and fire without the hassle and mess. The arrangement is warm, inviting and romantic, and would bode well in any home or fireplace, working and non-working. For those of you who suffer allergies, wood-burning fires can be terrible, and this is a perfect alternative and shouldn't bother even the most sensitive of respiratory systems!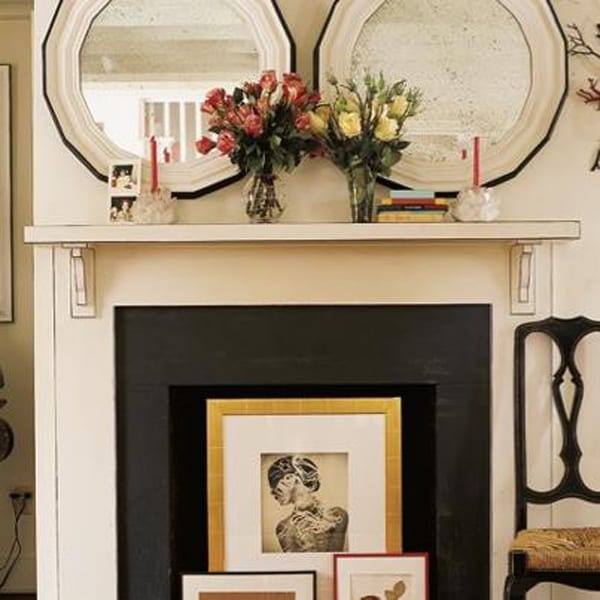 Shop These Products Now: Wall Mirror – Flower Pot
8.  Create a personal gallery
Here's a clever way to display some of your favorite pieces of artwork instead of on the walls or over the mantel. The framed pieces, grouped together and placed on the floor, adds not only a sense of creativity and freshness to your space but will surely be the focal point of your room and garner some great conversation. Art becomes even more fabulous when it's not hung, predictably, on walls.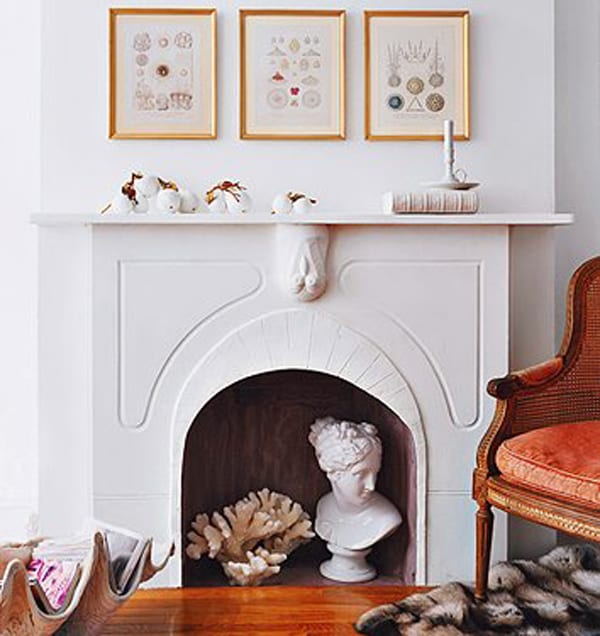 Shop These Products Now:  Table Mount Statue – Wall Art
9.  Display your wares
A bust, a shell, large sculpture, or any object d'art will create a stylish flair to your dark and empty hearth. Perhaps a prized possession or a treasure from your journey to a foreign country, anything at all can be placed inside a hearth. You can think of it as another open cabinet space, that just so happens to be on the floor… A large planter, copper pots, a large silver trophy filled with flowers, and over-sized bowl of ornaments or pine cones… really, the possibilities are endless!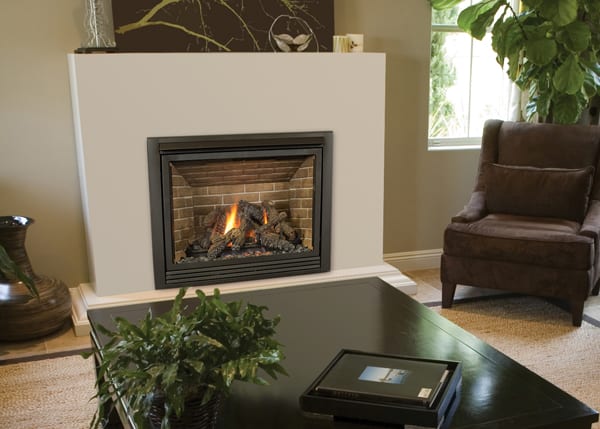 Shop These Products Now: Indoor Fire Pit – Accent Sofa
10. Come on baby light my fire!
Yes, that's right. Gas fireplaces are economical and environmentally friendly. They require no chimney and are the perfect solutions for those who want an actual fire in their fireplace but couldn't have one… until now! For more information contact your local gas replace company. How would you favor decorating a non-working fireplace?
---
Everything for your move, all in one place
Curate your personalized moving checklist, set up TV & Internet, and more with a free MYMOVE account.
Save on your move and tackle upcoming to-dos with your free MYMOVE account.