50 White Kitchen Ideas That Work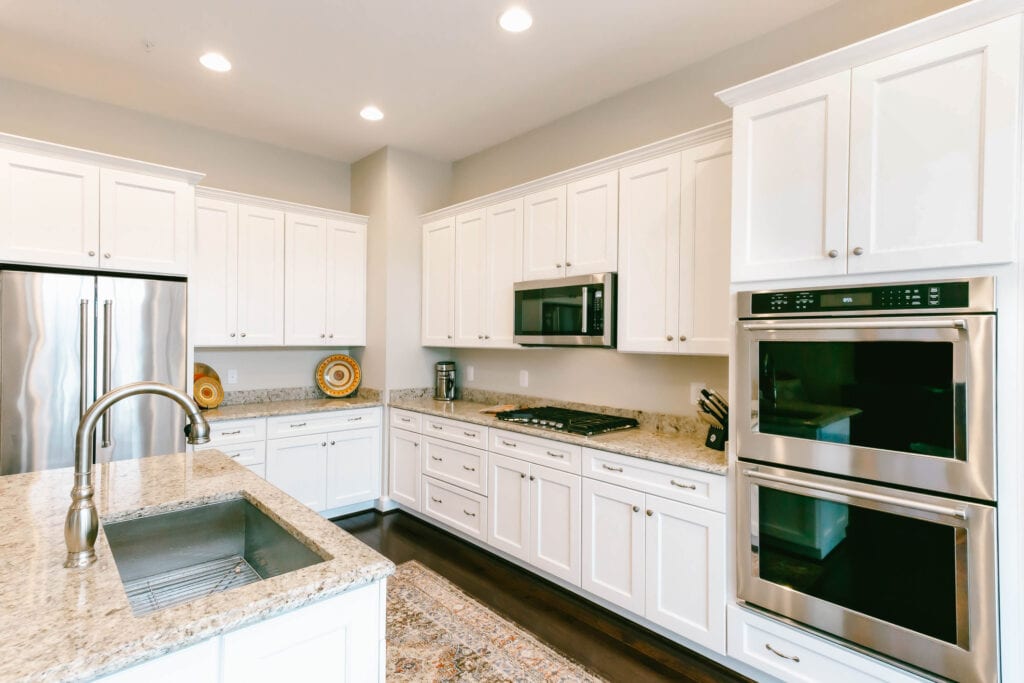 A kitchen remodel is one of the most common renovation projects in homes today, and also one that can have a significant effect on resale value. And since the average homeowner will spend tens of thousands of dollars when doing a major kitchen remodel, it's crucial to do it right. So how do you accomplish that? We've assembled a number of white kitchen ideas to simplify the design process. When spending a lot of money on a remodel you'll want to create a space you love, but if you're planning on selling at some point you'll also want to secure a return on your investment (you'll also want to like the room yourself 20 years from now as your tastes change).Today's home buyers are turned off by dated kitchens, and are looking for modern additions like granite counters and updated appliances. Those things can both be done in white, and according to the National Kitchen and Bathroom Association, white and off-white are the most popular color schemes for those spaces. Make your design decisions easier by creating an all-white room that's fresh, bright and aesthetically pleasing. In addition to a timeless look, white can make a small kitchen feel bigger and brighten a room that lacks adequate natural light. And while you don't want to offend anyone's taste with your kitchen design, you also don't want a white kitchen to feel bland. Add depth by using accent colors and insert personal style in changeable features like light fixtures, furniture and cabinet pulls. From the appliances to the cabinets, we've broken down 50 different white kitchen ideas.
White Kitchen Countertops
Shop These Products Now: Fruit Bowl – Toaster
There are a number of ways to approach white countertops. White marble is warm, classic and its natural veiny appearance adds texture. It is more expensive than other options as well as higher maintenance. You'll need to wipe up spills right away, avoid putting hot pans or abrasive items on the surface and seal it on a regular basis. White granite is lower maintenance than marble (seal it once a year and wipe up spills ASAP) but also offers a classic look. Engineered white quartz is durable and non-porous so it's more sanitary and resists stains, scratches and corrosion. White concrete can achieve that pure white look and it's also incredibly durable. White glass can be pricey, but in addition to being sleek and bright it's also non-porous and perhaps the most hygienic option. If you're on a budget, today's laminates mimic more expensive granite and marble and also resist scratching and chipping.
White Kitchen Sink
Shop These Products Now: Spring Faucet – Floating Shelves
White sinks have long been bathroom mainstays and the same timeless look translates well into the kitchen, whether you choose a classic white sink or more of a trend piece like a farmhouse sink. If you're typically hard on your sink (throwing around pots and dishes) then stainless steel may be a better choice. For white sinks, fireclay might be the best option. The material is resistant to scratches, staining, chipping and clean-up is simple (just use soap and water). Enamel-coated-cast iron is another good option for durable white sinks, but tends to be heavier so make sure your cabinets can handle the weight.
White Kitchen Islands
Shop These Products Now: Glossy Counter Tops – Counter Stool
The kitchen island often features a sizable slab of countertop so this can be used strategically to brighten up the space, or add detail that complements pure white features elsewhere in the room. Add contrast by choosing a different material than you used for the countertops. It's pretty likely that the island will be where a lot of food prep and entertaining takes place, so depending on how you plan to use the kitchen island itself think about the material and how high maintenance it is.
White Kitchen Cabinets
Shop These Products Now: Cooking Pots – Wall Oven
Kitchen cabinets are a high impact design element because they're outward facing (unlike flat countertops) and take up a lot of real estate in the room. According to the National Kitchen and Bath Association cabinets make up one-third to one-half of kitchen remodel budgets. NKBA also reported that among painted cabinets, white is the most popular option. Add a personal touch by choosing cabinet pulls and other hardware that you like. They are easily replaceable and will pop against crisp white cabinetry.
White Kitchen Appliances (Maybe)
Shop These Products Now: Planter Bowl – Refrigerator
Stainless steel has been the presiding choice for new kitchens, often replacing old white appliances that looked dated. Though it's hard to imagine such sharp stainless steel appliances falling out of fashion, they could very well go out of style in the future. In a 2010 study by Consumer Reports some kitchen experts said that the stainless steel reign was coming to an end. And what will replace it? Likely reimagined, updated white appliances. For example, a glass-like polished enamel that is modern and reflects lit.