What is the Future of Kitchen Technology ?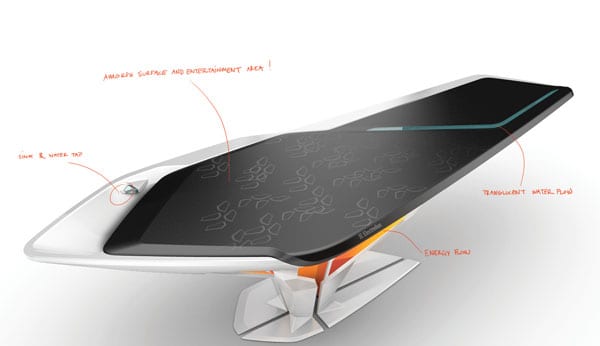 The role of the kitchen in our homes has changed dramatically over the years. What used to be a space simply used for food preparation has now become the hub of the home. Today, cooking is accompanied by a greater variety of activities such as entertaining, socialising, dining, working, laundry etc. As our use of the kitchen has changed, the technology that is used within it has had to adapt to meet our needs.Nobody knows what the kitchen of the future will look like but with each new technological advancement the realms of possibility are extended ever further. In order to find out what exactly we can expect to see in terms of technology in the kitchen appliances of the future Freshome spoke to Stefano Marzano, the newly appointed Chief Design Officer at Electrolux, one of the global leaders in home appliances and appliances for professional use.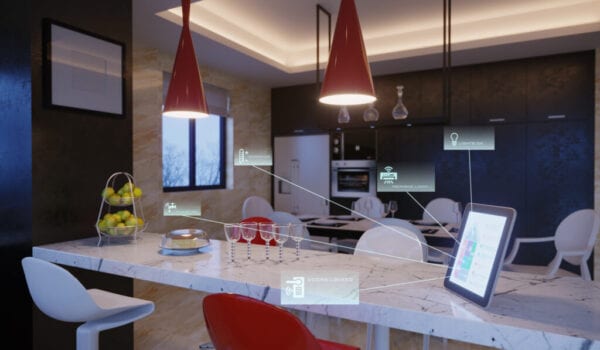 Eoneren / Getty Images
Household appliances have come a long way in recent years. What developments would you say have been the most game-changing and why?  
SM. In addition to sustainability, changed lifestyles are also one of the driving factors. More people live in cities and in less space; there are more single households, people travel and get inspiration from all over the world, and they also might have less time. The kitchen has become the heart of the home for socialising and entertainment. The appliances need to be functional and easy to use. This is one of the drivers for developing today's smart and connectable appliances.Another important driver is the increased interest in cooking. Many want to be chefs in their home. Therefore they also want some of the technologies that professional chefs use. Electrolux is unique in having a leading position both in the consumer and professional segment. In our innovation process we put a lot of effort into transferring some of the technologies and knowledge between these segments.
As you said, sustainability and energy efficiency have been high on the agenda for some years now. To what extent will the next generation of appliances go beyond this and what kinds of innovations can we expect to see in the next few years?
SM. I think we will see even more energy and water efficient appliances. These will also increasingly have to be manufactured in a way that minimizes air pollution. The air and water at home and in public spaces in many regions need to be cleaned and purified for use and consumption and this might have implications for future developments. Moreover there will be increased focus on recycled materials. Future appliances will also continue to be more silent, which is also an environmental issue.
Most appliance manufacturers are already working on a new generation of household appliances. What progress is Electrolux making in this arena and are there any exciting developments that we can expect to see from you in the near future?
SM. Electrolux has a many exciting and innovative products in the pipeline. And more is to come. Electrolux now has the structure for what we call the "Innovation triangle". This enables R&D, Marketing and Design functions to work in synergy during the entire creation process, and with an even clearer focus on the customers and consumers.Key to Electrolux's strategy is the ongoing development of innovative and thoughtfully designed solutions based on end user insights. Now Electrolux will be able to take more relevant and innovative solutions to the market at a faster pace.
The connected home was a big topic at the recent Consumer Electronics Show in Las Vegas. However, the idea of internet-enabled home appliances has been around for a while in predictions concerning the home of the future. Is this future now becoming a reality?
SM. When this idea was initially brought up I think it was technology driven rather than consumer driven. The technology existed but it was not relevant to the consumer to connect the oven or fridge to the net. Since then, much has happened. Now we have smart phones and are connected online with our friends 24/7. When physically together with our friends and families, we most often meet in the kitchen. The time might be ready for internet-enabled appliances, and there are examples of this already happening.
What effect will the development of Smart Grid technology have on our household appliances?
SM. Smart Grids reduce the environmental impact of the whole electricity supply system by avoiding peak period demand and decreasing reliance on backup power from carbon and diesel power plants. In this way, smart grids reduce carbon emissions and improve energy efficiency.For the customer, Smart Grids will also provide opportunities for local monitoring and remote connections. They can have anything from new recipes, programme updates and software debugging to the possibility of remote diagnoses and customer service.Electrolux is already involved in Smart Grid technology in a number of European countries including Sweden.
Intelligent appliances are becoming more common as we see increasing numbers of products on the market that are reactive and adaptive to human behaviour (such as TV systems that can recommend programmes you might like based on your viewing habits etc). Do you think we will see the same developments in household appliances?
SM. We see that development already. For example, the user of an Electrolux Inspiro oven only has to load in the content and push a button. It then calculates the precise combination of energy consumption and time needed to bring the food to the correct temperature. It also chooses the cooking mode or combination of modes needed and specifies the proper rack for the content.
Every year Electrolux runs a global design competition open to undergraduate and graduate industrial design students who are invited to present innovative ideas for household appliances of the future. Have you come across any designs that you think could, or will, make it into production?
SM. In Electrolux Design Lab we are presented with many fantastic solutions from all over the world every year. Some of the designs have been an inspiration to us when taking products to market. As long as the solutions are relevant to consumers, some of the products may definitely end up on the market.
The 2010 edition of the Electrolux Design Lab competition focused on creative solutions for compact living. As you mentioned, populations are growing and houses are getting increasingly smaller, so what effect will this have on home appliances?
SM. With urbanization, growing populations and smaller spaces in our homes, the appliances need to be even more efficient in size and performance. In Japan for example, where living space is limited, Electrolux recently launched a vacuum cleaner that has similar performance to our vacuum cleaners in other parts of the world, but at the same time it is particularly small in size.The brief for Electrolux Design Lab 2012 challenges design students to draw inspiration from professional experience creators – such as chefs, architects, interior designers, hotel designers – to design home appliances that will provide a fuller sensory experience. Can you explain this?
SM. Chefs and creators use our appliances to achieve an even more fulfilling end product– a total gastronomic experience. The end result has to be perfect in so many aspects that they have to visualise before starting. They don't have any construction plan to get there, but have to go entirely on their feeling and experience. That way, I think chefs are the complete designers. Therefore designers not only must understand them. We can also get a lot of inspiration from them and we want design students entering Electrolux Design Lab to do just that – create home appliance designs that will provide a fuller sensory experience.The Cube by Electrolux is an excellent example of this. Here, the 'tools' provided by Electrolux allow the chefs to create the best possible experience for the guests.
What developments would you personally most like to see when it comes to household appliances? 
SM. As I am very interested in cooking and fascinated by Electrolux's strong connections to chefs, I am at the moment spending a lot of time exploring the interface between appliance design and the culinary world. I hope to see even more professional technologies used in consumer products. I want kitchen appliances to be tools for the full food experience – not only taste, but also smell, sound, and aesthetics.Below is a short animation showing the Electrolux Heart of the Home kitchen concept. It is a thought provoking vision of the kitchen of the future – an integrated solution functioning as a kitchen table, cooking surface and bar all in one.
Freshome would like to thank Stefano Marzano for taking time out of his schedule to share his vision of the kitchen technology of the future with us. We would like to know what you would like to see in the kitchen of the future as far as household appliances are concern. Please leave us a comment below and share your vision with us.