Kitchen Cabinet Ideas for a Modern, Classic Look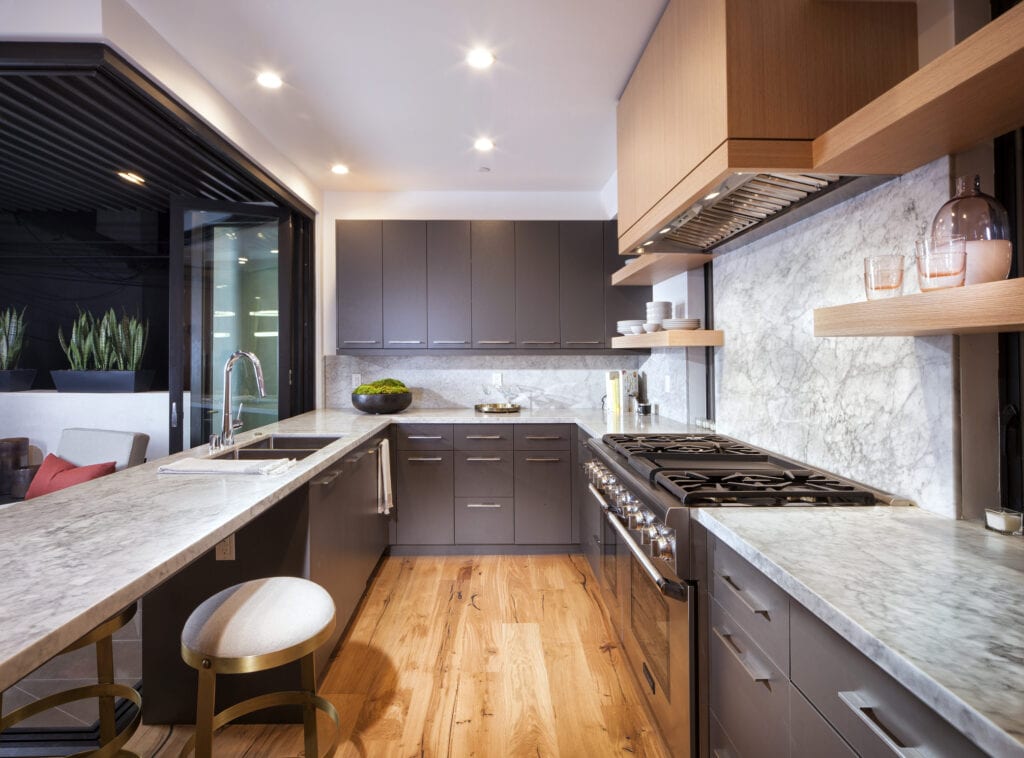 Your kitchen cabinets set the stage for the styling and look of your kitchen, as well as how well organized your kitchen necessities are. But the latest in kitchen cabinet ideas and design trends can be tricky, since certain trends look dated after several years.Replacing your kitchen cabinets are a big investment, so making the right choice is key to enjoying a beautiful up-to-date kitchen for many years. We looked at the latest kitchen cabinet ideas and analyzed function, beauty and if the trend has the potential to be fresh but timeless. Here's our favorite eight kitchen cabinet ideas that are classics and will be on trend for years.
1. Color Kitchen Cabinets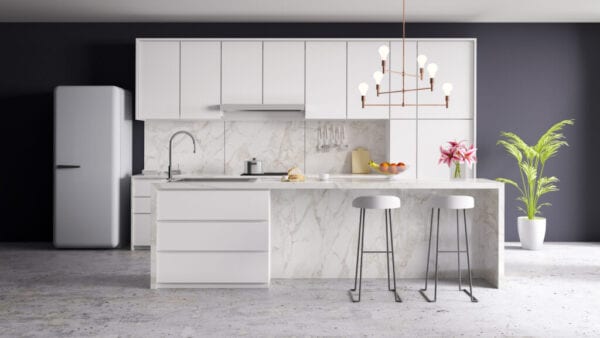 EyeEm / Getty Images
For a contemporary kitchen, forgo traditional cabinets in the darker-stained wood tones and go with color. Color cabinets are a great way to add personality to a kitchen. The best part is that certain painted cabinets can be repainted as needed without having to replace them. The boldest color choices today are not necessarily bright yellow or saturated primary colors. Today's neutral colors make a big, modern-yet-classic statement like:–grey–blue–white–taupe
2. Textured Kitchen Cabinets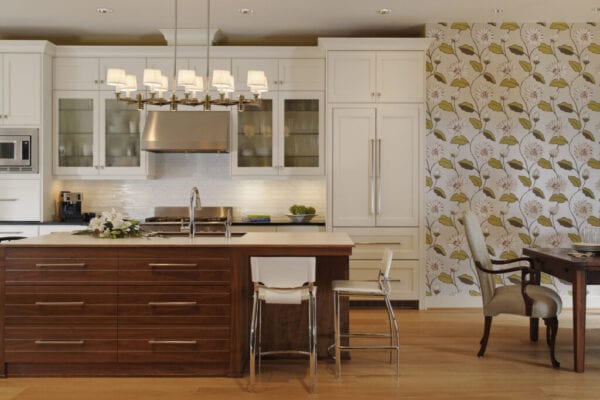 Papazian / Getty Images
Wood will always be a highly sought after kitchen cabinet material. For a fresh update to wood cabinets, consider exotic woods that have striped grain to them. The stripes will add texture and visual interest to your cabinetry.
3. High Gloss Kitchen Cabinets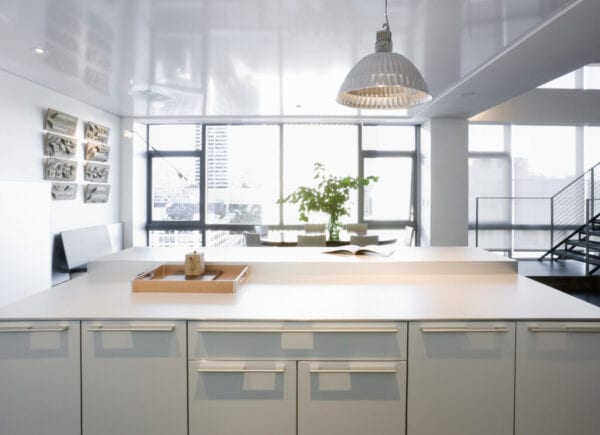 Mint Images / Getty Images
Add high gloss to your list of kitchen cabinet ideas. They're easy to keep clean using a soft, damp rag, enhance color and wood grain by saturating the tones and brighten the kitchen, thanks to their reflective surface.
4. Two-Tone Kitchen Cabinets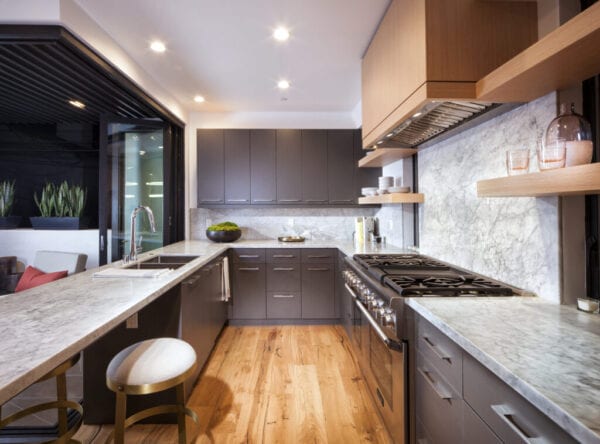 Luxy Images / Getty Images
Avoid the builder-grade cabinet look by getting creative with your cabinet choices. Go with a two-tone effect in your kitchen by selecting one of two approaches to get the look:High and low two-tone effect. Use one color on your lower cabinets and a different color on your upper cabinets. To create a fresh, lasting look, stick to complementary colors. If you find that you're color-challenged, use a deeper, richer shade on the lower cabinets, and a much lighter shade of the same color or white for the top cabinets.Actual two-tone. Instead of mixing and matching color cabinets, select cabinets that have a two-tone look to them. Careful with choosing cabinets in a repeating two-tone effect — they may look too busy. Our favorite, contemporary look that will withstand the test of time involves two-tone cabinets that are one color for the actual cabinets and doors, with a second color around the exterior frame.
5. Rustic Modern Kitchen Cabinets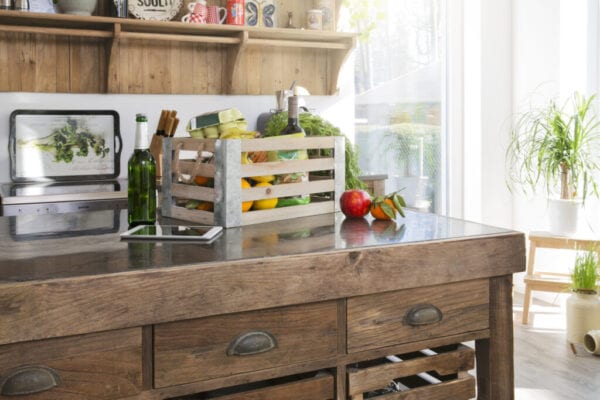 Westend61 / Getty Images
For some unique, high-design kitchen cabinet ideas, look for rustic kitchen cabinets. The juxtaposition of rustic cabinetry with the latest appliances and contemporary counters and touches creates a warm and inviting, modern kitchen space.
6. Whitewashed Wood Kitchen Cabinets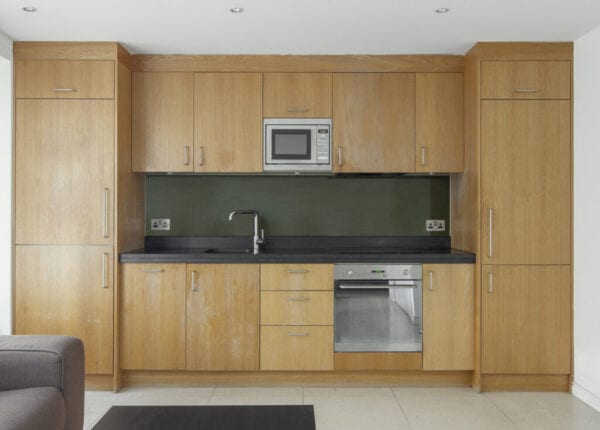 Paget / Getty Images
Whitewashed wood has been making the rounds at the top European kitchen design shows for years. The effect lightens the color of the wood grain and adds a high-end look to your wood cabinets all while looking fresh and modern today and in ten years.
7. Floating Kitchen Cabinets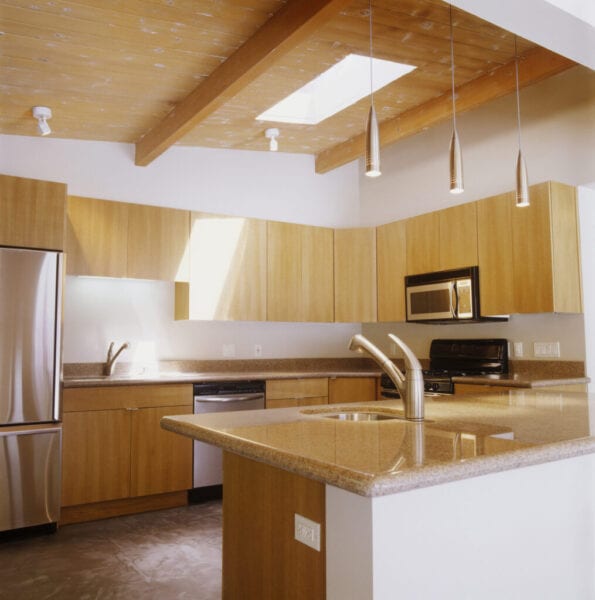 Van Dyke / Getty Images
The contemporary effect of floating cabinets makes a kitchen space memorable. Floating lower cabinets showcases your flooring while opening the space up. The look is surprisingly functional and ergonomic, since a cabinet's storage area near the floor is often hard to access or difficult to use for those with back problems. To showcase floating cabinets, add lighting beneath them to cast a contemporary vibe and glow.
8. Bamboo Kitchen Cabinets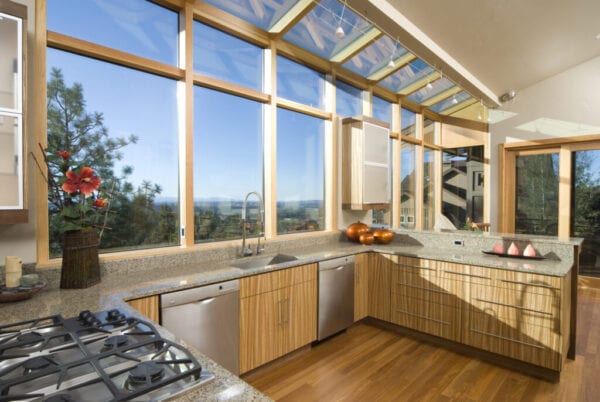 Chandlerphoto / Getty Images
Going green is here to stay. And nothing says green like solid, low-VOC bamboo cabinets. Because bamboo grows so quickly, installing bamboo cabinets means less deforestation of the environment. Look for high quality, solid bamboo cabinets (instead of ply or veneer) and ask for recommendations from friends. Bamboo is harder than Oak. Your bamboo cabinets will look as good as new for years to come.