How to Instantly Upgrade your Kitchen without Spending a Small Fortune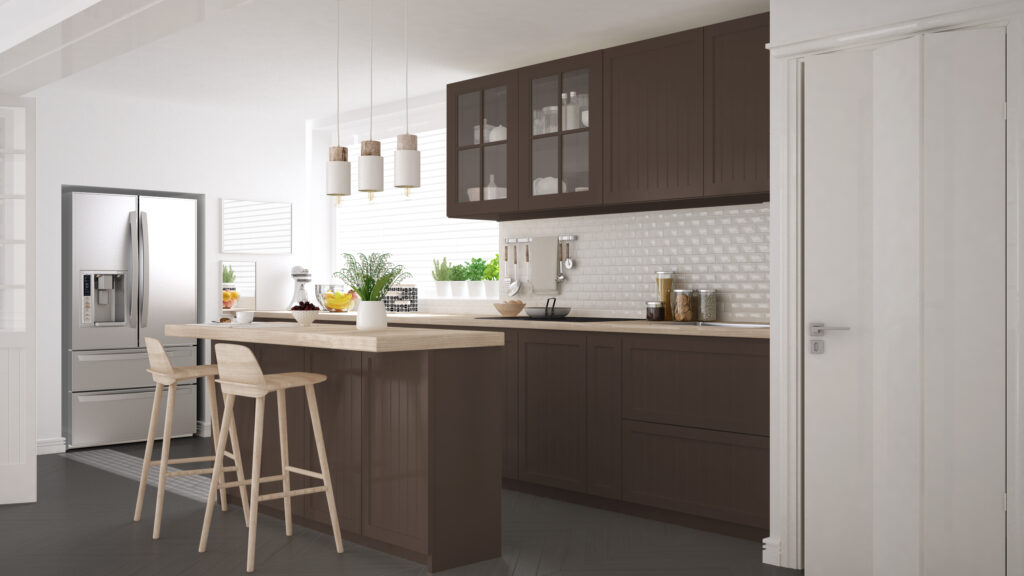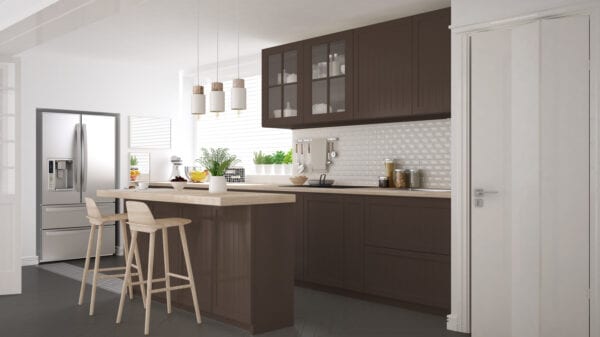 ArchiViz / Getty Images
It might be said that the kitchen is the most important room in the house. For many of us, it is the most used as well as where we spend most of our time, whether we're preparing nutritious meals for our families, preparing to entertain large and small crowds, or just sitting at the kitchen table sipping coffee with an old friend. Regardless of whether your kitchen is large or small, it seems always that this room tends to be the gathering place when people visit the home. It's been said that kitchen upgrades can significantly increase the value of a home.
A total kitchen renovation is a costly, timely and arduous task but there are ways to update and renovate your kitchen without inconveniencing your family, disrupting family life and more importantly, without having to spend a small fortune. So take from some of these tips and perhaps you can use the savings to travel someplace special instead!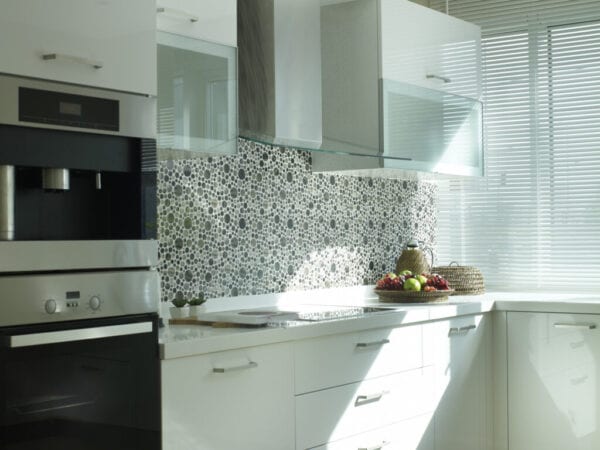 JazzIRT / Getty Images
Freshen up your walls
A little fresh paint can work wonders. Kitchen walls get dirty and grimy easily and this can make a kitchen seem older and dingier, even if you wipe down your walls regularly. Try adding some color to your walls. Color can greatly transform your space. If your kitchen is white why not consider going green, grey or blue? Colorful kitchens are very much en vogue these days as seen in some of the world's top decorating magazines.
Feeling bolder? Daring? Why not try wallpapering your kitchen walls. Wallpaper can wake up a room and add energy and buzz. The kitchen is a perfect room to wallpaper!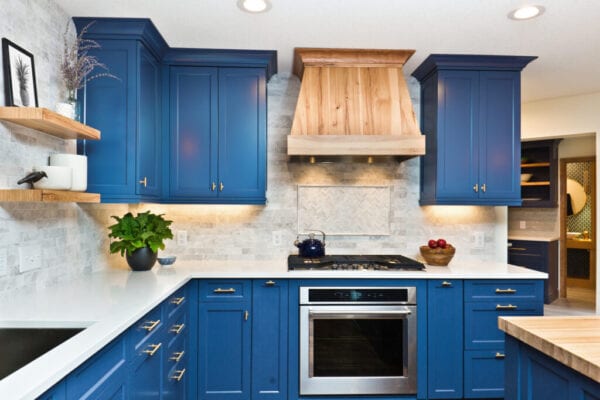 YinYang / Getty Images
Wake up tired cabinets
Replacing cabinets can be very expensive and a large undertaking. If your cabinets aren't terribly old; if they're in good shape but just out of date, a new coat of paint or a dark wood stain can easily upgrade and update your cabinets. A fresh coat of white high gloss paint will lighten, brighten and open up your room. If you're a color person add some bold color to your cabinets and make a statement. If you want a more masculine look try staining your cabinets a darker, richer color.
If you do opt to make your cabinets darker consider your light source. A kitchen should never be too dark. You may need to add more lighting or make your existing lighting brighter. A lighter wall also makes an elegant contrast to the darker cabinet and will add some light to the wall. If you aren't ashamed of what the insides of your cabinets look like you may want to remove the cabinet doors altogether or replace them with glass doors. Have some fun and paint the insides too!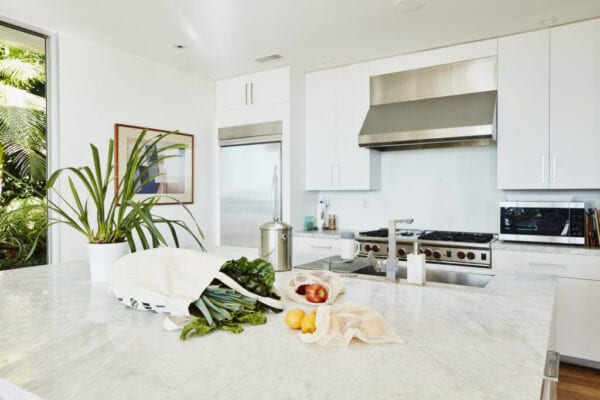 Thomas Barwick / Getty Images
Replace your countertops
This can be pricey but there are many affordable options out there. There's really no way to quickly wake up tired countertops. Some people may advise you to paint, but I won't. This is one area where a small investment will pay out well in the long run. Look into alternative materials such as wood, cork, concrete, even laminates.
Replace your hardware
Something as simple as replacing hardware can be an instant game changer. You like your cabinets; they're fine just the way they are, but you're not wild on the hardware. You will be amazed at how something as seemingly simple as a drawer pull or handle can completely change the look of a cupboard or drawer.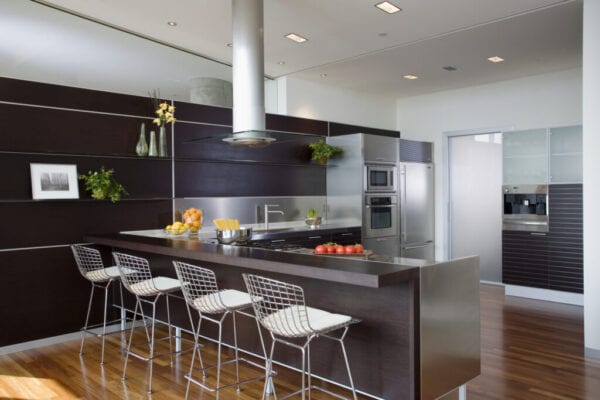 Andrea Rugg / Getty Images
Add some green
Another way to add color to your kitchen is to add a few plants. Plants evoke a sense of calm and health. Plant some herbs and keep them in pretty pots so that your plants are functional as well. Depending on the size of your kitchen you can add a few hanging plants or a large standing plant. Add a plant to a baker's rack or your bookshelves. Add plants to the tops of your cabinets – but don't forget to water them!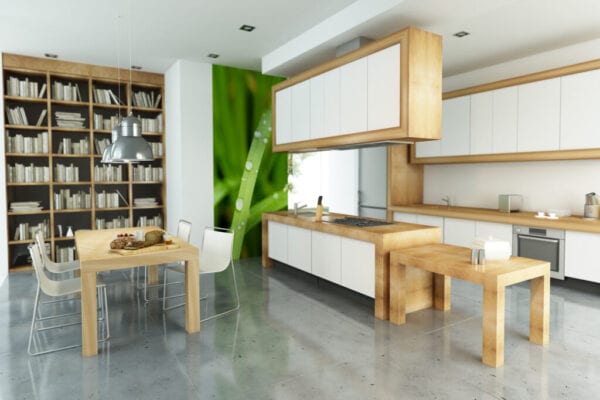 Franck-Boston / Getty Images
Create a kitchen library
Proudly display those cookbooks you've been collecting over the years. Display them proudly and prominently; let them be a focal point in your area. Put up some shelving, invest in an inexpensive book case or place them in a cabinet and remove the door. Keep books away from the sink area where they can get wet, and I would suggest keeping them off kitchen counters as the counters themselves can get dirty and grimy.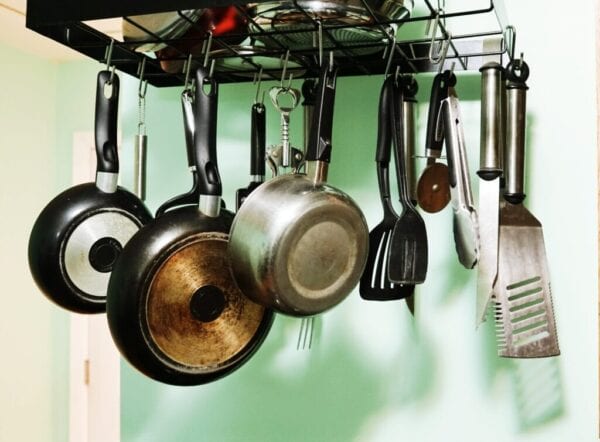 Stephanie Atkinson / EyeEm / Getty Images
Hang them up!
Pick up a hanging rack for your pots and pans. There's something warm and inviting about a kitchen with a pot rack. It suggests that the owner likes to cook and entertain. When you pull the pots and pans out from the cabinets you instantly open us space for more storage and let's face it, who has ever complained of too much storage? I didn't think so!
Other ideas
Your toaster is tired. Your coffee maker is stained and looks terribly sad on the countertop. The food processor looks as though it's served an army… a decade ago!  A few shiny new appliances will immediately perk up your space. This can also be an effective way to add bursts of color to your room. Small appliances no longer come in just black and metal these days, but are available in a rainbow of colors that not only serve a purpose but are also visually appealing.
Hang photography and paintings on your walls. Don't keep your artwork limited to other areas of the home, bring them into the kitchen! You could also consider changing your lighting. Add a chandelier over your kitchen table or some elegant suspended lamps over your cookiarea.