Make Your Neighbors Jealous With These Modern Fall Porch Decorating Ideas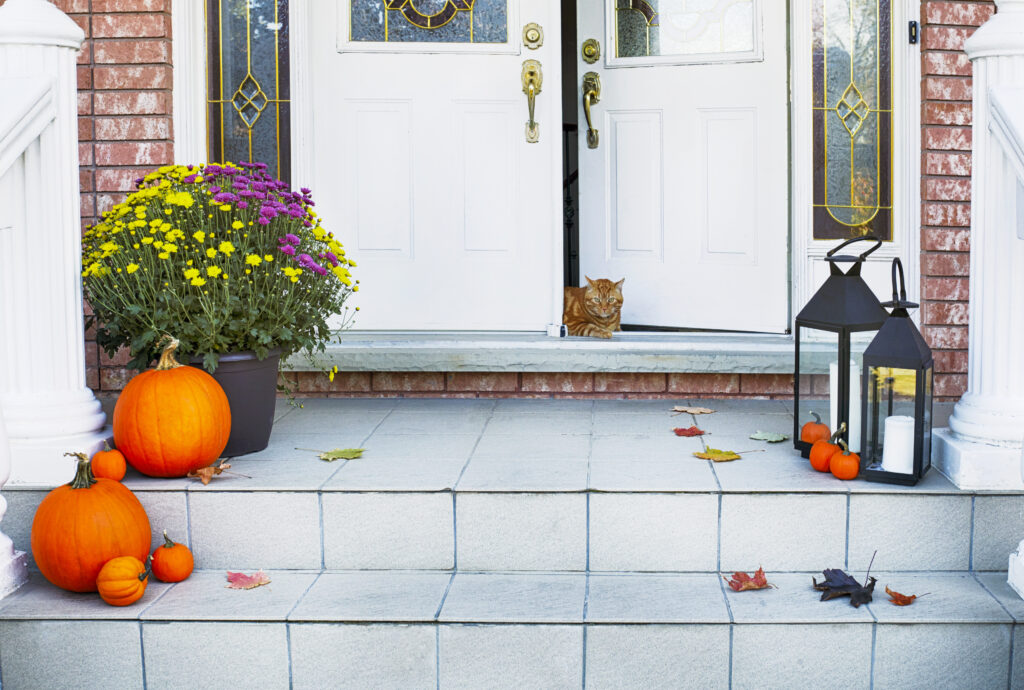 It's time to give your porch a fall makeover to bring in the holiday season. But we're not talking about just any makeover, we're talking fresh, unique and most importantly, modern. Steal these fall front porch ideas to ramp up your curb appeal and make your neighbors jealous. You're welcome!
Fall porch decorating ideas using pumpkins and mums
You'll notice lots of pumpkins in these fall porch decorating ideas. And that's because they last for months and work long past Halloween. The same goes for mums. These durable, low-maintenance flowers come in many colors — red, orange and white — to work with your pumpkins.
To go modern with your fall porch decorating, add new and different colors to your fall and holiday decor. Mid-century modern-inspired aquas work well, or paint your pumpkins in matte black or white. Trying a new color palette for the holidays is the perfect way to freshen up your fall decorating.
Make the front door the main attraction
One of the simplest ways to decorate your front porch for fall is to make the front door the focal point. Add a modern wreath and flank the front door with matching oversized planters that can display pumpkin topiaries, tall grasses or a collection of colorful foliage.
Decorate your front porch with fresh new colors
Who says grey, taupe, white and mocha can't be perfectly autumnal? Once you see how these homeowners pulled off their fall porch decorating, you may want to rethink red, orange and green.
Send a message that broadcasts curb appeal
Customize your porch for fall by adding custom touches like a monogrammed wreath, a welcoming door mat or vintage signs that spread holiday cheer. Here are some ideas:
Use pots to create holiday-themed displays
Fall and winter weather makes it nearly impossible to keep your garden blooming. But a pot or two or three of flowers, vegetables or grasses can last longer. When creating a holiday-themed container garden, choose a large and attractive pot in a bold color. Layer the plants and items inside at varying heights and textures for visual interest.
Don't hide the patio furniture — add fall colors and textures
If you have a porch or verandah, give your summer patio furniture a fall makeover. Add pillows, blankets and throws to your furniture and holiday accessories that set the mood.
Are you inspired by some of these porch decorating ideas for fall? Share your best pictures with us here or on our Facebook page!