Have an Endless Summer With These 11 Beach House Decor Ideas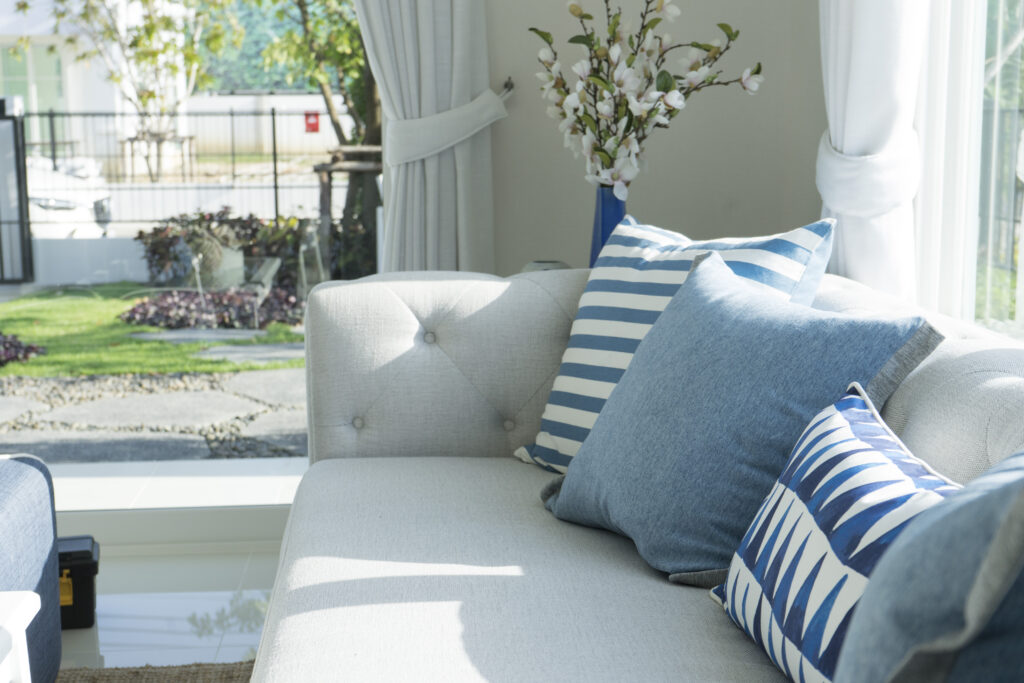 We hope you like the products we recommend. Just so you are aware, Freshome may collect a share of sales from the links on this page. Want to infuse your home with a little bit of beach chic for the summer (or year round)? Wait until you see these 11 beach house decor ideas. You can bring a little bit of coastal living into your home or apartment, even if you're not beach-adjacent, with just a few tweaks! Here's how:
Add some nautical stripe beach house decor
A blue and white stripe is a fresh beach house decor idea. Here are some ways to add a coastal living stripe to your space:
Add a beach-style striped throw to your bed or sofa.
For a coastal chic living room, add a large and bold woven striped rug.
The hand-dyed rug and window treatments of this beach house themed living room feature a stripe pattern that ties everything together.
Layer your everyday bedding for a coastal living vibe with a striped blanket or linen striped pillows.
 A simple footstool in a blue and white stripe may be all you need to add a little beach style to your space.
Add some wicker, rattan or sisal beach theme decor
Materials like seagrass, rattan and sisal give a room an instant coastal living feel. The materials are rope-like and add texture to the space, perfect for the beach style effect you're looking for.
Bamboo and wicker bar stools add a coastal cottage feel to a modern kitchen.
The bed of this beach house theme bedroom is made with seagrass inserts in the headboard and footboard.
Woven wicker chairs are lightweight, inexpensive and durable. Group them with other beach house decor pieces like sea glass pendants, a beadboard-finish island, and a pale seafoam blue wall color and you have a modern coastal space.
The classic bamboo and wicker hanging basket chair is a great way to add a cool, coastal vibe to a room.
This coastal living room features two wicker armchairs and a two-tone sisal area rug to complete the beach style look.
Add indigo for a modern coastal space
Blue is the quintessential beach theme decor color. Seafoam, light blue, navy and turquoise are just a few shades you can use. But for a modern coastal look, give the shade of indigo a try. It's similar to navy blue, but a little richer and more saturated. The color works beautifully with wood tones, whites and black. The indigo color is repeated in patterns on the chest and bedding of this coastal style bedroom.
A modern coastal dining room features simple yet contemporary beach theme decor on the wall in indigo tones.
Textured indigo tones are found on the pillows and floor rug.
Don't like blue? You can still enjoy beach style
Although blue is the most typical color for beach house theme decor, you can skip the blue altogether and still have a stylish beach style space. Here are some ideas:
A restful beach style living room is inspired by the pale shades of sand: cream, ivory, beige and soft pink.
Natural wood tones, whites and a tropical print featuring a bright lime green create a coastal living vibe in this dining room.
This elegant living room interprets coastal modern by using woven textures in natural tones and the color white.
Minimal amounts of blue are seen in this beach house theme.
Instead, texture in the form of stripes, beadboard panels and whitewashed brick are used to create a coastal-chic space.
Slipcover furniture for a modern coastal living look
For an easy and relaxed beach vibe, add slipcovers to your sofas and chairs. Cotton or linen slipcovers in white, khaki or beige are the most beach-themed. Finish off the modern coastal living look with some beach-theme pillows.
White slipcovers and crisp indigo throw pillows create a modern coastal chic look.
Overstuffed contemporary sofas are slipcovered in ivory linen for a relaxed beach look.
White cotton slipcovered sofas and slate blue linen chair covers can be removed and washed or changed out for heavier fabric covers in winter.
This stylish modern coastal dining room features several beach style elements: the color indigo, wicker chairs, a whitewashed wood table and slipcovered linen armchairs on wheels.
Decorate your dining table with beach theme decor
Even if you live far from the beach, you can re-create a lovely beach theme dining experience by creating a coastal tablescape. All you need are some tabletop elements to layer with your everyday plates and silverware. Some beach house decor items you can add include:
Beach-style napkin rings
Hurricane candle holders
Chargers or a small accent plate in a nautical style
Hand-blown glasses that look like seaglass
A table runner or table cloth in a coastal look or color of your choice
 The wine glasses on this table look like seaglass. The color theme of aqua and sand of this tablescape replicates a day at the beach.
 Layering beach theme decor like netting as a table runner, starfish and coastal-inspired plates creates a fun beach-themed table.
Add whitewashed accents to your room
Whitewashing means adding a translucent stain of white to an item. It's different from painting the piece because a whitewash is more see through and looks more natural. Choose pale and whitewashed accents for an updated coastal vibe.
The look is similar to the tone of driftwood and adds the light and bright effect of a beach house to your room.
The wood accents in this home were left in their natural wood tones for a surfer-chic vibe.
The most striking of all is the modern whitewashed oak coffee table.
A monochromatic white on white bedroom with pale woods and sisal expand and brighten the space.
Two-tone walls are very 'beach house'
There are many ways you can get the two-tone beach house look. You can paint the walls in two contrasting colors. Or wallpaper the upper or lower half and paint the other one. Or you can add classic, nautical beadboard panels to the lower half of the wall. Here are some examples:
The two-tone wall was achieved by using paint and wallpaper.
 The easiest way to add two colors to your walls is by painting them.
When painting, use painter's tape to create a crisp, sharp line.
Use driftwood for a beach house theme
Recycle found objects like driftwood and bamboo by using them as wall art or as the base of an occasional or coffee table.
The homeowners collected driftwood on a beach walk and hung them freeform over their breakfast nook.
 Driftwood over the mantel and as the base of a table add to the modern coastal look of this open floor plan living space.
Use beadboard panels for a modern coastal effect
Beadboard or wainscoting are panels of vertical wood that have been used for years to insulate and serve as walls. Found at most home improvement stores, they can be painted and are easy to work with. Here are some ways you can add beadboard for a beach style look:
A small home features crisp, white beadboard walls. The vertical panels enhance the small space's ceiling height.
A coastal theme bed is made with beadboard slats.
You can't have too many beach theme decor items
For the ultimate beach house look, layer plenty of blues, stripes, woven materials and other beach home decor.
A coral replica and various decorative objects in blue and white make a beach style statement.
Throw pillows are often the least expensive and most dramatic way to create a modern coastal living space.
A wall collage of shells and soft, pale blue and beige tones make this entry an inviting stop in the home.
Just a small amount of beach theme decor can transform your space into a summer vacation getaway. Are you planning on adding a little beach style to your home? What's your favorite beach house decor idea?