6 Halloween Housewarming Party DIYs With a Creepy Amount of Elegance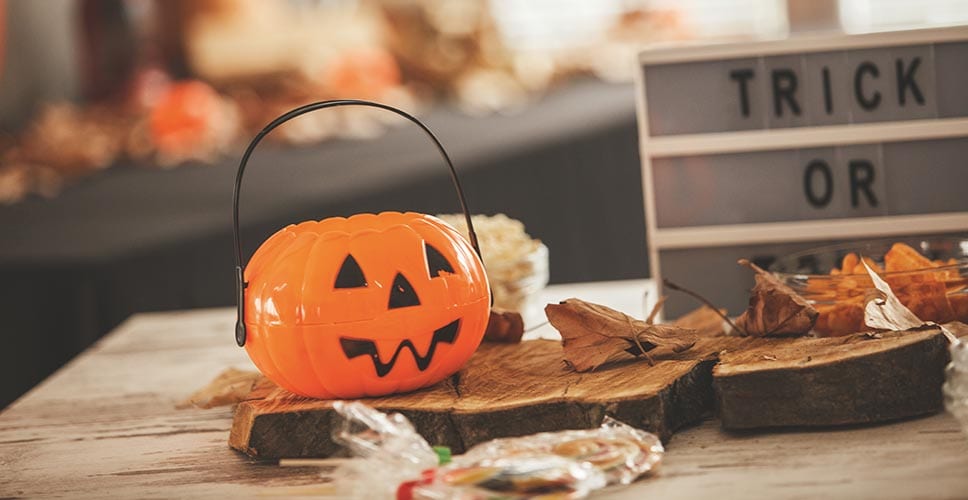 We get it: A move can be pretty scary. That's why a fall move lends itself perfectly to a Halloween-themed housewarming party. Halloween is a holiday people seem to either love decorating for, or avoid altogether.
If you're not one to excitedly douse your home in fake spiders, splashes of orange, and warty witches, fear not. We've got some tricks and treats up our sleeves for the Halloween-decor-adverse — and you might even want to showcase them beyond October. These Halloween decor DIYs will have visitors creeped out by the amount of elegance you stirred up.
Breathe life into the concept of afterlife
Since skulls emerged as a trending decor statement some time ago, they've become common styling pieces for downplaying femininity and punching up drama. If you haven't embraced this trend, but are open to skulls that are a little more welcoming, consider one that's full of life. Incorporating flowers into a skull can create a warm (and jaw-dropping) statement.
Interest piqued? Check out this DIY foam skull vase and time-lapsed video. If you stumble upon a skull figurine (Home Goods is brimming with them), simply glue a few faux florals onto it to enjoy eternal blooms. Rather pop a floral skull print into a frame and call it a day? Swoon over these skull prints.
Pick your poison then showcase it
Start stocking up on used wine (and other glass) bottles. They'll get a second life in this pretty "poison" display. By coating bottles of different shapes and sizes with black spray paint and adding some labels, you'll curate quite the collection of gothic-yet feminine-toxins. Download a free "Pick Your Poison" print and wine bottle label here.
What would a mad scientist's lab be without formaldehyde? Formulate your own faux formaldehyde using apothecary jars. Fill them with water that's been mixed with green food coloring, then add dried botanicals or fake rodents. The juxtaposition of glass with flat black poison bottles will give off an eerily elegant contrast.
Break the ghost mold and shape your own
Though this outdoor decor DIY isn't for the faint of heart since it requires a little trial and error, the result is one that will stop people in their tracks. Life-sized chicken wire ghosts will create the illusion of floating front yard foes beckoning trick-or-treaters to your doorstep.
Bonus: spray paint the wire with glow-in-the-dark paint for added drama when Mother Nature flips off the lights. Watch a full tutorial to assess whether these graceful and intricate ghosts are for you.
Steal the show with a thrilling vignette
Halloween is a time to reincarnate and celebrate old horror films, so why not replicate a scene or two? No blood and guts required with a sophisticated vintage vignette. Use a corner or nook in your home to curate elements reminiscent of your favorite flick. Start with a movie poster or printed quote and incorporate themed items around it. Think old play telephone for Dial M for Murder, an assortment of fake birds to conjure The Birds, or even a faux poisonous apple encased in glass to characterize Snow White witchcraft. The show will go on thanks to you.
Embrace the feeling of a ghost town
Though ghost towns typically have a negative connotation, for Halloween, they're a commodity — and a breathtaking one at that. You can create your own mini ghost town using inexpensive birdhouses or holiday villages. Simply paint them black (flat for a more subdued aesthetic and gloss for a more glamorous one) and marry them all together. Using varying shapes and sizes will help create the most authentic-looking town. Go ahead, dub yourself the mayor of it — you did build the town from the ground up after all.
Shed some light on Halloween's beauty
Nothing says gothic ambiance quite like dripping candles. If the thought of these fire-starters is giving you a fright, take note of ones that can start a statement instead. These giant DIY dripping candles are battery operated and completely customizable, depending on how big you want your flame to flicker. You can showcase them on your front porch, on a windowsill, or as a table centerpiece. No one will be able to hold a candle to your elegant Halloween decor.