What is the best vinyl plank flooring?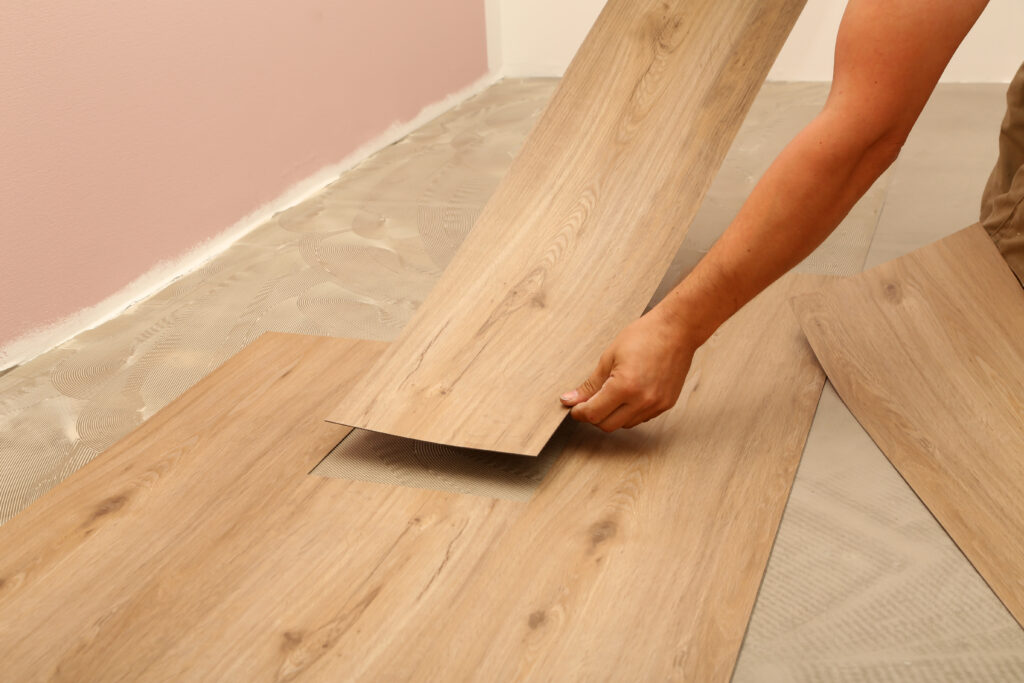 Vinyl plank flooring comes in strips that look like hardwood or tile. Not only is vinyl plank flooring an affordable alternative to natural wood, it's also durable and comes in many styles and finishes. 
In this guide, we're discussing the best vinyl flooring planks, as well as providing reviews for some of the brands offering vinyl planks.
Pros and cons of vinyl plank flooring
Pros
Cons
Best vinyl plank flooring brands
Armstrong is a well-recognized flooring brand with global leadership. The company offers three different types of flooring, including engineered tile, rigid core and vinyl. This brand's vinyl plank flooring won't buckle, lose integrity or swell when it comes into contact with water. Its durable surface means it's resistant to stains, scratches and wear. 
Prices range between $.80 and $1.76 per square foot. Consumers love that these floors have the same look and durability as ceramic tile or wood, but some have concerns about how easily it scratches and dents.
After supplying U.K. buyers with flooring for over four decades, the company made its way to the United States. Karndean flooring is resistant to leaks and spills and doesn't damage easily if you drop something on it. The company offers flooring that looks like wood with a rigid core, and designs that you can either glue or lay down. Karndean stands behind the quality of its flooring products with a residential lifetime warranty. 
Prices vary depending on which option you select. Karndean Art Select Plank costs $5.50 per square foot, while Karndean Van Gogh costs  $4.15 per square foot. The company prides itself on designing each plank so it has unique characteristics and grain, and producing each plank using 100% pure vinyl. Karndean vinyl plank flooring options are ideal for those looking for solutions in high-traffic areas. Consumers are delighted by their quality, while others have concerns about the company's customer service.
For over 100 years, Congoleum has worked to push the industry forward through the creation of innovative flooring products. It offers luxury tile and plank, as well as luxury sheet flooring. The floors contain a combination of natural and synthetic materials. The large molecules in the polymers mean these vinyl plank flooring options are durable and strong. 
Prices range from $1.95 to $3.55 per square foot. Congoleum stands behind the design and durability of its vinyl plank flooring with a five-year limited warranty. Designs include ceramic, hybrid, stone, tile, wood and wood plank. Consumers love it for its easy installation and appearance, but some have noted concerns about the specialty glue you need to install the floor.
Best luxury vinyl plank flooring
When you're browsing luxury vinyl plank options from COREtec, you'll find two options: COREtec Plus and COREtec Pro. Options available in the COREtec Plus brand have additional durability and strength thanks to its limestone reinforcement. Vinyl flooring planks in the COREtec Pro brand are entirely waterproof thanks to their compressed vinyl and polymer cores. Prices for this luxury flooring plank company ranges between $6.51 and $8.15 per square foot.
While you'll find many stone and tile options, Mohawk has more than 200 traditional wood vinyl plank styles. Mohawk flooring also features a patented interlocking technology called UniClic® that doesn't require glue. There are also glue-down options available with either six- or 12-millimeter wear levels. This brand's luxury vinyl floor planks are heat and sunlight resistant, unlike those of other manufacturers. Prices range between $1.33 and $4.00 per square foot.
Shaw prides itself on the techniques it uses to create vinyl flooring wood designs including three embossing textures, including light texture, medium-level embossing and heavy embossing. Light texture planks have a wire-brushed appearance, medium-level embossing has a lot of movement and follows grain patterns and heavy embossing has a hand-scraped appearance. Prices for this vinyl wood plank flooring range from $.89 to $4.99 per square foot.
| | | | | | |
| --- | --- | --- | --- | --- | --- |
|   | Best For | Wear Layer | Thickness | Price per Sq. Ft. | Warranty |
| COREtec | Durability and warranty | 20 mils | 8.5 mm | $6.51 to $8.15 | Limited lifetime warranty |
| Mohawk | Overall | 20 mils | 6.5 mm | $1.33 to $4.00 | 25 to 30 years |
| Shaw | Quality | 20 mils | 3.2 mm | $0.89 to $4.99 | 30-year limited warranty |
| Armstrong | Budgets | 0.3-0.5 mm | 4 to 8 mm | $.80 and $1.76 | 10 years to lifetime limited warranty |
| Congoleum | Value | 20 mils | 8 mm | $1.95 to $3.55 | 5-year limited warranty |
While it might seem overwhelming to choose the best vinyl plank flooring and research luxury vinyl flooring pros and cons, that doesn't have to be that hard. Research the best vinyl plank flooring reviews, warranties and prices to find the top rated vinyl plank flooring. Don't forget to look at wear layers and plank thickness to ensure you're receiving the most durable materials.