What are the different types of floor tile?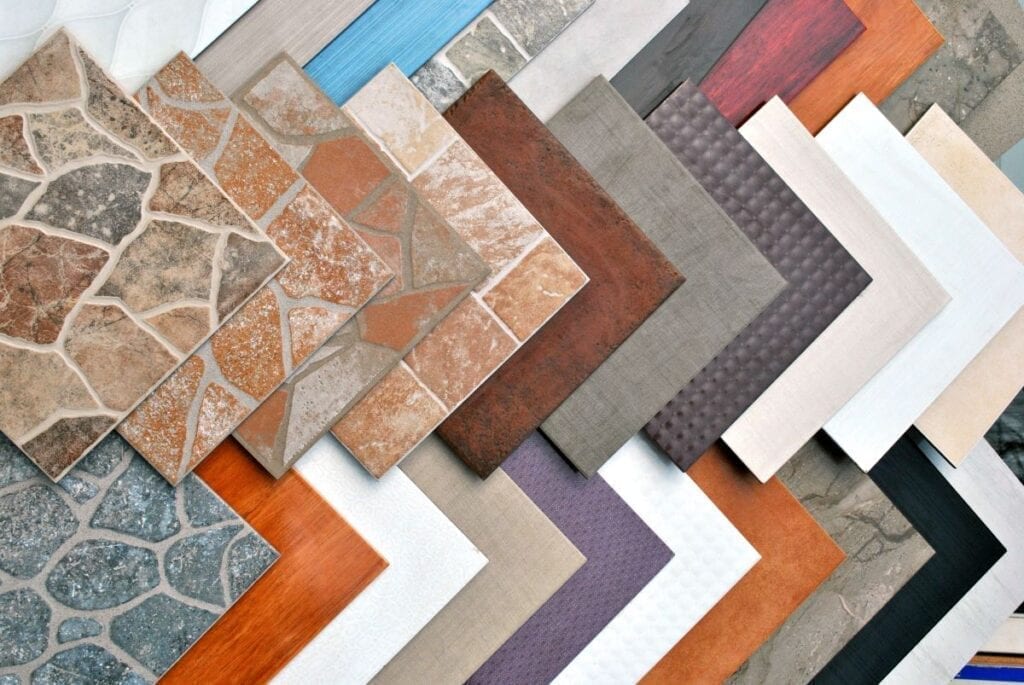 Flooring plays a critical role in the ambiance of a home, and tile flooring options are often durable and sustainable, helping to offset high costs for flooring renovations and maintenance. Some choices have a smaller eco-footprint with more sustainable materials. Although certain types of tile flooring may share similarities, there are several distinct differences as well. Let's dive into the various options that are available to spark your tile flooring ideas.
Types of tile flooring
Ceramic tile
Ceramic tile is made from sand, natural products and red or white clay and then fired in a kiln. Ceramic tile can be glazed or unglazed, although glazed ceramic tile is a more popular option. Glossy ceramic tiles have a glass-like surface, whereas non-glazed ceramic tiles have a matte finish and more texture, mimicking stone tiles. Due to the durability of ceramic tile and its ability to withstand stains, odors and bacteria, it is an ideal option for bathrooms, kitchens, entryways, laundry rooms and mudrooms. Indoor glazed ceramic tiles typically cost anywhere from $.50 to $7 per square foot, whereas unglazed ceramic tiles typically average about $2 per square foot, depending on size. Ceramic tile has a lengthy lifespan, often lasting for 20 years or more but is quite labor-intensive and tricky to install. The process typically involves installing a layer of cement, gluing the tiles down to a backer board and then filling the space between the tiles with grout.
Pros of ceramic tile:
Durable to heavy foot traffic

Unaffected by stains, water and natural elements

A wide variety of colors, shapes and patterns are available

Easy to clean and maintain

Water-resistant to prevent mold and bacteria from forming

Keeps house cooler in a warm climate
Cons of ceramic tile:
Difficult to install

The hard surface can make it uncomfortable to walk on

Gets very cold in the winter and makes a room difficult to heat

Not the safest surface for young children
Porcelain tile
Porcelain tile is similar to ceramic tile in that it is composed of clay and natural materials and then fired in a kiln. However, porcelain is much stronger, harder and less porous than ordinary ceramic tiles because it is made using clays with finer particles and is fired in the kiln at a higher temperature. Porcelain tile is typically white, translucent and extremely dense. Due to porcelain tile's durability and even higher water resistance than ceramic tile, it is ideal for patios, laundry rooms, kitchens and bathrooms. The high quality of porcelain tile combined with its durability and design flexibility also makes it a more expensive tile option, typically averaging between $2 to $10 per square foot for indoor uses. Porcelain tile is durable, scratch-resistant and less prone to stains. Installing porcelain tile can be a time consuming and challenging process because its density makes it difficult to cut through and lay properly.
Pros of porcelain tile:
Elevates a room with its beautiful design and wide variety of options

Ideal for high traffic areas due to its high durability

Moisture-resistant

Easy to maintain and clean

Radiant heat panels can be added before installation
Cons of porcelain tile:
More expensive tile option than ceramic

Can be slippery and dangerous for young children or the elderly

Difficult to install

Does not insulate a room and may make an area feel colder
Glass tile
Glass tiles are designed using thin pieces of glass with a translucent glaze fired onto the back of the tile and come in a wide range of colors. Some glass tiles are made with a mosaic pattern laid on a mesh backing. Glass tile is typically used in bathrooms, but it can also be used in kitchens, living rooms and even swimming pools. Glass tile is one of the more expensive options, typically averaging between $5 to $15 per square foot. It's also a more delicate tile option and may be prone to chips or scratches over time. However, the nonporous structure of glass makes it fully resistant to moisture. Like ceramic tile, glass tile installation can be quite involved, particularly because it is translucent. If the subsurface behind the glass tile is not smoothed perfectly, it will show through. For that reason, it is necessary to hire a professional to install glass tiles.
Pros of glass tile:
Environmentally-friendly, as most glass tile is made from recycled materials and takes less energy to create when compared to other tiles

Beautifully reflects light and color, creating a brighter appearance

Easy to clean with soap and water or an all-purpose cleaner

Zero water absorption for a completely waterproof finish
Cons of glass tile:
More expensive than other flooring tile types

Can chip or scratch over time

Professional installation is usually necessary, particularly when ensuring the adhesive is not visible through the tiles
Cement tile
Cement tiles are created by pouring natural pigments into a design mold, backfilling it with cement, and then setting it with hydraulic compression. They are air-cured and not fired in a kiln, making them more environmentally-friendly. Cement tiles have a porous appearance and come in a wide variety of shapes, patterns and designs. This material is ideal for bathrooms, laundry rooms and mudrooms due to its ability to withstand wear and tear. Cement tile is fairly inexpensive, typically ranging from $1 to $5 per square foot or more depending on the complexity of the design. It's extremely durable and is strong enough to withstand significant usage, even more so than ceramic tile. While it's possible for handy individuals to install it on their own, it is advised to consult a professional or do thorough installation research online before attempting to lay the tile. Because cement is extremely heavy, it's a good idea to have a professional check to ensure the home can bear the weight.
Pros of cement tile:
Extremely strong and durable

—

ideal for areas with heavy foot traffic

Countless customizable design options available

Easy to clean and can be refinished

They're more eco-friendly than other types of tile flooring

Radiant heat panels can be added before installation
Cons of cement tile:
It is a heavy material, so the area must be able to maintain the weight

Concrete is more porous and prone to stains

It may crack in extremely cold temperatures
Marble tile
Quarried in mountainous regions around the world, marble is a natural stone that is cut into slabs and tiles. Marble is characterized by its wavy, veined pattern, which gives it an elegant, luxurious appearance. Marble tile can be used in almost any room but is ideal for foyers, hallways, kitchens, bathrooms and living rooms as it adds design versatility and a smooth, high-end appearance. Marble is one of the most expensive flooring options available, with marble tiles costing between $5 and $25 or more per square foot. It tends to have air channels in its structure and, as a result, is not very durable — it breaks, chips and cracks more easily than other floor materials and can require quite a bit of maintenance. While it is possible to install marble on your own, it can be difficult to match the marble's natural design. To achieve a balanced look, it is best to lay the tile out on the floor first and mix and match until you achieve the pattern you want.
Pros of marble tile:
Could increase resale value in a home

Radiant heat can be installed underneath marble tile

High-end appearance

Wide range of patterns, colors and designs
Cons of marble flooring:
Needs to be maintained frequently for chips and scratches

Easily damaged

Porous and absorbs water
Mosaic tile
Mosaic tile is a combination of various materials such as ceramic, glass, stone or porcelain. It is characterized by an inlay of design patterns in varying materials, shapes, colors and designs — typically 2 by 2 inches in size. This material works well indoors and outdoors, particularly in the kitchen, living room, bathroom, hallway, laundry room and outdoor patio. Mosaic tile is expensive because it is difficult to manufacture. It typically costs around $8 to $20 per square foot. The material is nonporous, meaning it is far less susceptible to mold and mildew, but it is somewhat fragile due to its smaller size. Mosaic tile isn't quite as difficult to install as other tiles such as ceramic, but it is still labor-intensive. To ensure the mosaic tile remains in a straight line, it is necessary to use a fiberglass mesh sheet behind the tiles to hold them in place. The fiberglass sheet can be difficult to use, as it tends to warp and shift.
Pros of mosaic tile:
Usually nonporous and waterproof and therefore not susceptible to mildew or mold, depending on materials used within the mosaic

Versatile design options in a broad range of colors, sizes and patterns

Works well in small spaces
Cons of mosaic tile:
Because mosaic tile incorporates glass, it can be more fragile than other tile options

Glass tile can be slippery when wet

Installing the smaller tiles can be labor intensive
Granite tile
Granite is an igneous rock, meaning it is formed from lava or magma. It naturally has a shiny and somewhat sparkly appearance because it is made up of quartz and feldspar, but matte options are also available. Granite works best in kitchens, living rooms, bathrooms, hallways and other high-traffic areas in the home because it is durable and can withstand extensive wear. It can also be coated with an anti-slip grit to protect from slips and falls, as it is very smooth on its own. Granite prices can range from $5 to $25 or more per square foot. Installing granite tile flooring can be difficult because it is an extremely heavy material, so it is necessary to first assess whether the home can support the tile. Laying granite tile involves ensuring the sub-floor is clean, applying mortar, installing the tile and then grouting between each piece.
Pros of granite tile:
Dense and strong

Can be coated with anti-slip grit, making it less slippery

Resistant to moisture

Well-suited for radiant heating underneath
Cons of granite tile:
A more expensive flooring option

Installation can be cumbersome

Extremely cold when radiant heat panels are not installed

Needs to be resealed periodically
These are just a few tile flooring ideas for the most popular materials. If you're looking for a more unique look in your tile floors, check out limestone tile, travertine tile, quarry tile, slate tile, faux wood tile, onyx tile, quartzite tile, sandstone tile and terrazzo tile.
When determining which flooring tile ideas to use, it is always best to consider how frequently you are comfortable repairing and maintaining the tile. Also consider how porous your desired tile is, particularly when using it in bathrooms, kitchens and laundry rooms.