4 Fast, Fab and Temporary Flooring Ideas For Renters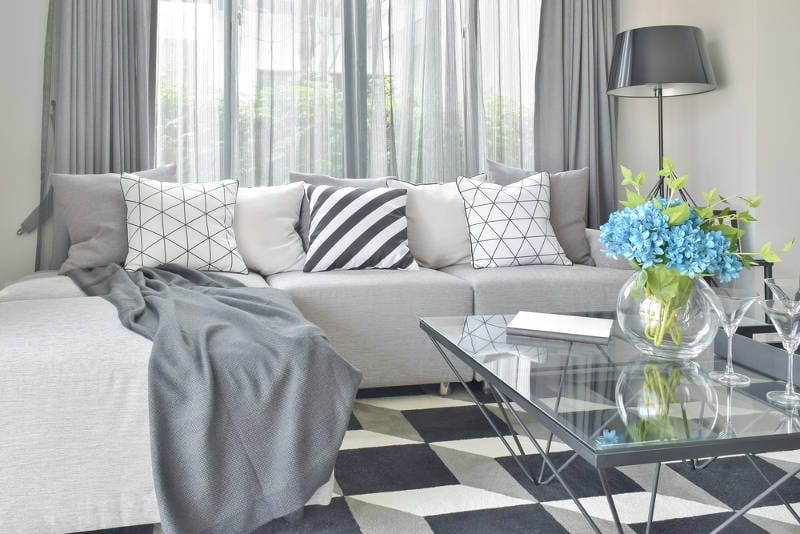 We hope you like the products we recommend. Just so you are aware, Freshome may collect a share of sales from the links on this page. Do you hate your apartment floors? What if we told you there is temporary flooring available that can cover (or completely change) your rental floors easily and without any complaints from your landlord?
We're not talking area rugs, although they're not a bad solution. We're talking full-on floors that look fabulous, are easy to install and are just as easy to remove when you move out. Check out these four fast and fab temporary flooring ideas:
1. Carpet Tiles
Shop These Products Now: Carpet Tiles – Area Rug – Sectional Sofa
Carpet tiles are the ultimate instant flooring makeover solution. They're recyclable, making them eco-friendly, fairly inexpensive and very easy to install. Worried they may not be durable? Carpet tiles are used in hospitals, airports and other high-traffic locations around the world.
Order them in boxes according to how many you may need, cut them easily and stick them together with little adhesive dots for a cool and unique wall-to-wall look. Order extra so you can replace damaged ones in the future. And challenge your creative side by mixing and matching patterns and colors.
2. Vinyl Sheet Flooring
Shop These Products Now: Vinyl Flooring
A quick and easy way to hide unsightly apartment floors is by rolling out a big sheet of vinyl flooring. You can use a removable adhesive or double-sided carpet tile to stick the flooring in place. Or simply anchor down the sheet with furniture. The best part of vinyl sheet flooring is that it's waterproof and easy to wipe clean.
3. Interlocking Floor Tiles
Shop These Products Now: Interlocking Floor Tiles – Gray Flooring Tiles – Wooden Floor Tiles
Interlocking tiles have come a long way from the colorful children's playroom styles. They're lightweight, quick and easy to snap together and require no adhesives. They also offer some cushioning and soundproofing as a bonus.
4. Laminate Flooring
Shop These Products Now: Laminate Flooring – Laminate Flooring Installation Kit
Laminate flooring is durable, authentic looking and easy to install as a floating floor. Look for click and lock laminate flooring as a temporary solution that doesn't require nails or adhesives. For extra soundproofing, add a foam underlayment sheet underneath the laminate.
You can add any of these temporary flooring options to update your boring floor in nearly any room of your rental home or apartment. Be sure to measure carefully, order extra (just in case) and save your receipt to return any unused portion of the flooring.