5 Concrete Floors That Will Cement Your Love for This Material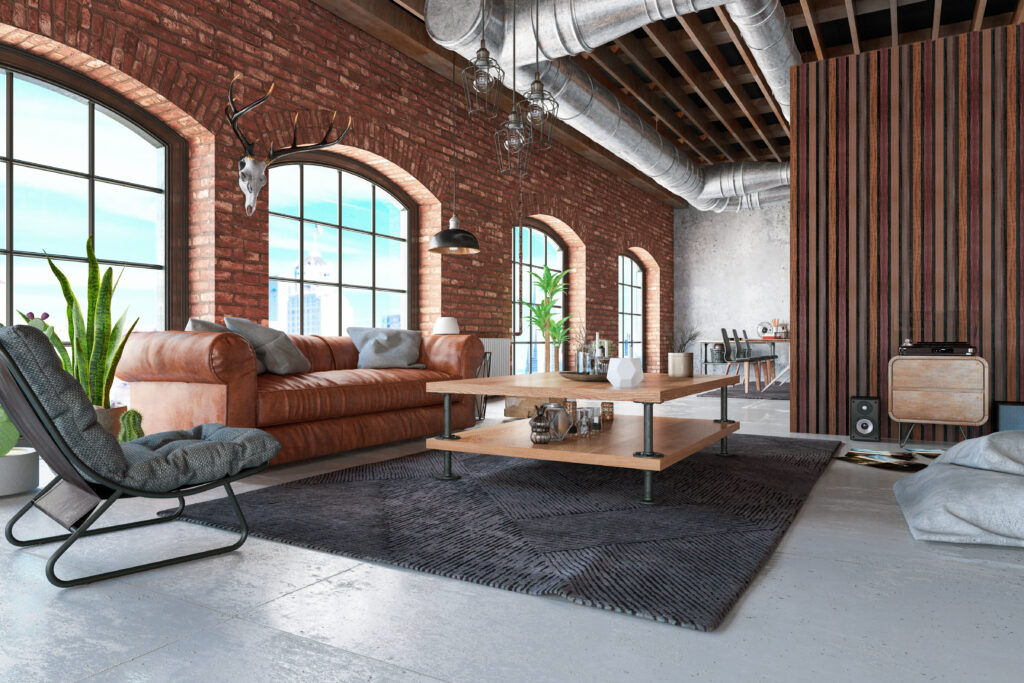 The design world is hot for concrete right now. It's not only one of 2018's biggest design trends, it's equal parts sleekness and sturdiness. Plus, it's cheap and easy to maintain. Need we say more?Just to be safe, we will. Concrete just might be your most eco-friendly flooring option. If there's already a concrete slab in your home or apartment, all you need to do is have it sanded and sealed. You need only minimal additional materials, meaning your impact on the environment is tiny. What's more, concrete lasts a long time — we're talking centuries. That's why so many homes use it as the base for their flooring. If you want durable, chic flooring that's easy to keep up, look no further than concrete floors. Here are a few examples of how to nail the slab-as-flooring trend.
Concrete floors for airiness
It might seem counterintuitive to lean on such a heavy material to add lightness to a space. But concrete lends an ethereal feel. Its color and texture is low-key lunar, and its smooth surface helps any room feel open. This works beautifully in a bathroom where you want to instill a zen, spa-like atmosphere. It's also great for offices and dining rooms that need to feel spacious even when filled with people.
The versatility of concrete
If you think concrete is boring, think again. Thanks to stains, stamps and colors, concrete flooring can be just about anything you want it to be. Maybe you want to stamp leaf patterns into your entryway to lean into the nature vibe. Maybe you want to stain your floors with high gloss for extra sleekness. Or maybe you want to add a visually interesting accent, like the one pictured above. Gray concrete slabs are just the beginning.
An easy-to-clean flooring solution
Keeping your home's high traffic areas in top shape is a never-ending chore. Do you feel like you're always chasing behind someone with a broom? You might want to consider concrete floors. The natural gray color of concrete is an ideal dust-masker, plus the smooth surface tricks the eye into thinking it's clean. Or, if there's a specific color of grime that has you pulling out your hair, consider a concrete stain. The brown-hued stain on the concrete in the above picture is perfect for hiding tracks from dirty shoes.
Your clean canvas
Design changes fast. What was in just a few years ago is suddenly passé. Keeping up can either be fun or frustrating, depending on how you approach it. If you like pivoting with the season's hottest design, it's important to make sure that your home's more permanent points – like flooring – can pivot with you. A concrete floor is a blank slate. This year, while concrete is hot, you might choose to leave most of your floor exposed. Down the road, when there's another new trend you're excited about, you can layer it with rugs or sand and re-stain it. It's a permanent solution that makes changing your interior design a breeze.
Concrete floors for a masculine feel
Whether you're a single man designing your bachelor pad or a couple trying to give your home or apartment a gender-balanced design, you might be stumped. So much of masculine design trends towards heavy pieces, dark colors and the ever-so-original sports memorabilia. If, however, you want to give a room male energy without painting it black and hanging up a bunch of pennants, look to concrete. Even with its soft color and clean lines, concrete floors give any space a sturdy, masculine feel.One note about concrete: It cracks. If you like the natural, stonelike feel that concrete delivers – cracks and all – it's a great option. But if you don't like the added character of a crack here or there, be prepared to look into other options. That might be a simple as restaining the floor to make the crack more subtle or opting for large concrete tiles instead of a full slab.Ready to adventure into the slab-tastic world of concrete? You can find more inspiration in this geometric floor and other design uses for concrete. We'd love to hear your designlans below!