How to Fill Holes in the Wall to Get Your Security Deposit Back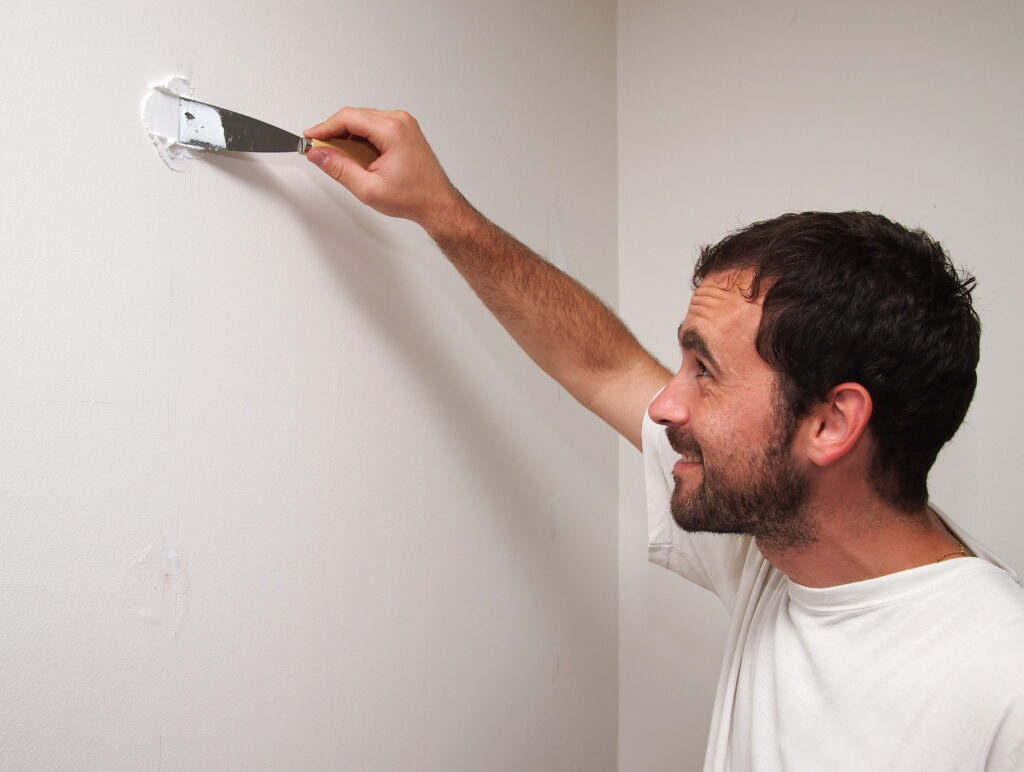 You've given your notice to the landlord and have begun the packing process. As you take down your family photos and wall art, the nail holes left behind become alarmingly front and center. Left untouched, you may not get your security deposit returned. Learn how to fill holes in walls before your move and have your security deposit back in your hands.
How to fill nail holes in walls, step by step:
Step 1: Remove any loose paint around the hole.
As you remove the nail, some of the surrounding paint may chip off. It's important to prep the area by lightly sanding away any loose paint. Use 150 grit sandpaper to create an even surface. If the nail comes out cleanly and the adjacent paint is intact, go directly to Step 2.
If the nail doesn't come out cleanly and some of the drywall pops out, gently tap the area with a hammer or the handle of your spackle knife to flatten any bumps.
Step 2: Apply a layer of spackle.
Spackle, also known as compound or putty, is a wall paste. With your spackle knife, apply a thin layer of spackle compound onto the nail hole at a 45-degree angle. Make sure the spackle has filled the nail hole.
Step 3: Allow the spackle to dry completely.
Take care of your other pre-move repairs as you let your spackle dry for approximately one hour. If the weather is humid, this may take a bit longer.
Step 4: Scrape away excess spackle.
If there is excess spackle around the nail hole (there may be a thin line from when it was applied), take your spackle knife and align it to the wall. Slowly scrape the excess away.
Step 5: Gently sand the spackled area.
Part of learning how to fill holes in walls that have been damaged is to eliminate any uneven areas. Use a 150 grit sandpaper (fine grit) to smooth out the spackled area for a seamless look.
Step 6: Apply a second coat of spackle
If the nail hole is still visible, apply a second coat of spackle, following Steps 2 – 5.
Step 7: Paint the area.
Once your final sanding is complete and the nail hole has been filled, it's time to touch up the area to blend in with the existing wall paint. Using a small paintbrush, apply paint to the spackled area in light strokes. Spot painting the filled nail hole should be sufficient. However, if the wall has a considerable amount of nail holes (for example, from a gallery wall), it may be necessary to paint the entire wall.
Pro-tip for fixing large holes: Fixing large holes in your wall is a bit more labor-intensive. You'll need a mesh wall patch cut to fit over the hole (with some overlap), a spackle knife and spackle compound, and sandpaper. Let the spackle fully dry and gently sand. Be sure not to sand too harshly that the mesh wall patch shows through. Paint the area you've repaired with the matching wall paint. 
Products and tools you'll need to cover nail holes in walls:
Quick (and temporary) fixes to fill in nail holes:
After giving your notice to end your tenancy, your landlord might stop by for an impromptu inspection. Wondering how to fill nail holes in walls quickly? We have you covered with these fast fixes. But don't forget to go back and fill the holes correctly before you move out.
Hack #1: Fill in wall holes with Ivory soap.
Trim a small piece of Ivory soap or other white soap and gently insert it into the nail hole.
Hack #2: Use toothpaste to fill in holes.
Grab your tube of toothpaste (white, not gel). Dab a small amount on your finger and lightly apply it to the nail hole.
Hack #3: Use Play-Doh.
Don't have any spackle on hand? If your little ones play with Play-Doh, take a small section, warm it up in your hands, and press over the nail hole.
Hack #4: Create your own spackle with white glue and baking soda.
You have other ways to fill holes in walls, including mixing up a batch of homemade spackle. Mix a small amount of baking soda and white glue to form a putty consistency. Use a credit card or playing card to smooth out any rough edges before it dries.
Hack #5: Use a wax crayon or candle wax.
As you search for hacks on how to fill holes in walls, you'll find wax is an excellent option. Due to its pliable texture, wax can be rolled into a tiny ball and pressed into the nail hole.
The bottom line
Learning how to fill nail holes is easy when you follow these simple steps. It takes very little time with just a few tools (or DIY hacks) to ensure your place is in mint condition to avoid penalties on your security deposit.
Frequently asked questions
Should you fill holes in walls when moving? 
Absolutely. Even the smallest holes can be viewed as property damage by your landlord. You can lose a portion of your security deposit or the entire amount by leaving them unrepaired.
How do you fill a hollow hole in the wall? 
Fill nail holes in walls that are hollow by stuffing a bit of tissue paper or paper towel into the hole. Be sure that the paper is completely in the hole, not extending out of the hole. Add a layer of spackle, allow to dry, and sand until the surface is smooth and even with the existing wall.
Can my landlord withhold my security deposit? 
Yes, your landlord can withhold your security deposit. Losing your deposit can be due to damage over and above standard wear and tear, unpaid utilities or rent, or extensive deep cleaning. Check with your state's regulations on security deposit laws to educate yourself on what your landlord can and cannot do.