25 Functional Furniture Designs Inspired by Skateboards
Design is a field with so many creative approaches that we can never run out of ideas to share. For today we decided to show you just a little tiny piece of that creativity in these 25 amazing functional furniture designs inspired by skateboards. Some of these unusual items were already featured on Freshome, but this post will bring some news as well. Skateboarding fan or not, we think it's time for you to start living "on fast wheels" and we might just have a few inspiring ideas for you  in this upcoming article.
1.  The God Father Launge Chair is the most elegant item in our display. It features a total of seven decks with very comfortable cushions, perfect for providing a high level of relaxation.This chair is great for a modern interior, or a contemporary work area. Its color makes it very sober and stylish. -via Skate Study House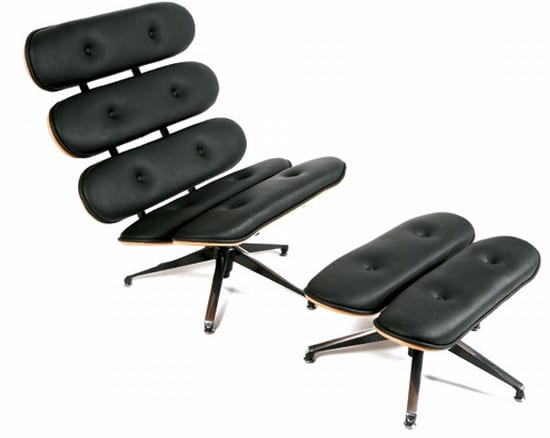 2. Skateboard Table Light is an ingenious item for any skateboard lover or unusual design fan. Made from a common skateboard with an uncommon finish, this table light can offer its user the chance to note things down when needed with the help of a chalk. If you think about it, this is quite a simple idea: you open the light and write. We found this item being sold here, for a price of $129. As you can see in the second photo, it goes great in a bedroom for teens.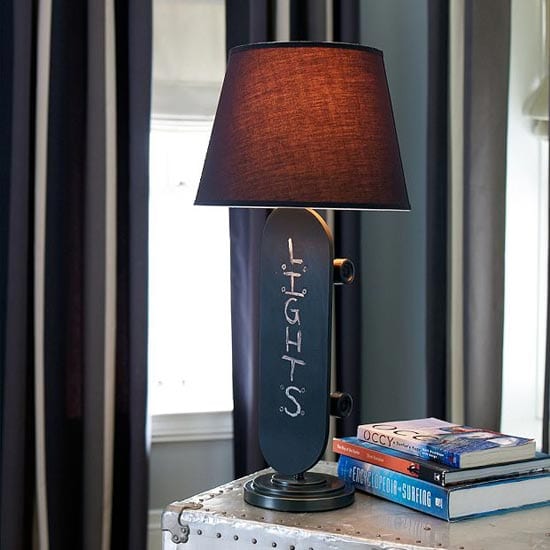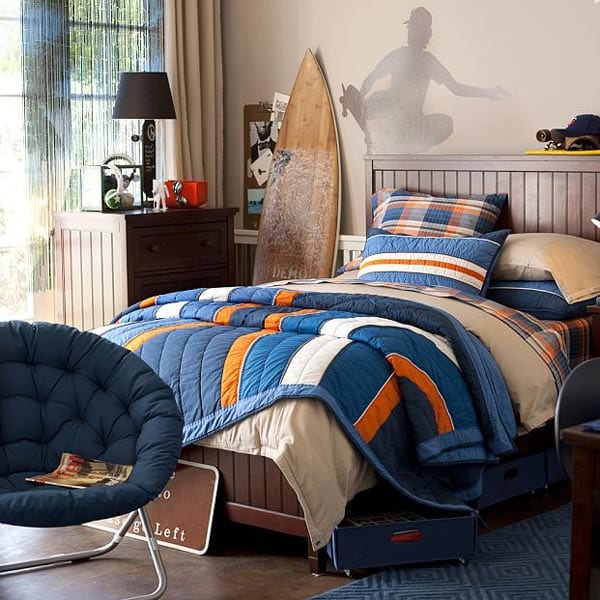 3. The Skateboard Speaker Shelf looks great for a decorative object most of us would probably like to have in our room. As you probably guessed, this design has a double functionality. You can use it as a shelf and place books, CDs or picture frames on it. Still, we think the speaker idea is a lot more interesting: this skateboard has a mp3 player pouch and two integrated speakers, which makes listening to music a real treat.-via ubergizmo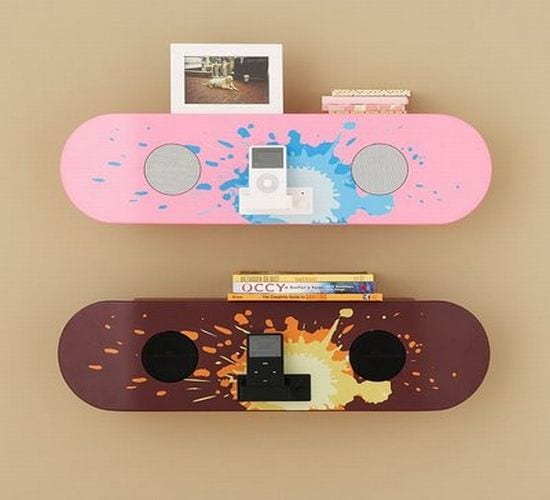 4. Chad Knight's Shred Bed comes from retired skateboarder Chad Knight who stated that his motto is "Eat, breathe, sleep skateboarding". Well, we don't know about the first two, but sleeping is definitely possible when surrounded by skateboards and in the picture below you have an incontestable proof. This bed was designed by simply placing 5 decks together to create a head board and five more for the opposite part of the bed. This design is said to be on the market soon- do you think it will be successful?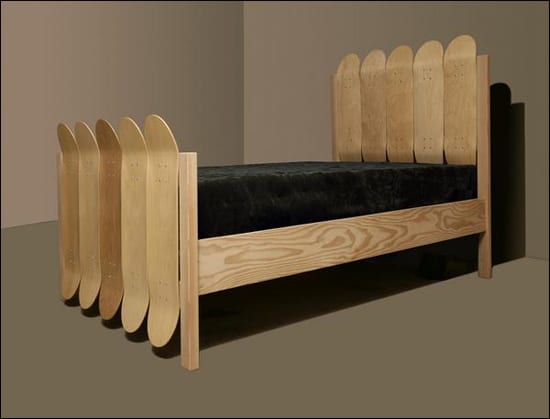 5. Skateboard "Three Sixty" Table comes from Sports Utility Furniture and has a very original appearance. Its designers described it as "the endless rotational table where nothing will ever be out of your reach". The glass tabletop can spin due to the skating wheels sustaining it. Its legs are made of quality wood and a resistant oil finish. This gives the overall design a friendly look. A great idea for an original living-room, the "Three Sixty" Table can complement other wooden furniture items in creating a warm interior environment.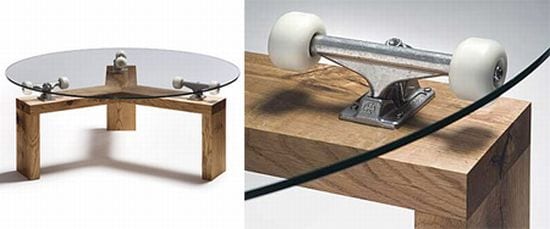 6. The Jet Set Lounge Chair is a very elegant furniture piece, perfect for the outdoors. It doesn't take a skateboarding fan to like this, as we think this is the type of designs that appeals to a large public. Made from 8 decks, each covered in neoprene (which is the material used for surfer costumes), this stylish lounge chair is a good choice for pool owners. It looks highly comfortable and can also dry up easily.- via Skate Study House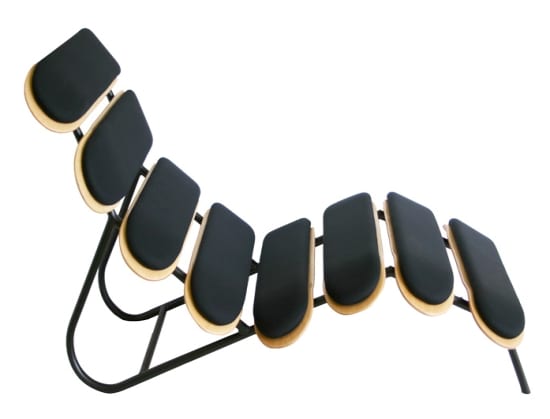 7. The Skateboard Stax Chair looks like a tiny outdoor bench and is made of three decks and plywood. We imagine it as being the perfect place to rest for young skateboarders who had just finished their intense practice. It goes well outdoors, on the patio or in a themed skateboard room. We think it looks quite original, don't you? Found it online here.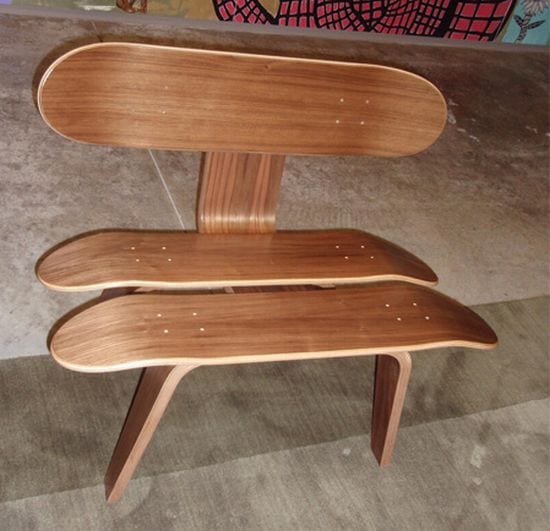 8. We featured the Skateboard Shelf in a previous post here on Freshome, do you recognize it? Unusual and dynamic, these four decks of different sizes create a a lovely storage system. A lot of depositing space is available and it can even be used as a bookcase. When Michael first wrote about it, the Skateboard Shelf was on sale on Walmart for $40. We can not find it on their online store anymore, but perhaps they have few of them left in their deposits. Worth checking.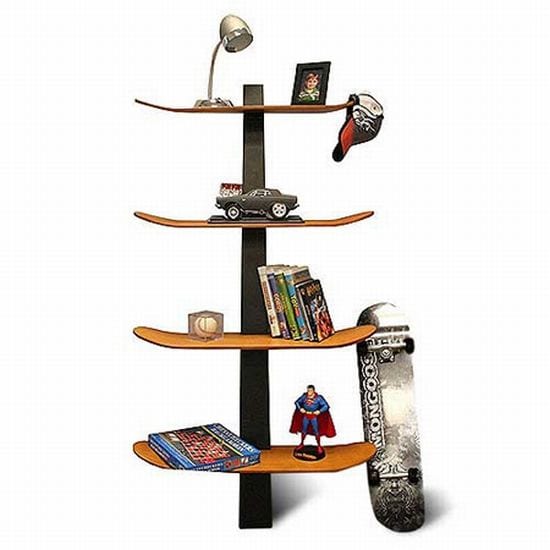 9. The Comet Coffee Table is a playful design that combines art with sports. It features a glass tabletop and eight crossed decks. Their junction looks particularly interesting and gives the design a dynamic and restless feel- sounds a little like skateboarding, doesn't it? All in all, the coffee table has an original appearance and it would suit great in a living room, together with other similar decorating items.-via Skate Study House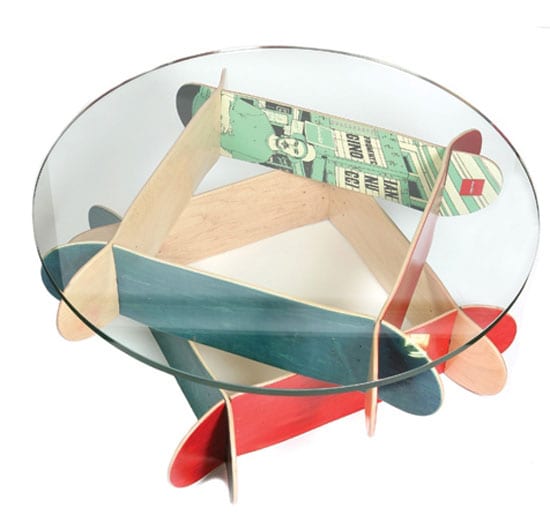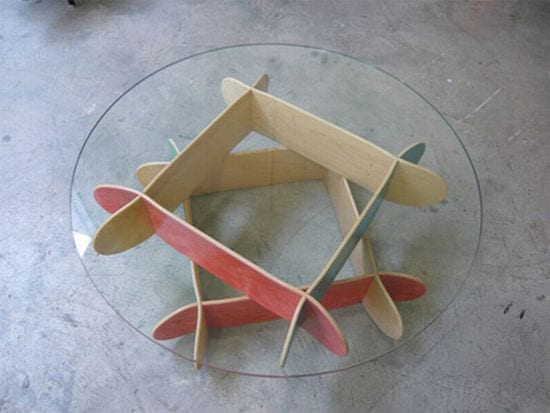 10. The Nova Lamp is a stylish free standing floor lighting system which emits a warm light when plugged. The unusual design is made out of three decks combined together with the help of subtle metal structures. Great for the living room and bedroom, the Nova Lamp has a strong aesthetic effect and can contribute to the originality of an interior. The item is available in two types of wood and colorful finishes. You can order this product online here.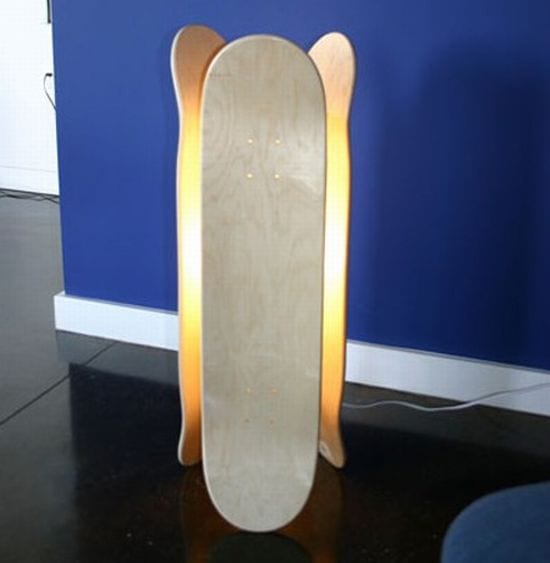 11. A functional wall clock inspired by skateboarding sounds weird enough to be put to practice. The Astro Clock pays tribute to the polyurethane wheels invention in the 70's and was made using 12 colorful skateboard wheels. A wooden center completes its dynamic and very appealing look. Fresh and youthful, this type of wall clock could go great in the teens' room. You can get more information on purchasing this product here.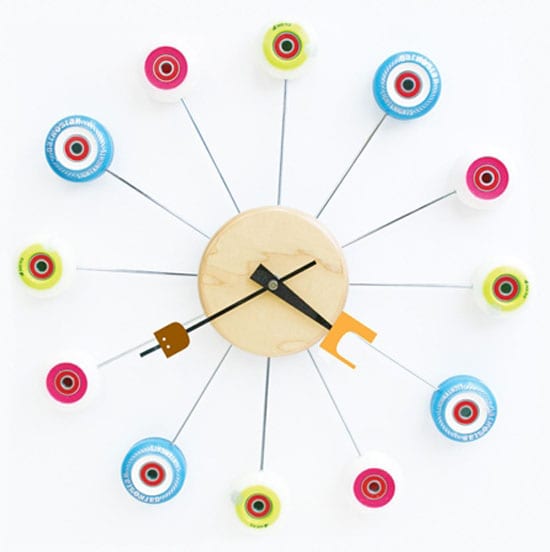 12. The Skateboard Stairs were carefully crafted using skateboard decks and have a well defined charm. They were designed for a skateboarding school using wood and a few metal objects as well. This may be an utopic idea, but we imagine them connecting the levels of a home completely inspired by skateboarding. One could even turn that in a museum some day. We found them online here.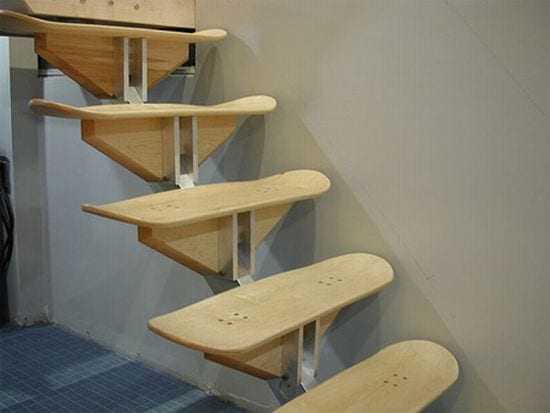 13. The Skateboard Mirror is a clever and sportish element that can be placed either in the teens' room or in a bathroom. It features a skateboard with exterior wheels, in life-size, perfect for a good reflexion. We also like the way it comes on the wall, it almost looks like a trophy, especially for the "hard-rock" skaters. You can pre-order this item at Purves, for the sum of $224.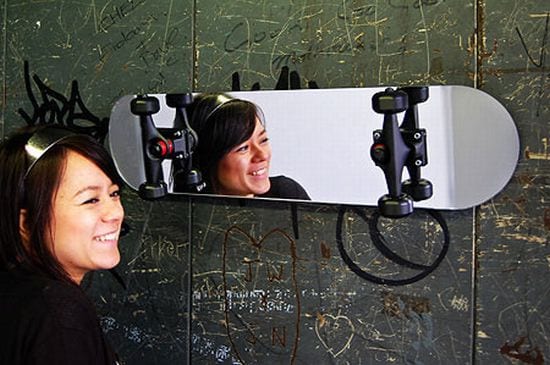 14. PB Teen's Sakteboard Hooks and Shelving ideas caught our attention due to their fresh appearance. We find the hook to be quite ingenious and original: after all, it is not every day you see clothes being hung on wheels. Both of the objects were creating using a deck and some additional materials which help with the positioning on the wall. We found them being showcased here.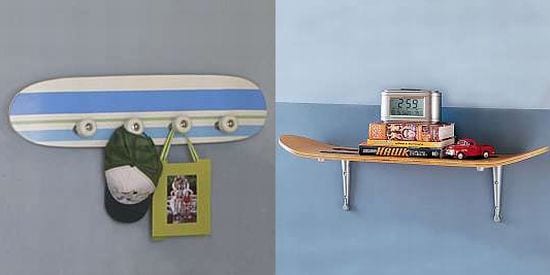 15. The Skateboard Hang Up Coat Hanger is a very interesting decorating item with a practical function as well. Made from metal wires with eight colorful skateboard wheels, this coat hanger is sure to freshen up any hallway, especially the one of a skateboarding fan. The color of the wheels can be chosen by the user and the product can be ordered online here.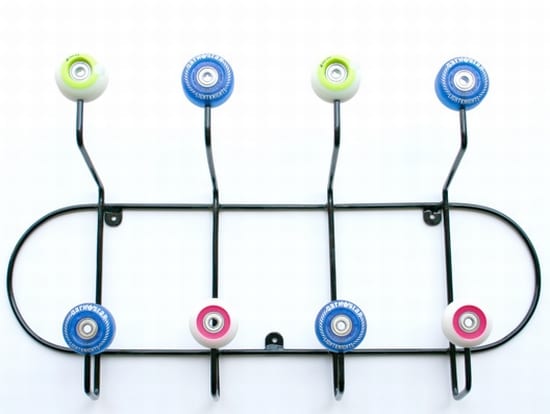 16. This Skateboard Bench is especially designed for the outdoors. This item was created using only recycled products- including four skateboard decks and plastic for the legs- which turns it into a sustainable design as well. Whether you place it in your garden or in your lawn, the skateboard bench is sure to attract the looks of the passers-by.- via Ski Chair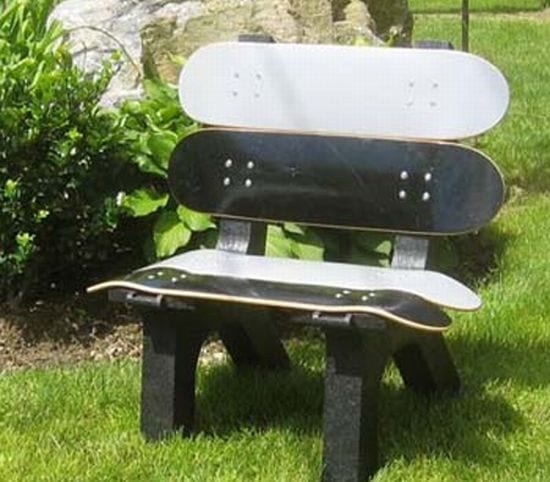 17. Here is another cool design that helps one keep stuff organized.This Bookend Skateboard shelving system could do a great job in replacing a bedside table and is perfect for storing small objects. It comes in a variety of colors and it costs $40. It is made of two decks, combined together by using a very subtle metal gizmo. You can order this product online on Skatelab.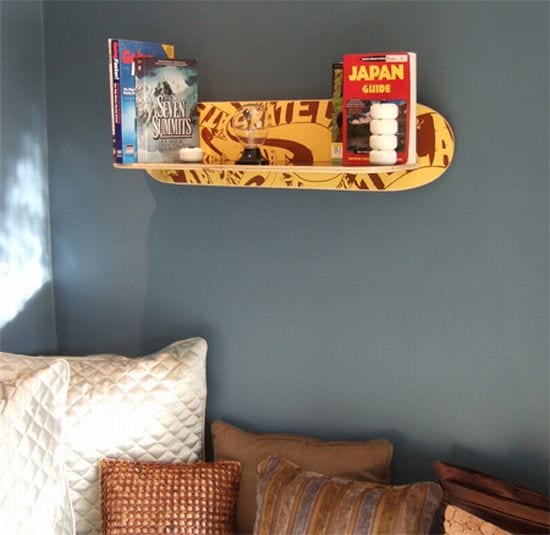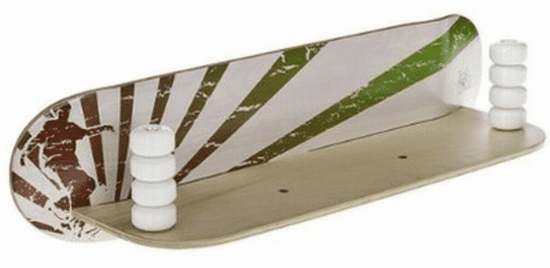 18. The Skateboard Swing offers a different type of skateboarding sensation, but a great one nonetheless.This beautiful wooden swing is made out of four decks united in order to create a backrest for the swingers. We think this is a creative design to have in any yard, especially for the skateboarding fans. It doesn't look very hard to assemble either, all it takes is a little time and patience. But until you create this swing yourself, there is an offer online available here, for the sum of $599,95.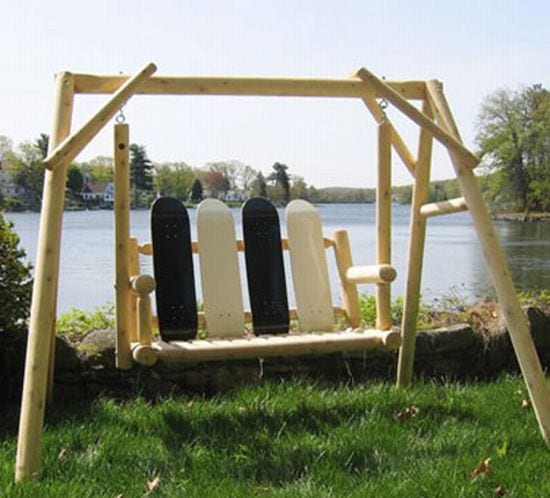 19. A Skateboard Picture Frame can act as a cheerful and welcoming design in any room. Creative and fresh, this picture frame could fit great in a room for teens bringing a plus of originality. In case we are talking about the room of a "hard-rock" fan, this frame could contain photos of his or her skateboard, even if this seems a bit redundant. Last time we checked, these items were available at Skatelab. For purchase, you can contact them for an online offer.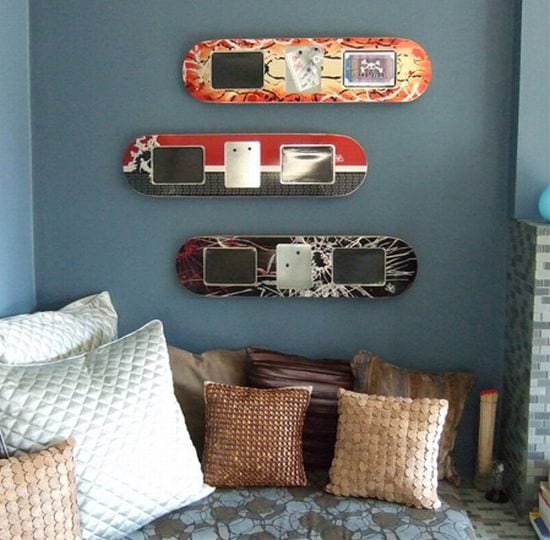 20. The Criss-Crossed Bookshelf is another interesting design inspired by skateboards. Made from wood and with a few colorful additions, the shelving system can act both as a bookcase and a regular furniture piece for storing items. It is made of six decks which were criss-crossed for resistance. The margins can also be used for hanging different types of clothing articles. -via Skate Study House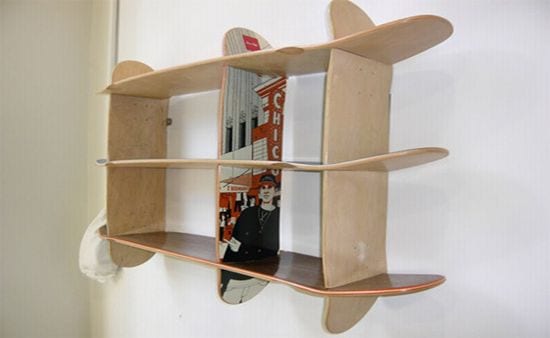 21. This Skateboard Chair and Ottoman can serve as an interesting looking seating item in those late afternoons spent outdoors. It doesn't look all that comfortable, though, so a cushion is advisable. However, the feet rest looks pretty practical and could increase the level of relaxation of the user. The skateboard chair was achieved by using 5 decks and a wooden support.- via SkiChair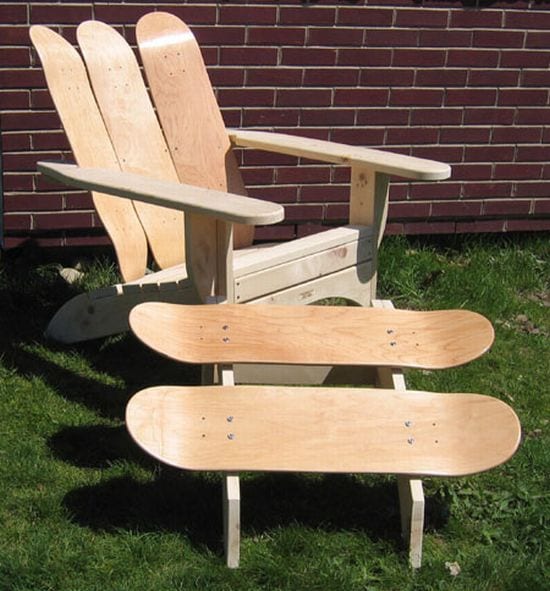 22. This interesting Skateboard Bedside Table belongs to designer Jake Ryder from Seattlemakes, an artist who created a lot of amazing and functional items out of recycled materials. This particular bedside table is made of wood and four decks, one of which acts like a drawer closing system. We find this idea to be quite creative, don't you?- via Hometone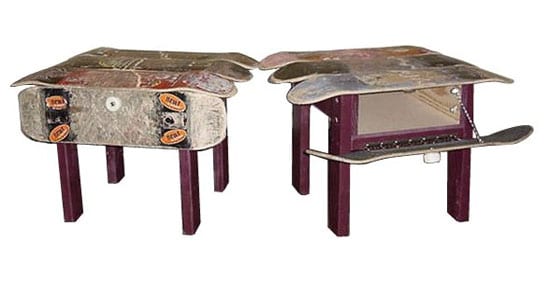 23. Skateboard Tokyo Lounge Table is an elegant coffee table, perfect for a having a drink with friends. This design was created from simple skate decks that were reshaped in order to become the table's legs and a stylish glass tabletop. Four decks were used for this furniture piece and we think the end result is quite impressive. This table was a part of a project called Skate Study House and implemented by designers Pierre Andre Senizergues and Gil Le Bon De Lapointe.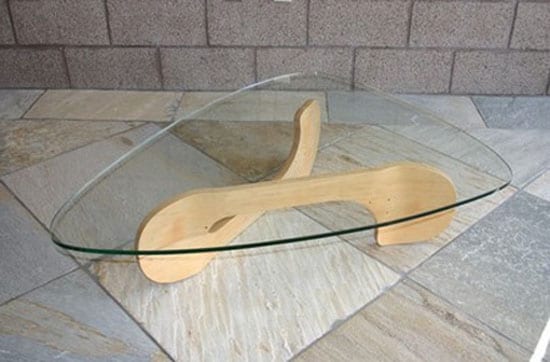 24. These amazing Skateboard Stools come from Deckstool and are made out of recycled materials. As you can see, they are quite various in shape, which makes each and anyone of them unique. Made from skateboarding decks, they have a dynamic touch and could go great in a themed room or even outdoors, in a skate-park for example. Where else do you think these stools would be appropriate?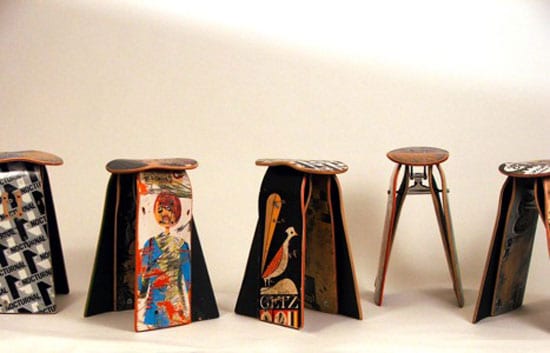 25. The Skateboard Wall was created out of plywood- the material used for producing skateboards- and features a pattern inspired from a real size deck. This item could bring a touch of style to any living room or bedroom. It can be used for various purposes, including room separating. You can order this product online by placing an order here.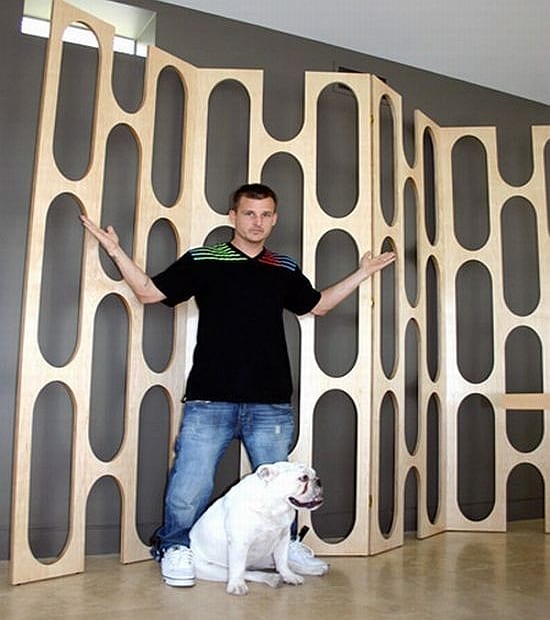 We hoped you guys enjoyed this display of crazy but functional designs inspired by skateboards and we invite you to come up with ideas for similar products. In the mean time, you are challenged to let us know which item caught your attention and why.
---
Everything for your move, all in one place
Curate your personalized moving checklist, set up TV & Internet, and more with a free MYMOVE account.
Save on your move and tackle upcoming to-dos with your free MYMOVE account.