Master Bedroom Ideas for Creating a Comforting, Stylish Escape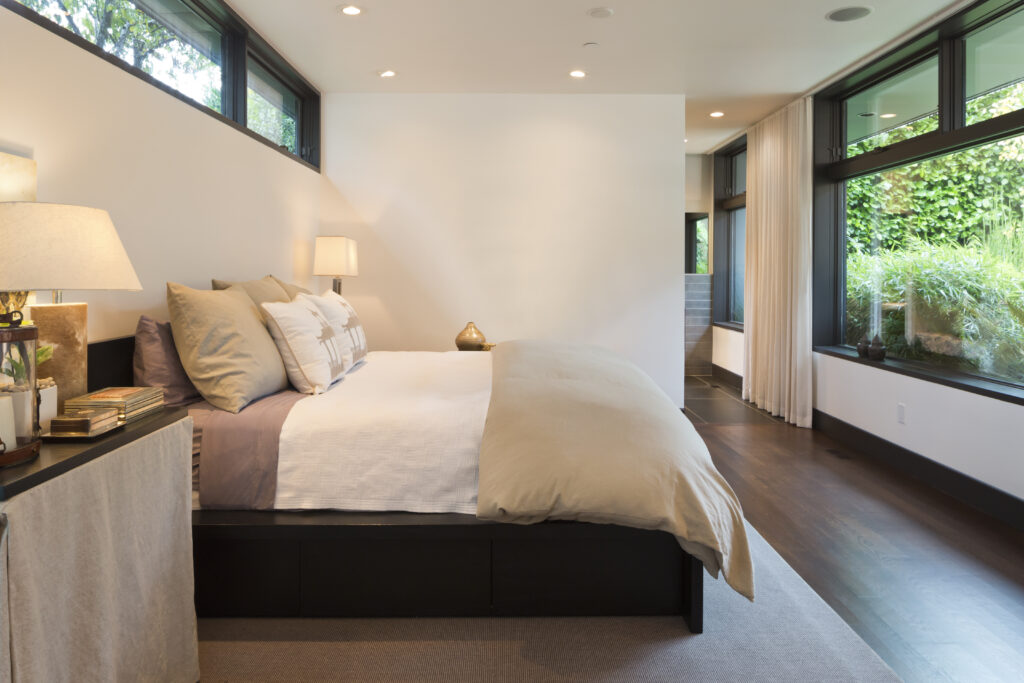 Your home's master bedroom should feel like an oasis. It should be a relaxing space where you can go to escape the rest of life's never-ending pressures. The question is: How do you create a space that feels equally indulgent and functional? Don't worry — we've got you covered. We've compiled some master bedroom ideas to help take your space from simply being where you sleep to your favorite room in the house. Use this resource as a guide, throw in a little of your personal style and we bet that you'll be resting comfortably in no time.
Master Bedroom Ideas
Create a Seating Area
Your bedroom shouldn't just be the place where you sleep. Ideally, the space should feel like somewhere you want to spend your free time. One easy way to achieve that is by adding a seating area that you can use when you don't feel like lounging in bed. As with any seating area, it's important to identify which function it will fulfill. If you like to curl up with a good book, place a stately armchair next to a bookcase. If you're all about catching up on your favorite shows, look for a loveseat or daybed that will give you room to stretch out.
Let Storage Play a Key Role
More often than not, people struggle with trying to make the most of limited storage in their bedrooms. One surefire way to combat that issue is by bringing it to the forefront of your design rather than hiding it away. By incorporating these storage solutions into your décor, you can let your belongings serve stylish double-duty.To give your master bedroom a lasting, stately design, consider investing in a built-in closet-organization system. These can be customized to your space and needs. If you prefer a less permanent solution, open shelving can give the space a modern feel. A foot trunk also works if your taste veers toward the traditional.
Don't Forget the Wall Art
Proper wall art is vital to every space, but it may be even more important in bedrooms where there are typically fewer design elements to add visual interest. Whenever possible, use wall décor to anchor each of the distinct function areas in your space, such as above the bed, beside some seating, and in the dressing space. Then, add other artwork to any walls that feel too blank. When choosing the pieces that will decorate your walls, try to keep variety in mind. Play with colors, textures, and artistic materials for the artwork itself, and don't be afraid to mix different sizes, shapes, and frame styles.
Add Texture With Textiles
In interior design, texture plays an important part in the way that we perceive how a space feels. For your master bedroom, you'll want it to feel warm, inviting and cozy, among other positive attributes. You can easily bring a homey feel to the space by using plenty of textiles. Of course, the first textiles that spring to mind are the bedding. But don't just settle for any set. Layer multiple materials — think down, silk, and shearling — to create a space that you never want to leave. Then, warm up the rest of the room by putting down a throw rug or adding a blanket to your seating area.
Emphasize Accent Pieces
More often than not, bedrooms tend to be neutral spaces. After all, who doesn't want to create a calming environment when a good night's rest is on the line? But when you have neutral walls and bedding, accent pieces become that much more critical for creating a balanced design. Don't be afraid to go big with your accents for the master bedroom. Find pieces that include some of the bolder shades in your color scheme. Don't shy away from patterns or prints. Choose items that you love; just be sure that they bring your personality into the room.
Everyone wants a bedroom that feels like an escape from their busy lives, but sometimes it can be hard to strike the balance between indulgence and function. We hope these master bedroom ideas can help you achieve the perfect middle ground. Feel free to use our suggestions as the jumping-off point to designing your new favorite room in the house. What do you look for in a master bedroom? Do you have any questions on how to effectively balance comfort and functionality? Let us know in the comments below.