20 Ways to Get the Best Use of Space in your Bathroom
Except for closets, your bathrooms are the smallest rooms of your home that you occupy several times a day.  For it being the smallest room, unfortunately you have dozens of tasks to accomplish in the space and it still feels too small!  To make your bathroom feel larger and to maximize every square inch, here is a list of 20 ways to get the best use of space.  Best in this article refers to tips that are easy to accomplish and fun to do in the process.  See how your bathroom will soon become the most LOVED room to use in the house.
1.) Use a monochromatic color scheme in a small bathroom: Depending on the color you choose and how much natural light illuminates your space, one color can make your bathroom feel larger. Remember one color doesn't mean you can't use hues of one color. A bathroom with varying shades of one color will accomplish the same goal.  Soft, neutral tones are perfect for this eye fooling trick. If you are able to keep it clean, white will make your bathroom feel the largest!
sl-f / Getty Images
2.) Choose smaller fixtures: Believe it or not they make all size sinks, toilets, bathtubs and shower/enclosures.  If space is inadequate in your small bathroom, consider replacing a few of your fixtures with smaller ones to gain more space to maneuver.  In a small half bathroom, instead of using a vanity sink with cabinet below, opt for a pedestal sink. They look gorgeous and take up half the space
3.) Adjustable lighting will create a multifunctional bathroom: When a space is limited to only one function it can feel smaller than it is.  For example if you only have one overhead light in the bathroom you will find only utilitarian tasks to occupy your time and then leave. Add a dimmer switch to that same lighting fixture and now you can get ready for work in the morning, and in the evening relax in the tub or shower.  Your small bathroom just got a lot larger!
4.) Use space above the doorway for storage: The next time you are in your bathroom observe how much vertical space in your bathroom isn't being used.  Typically, the space above a doorway is vacant.  Especially, if you have higher ceilings than the minimum clearance you can install decorative storage shelves to house bath tub salts, scrubs etc… in a decorative basket. If you aren't concerned about décor, use the shelf for storing extra toilet paper and cleaners to free up valuable storage area below the sink
5.) Use a glass enclosure at bathtub/shower area: Shower curtains can be used at your bathroom/shower but will separate your bathroom visually. Opt for a glass enclosure that creates a subtle and visual divider between your main area and your shower/tub.  For added privacy many glass enclosures can have a frosted pattern applied to them to give privacy and not get in the way of your illusion of space.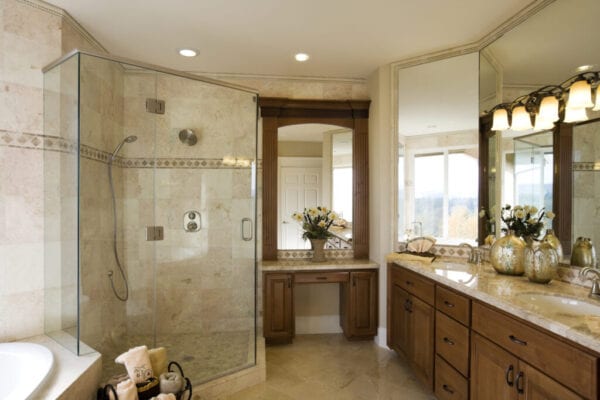 akurtz / Getty Images
6.) Update your small bathroom with modern fixtures: Even though your bathroom is small it can still look like a bigger than life space.  Bathrooms have huge resale value when selling your home and updating your fixtures is a worthy investment.  If your bathroom feels small due to out-of-date and boring fixtures, opt for brushed chrome, bronze or copper fixtures. For a wow factor, consider vessel sinks placed on top of granite countertops. You will love to spend time in your small bathroom when it feels luxurious!
7.) Opt for larger floor tile in a small bathroom: When selecting floor tile, choose larger units and patterns that are subtle rather than busy.  Less breaking up of the floor lines equates to less visual chopping with your eyes.  Flooring should compliment your bathroom and by using small floor tile, you will detract from your goal of enlarging the space.
8.) Don't forget the ceiling: Many bathrooms have gorgeous tray or vaulted ceilings that add volume and depth to a small bathroom.  If you are one of these fortunate people, add lighting above to bring emphasis to this architectural feature.  If your ceiling is low, you still have great color options.  Consider painting it a light complimentary color to the rest of the bathroom to bring the walls visually higher.  Are you talented with a painting a mural? A light blue background and subtle clouds will give the illusion that the sky is above… very serene when executed properly. There isn't any bathroom that will feel small when the sky is open above them!
9.) Use mirrors to reflect light and add space: Vanity mirrors can take up the entire wall or hang in decorative frames to resemble artwork.  When using mirrors in bathrooms, consider the subject that will be reflected. Mirrors across from a window will reflect light and scenery, while a mirror across from a bathroom linen closet may not give you the impact you were looking for. Mirrors also come in etched versions to add visual interest.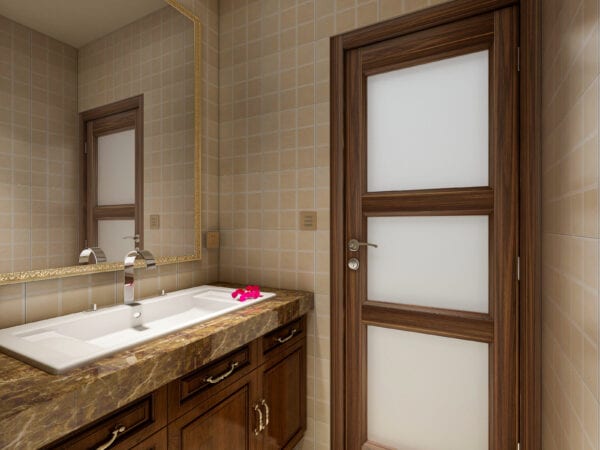 Download it / Getty Images
10.) Maximize vertical space: If your bathroom offers you the luxury of adding vertical storage and display, then go for it! Your walls above 7 feet are usually wasted with empty area. This is a gold mine for storage of toiletries, and bathroom cleaners and sprays.  Consider having cabinetry built to extend up to the ceiling.  If you would prefer, decorations and splashes of color can also be added above mirrors and cabinetry.  Adding color at a vertical height will cause the eye to go up and therefore enlarge the bathroom space and feel.
11.) Install brighter lights to avoid dark areas: In some bathrooms the lighting is sufficient for looking in the mirror but other parts of the bathroom cast shadows.  To eliminate dark corners of your bathroom install brighter bulbs.  Consider switching to CFL light bulbs to save money on energy consumption and they emit a whiter, brighter light.
12.) Window treatments can add height: Bathrooms that have windows shouldn't forget these important features when giving the illusion of space.  Windows not only allow natural light, but give the eye a place to wander outside of the small room.  To add height, consider adding valances or cornices that make the window feel dramatically adorned.  This illusion will draw the eye upward and away from the floor. Use coordinating colors to the palette of the bathroom, and stay away from heavy and dark materials which will give the eye an abrupt place to stop.
13.) Maximize floor space with minimal obstructions: In small bathrooms, scales, trash cans, and laundry hampers utilize valuable floor space that could be used for moving around your bathroom.  The key to this is housing these items in another location.  If your trashcan is small enough to fit next to the toilet this may solve your issue. While scales and laundry hampers may need to go in a bedroom or adjacent hallway closet.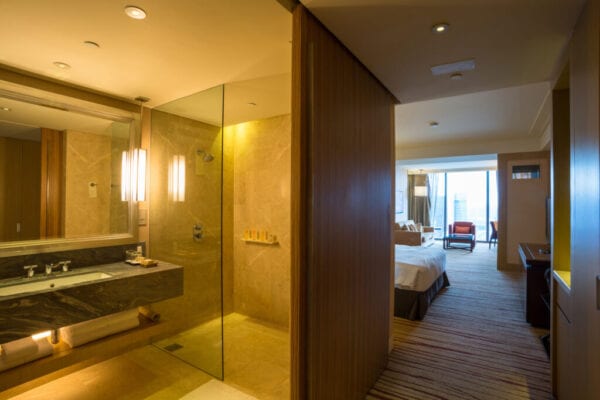 loveguli / Getty Images
14.) Change the swing of your door: If your current door swings into your bathroom consider flipping the door around so it swings out of the bathroom.  When doing this, ensure that the door is not swinging into a heavily trafficked hallway or space.  If you can, consider installing a pocket door that slides into the wall, and doesn't require a door swing. Pocket doors are also visually appealing because they "hide" inside the wall!
15.) Use lighter wood color for cabinetry: If your bathroom has under counter cabinetry at the sink, consider using lighter woods as opposed to dark colored woods.  A light colored wood will allow for more light to reflect off of surfaces and will not make the eye stop abruptly at the dark cabinetry. If you are renovating, consider using a light colored sink to coordinate with the lighter wood.
16.) Use recessed accessories to free up moving around area: Consider using a recessed toilet paper holder, and create niches in the wall for holding towels, toiletries and display items. Niches in the wall will create visual interest and will help avoid objects protruding into valuable floor area. Use this same trick in showers and bathtubs to hold soap and bath accessories. If you're renovating your bathroom, create niches in the shower wall and use tile inside the niches for a custom look.
17.) Use cabinetry with open storage: Storage under the sink is a plus and if it has open storage it can serve decorative purposes at the same time.  Open storage shelves allow towels, baskets and other decorative items to be stored without using up room in a closet.  If you decide on open storage for your bathroom be mindful of clutter and adding too many items on the shelves.

18.) Bring in natural light from above: Interior bathrooms don't always have the opportunity to have a window in the wall.  Consider bringing in light with a skylight or a sun lighting tube. A sun lighting tube is installed from the roof down into your bathroom, and utilizes reflective material to bounce light down into the room.  You will be surprised how bright your bathroom looks when you add natural light from above.
19.) Use wall mirrors instead of big medicine cabinets: Bulky medicine cabinets visually make your small bathroom feel even smaller. Consider switching out the cabinet for a wall mirror.  If you prefer to stick with a medicine cabinet, opt for one that is low profile and doesn't extend far outside of the wall.
20.) Use a minimum amount of accessories on the floor: Ensure floor space is kept clear and uncluttered. If you choose to use a rug, use 1 large one as opposed to several small ones.  The more separate pieces you have, the more the floor space is broken up visually.  One rug will unify the floor as one large whole and maximize your bathroom area.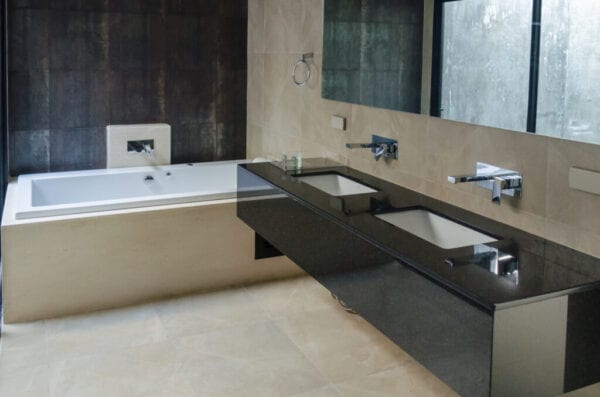 hirun / Getty Images
Small bathrooms don't have to be a hard challenge, in fact they can be one you embrace and love.  With these 20 tips for making your space feel larger, the cozy charm of your sanctuary can feel even better than a large bathroom. Try them out today and see if you fall in love with your small space all over again!
Freshome reader's do you have a small bathroom that you have made feel bigger? Have any tricks that have worked for you? Share them and see if others have some tricks for you to try!