The Pros and Cons of Open and Closed Showers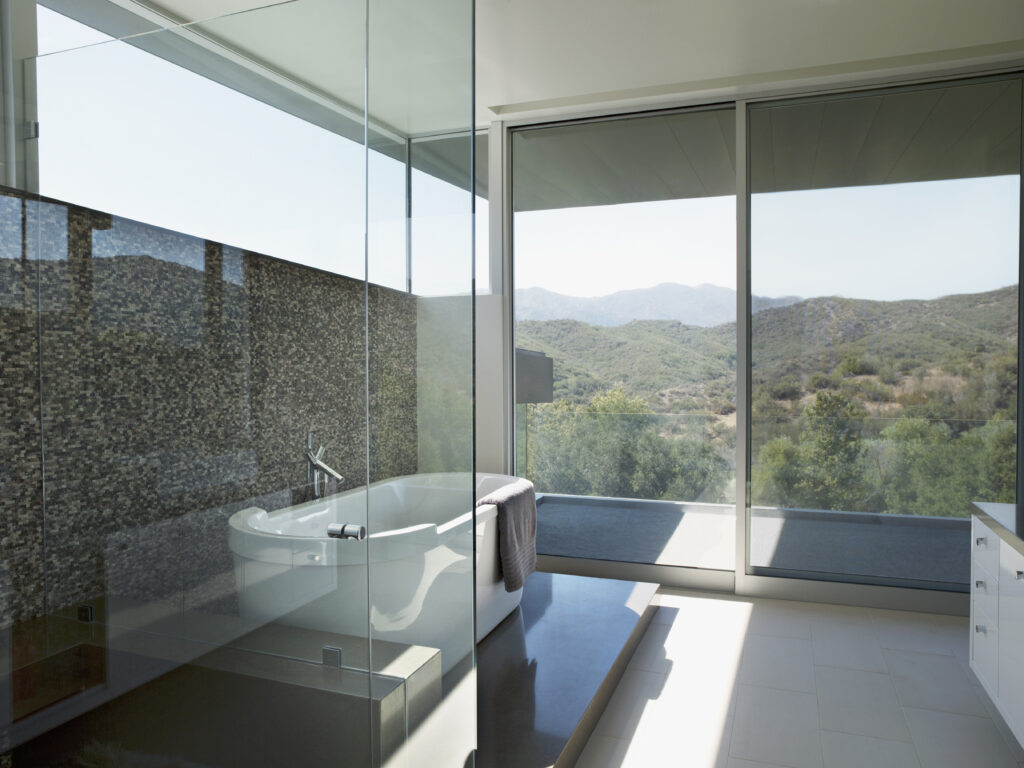 Showers in the past used to be comprised of just a shower head inside of an existing bathtub enclosure and that was it.  Today, showers have come a long way, and they are separated from the bathtub to give more space, versatility, and visual aesthetics for your bathroom. Enclosed showers are enjoyed by many for the added benefit of having more privacy and still looking stylish. Open showers are becoming more popular in bathrooms that need to be accessible for all and they open up a small space to appear larger. Here are the pros and cons of open and closed showers.
Visually opening up your bathroom:
While the shower curtain is still a viable option for many, glass door enclosures or no enclosure have become more upscale and enjoyed by many homeowners. Here are the pros of cons:
Enclosed shower: PROS: Homeowners that prefer a more private bathing experience may opt for the enclosed shower. Shower walls can be fully transparent, semi-transparent, or etched glass can provide more privacy. CONS: Some homeowners do not like the glass getting wet and splattered with water droplets after every shower usage. The glass either needs to be cleaned after every use or wiped dry to avoid the build-up of water droplets. This can be time-consuming, and if you have hard water – more laborious than worth it.
Open shower: PROS: The no barrier appeal of open showers opens up your bathroom and can give visual views of expansive vistas and views outside of a window beyond. This modern touch gives the feel of a luxury spa or high-end hotel that homeowners enjoy. CONS: Many homeowners don't enjoy the open and unprotected feel of open showers. While visually appealing, some homeowners still prefer to have a visual and physical barrier between the shower and the rest of the bathroom.
Functionality for your showering needs:
In many homes, there is a case to be made for both types of showers. Many outdoor showers for swimming pools and beachgoers warrant having an open shower and many guest bathrooms warrant closed showers. Here are the benefits of each:
Enclosed shower: Especially in guest baths and master bathrooms, the ability for guests and/or multiple people to use the bathroom at one time is a must. Enclosed showers give this versatility without users feeling imposed on. Enclosed showers also offer the user more space to store toiletries, and often sit down with enclosed benches, etc…
Open shower: In outdoor applications, open showers offer the benefit of running in and out without doors and the ease of quick access. Many outdoor pools as well as cabana baths that are designed for access to the pool benefit from the open features. Another added benefit of open showers inside the home is for those who need "zero-entry" in and out of the shower. Also referred to as a "curbless shower", open showers enable a wheelchair, an elderly person, or a person needing easier access in and out the ability. (For accessibility curbless entry showers are also available with glass enclosures, but must be built larger for adequate clearances and mobility.)
Open and closed showers are increasing in popularity from the all-in-one showers and bathtubs from years ago. There are pros and cons of each type of shower, but depending on your lifestyle, and usage will help you determine which is right for your family. Before opting for either style, consider visiting a bathroom showroom where you can feel examples of each before they are incorporated into your home. Whichever you choose, it should give you years of satisfaction and enjoyment.