Take a Look at the Latest Faucet Trends from Industry Leaders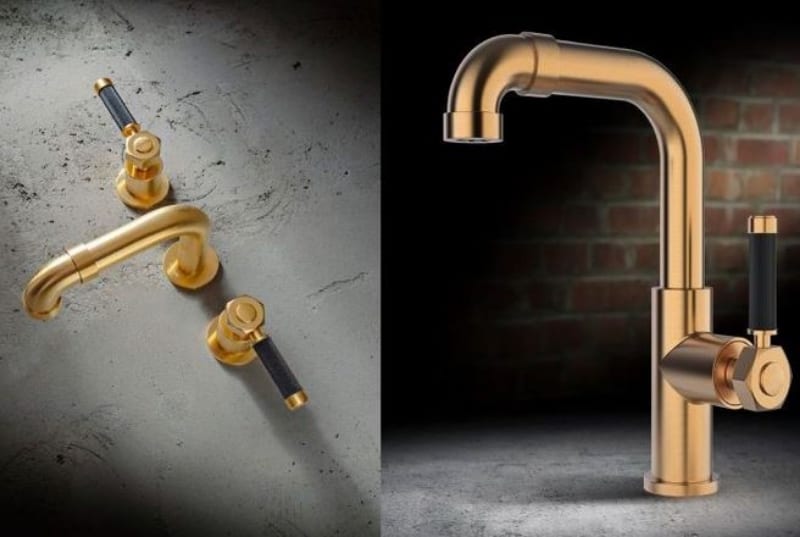 Perhaps nowhere is the marriage between form and function more apparent than in faucets. In your kitchen and bathrooms, and even in your laundry room or at your bar, faucets are not only practical, but can also be pieces of art. You may still be in the valley of decision regarding hardwood floors in kitchens and bathrooms, and whether farmhouse sinks are still trendy or if the kitchen work triangle is an outdated design rule. However, after you read what the industry experts at several of the top companies told Freshome about the latest faucet trends and designs, your only faucet decision will be which one to choose.
GRAFF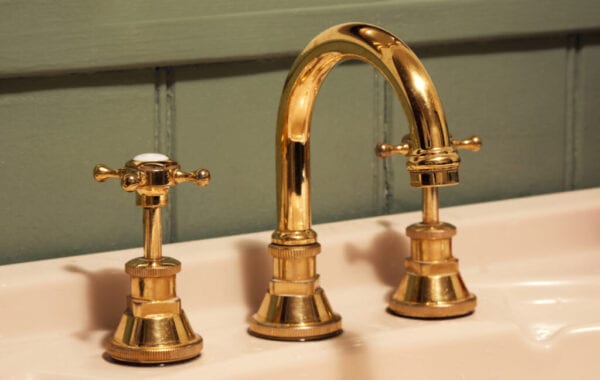 EyeEm / Getty Images
"From coast to coast, we are seeing a rapid shift in faucet style preferences, with the market moving away from traditional styles and toward contemporary silhouettes and finishes," according to Celine Marcotte, business development manager at GRAFF.  "What we call living finishes, which age over time, are immensely popular, with Brushed Brass being particularly popular, along with Gunmetal and Rose Gold," she adds.
GRAFF's Vintage collection pays homage to the historic Chicago Fire Department Illinois Fire Safety Alliance. It draws inspiration from the design of fire hose nozzles, with a modern spout and bold handles.
Kohler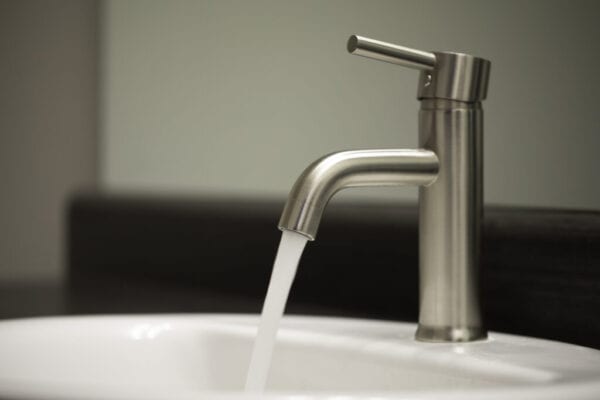 Aitken / Getty Images
Eric Moore, interior designer at the Kohler Design Center, describes some of their recent faucet trends. "At Kohler, we pride ourselves on developing products at the forefront of design and technology to create highly durable, unique products that marry form and function," says Moore.  "Our latest finish innovation—and the first of its kind in the industry—is a new Ombré faucet finish for the bath, which is available in two sets of color pairings: rose gold to polished nickel, and titanium to rose gold," he says. "The new finish uses an innovative technique that melds two vibrant metal finishes together to render a subtle but striking transition from light to dark." Moore adds that Ombré also uses Kohler's proprietary physical vapor deposition process (PVD) to create a scratch- and tarnish-resistant surface.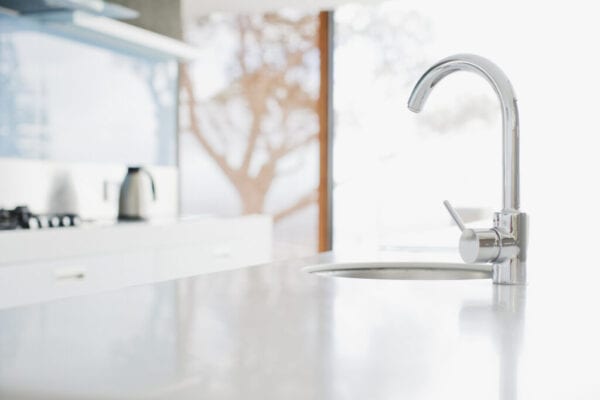 Edwards / Getty Images
Moore says another major trend is mixing and matching finishes and products. "Sometimes it can be tricky to achieve the perfect complement of products, so we've made it easy with our new KOHLER Components faucet collection," he says. "Homeowners can mix and match spouts, handles and finishes for a tailor-made environment, marrying modern designs with timeless shapes."
Delta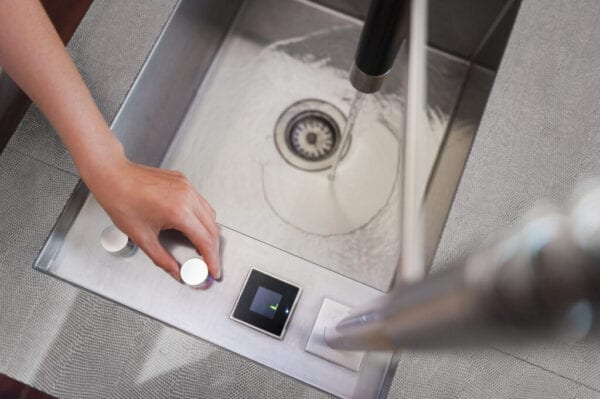 Westend61 / Getty Images
Other faucet trends include technological innovations. "Some of the latest trends are in increased technology and new relevant finishes," says Peggy Gallagher, senior product manager at Delta. She says there's a trend for increased functionality and innovative ways to incorporate technology. "We are always exploring better ways to live with water, and we also understand that consumers are looking for a faucet to be part kitchen faucet, part 'kitchen assistant.'" She also explains that "In addition to innovations in finishes, consumers want advanced functionality, unique spray patterns and either touch or hands-free activation."
"One of our newest innovations for the kitchen that I am excited about is our new spray technology, Delta® ShieldSpray™ Technology," Gallagher says. "A concentrated jet powers away stubborn messes while an innovative shield of water contains splatter and clears off the mess, so you can spend less time soaking, scrubbing and shirt swapping." The new spray technology is currently available across several popular Delta kitchen collections.
Franke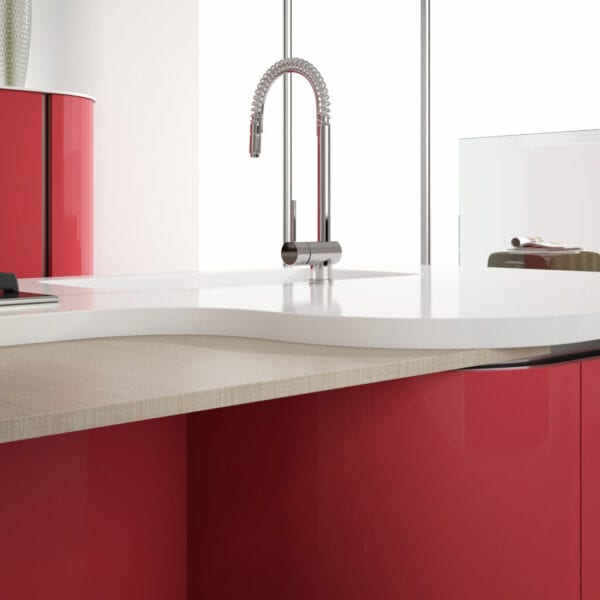 Tesei / Getty Images
One of the most common faucet trends is increased functionality. "Today's consumer also thrives on products with multi-functionality," says Heather Jach, retail marketing manager of Franke Kitchen Systems. "Faucets with the ability to swivel 360 degrees, toggle between full and needle spray and dock easily with magnetic docking, like the Franke Pescara faucet, have become increasingly popular," she says.
Another trend is point of use faucets. "Consumers continue to show interest in eco-friendly design and technology – like the Franke StillPure system, which tracks water usage and filter lifespan through an app that pairs with consumers' phones," says Jach. The Franke 3-in-1 faucet delivers hot water, cold water and distilled water to ensure that you have pure water when you need it for cooking, prepping or rinsing.
ROHL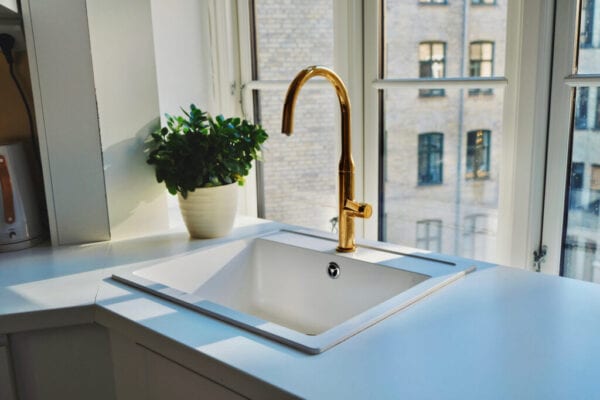 EyeEm / Getty Images
Offering a wide selection of finishes continues to be one of the significant faucet trends. "One of the biggest trends we are seeing for both kitchen and bath faucets is the variety of finishes now available," says Greg Rohl, vice president and design leader, House of ROHL. "Over this last year, we've seen an increased interest in matte metallic, as well as living finishes, which are untreated and therefore will patina over time as it's exposed to various elements."Another new finish is the Satin English matte gold finish from Perrin & Rowe. "Because of this popularity in both of these finish styles, we introduced a new Satin Unlacquered Brass," he says. "Similar to unlacquered brass, this new finish will patina, but has a matte finish, instead of a polished shine."
Rohl says another trend is darker sink and faucet finishes. He explains that consumers aren't afraid to introduce color anymore. "Having witnessed the growing popularity of black stainless steel appliances in the kitchen, you are now seeing this same trend in both sinks and faucets throughout the home."ROHL now offers a Black Matte finish in a variety of faucet styles. "These join our Black Matte Fireclay Sinks which have been a popular finish for our Allia Sink Collection for years, as well as our new black stainless steel sinks."
Elkay
EasyBuy4u / Getty Images
Other industry professionals are also seeing faucet trends that introduce darker colors into the kitchen. "We're seeing a fashion forward blend of dark and metallic colors," says Dan Worst, product manager at Elkay. "This faucet [in the photo above] brings a more classic style to the kitchen while providing beautiful function with convenient features like the pull-down spray head." Worst says this design is one of the most popular in the Elkay line. It's currently available in Antique Steel, Chrome and Lustrous Steel, but he says more option are scheduled to launch this year.
Worst describes this faucet as a "long-standing favorite for kitchens and bars" that "combines clean modern lines with commercial designs that look as great as they function." He adds that this "popular faucet currently comes in Chrome and Lustrous Steel, with plans of releasing a matte black and brushed gold this year as well."What are your favoriteaucet trends? Let us know in the comments!