The Best Carpet Cleaners to Buy in 2021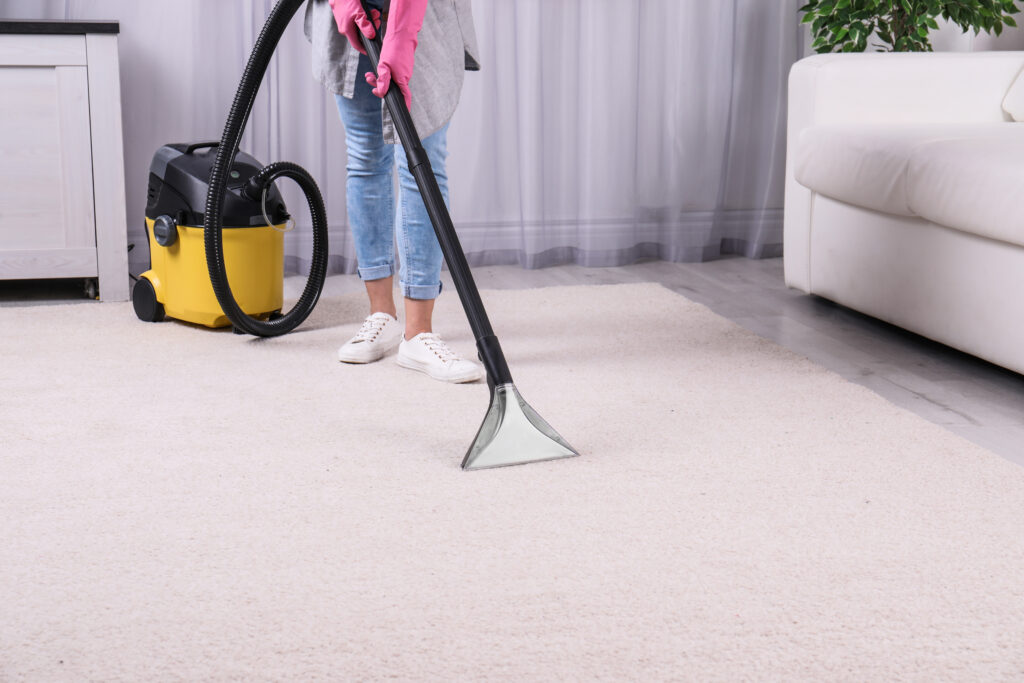 Carpets and rugs are always in use at home, so they collect and hold the majority of dirt and debris that come with daily life. (Not to mention, pets love to test out carpets and rugs when potty training.) Regular vacuum cleaners are great for dirt and some hair, but stains associated with children and pets require a dedicated carpet cleaner. To help you buy the best for your family, we've compiled a list of the best carpet cleaners, with relevant carpet cleaner reviews.
The best home carpet cleaners of 2021
Methodology: We researched and reviewed a number of the leading home carpet cleaners available on Amazon. We analyzed cost, features, and thousands of real customer reviews to pick out the top five best carpet cleaners for your rug and your family.
Price: $99.99 
Our research showed that homeowners will find most carpet cleaners in the $100–$150 range without sacrificing durability or functionality. Based on over 7,000 reviews with a rating of 4.4 stars, the 12-pound Hoover PowerDash has top reviews, satisfying lots of customers and maintaining its top-seller status among all price points and home carpet cleaner designs.
The PowerDash was designed for pet owners. It comes with handy key features, like a PowerSpin Pet Brush Roll that scrubs stains, for animal messes. With a small profile and slender design, the PowerDash is made to be easy to maneuver, take up little space in your closet, and be used almost daily to handle pet messes in high traffic areas. It also has a high heat drying feature that eliminates the need to block off an area for an extended time after drying. But on the other side of the coin, the small portable design might be too small for large jobs, as it could be time-consuming to clean a whole carpeted room or rug.
This product receives an average of 4.4 out of 5 stars on Amazon. One impressive interview, written by the owner of a pet grooming business, had this to say:
"The difference in how much cleaner my carpet is after using it is OUTSTANDING!! I regularly vacuum and spot clean with other carpet cleaners and couldn't fathom the filth I was actually living in after using the Hoover."
Price: $99.99
The BISSELL Turboclean Powerbrush is very similar in design and function to the Hoover, but its lack of the drying feature knocked it down a peg. At 12 pounds and sporting a chic design, the Turboclean Powerbrush is another "daily driver" home carpet cleaner that can handle any pet mess in addition to other spills or miscellaneous debris.
Some may prefer the design and aesthetics of this machine over its Hoover counterpart, so it's well worth a look if the drying feature isn't a necessity for your home. This BISSELL product has an average 4.3-star rating (out of five) on Amazon.
One reviewer summed it up well, and had this to say about her Turboclean Powerbrush:
"Love it! This is a small, more compact type of shampooer — not your typical big heavy thing you have to drag around. Sucks up water like a champ!!!! Works amazing." 
Price: $99
Some homeowners may need maximum cleaning power for a fair price and a small storage footprint. That's where portable carpet cleaners shine, and the BISSELL Multi-Purpose Portable Carpet and Upholstery Cleaner will prove to be a versatile workhorse.
At 9 lbs. (a full 25% lighter weight than the Hoover PowerDash), this cleaner packs a pretty big punch on occasional stains and will clean other messes on fabric-covered furniture and your car's interior. It's also light enough to easily use it on carpeted stairs.
This is a good option for families that have a smaller home where space and storage are a high priority. If you only encounter occasional spills or need to clean some areas once in a while, this item should be high on your list. The product received an average 4.4-star rating on Amazon, but a few reviewers mentioned that it had issues with longevity.
Here's a review excerpt from one buyer who praised this product for its easy set-up and ability to tackle a tough mess:
"The unit is easy to figure out, easy to use, even easy to clean up afterwards. Just expect to put some elbow grease into sucking the deep crud out. Planning to attack some old stains in my carpet next. Wish I'd bought this thing years ago!" 
Price: $259.99
If you have a carpeted house filled with pets, young children, or a combination of both — the Bissell ProHeat 2X Revolution Max Clean Pet Pro is a machine worthy of your cleaning routine.
The main feature that takes this model to the next level is the "Max Clean Mode", which utilizes 12 rows of rotating brushes to aggressively lift stubborn stains. Also, the ProHeat 2X delivers the fastest drying time available in Bissel's lineup — with a promise to be completely dry in 30 minutes or less.
This product uses a high-heat water reservoir to loosen stains and debris, and the upgraded 1-gallon clean tank (as opposed to a half-gallon on other models) will allow you to cover more square footage in a cleaning session. A 7-foot hose is also included, to spray and pretreat pet messes before passing over with the rotating brushes.
This carpet cleaner is best suited for those who will be dealing with a fairly large area and frequent messes. This product gets an average of 4.5 stars (out of 5) on Amazon. Some reviews do address some problems with leaking and having to fill up the solution tank often. But this excerpt from a 5-star review says the cleaning action of the rotating brushes is worth any issues that may arise from those parts:
In my opinion, I think the rotating brushes that this Bissell ProHeat 2X Revolution shampooer uses works better because as they rotate, they throw the dirt and dirty water up out of the carpet and the vacuum pulls it out into the collection container.
Price: $199.99
All carpet cleaners require the mixing of cleaning solutions and chemicals from the manufacturer to clean as designed, and that can be a hassle for some. The more free-wheeling homeowners may not want to deal with that, which is where the Hoover Smartwash Automatic comes in. This model is heavy and a little bulky (weighing in at over 20lbs and having a larger footprint than most models) which could make cleaning around furniture a little more difficult.
Yet once you have it out, the Hoover Smartwash Automatic makes the act of cleaning rugs and carpets extremely simple. Just fill it up with the pre-mixed solution, fill up the water tank, and clean as you would with a vacuum. The Hoover washes and disperses water and solution when you push forward, and then automatically switches to heat that dries when you pull it back.
This makes for a quick and simple cleaning, which can be worth the extra cost and space to some homeowners. This model gets an average of 4.6 out of 5 stars on Amazon. Lots of reviews praise its ease-of-use and its ability to deep clean messes.
One 4-star reviewer says her "carpets are better than new:"
"I love the double brush rollers, they really get down into the depths of the carpet, you can really feel them digging in and scrubbing as you pull back on the carpet cleaner to dry. They pulled out all of the furniture divots like they were never there."
But, she said, she wished that it had a longer cord and bigger water tank that needed fewer refills.
Note: Pricing and information as of 4/1/2020.
Things to consider when shopping for the best carpet cleaner
When looking for your best home carpet cleaner, it's tempting to simply study home carpet reviews and pick the highest rating or the Amazon bestseller. While this might be a good place to start, it's more important to figure out what your needs are, and what product will suit you for the situations you will run into the most.
Who is making messes in your home?
If you have a large dog, multiple pets, or lots of children, it's likely that you let those loved ones get outside to inevitably track in dirt or have accidents that end in stains. If this happens often enough, you need a carpet cleaner that can take daily use and isn't a hassle to get out and maneuver.
Do you have a large carpeted area?
If you have a lot of carpet in your home, you want to invest in a heavy-duty cleaner that can withstand long, strenuous cleaning sessions.
How often will you use your machine?
If you're the type of person that foresees a lot of daily or weekly use, it's imperative that you pay for a quality carpet cleaner that is lightweight and can navigate around corners.
How much storage do you have for cleaning tools?
Some smaller or older homes can lack spacious storage areas. Maximize your storage space by limiting the number of cleaning tools you buy. Purchase a multi-purpose cleaner that can tackle all sorts of jobs.
Frequently Asked Questions
What is the best inexpensive carpet cleaner? 
The Hoover PowerDash listed above is the best all-around cleaner if you look at reviews, capabilities, and price. It's possible to go below this amount, but you will sacrifice versatility, durability, and maneuverability. Though this product is marketed toward pet owners, it's a versatile carpet cleaner that will handle most spills and messes for any family.
Is it better to shampoo or steam carpets? 
Most companies are moving toward carpet cleaners that utilize shampoo and other cleaning solutions. Though steam can dry faster and allow you to use a room a little sooner, steam cleaners are bulky and usually more expensive than their shampooing counterparts.
What about renting a carpet cleaner?
Renting a carpet cleaner from a home improvement store near you is a good option for those who only want to clean their carpet a couple of times a year. These machines are bulky, but they deliver professional-grade cleaning if you use them properly. The typical rate is $30/day, so if you want to deep clean your carpets more than a couple times a year, you'll make your money back fairly quickly with one of the carpet cleaners above.
Can I have my carpet cleaner repaired if it breaks? 
The machines listed above are made by reputable companies and are made to last. Replacement parts and a list of nearby service centers are available from both BISSELL and Hoover, so you can keep your home carpet cleaner running for years.