How to Get Slime Out of Carpet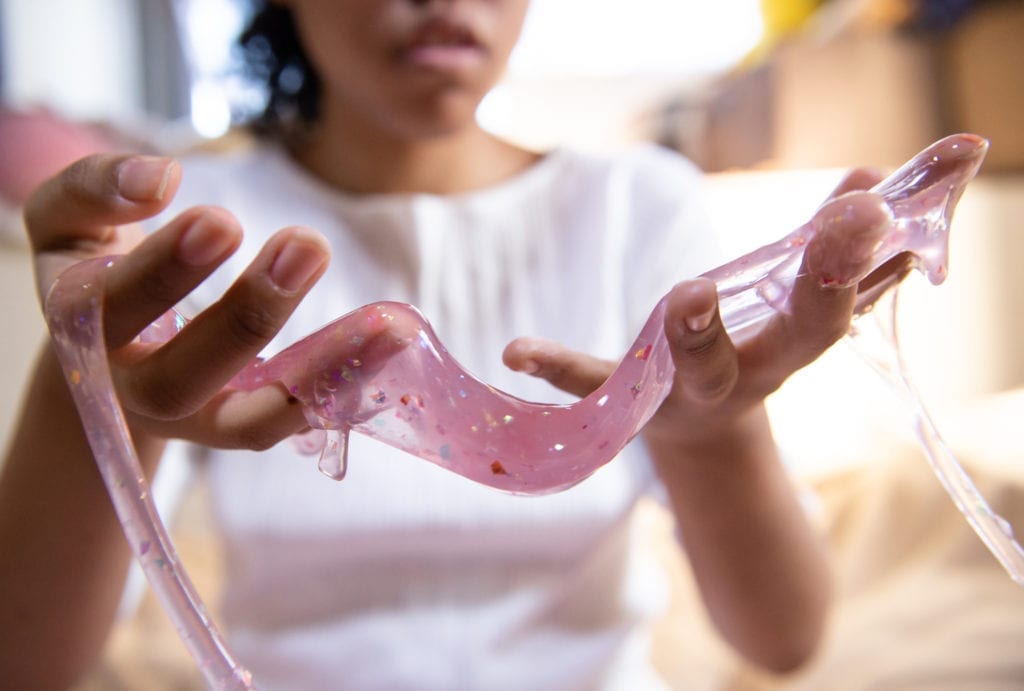 Every child loves slime, but as soon as that colorful concoction gets into the carpet it can become a parent's worst nightmare.
Thankfully, slime time doesn't have to ruin your carpet or rugs if they fall victim to the goo. We've provided a simple step-by-step guide on how to remove slime from carpet and rugs to save you the added stress.
Ready to learn how to get slime out of carpet? Let's get started.
6 steps to get slime out of carpet
Have you ever found yourself pondering about how to get slime out of carpet? Thankfully, it's easier than you think—you just need to know the following method for how to remove slime from carpet.
Step 1: Gently scrape excess slime off the carpet with a paint scraper or knife.
Start from the outside of the slime puddle and work your way in towards the center, scraping off as much loose slime as you can.
Step 2: Mix together a solution of 2/3 cup distilled white vinegar and 1/3 cup warm water.
Because most slimes contain ingredients like borax and glue, vinegar is needed to break it down. Pour enough of this solution on the slime so that the stain is completely covered but the carpet isn't saturated. If the slime has dried on the carpet or seems to be deep in the carpet fibers, you may want to leave the mixture to soak in for an additional 10–15 minutes.
Step 3: Use a scrubbing brush to loosen the slime from the carpet.
Apply enough pressure so that the slime begins to break up and come loose from the carpet but be careful not to damage your carpet's fibers.
Step 4: Use a clean, dry towel to pat the area dry.
If there is still slime remaining in your carpet, repeat the steps above to remove it. If the slime has been completely removed and no color remains then you can move on to Step 6.
Step 5 (optional): Apply an OxyClean spot treatment solution if the slime has left a colored dye on your carpet.
Let the solution stand for 1–5 minutes, then gently blot the solution using a clean cloth until all of the remaining color has been removed.
Step 6: Once the carpet is dry, vacuum the area.
This removes any small bits of slime still stuck in the fibers and gets your carpet looking its best again.
Products and tools you'll need to get slime out of carpet
The bottom line on getting slime out of carpet
If you're worried about how to get slime out of carpet, don't fret. With six simple steps and just a few easy-to-find, household items, your carpet will be slime-free in no time. Forget expensive cleaning solutions or tools that damage your carpet – all it takes to remove slime from carpet is a solution of white vinegar and water, as well as a gentle scrubbing brush and a clean cloth or towel. For hard-to-remove stains, like colored dye from slime, mix some OxyClean powder with water and dab until the color is removed.
Frequently Asked Questions
How do you get slime out of carpet after it dries?
Dried slime can be a little more difficult to remove, but the steps outlined above still apply. Work the vinegar and water solution deeper into the carpet using the scrubbing brush. If the slime still remains, simply repeat the process.
Is the process the same if you need to remove slime from a floor rug?
Yes, whether removing slime from carpet or a floor rug the process is the same. The vinegar and water solution is safe for use on floor rugs and won't damage the rug's backing.
I've tried everything to get slime out of carpet, but it won't work. What should I do?
If you've repeated the steps outlined three or four times without any luck then it may be time to call in a professional cleaner. They will know how to get slime out of carpet using heavy-duty products or tools you may not have at home, such as steam-cleaners or more powerful cleaning solutions. They should also know how to remove the stubborn slime without damaging your carpet.