The Best Storage Units and Moving Containers for Your Move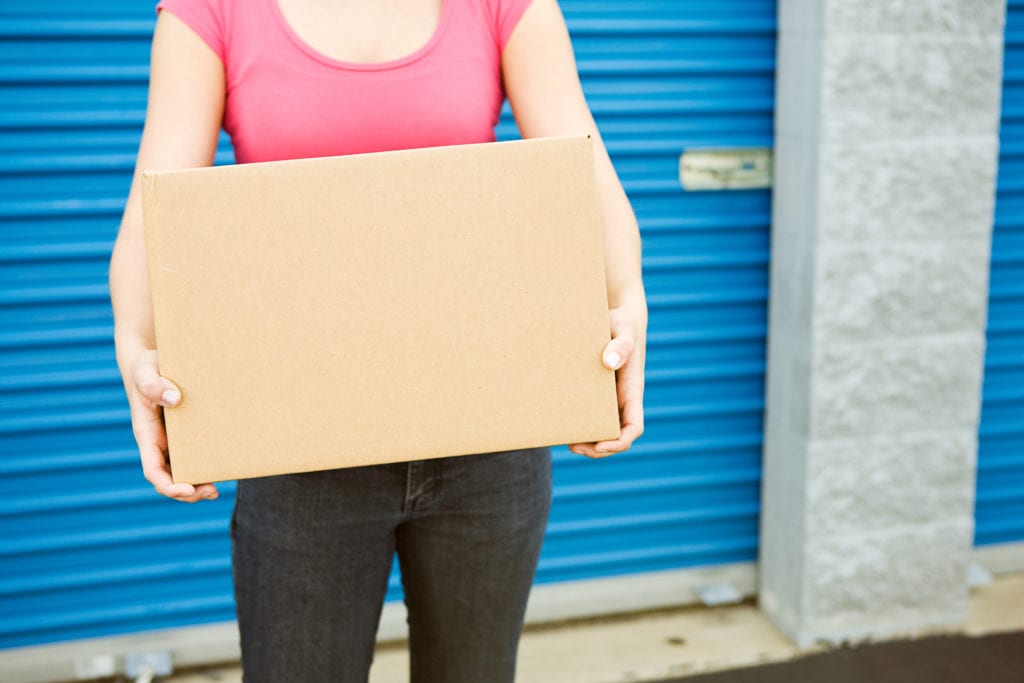 It often feels like our homes are not big enough to comfortably hold all of our possessions. As much as we try to declutter, there are always a few things that we don't use, but can't make ourselves get rid of. This is where storage units and moving containers come in handy.
Storage units and moving containers are the perfect solutions to remove items from your home that you don't need regularly and seem to get in the way. Think — seasonal decorations, college dorm items, and summer sporting equipment. They're also popular for anyone in the process of moving who needs a place to store their furniture and belongings temporarily.
If this sounds like you, keep reading. We've analyzed the top self-storage and moving container companies to help you find the best deal on storage units.
Top self-storage companies
Self-storage facilities are secure indoor and/or outdoor areas where customers can rent a storage unit by the month. Units can be as small as a 3-foot by 4-foot locker and as large as a 20-foot by 20-foot storage space.
Once you rent a storage unit, you are responsible for transporting your items to and from the facility. You can access your belongings whenever you need them and return them as soon as you're done.
We've analyzed some of the top U.S. self-storage companies to help you find the best provider in your area:
Most convenient locations – U-Haul
Best customer service – CubeSmart
Best online discounts – Public Storage
Widest range of storage types – Life Storage
Best for security – Extra Space
U-Haul: Most convenient locations
U-Haul operates more than 2,000 self-storage locations in the United States and offers its storage services through an additional 4,000 affiliates, totaling more than 6,000 total locations nationwide. Units come in small, medium, and large sizes, and some urban locations offer budget-friendly storage lockers. Options include indoor and outdoor units, climate control, and vehicle storage. Units are also monitored by 24-hour video surveillance.
Pricing for a U-Haul storage unit can vary by location. For example, pricing for a 5-foot by 5-foot U-Haul storage unit is $99.95/mo. in Brooklyn and $64.95/mo. in St. Louis. A larger 10-foot x 20-foot unit will cost $429.95/mo. in Brooklyn, while an extra-large 10-foot by 30-foot unit in St. Louis is quoted at just $264.95/mo.
While U-Haul's pricing is sometimes a bit higher than its competitors, keep in mind that the company charges no admin fees. Insurance is required, and can be purchased through U-Haul partner Safestor for as little as $7.95/mo.
CubeSmart: Best customer service
If you're worried about getting quality service from your moving and storage provider, look no further. CubeSmart has received multiple Stevie® Awards for customer service every year since 2013, including the 2019 People's Choice Award for Favorite Customer Service.
With hundreds of locations across the U.S., CubeSmart has a wide variety of storage options: traditional storage units, business storage, and vehicle storage for cars, RVs, motorcycles, and even boats. Climate controlled units are available and some locations have an onsite manager who lives on the premises.
CubeSmart quotes $75.75/mo. for a 5-foot by 5-foot unit and $468.75/mo. for a 10-foot by 20-foot unit in Brooklyn; both of these units come with a free move-in truck and driver. In St. Louis, a 5-foot by 5-foot unit costs $32.30/mo. and a 10-foot by 15-foot unit costs $158.95/mo.
CubeSmart offers most online rentals up to 15% off and the first month free. There is a $25 admin fee and insurance is required.
Public Storage: Best online discounts
Public Storage is the largest self-storage owner and operator in the world with around 170 million square feet of storage available. They've been in business since 1972, which means your belongings will be safe in their care for a long time to come.
Public Storage also has great online discounts, typically around 25% off the in-store rental price. For example, a 5-foot by 5-foot unit in Brooklyn gets marked down from $117/mo. in-store to $88/ mo. online, and a similar unit in St. Louis is reduced from $23/mo. to $15/mo.
Larger units come with significant online savings, too. In Brooklyn, a 10-foot by 20-foot storage unit is discounted from $732/mo. to $549/mo. when booked online, and a unit with the same dimensions in St. Louis is reduced from $205/mo. in-store to $150/mo. online.
If the online savings weren't enough, Public Storage offers new customers their first month of storage for just $1. There is a small one-time administrative fee that can vary by location, but is usually around $25.
Life Storage: Widest range of storage types
Life Storage isn't just great for its climate-controlled units, surveillance cameras, and 24-hour emergency service. The company also provides a wide range of storage units for just about anything you need to keep safe. Units from 5-feet by 5-feet up to 20-feet by 20-feet are available for residential and business needs, and there are plenty of vehicle storage options for cars, boats, trailers, and RVs. If you're a wine collector, Life Storage will also store your wine in a temperature- and humidity-controlled environment with minimum light exposure and maximum security.
Life Storage offers competitive pricing on its units. A 5-foot by 5-foot unit is just $75/mo. in Brooklyn and $29/mo. in St. Louis, while a 10-foot by 20-foot unit is $310/mo. in Brooklyn and $119/mo. in St. Louis. All units are eligible for a 50% discount on the first three months of rent. There is a $25 admin fee and insurance is required. 
Extra Space: Best for security
Just about all storage units for rent come with some form of 24-hour security, but Extra Space takes things to the next level. The company uses professional on-site managers and coded security gates as a first line of defense alongside round-the-clock video surveillance. Units are also individually alarmed for an additional security layer. Extra Space also has security certifications from McAfee and DigiCert, so you won't have to worry about your personal information being stolen.
Extra Space offers 5-foot by 5-foot storage units for $65/mo. in Brooklyn and $20/mo. in St. Louis, and its larger 10-foot by 20-foot units are $389/mo. in Brooklyn and $97/mo. in St. Louis. Administrative fees vary and are not disclosed upfront, and insurance is required.
Methodology: The top self-storage companies were selected from a long list of major providers and analyzed based on the following criteria: price, location, unit sizes, security, and customer service. For easy comparison, quotes were taken from the best available prices listed for 5-foot by 5-foot and 10-foot by 10-foot units in Brooklyn, NY and St. Louis, MO. 
Top moving container companies
The main difference between self-storage and moving containers is that renting a moving container doesn't require any travel to or from a storage facility. The container is delivered straight to your door for you to pack, and then it's picked up and taken to its next destination. This can either be a secure storage facility, where it waits until you need it again, or to your next home if you're moving to a new address. 
Here are our picks for the top moving container companies:
Most convenient locations– PODS
Best moving containers – ZippyShell
Best for small spaces – ReloCube® by U-Pack
Biggest container sizes – 1-800-Pack-Rat
Most flexible – U-Box® by U-Haul
PODS: Most convenient locations
Long considered a crowd favorite in moving and storage containers, PODS has convenient locations across 47 states. The concept is simple: They deliver a container to your home, you take up to 30 days filling it, and then you decide what to do with it. The container can either be stored on your property or in a PODS storage facility. I can also be moved to a new location.
Storage pricing for PODS starts at $149/mo. plus $74.99 delivery and pick-up fee. Local moves start at $299 and long-distance moves average between $1,237 and $2,999. Pricing depends on distance, number and size of containers, and the time of year.
PODS was also awarded best customer service out of all moving container companies in 2019 by Newsweek, scoring 8.34 out of 10 and narrowly beating U-Haul.
ZippyShell: Best moving containers
ZippyShell's storage trailers are the moving containers of the future. Easily delivered by a pickup truck on a hitch, the trailer is much more attractive than most of the conventional moving containers you've seen in your neighborhood. They come in two sizes: 10 feet and 15 feet, the latter of which the company claims can hold up to three rooms' worth of furniture and belongings.
ZippyShell currently operates in 28 states, and its pricing for moving and storage vary widely based on location. The company does not issue quotes online and instead asks potential customers to call for a personalized quote.
ReloCube® by U-Pack: Best for small spaces
The ReloCube is a one-size moving container option by popular moving company U-Pack. The container is 8 feet high, 7 feet wide, and 6 feet deep, and holds up to 2,500 lbs of items. It's designed to fit into a parking space, so it's the perfect container for urban dwellers who don't have a lot of space to work with. However, larger households can still use ReloCube by simply having multiple cubes delivered.
As with most moving container companies, ReloCube allows you to choose between placing the containers into storage or moving them to a new address. According to U-Pack, the price for a ReloCube starts at $500 to put a single ReloCube into storage and $2,500 or more for a move with multiple ReloCubes.
1-800-Pack-Rat: Biggest container sizes
With three container size options at eight feet, 12 feet, and 16 feet long, 1-800-Pack-Rat has some of the highest capacity moving containers available. Their weatherproofed steel frames and barn-style doors help keep items safer than other container types. One container can hold up to 6,000 lbs of items.
1-800-Pack-Rat gives you three options for your container: store it in a secure facility, move a short distance, or have the container sent elsewhere for a long-distance move. If your belongings are in storage and you need to access them, give the company 24 hours' notice and they'll have your container brought to a warehouse staging area where you can load what you need into your car.
U-Box® by U-Haul: Most flexible
Similar to ReloCube, U-Box is a one-size container that can be used for moving and storage. Containers can be used on their own for small storage or bundled together for large moves. U-Haul is flexible about the number of U-Boxes you might need; if you ask to have extra containers delivered and don't use them, U-Haul won't charge you for them and will simply come pick them back up for free.
One incredibly unique aspect of U-Box is that these containers can be used for international moves as well. U-Haul allows you to load up to 2,000 lbs into each container and simply pay to ship the containers you use. U-Boxes can be stored at your home or in a secure facility until you're ready to ship them.
Methodology: The top moving container companies were chosen out of a list of major moving and storage companies in the U.S. They were selected for their container quality, services available, pricing scheme, and nationwide presence.
How to determine if you should rent a storage unit or a moving container
There are certain cases where it makes more sense to rent a storage unit, and others where a moving container is the right solution. If you're not sure which is right for you, here are a few tips that might help:
Decide how frequently you need access. If you think you'll need to get something out of storage every few weeks, a storage unit is probably best. If you won't miss the items for at least a few months while they're in a secure facility, a moving container will be much more convenient.
Think about your long-term plans. How much longer do you plan to stay in your current home? If your lease is up soon or you're thinking of moving within the next year, consider storing your items in a moving container. That way, you can decide later whether you'd like the items delivered to your new address.
Where you live matters. If you're a city dweller, parking a moving container in front of your place might not even be an option. Self-storage would be your best bet in this scenario.
Tips for packing a storage unit or moving container
Moving and storage companies charge you by the unit, not by the weight or volume of items you store. To that end, it pays off to pack your unit or container as efficiently as possible. Here are a few tips to get you started:
Larger items go in first. Start by moving your mattress, sofa, or other bulky items into the storage space first. Then, fill in the gaps with the smaller items.
Take furniture apart. We know it took you forever to assemble that IKEA dresser, but taking it apart will make it easier to move and store. Take lots of photos and save all the hardware in a clearly labeled bag to make reassembly painless.
Seal clothing in bags. Clothing takes up much less space when it's sealed into bags. You can purchase special vacuum-sealing storage bags online or just use extra-large freezer bags from the grocery store.
Label everything. If you ever need to go back into your storage unit or container, you'll thank yourself when everything is easy to find
The Bottom Line
With so many different types of moving containers and storage units for rent, it can be difficult to choose the right option. Use the information in this guide to make the best choice for your budget and needs, but don't stress too much. Most moving and storage companies offer month-to-month services, so you can always cancel and try something new if it doesn't work out.
Frequently Asked Questions
How much does it cost to rent a storage unit?
Renting a small storage unit can be as low as $15/mo. while larger units often cost several hundred dollars per month. It depends on the size of the unit and the area you live in.
How big of a storage unit do I need?
| | | | | |
| --- | --- | --- | --- | --- |
| 5 feet by  5 feet | 5 feet by 10 feet | 10 feet by 10 feet | 10 feet by 15 feet | 15 feet by 20 feet |
| Twin mattress, clothing, seasonal decorations, small/medium boxes | Queen mattress, dressers and tables, sporting goods, small/medium boxes | King mattress, living room furniture, large appliances, medium/large boxes | Two bedroom sets, living and dining room furniture, large appliances, large boxes | Four bedroom sets, living and dining room furniture, outdoor furniture, large appliances, sporting goods, large boxes |
Source: U-Haul Self-Storage Size Guide 
How much does it cost to rent a moving container?
Each of the moving container companies sets its prices based on may factors, such as container size, time needed, and whether you'll be storing the container or moving it to a new home. 
How big of a moving container do I need?
| | | | |
| --- | --- | --- | --- |
| 6-foot Container | 8-foot Container | 12-foot Container | 16-foot Container |
| 1-1.5 rooms of furniture | 1-2 rooms of furniture | 2-3 rooms of furniture | 3-4 rooms of furniture |
Source: U-Box Container Dimensions, 1-800-Pack-Rats Container Sizes 
---