Bellhops: Moving Services, Prices, and Reviews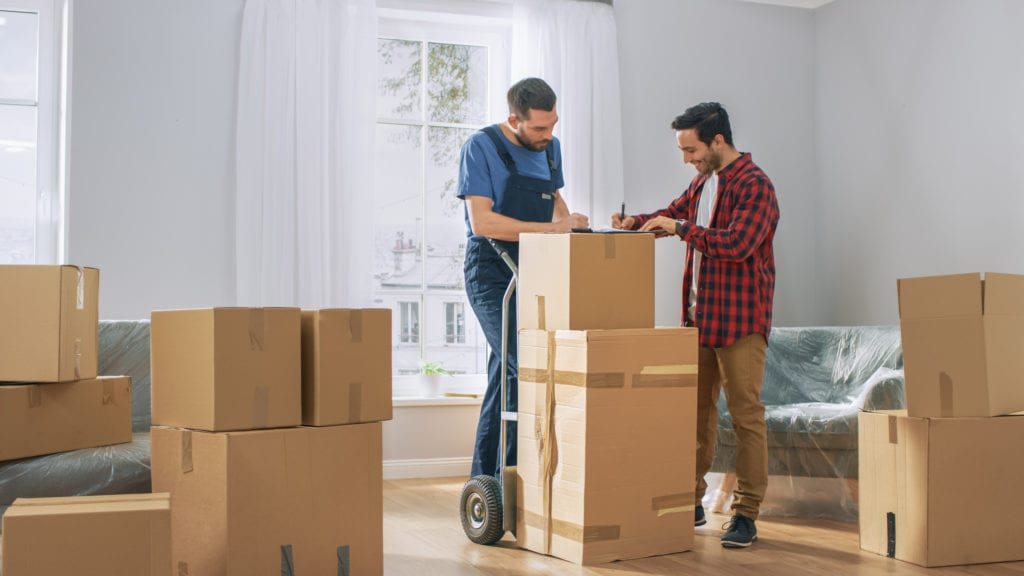 A quick look at Bellhops
Bellhops launched in 2011 as "Campus Bellhops." During the summer of that year, founders Cam Doody and Stephen Vlahos decided to develop a simple way for college students to move in and out of their dorms. Initially, the duo's goal was to book between thirty and forty moves during the three-day freshman orientation at Auburn University. They exceeded that goal with 325 moves.
According to the company's website, Bellhops has grown significantly since its college campus launch, completing more than 200,000 moves. The site also says more than 20% of Bellhops' customer base returns to use the company for moves and services multiple times each year.
Bellhops advertises top-notch customer service with each move, complete with instant online booking, flexible scheduling, and easy-to-understand pricing. The company has a presence in 30 states, serving 74 cities with services that fit local and long-distance moves.
Does Bellhops do local or long-distance moves?
Bellhops can help with both local and long-distance moves, as long as the company has a presence in your old and new area. For a local move, Bellhops will include workers to lift and load, a truck with a professional driver, and equipment to make the move easier and protect your furniture (think — dollies, straps, and blankets).
For long-distance moves, Bellhops adds on a personal move concierge to help coordinate the fine details and two teams to help with the heavy-lifting — one in the old city and another in the new one.
Bellhops won't move oversized items, like pianos and pool tables. The company also doesn't have tools available for dissembling furniture, and they won't unplug or plug-in appliances.
Furthermore, Bellhops doesn't offer packing services, so clients must have this completed before Bellhops movers arrive.
How much do Bellhops' moving services cost?
The cost of using Bellhops for your move varies on the services you need and your move details. The price will depend on various factors, such as your home or apartment's size, its location, how long you lived there, where Bellhops movers can park the truck, and how many floors they have to travel up and down.
To help give you an idea of how much using Bellhops would cost for a local move, here are example estimates for a one-bedroom apartment.
Local move: 
Moving from Charlotte, NC (28202) to Kannapolis, NC (28082) — about 30 miles: 
Base price: $535 ($59 base fee)
Number of movers: 2 (for 4 hours)
Truck size: 26 feet
After you receive your estimate for a local move, you can adjust it to help reduce the costs. For example, the hypothetical scenario above requires two movers for four hours. You can adjust the number of movers and how many hours you need for the move.
Long-distance move:
Moving from Charlotte (28202) to Pittsburgh, PA (15212) — about 500 miles:
Base price: $2,320 ($59 base fee; 4 movers)
Number of movers: 2
Truck size: 26 feet
Hourly:
Base price: $476 ($119/hour with a 1-hour minimum)
Number of movers: 2 (for 4 hours)
Truck size: 26 feet
*All pricing above as of 2/7/2020.
Check out our free moving quotes tool for more accurate, custom estimates.
Understanding your Bellhops moving quote
To get an estimate for a local move, you can input your information online and receive an estimate immediately. But for a long-distance move, you'll have to give your name, phone number, and email address for Bellhops to contact you. The company will then connect you with a moving concierge who can help build you a personalized moving plan.
Bellhops offers a "pay as you go" pricing structure, meaning their estimates are based on the amount of time you reserve. You will then be charged for every additional 15 minutes based on your hourly rate. This allows flexibility and an opportunity to save money if your move goes faster than expected. But know that if your move extends beyond reserved time, additional charges could add up.
Pricing estimates are not binding, and scheduling is flexible. You can revisit your scheduling details after you've made your reservation to adjust the number of movers and the hours necessary for your move.
Breaking down Bellhops' fees
The cost of your move may decrease or increase according to the number of miles you're moving. Therefore, you must understand that some factors could cause your moving rate to fall outside of the hypothetical pricing we mentioned above. Here's a breakdown of how Bellhops charges for moves:
Base Fee: You'll see a one-time charge for moving on your estimate that will carry over to your bill. This base fee isn't your hourly rate, but rather the cost of organizing everything necessary for your move.
Cost Per Mover: Bellhops charges for the number of movers necessary to get you from point A to point B. These rates vary according to the details of your move.
Hourly Rate: All Bellhops movers are paid per hour with a two-hour minimum and, if you go beyond those two hours, you'll see 15-minute increment charges after that.
Truck Fee: If you choose to do a full-service move (rather than just hire a labor-only service), there will be a cost to using the Bellhops truck for your move.
What size Bellhops truck do I need?
Bellhops movers provide one 26-foot moving truck and professional driver for every full-service move. Bellhops moving explains that the size of the truck relates to the size of your home. Therefore, they arrange for other truck sizes if necessary.
How many Bellhops movers do I need?
While there's no specific guideline for how many Bellhops movers you should have, it's easy to figure this out. Look at the hypothetical scenario above, which is for a small one-bedroom apartment. The Bellhops concierge recommends two movers who will complete the move within four hours. However, if you have three movers, that means the job will end much quicker.
Take into consideration the "Pay as You Go" model Bellhops moving offers when determining if it's more cost-effective to use their local moving services with the base fee or using Bellhops movers at an hourly rate.
The pros and cons
Bellhops moving company aims to help its clients experience a stress-free moving experience. The company prides itself on offering straightforward pricing, flexible scheduling, and fully-vetted movers. If you encounter an issue with your move, the company is ready to assist.
The advantages of renting a truck through Bellhops
Exceptional customer service: No matter what your question is or the type of move you need, a member of the Bellhops concierge team is available with answers. You can call Bellhops at 1-855-463-4655 or email support@getbellhops.com.
Pay-as-you-go: There's no worry about over-estimating a move with Bellhop's pay-as-you-go structure. With that structure, you can develop your moving plan and eliminate worries of booking too many movers.
No hidden fees: Bellhops offers straightforward pricing, and they're upfront about not providing boxes, bubble wrap, floor coverings, furniture pads, mattress bags, and plastic wrap. These are all costs and materials the client must prepare for before Bellhops movers arrive. They're also clear that, for labor-only moves, the customer is responsible for all packing supplies and equipment. All other moves include standard equipment like dollies and moving blankets.
The disadvantages of renting a truck through Bellhops
No packing services available: When you go through the questionnaire, Bellhops moving asks if you need to pack or disassemble any of your possessions. They ask that question because the company doesn't offer these services. Instead, you'll have to do this (or hire someone to take care of it for you) before Bellhops movers arrive.
Availability: You can book your move in as little time as 24-hours' notice. However, depending on your location and the distance of your move, trucks, drivers, and movers might not be available. The main reason is that Bellhops movers use an app on their phone to pick up moving jobs. So, if no one picks up your job, you have to explore another option.
Scheduling: Not all Bellhops movers arrive on-time at the moving location or destination.
Bellhops reviews
Bellhops moving has a five-star rating on Trustpilot from over 1,800 reviews. The company receives praise from reviewers regarding efficiency, professionalism, and speed, among other things. Other negative reviews cite poor communication and slight furniture damage as reasons why some customers weren't fully satisfied with their experience.
Frequently Asked Questions
How much does Bellhops cost?
Bellhops moving prices vary according to the size of your home, its location, and your final destination. Other factors playing into the cost include how long you've lived at your current address, how many movers are necessary, and how many hours it will take to complete the move.
What size moving truck do I need?
Bellhops moving provides a 26-foot moving truck for every job. Your Bellhops concierge team member will offer you guidance regarding truck size during your phone consultation.
Should I purchase insurance for my Bellhops moving truck?
While Bellhops doesn't offer full-valuation insurance to their clients, they do carry commercial liability insurance and limited reimbursement if items experience damage.
Do Bellhops moving offer packing and unpacking services?
At this time, there are no packing or unpacking services available through Bellhops.
How much advance notice do Bellhops movers need?
You can schedule your move in as little as 24 hours' notice.