How to Get Rid of Junebugs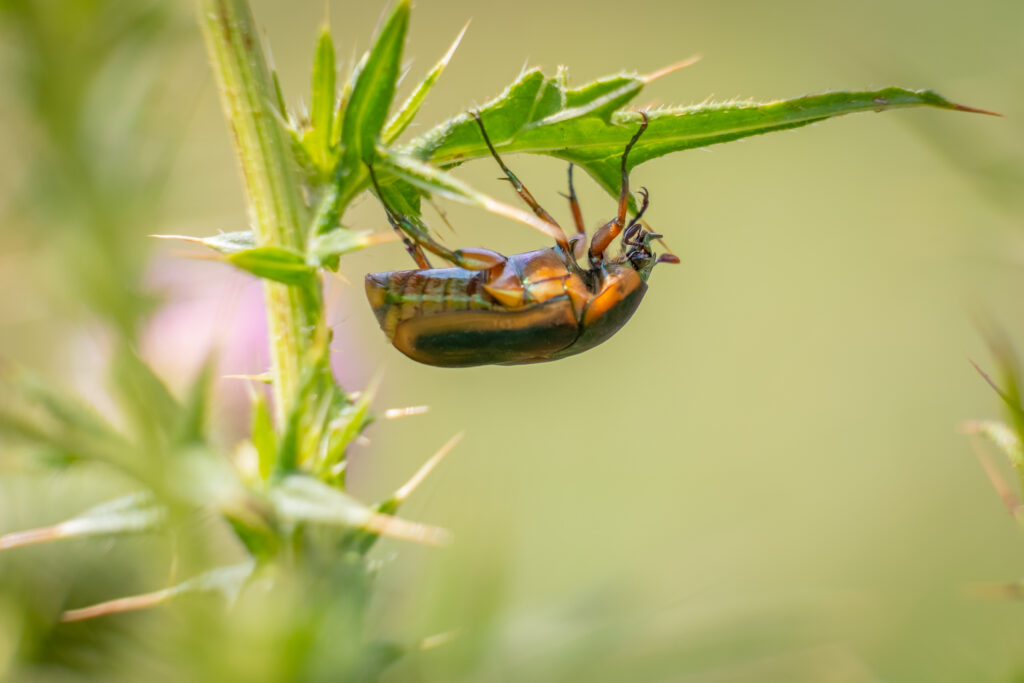 If you associate the sound of summer with the constant thud of June beetles hitting your deck or windows, then it's time to take action. While these light-obsessed beetles may seem harmless to humans, they're anything but when it comes to the health of your lawn and garden.
We'll tell you how to get rid of June bugs (including through natural pest control removal), and also answer the questions: what is a June bug beetle, what do June bugs eat, and where do June bugs come from? Keep reading to find out!
What attracts June bugs?
June bugs are attracted by the light, but what else would bring them into your garden or home? To understand this insect's motives, it's important that we first understand where they come from.
June bugs refer to nearly 300 species of beetles from the genus Phyllophaga. They're commonly found in the Northern Hemisphere and mostly have a red-brown appearance. But different species can vary greatly in color, including iridescent green or blue.
What do June bugs eat? As a plant-driven species, they are primarily attracted to the vegetation in your backyard. Adult June bugs eat tree and shrub leaves, while infants (known as grubs) live in soil and feed off the roots of plants, including grass. This can cause unsightly damage to your backyard, not to mention the predators they attract, including parasitic wasps, snakes, tarantulas, skunks, and moles.
How do I know if I have June bugs?
You may notice holes in the leaves of your shrubs or trees, indicating adult June bugs have been snacking on them. Or, if your yard has brown patches, June bug larvae may be living in the soil. Finally, do you have a problem with animals like moles or skunks digging holes in your lawn? They feed on the grubs and may be trying to get to them during the night.
The best way to confirm if you have a June bug beetle problem is to dig up a small patch of brown or dead grass and look for the grayish-white grubs underneath. They look like fat caterpillars and curl up into a 'C' shape if disturbed.
How to get rid of June bugs, step by step
Step 1: Target the grubs first at the optimal time
Wiping out your June bug infestation is easier while they're still grubs, rather than when they have become fully-grown, flying adults. These grubs remain near the soil surface until fall, so spray the surface of your grass with an insecticide at the beginning of September to target them.
Step 2: Remove the adults with a homemade trap
With the grubs taken care of, you can now target the adult June bugs to prevent them from laying more eggs. To attract them, set up a trap using a large jar full of one-half cup of molasses and one-half cup of hot water. Shake together, then bury the trap near a shrub they enjoy eating so only the opening is above the soil. This essentially drowns them once they fall in. Check your syrupy trap and refill each morning.
Step 3: Remove the June bugs by hand
If you're still noticing the odd June bug on leaves around your garden, simply put some gloves on and remove them by hand before placing them into a jar of soapy water to dispose of them.
Step 4: Spray insecticide around your backyard
If all else fails, there are some strong insecticides on the market which kill adult June bugs. However, keep in mind that these insecticides will also kill other more beneficial insects in your garden.
Products you can use to treat a June bug infestation
If you don't want to use chemicals, try these all-natural solutions
Along with the steps listed previously, there are also some natural, chemical-free home remedies to get rid of June bugs. The most popular is a natural June bug repellent spray containing one tablespoon of mineral oil, one pint of water, one tablespoon of dish soap, and one whole garlic cut into cloves, then minced. The garlic acts as a deterrent to the beetles, as they hate the smell. Spray this directly on the June bugs or anywhere they may be frequenting, such as shrub leaves, to keep them away.
You can also invest in a bug zapper (the larger kind, as June beetles are big insects). Set it up near their favorite light source to reduce, and hopefully eliminate, the population.
How to keep June bugs from returning
Firstly, you can try encouraging June bug predators, such as birds, by setting up birdbaths in your garden. Birds love to eat the beetles and their presence may even discourage beetle populations.
Alternatively, you can sprinkle diatomaceous earth (DE) around your yard or patio to keep June bugs away. Try to use a natural, organic food-grade product, as DE can easily come into contact with humans and pets and be walked into the home.
The bottom line
June bugs might not seem like a threat at first, but they can destroy your yard's vegetation and grass, not to mention attract larger, more harmful predators into your property, including snakes, tarantulas, and parasitic wasps. If you're wondering how to get rid of June bugs, start by targeting their larvae (or grubs) first beneath the surface of your lawn, before eliminating the adult June bug beetle population with sprays (either chemical or natural), traps, and deterrents such as diatomaceous earth.
Frequently asked questions
How can I keep June bugs away from lights?
Switch your light fixtures to LED or yellow "bug" bulbs to prevent attracting them. You can also set up a large bug zapper near the light source, or place a beetle trap (like the Bag-a-Bug) next to your lights.
Will June bugs draw predators?
Yes, many animals enjoy eating June bugs, primarily skunks and raccoons. Other predators include snakes, spiders, birds, frogs, moles, and parasitic wasps.
How will I know the June bugs are gone?
If you can turn your yard lights on without seeing or hearing June bugs flying near them, there's a good chance they're gone. There should also not be any new brown patches on your grass or holes in leaves.