Top Wellness Apps To Help You Stay Calm During a Move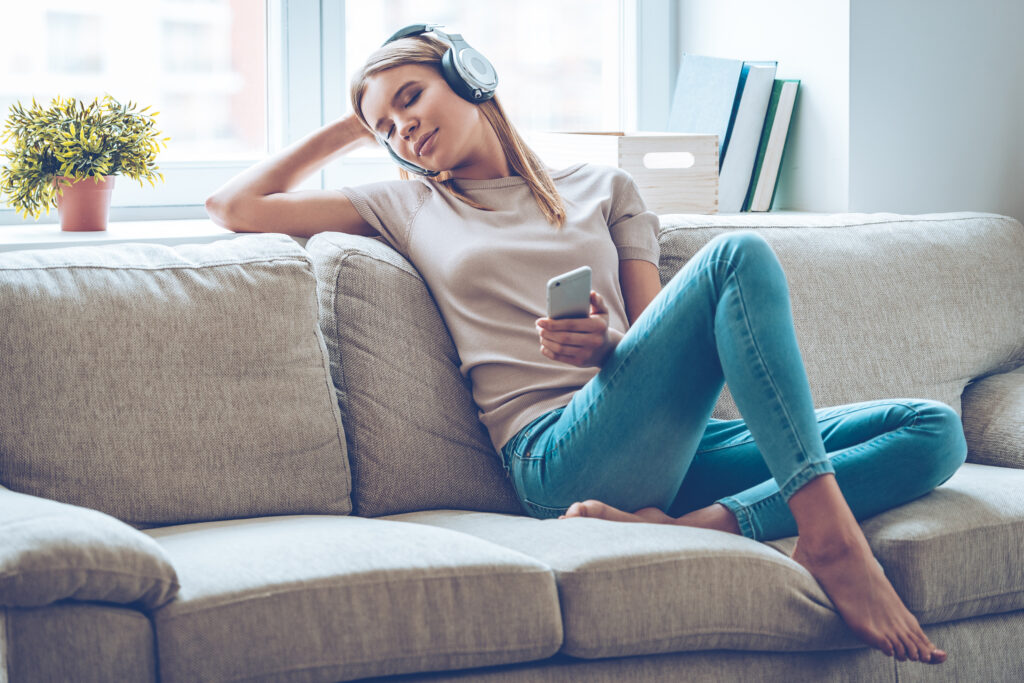 It may feel difficult to focus on anything else but planning, packing (and unpacking), and other preparations throughout your move. When the process becomes overwhelming, it's essential to take time for self-care to manage moving stress. These seven relaxation apps will help you stay calm and collected during your move.
7 relaxation apps to help you manage your moving stress
Best for sleeping soundly: Calm
If you're lying awake at night stressing about your big move, Calm stands out among other relaxation apps to help you drift off peacefully. Ranked as the #1 app for Sleep, Meditation, and Relaxation with over 50 million downloads, Calm offers soothing soundscapes such as ocean waves, Sleep Stories from a variety of authors (including Matthew McConaughey and Bindi Irwin), and meditations to help you quickly fall (and stay) asleep.
Best for mood-boosting through movement: Headspace
Not all apps for anxiety require you to sit still to reduce stress. With Headspace's Move Mode, you can boost your mood through mindful movement. When you begin to feel overwhelmed, take five (or 30) and release tension with an at-home workout. Expert trainers, including Olympians Leon Taylor and Kim Glass, lead a variety of mindful fitness courses designed to release worry and distress in both your mind and body.
Price: Free (offers in-app purchases). Subscription membership with access to the full Headspace catalog is offered on a monthly or yearly basis.
App Store rating: 4.9 stars
Google Play Store rating: 3.6 stars
This stress relief app allows you to choose from over 350 guided meditations, videos, and podcasts to find your ideal meditation. Take advantage of Ten Percent Happier's live guided meditation for real-time stress reduction. With brand new content released daily, you can use the Ten Percent Happier app throughout your moving process to find a sense of calm.
Price: Free (offers in-app purchases). Membership with access to the full Ten Percent Happier catalog is offered yearly.
App Store rating: 4.8 stars
Google Play Store rating: 4.8 stars
Best for calmness through creativity: Colorfy
Do you remember the joy of opening a coloring book and pack of crayons as a child? With the Colorfy app, channeling your creative side is at the tip of your fingers with these virtual adult coloring books. If you're looking for a unique stress app, Colorfy offers a wide variety of patterns, mandalas, animals, and florals to color (and recolor). There's no need for Wi-Fi as you can work offline, anywhere and any time.
Price: Free (offers in-app purchases)
App Store rating: 4.8 stars
Google Play Store rating: 4.0 stars
Best for productivity: Fabulous
Stressed out, science-minded people rejoice! Fabulous emerged from Duke University's Behavioral Economics Lab as a science-based app. The goal? To discover the best way to retrain both your brain and habits using evidence-based research. With the aid of Fabulous, you can find your productive zone and increase energy levels long-term.
Price: Free (offers in-app purchases)
App Store rating: 4.6 stars
Google Play Store rating: 4.5 stars
During the moving process, it's essential to take mini-breaks of self-care. 3 Minute Mindfulness is an easy-to-access relaxation app created with a focus on quick and simple mindfulness. The app offers short meditations and breathing exercises, including "square breathing." According to the app, "it helps to calm anxiety, bring focus, and clear your mind."
Price: Free (offers in-app purchases)
App Store rating: 4.7 stars
Google Play Store rating: currently not available on Google Play
Best for soothing anxiety in kids: Ninja Focus
Moving can be anxiety-inducing for the entire family. Kids may experience stress over leaving their current home, attending a new school, and making friends. One of the best apps for anxiety in children ages 3-12 is Ninja Focus, designed with the aid of child development experts. Ninja Focus is a mindfulness platform helping to regulate emotions and build positive strength in stressful moments.
Price: Free (offers in-app purchases)
App Store rating: 4.7 stars
Google Play Store rating: 4.4 stars
* These seven relaxation apps have been reviewed as of August 2020.
The bottom line
Moving is a major, life-changing event that can bring on a great amount of stress. Utilizing one of these wellness apps regularly will help you lower your anxiety and maintain a sense of calm.
Frequently asked questions
How can I keep calm during my move? 
Taking breaks is essential throughout your move. If you find yourself feeling overwhelmed and anxious, put the packing tape and bubble wrap down and take a moment to reset.
What is the best free relaxation app? 
The best free relaxation app depends on what works best with your personality. Peruse the Apple or Google Play app stores and search "relaxation apps." Read through the app description and cost to ensure it does not require a monthly or yearly fee.
Does meditation really work? 
Research from the National Center for Complementary and Integrative Health (NCCIH) suggests that meditation may ease the symptoms of anxiety and insomnia while boosting one's overall mood. If the first mediation app doesn't match your needs, don't give up. It's easy to download a variety of apps to test.
What if I don't have a quiet space to use my stress relief app?
Staying calm isn't always easy when you're attempting to tune out the surrounding noise. Invest in a pair of noise-canceling headphones that connect with your phone, laptop, or another device. If you're using offline relaxation apps, a pair of earplugs works just as well.