How to Get to Know Your New Neighbors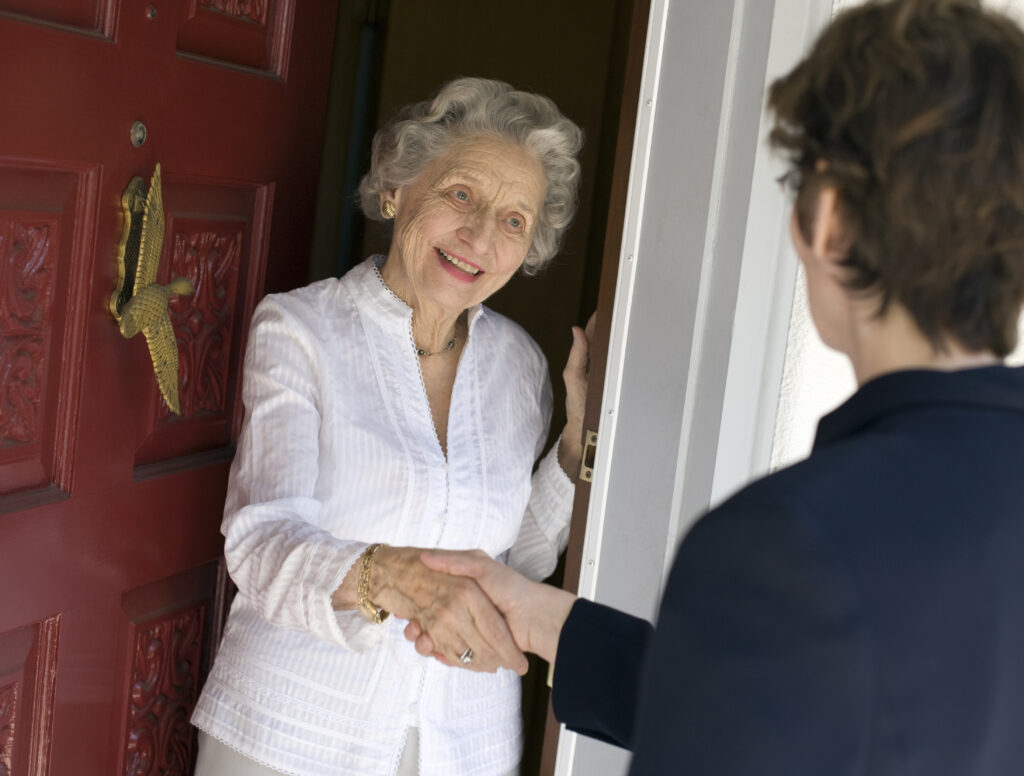 Striking up a conversation with strangers — even new neighbors — can be challenging. But, once you've settled in after your big move, it's time to get out there and introduce yourself. Whether you tend to be more introverted or outgoing, these ten tips will help you easily make new neighbor introductions.
Meeting your neighbors can be especially difficult during COVID-19 due to social distancing and closure of routine activities and events. While some of these tips are most effective in person, there are things you can do in the interim. Take this time to focus on the online aspect of connecting with your neighbors by joining local social media pages and participating in virtual community events. As you practice self-care, take time to get outdoors and familiarize yourself with your town's layout. You can safely wave and smile to your neighbors from a distance and look forward to getting to know them better when restrictions lift.
How to meet new neighbors: 10 tips to follow, so it's not awkward.
Tip #1: Head outdoors
Taking a casual walk around your block is a fantastic way to meet your neighbors. Ditch the headphones and keep your cell in your pocket in order to fully take in what's happening in your neighborhood. If you have a dog, grab a leash and bring Fido along. According to Psychology Today, "pet owners were significantly more likely to get to know people in their neighborhood whom they didn't know previously, compared with non-pet owners."
Tip #2: Let the kids lead the way
Kids are an amazing "buffer" when you're new to the neighborhood. Load up the stroller, bring out the scooters, or simply walk together as a family. When you encounter new neighbors with their kids playing, introduce yourself and your children. While you may be "Timmy's mom" or "Emma's dad" for a while, you'll eventually get to know your neighbors better through playdates or school events. Check out your local library for age-specific kid activities. As your little ones create clay masterpieces or spaghetti art, you can chat with the moms and dads.
Some playdates may have to wait until coronavirus social distancing recommendations lift. Consider a virtual playdate, or an outdoor picnic (maintaining six feet of distance, of course). 
Tip #3 Host a casual get together
After you've unpacked and located your plates and glassware, host an informal get together with drinks and appetizers. Keep it small by inviting a few neighbors closest to your home or, if your space allows, go bigger with a backyard barbeque or indoor meet and greet. Create an invitation introducing yourself as new to the neighborhood along with the party details. Drop the invites off in your neighbors' mailboxes or hand-deliver the invitations to their front doors.
Consider postponing your get together until after coronavirus restrictions lift. If you can't wait until then, keep gatherings small, and host them outdoors.
Tip #4 Ask questions
One of the wonderful things about good neighborhoods is that the residents are usually all about helping one another. Don't be afraid to ask questions — this can spark a conversation or uncover a shared interest. Are you looking for the best dog park in your area? Ask a neighbor as they walk their pup by your house. Simple questions such as, "Where can I find the best pizza?" and "What day is recycling pickup?" will get the conversation flowing.
Tip #5 Smile and say hello
You may not be the only one nervous about new neighbor introductions. Your fellow residents might be shy or inexperienced in making new friends, so remember that a smile goes a long way. If you see your neighbors out and about, share a genuine smile, and say hello. This shows your friendliness and interest in getting to know others. If you happen to pass each other while driving in the neighborhood, give a friendly wave.
Tip #6 Check out your neighborhood's community page
Have you moved in the winter when everyone is indoors, or has it been tough to meet neighbors when walking? Don't despair; there are other non-traditional ways to get to know new neighbors. In today's tech-savvy society, many neighborhoods and developments have dedicated social media sites such as Facebook community pages or Nextdoor. This is a great way to introduce yourself, your family, and even your pets.
Tip #7 Volunteer in your community
Volunteering is an excellent way to become part of your community. Moving into a new neighborhood gives you the chance to explore ways to give back and meet new people. Contact your local animal shelter, food pantry, library, or senior center to find out where your town needs help. As you meet your neighbors, ask if anyone volunteers and if you can join them.
Some volunteer opportunities may be postponed during the coronavirus. Check with the local organization about pandemic-safe ways to give back.
Tip #8 Sign up for the neighborhood watch
Coming together for the safety of your neighborhood and community can be powerful. A neighborhood watch is an excellent option. If you're unsure if your new town has an established group, search the National Neighborhood Watch website for a watch program. Another option is participating in your neighborhood's security camera app, such as the Ring Neighbors App, that helps you connect with your neighbors for real-time safety alerts.
Tip #9 Lend a helping hand
If you spot a neighbor in need of help, don't hesitate to offer your assistance. Small acts of kindness, such as assisting a neighbor struggling to carry heavy groceries, or changing a bike tire, send a huge message. Neighbors will remember you and the help you gave. They also are more apt to offer help when you need it.
Don't be offended if your neighbor refuses help. He or she might be trying to practice social distancing!
Tip #10 Just say yes
After a long day of work, it's tempting to crash on the couch and stay in for the night. But if you frequently turn down invitations, your neighbors may get the wrong message and think you're not interested in being part of the neighborhood clan. From potluck dinners and playdates to poker nights and block parties, try to say yes to a few invitations to keep the interaction going.
If you're declining an invitation due to coronavirus pandemic restrictions, just be honest with your neighbors. They'll understand! When restrictions lift, make sure to invite them over — this will let them know that you're not anti-social!
The bottom line
Being the new person in your neighborhood can be intimidating, but there's no need for you to feel like an outsider. Equipped with these essential tips, getting to know new neighbors can be an enjoyable and stress-free experience.
Frequently asked questions
How do I make friends with new neighbors? 
Keep it casual at first. Avoid oversharing personal details or asking invasive questions. Starting with a simple hello can lead to longer conversations and budding friendships.
What can I bake for new neighbors? 
Casseroles, cookies, and pies are the go-to food to bake for new neighbors. If you're not a fan of the kitchen, a bottle of wine or a small plant are great options as well.
How do I not act awkward in front of new neighbors? 
Just be yourself! While it can be intimidating to meet new neighbors, if you stay true to your personality, you'll feel more comfortable interacting with others.