Best Self-Storage Companies of 2021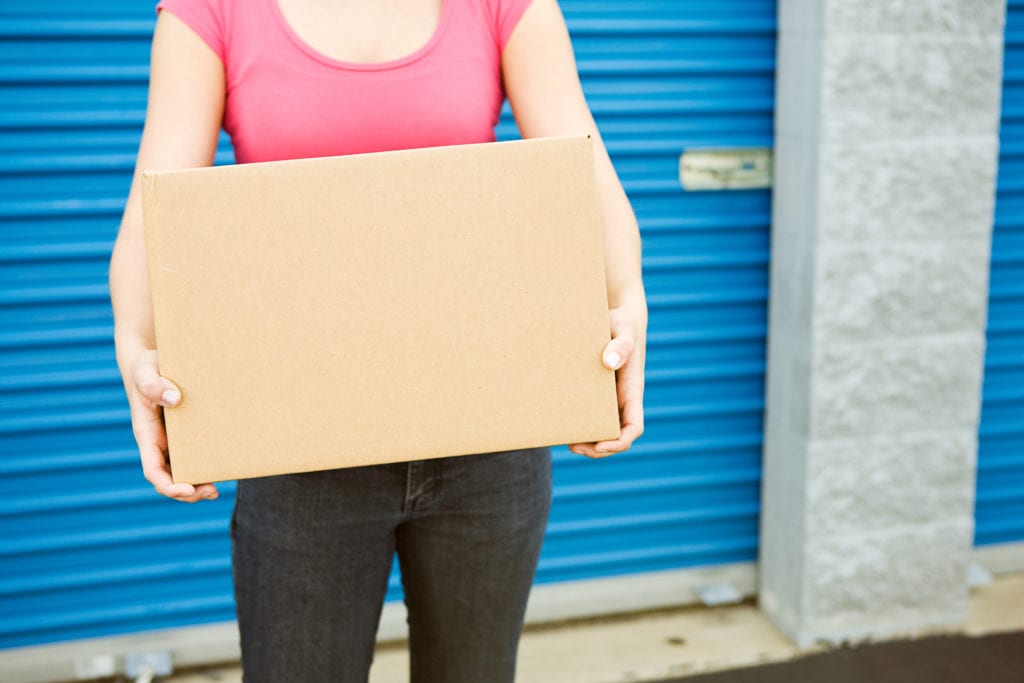 Moving is busy. By the time you've packed, lugged, and moved, you might be pretty worn out (and the last thing you want to do is spend a ton of time looking for self-storage). And with getting moving quotes and everything else there is to coordinate, finding the right company for self-storage may not be easy. A simple Google search for "self-storage units near me" isn't likely to cut it, not when there are so many choices and not nearly enough time to fully vet each one.
When searching for storage facilities, you also have to consider those that offer the kind of services you need. From climate-controlled storage for artwork or vehicle storage for your car, finding a unit that fits your specific needs is crucial.
So, we've done the heavy lifting. We've analyzed real customer reviews and researched expert ratings to find the most affordable public self-storage companies for your next move. These are our picks for the five best storage rental facilities of 2021.
The 5 Best Self-Storage Companies of 2021
Read our moving company reviews
Methodology
There are many storage unit options out there, but few are able to stand up to our rigorous testing as the top self-storage companies. Our analysts thoroughly research trusted nationwide companies, pulling data about offerings, pricing, availability, and more. We review thousands of real customer reviews, checking for things like convenience, customer service, ease of booking, and security. We regularly analyze industry ratings from leading organizations like the Better Business Bureau (BBB).
Based on these factors and more, these are the most trusted options for the best self-storage units for your move.
Extra Space Storage: Overall winner
With Extra Space Storage, you get the power of a national brand that has locations throughout the U.S. with rigorous security and flexible terms. Users enjoy 24/7 electronic gate access with complete video surveillance plus on-site managers for added customer service.
It's moving for the 21st century with its convenient online rapid rental. Just click and move in right away.
Pros
Cons

Nationwide locations
24/7 video surveillance
Floor-specific access
Additional insurance protection available

Rates can increase
Hours vary by location
Security measures vary
A quick look at Extra Space Storage
Based out of Salt Lake City in Utah, Extra Space Storage is the second-largest storage company in the country. It has more than 1,800 self-storage locations. While not in all 50 states, Extra Space comes close with service in 43 states plus Washington, D.C., and Puerto Rico. There are well over one million units available that comprising 585 million square feet of space. Extra Space Storage handles needs for a number of purposes, such as personal storage, business storage, boat storage, and RV storage.
Extra Space Storage offers some of the best features of any storage rental. Security is threefold with on-site managers, 24/7 video recording, and floor-specific access to keep unnecessary traffic away from your most cherished belongings.
Read our full Extra Space Storage review.
Life Storage: Best for Custom Storage Needs
Life Storage has more than enough storage options to fit your every need. Vehicle storage is extensive and includes everything from your car and boat to your RV and motorcycle. There's even custom wine storage for your priceless vintage collection. Units are climate and humidity-controlled with extended access hours and month-to-month rental options. There are even truck rentals available to help you complete your move!
Pros
Cons

BBB-accredited with a top score
Contact-free rentals
Climate-controlled units
Indoor and outdoor vehicle storage

Limited access hours
Less than 1,000 U.S. facilities
Typically need to book 7-14 days in advance
A quick look at Life Storage
Life Storage is based out of Buffalo, New York, and was founded in 1985. More than 900 locations across the U.S. offer excellent storage options for the mover who needs choices. In addition to business storage, there are options for outdoor and indoor spaces for vehicle storage, including boat, motorcycle, trailer, and RV parking. There are also accommodations in place for drive-up storage and truck rental to simplify your move.
While there's 24/7 digital surveillance, not all facilities offer 24-hour access. Boxes, tape, blankets, and other supplies are available with free shipping for orders over $50. Plus, Life Storage will give you up to one month free.
Read our full Life Storage review.
Public Storage: Best Availability
Public Storage proudly advertises that it has more locations than any other storage company, offering storage solutions for personal, commercial, and vehicular needs. Contactless rentals are available for some units, plus Public Storage offers just $1 for your first month's rent on eligible units. In addition to stellar availability, enjoy no-obligation rentals with no long-term commitment, giving renters a ton of freedom you may not always find with other providers.
Pros
Cons

Thousands of locations
Wide international reach
Well-lit properties
Temperature-controlled

Limited contactless rentals
Access hours limited
Certain storage restrictions apply
A quick look at Public Storage
Headquartered in Glendale, California, Public Storage is one of the oldest storage companies, starting in 1972. It is also one of the largest, servicing 39 states with many international locations that include popular U.S. travel spots like the United Kingdom, France, Germany, Sweden, Belgium, and Denmark. There are thousands of locations for you to choose from, ensuring that there's always somewhere to store your things, no matter where you are and where you go.
Public Storage uses only facilities entirely enclosed with advanced security protocols. This includes just a single entry point that uses an electronic gate and personal key codes to gain access. Renters have their choice of drive-up, garage-style units, or indoor units that offer typical access hours of 6:00 a.m. to 9:00 p.m. Units are flexible, too, and are available as small as 5'x5' or as large as 10'x25', depending on how much baggage you have to store.
Read our full Public Storage review.
U-Haul: Best Security Features
We all know the familiar orange banner because U-Haul self-storage and mini-storage facilities are widely available in the United States and Canada. What's truly impressive, however, is the security. U-Haul properties feature state-of-the-art security systems. U-Haul arms every room and door with "its own alarm that stays active 24 hours a day." With optional moving and truck rental services, U-Haul is your all-in-one storage provider with the premium security to match.
Pros
Cons

Maximum security rentals
Affordable prices
Live office support
Armed doors and windows at every property

Availability is unpredictable
Reservations may change
Customers report occasional billing errors
A quick look at U-Haul Storage
Both U-Haul-owned and managed storage facilities prioritize leading security features using maximum security to protect your things. It uses various security features, such as video cameras, intercoms, fire sprinklers, and limited access by floor or building. U-Haul offers tenant insurance options, first month's rent free for eligible units, and no money down for reservations.
There are different hours for storage access and the front office, so even though you have contactless entry, you can still benefit from a live person's support if you need it. Online reservations are straightforward, with the ability to filter your location search based on several features, including climate control, wine storage, and storage for your car, boat, and RV.
Read our full U-Haul review.
CubeSmart: Best for Deals
CubeSmart has more than 1,250 locations across the U.S. for self-storage of all sizes and purposes. It's flexible with storage options, allowing you to choose from month-to-month or long-term storage. CubeSmart also helps you save money through a ton of available discounts, plus partnerships with local moving trucks and labor services to handle all moves, whether you're moving down the street or across the country.
Pros
Cons

Excellent customer service
Tons of discounts
Discounted truck rentals
24-hour surveillance

Insurance is additional
Access during business hours only
Customer complaints about pests
A quick look at CubeSmart
CubeSmart offers more than 1,200 well-lit properties with gated access and 24/7 video surveillance. It offers both drive-up and indoor climate-controlled units, plus rental trucks to help with moving. There are units available in all sizes, too, with up to 300 square feet of space.
CubeSmart does not include storage insurance in rentals, but it's required and available at an additional cost. To help with the price, though, there are plenty of discounts that you can apply to your rental to save extra money. CubeSmart gives discounts to active military members, as well as college students who are moving to and from school. To reserve, just go online or download the CubeSmart Mobile App for an easy and contact-free reservation process.
Read our full CubeSmart review.
How to choose the best storage rental for your move
There are certain features to consider when you are searching for the best storage rental for your move.
Type of storage
Storage companies offer several types of services, including full service and self-storage options. Self-storage is best for DIYers who load and pack their belongings themselves. It also enables you to have instant access to your belongings rather than having to wait for a full-service storage company to handle details for you.
Size of storage
There are many different sizes available for storage units, so you want to make sure you rent the right size for all of your belongings.
Climate control
Some units are temperature and humidity-controlled to preserve your more delicate and valuable belongings, while unregulated units are available for your more durable items.
The bottom line
It's not enough these days to just type in self-storage near me and hope for the best. Many companies advertise self-storage, but not all of them will provide the storage services you need at the right price. When shopping for the best storage near you, don't limit yourself just to price and instead consider things like storage options, security protocols, and accessibility. It will make all the difference in finding the best self-storage for you and your move.
Frequently asked questions
Q:
What are the types of storage facilities?
A:
There are several types of storage facilities that you can choose from for your storage needs. Outdoor units are perfect for vehicles and other tough, durable items, while your more sensitive belongings can be moved inside into a climate- and humidity-controlled unit. There are also specialty storage services, such as dedicated wine storage with temperature control and units large enough to house an RV or a boat. Consider what kind of storage needs you may have and compare to see which self-storage companies fit the bill.
Q:
Can you store a car in a storage unit?
A:
Most storage companies, such as the ones listed here, offer storage for your car. You have the option of both indoor and outdoor storage, depending on your preferences, and there are additional storage solutions for your motorcycle, van, RV, or boat.
Q:
When do I need climate-controlled storage?
A:
Climate-controlled storage means that these units are heated in the water and have air conditioning in the summer to ensure that your belongings aren't affected by weather-related issues. These units also regulate humidity levels to prevent water or moisture damage.
Q:
What is the difference between full-service storage and self-storage?
A:
Full-service storage means that the company will also pack and move your things as required in addition to the actual storage service. With self-storage, you must load and pack your belongings into the storage unit yourself.
Q:
Is it cheaper to rent a moving container or a storage unit?
A:
Pricing varies from service to service, but generally, portable moving containers are more expensive than storage units because they incur more overhead as a temporary off-site solution. Storage units can offer customers more bang for their buck because you can benefit from a whole host of added features, like 24/7 video surveillance, live office support staff, and numerous storage solutions to fit your every need.
Q:
How far in advance do I need to book a storage unit?
A:
Advance notice for reservation bookings all depends on the company you are using. Some companies have minimum booking times, requiring anywhere from seven to 30 days' advance notice for your reservation. Others accept online contactless reservations that can have you moving in within the hour. Before you choose the best self-storage company for your move, consider how quickly you need your storage unit and whether each company can comply with your timeline.