6 (Relatively) Big Cities With Affordable Studio Apartments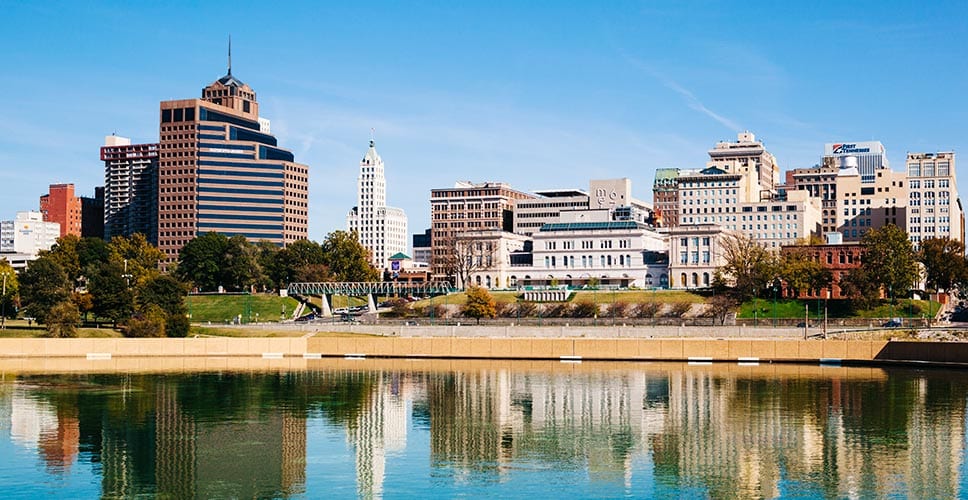 Living alone is all it's cracked up to be. You can leave your socks on the floor and the dishes until tomorrow. Plus, the closet is all yours. One downside, of course, is managing your rent payment solo. But don't worry: if you're shacking up alone and you live simply, plenty of cities in the U.S. have affordable studios. Here are six cities where you can call a studio your very own without starving.
1. Omaha, NE
Average studio rent: $646
The cost of a studio in Omaha is more than reasonable when you consider how booming the job market is. Only about 3% of adults are unemployed in Omaha. The cost of living here is also on par with the national average. Between the historic sites, Old Market, and botanical gardens, there are plenty of things to get out and do when you start feeling cramped in your one-room abode.
2. Memphis, TN
Average studio rent: $626
Memphis attracts musicians like bees to honey: heck, even the King of Rock and Roll made this southern city his home. And with loads of things to do for the non-musically inclined alike-including Memphis' legendary nightlife-it's shocking how low rents continue to remain.
3. Wichita, KS
Average studio rent: $430
The rent in Wichita leaves you plenty of money to play with. The average monthly pay is over $3,400, so with studio rent barely topping $400, residents can still live solo while paying down student loans or saving for a dream vacation (or both, really). Plus, the city has everything from a butterfly garden to a renowned performing arts center.
4. West St. Paul, MN
Average studio rent: $725
The number of things to do in and near West St. Paul in the Twin Cities dwarfs the offerings of most other cities, and you don't have to pay a fortune to live there. That's called a win-win. The Como Park Zoo, Harriett Island Park, and St. Paul Farmer's Market are all within reach, and you won't pay out the nose for this premium location.
5. Boise, ID
Average studio rent: $770
Boise is the capital city of Idaho, which makes its affordability all the more surprising and wonderful. The city is wealthy in art and preserved natural land, so plan on full weekends, if you want them. With an average studio cost of well under $1,000 and an average household income of nearly $50,000, it's easy to make a living you'll love here.
6. Glendale, AZ
Average studio rent: $601
Desert living means hot summers and affordable living. Glendale apartments are super affordable and often come with utilities included. You're also just minutes from Phoenix, and the majestic Camelback Mountain.
Ready to make a new city your home, but sick of sticker shock? Take a deep breath and consider one of these inland states where studios are affordable and you're not left wanting for things to do. Sometimes downsizing means living large.