Moving tips for people with hearing loss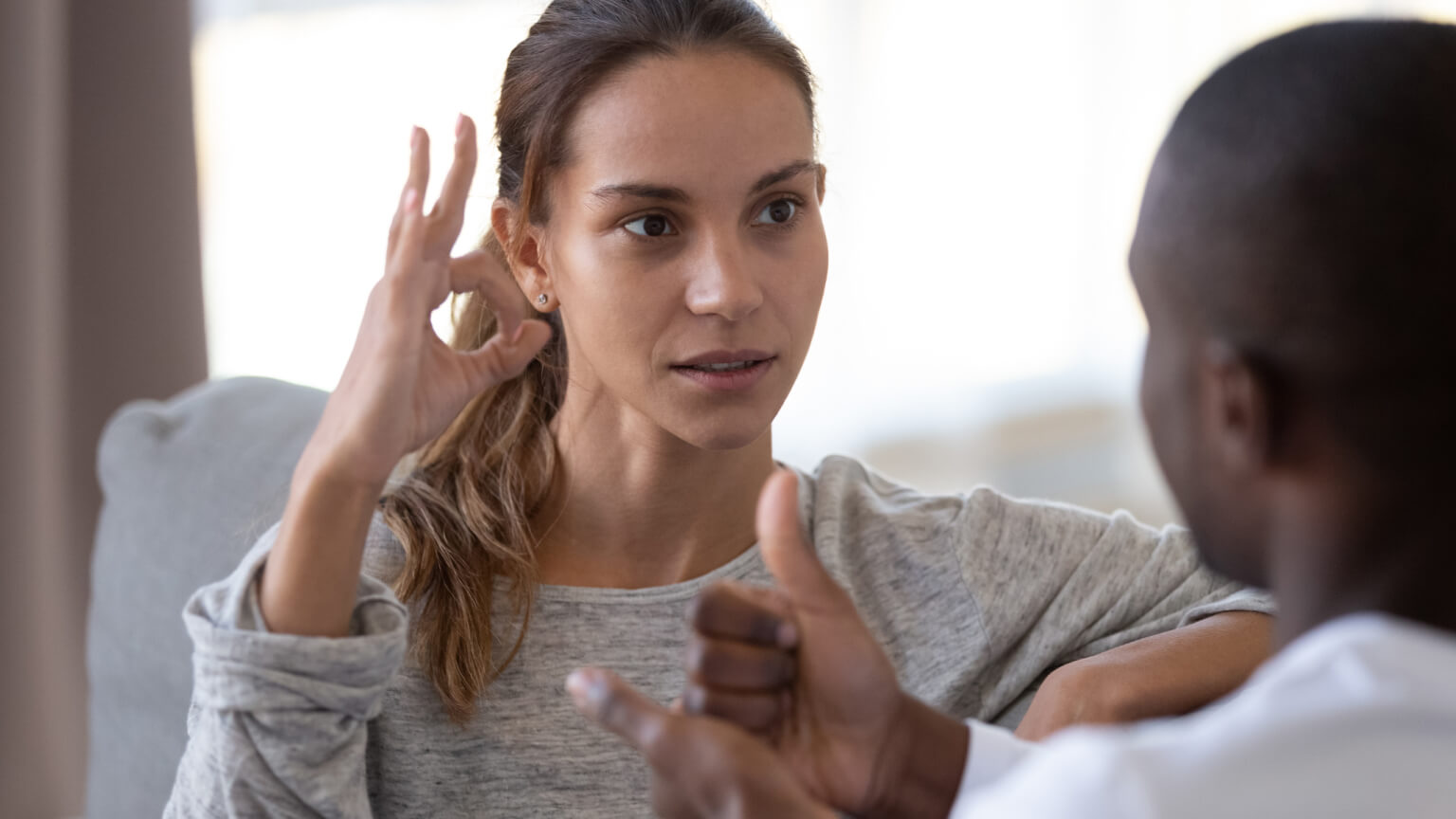 Moving to a new home comes with its share of excitement and stress. But for the 37.5 million American adults who report trouble with hearing, the process poses a number of different challenges. Many moving companies simply don't have much experience working with people with hearing loss, and communication can be a struggle.
Fortunately, a little preparation goes a long way, and there are a number of excellent tools and resources available that can help make the moving process go more smoothly.
---
Jump to:
Tips for movers with hearing loss
Safety tips to consider after moving in
Helpful apps for communicating during your move
---
Tips for movers with hearing loss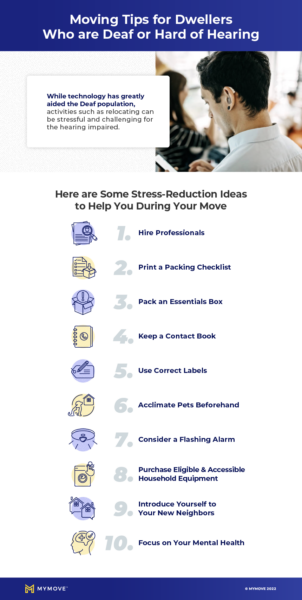 Hire the right movers
Finding the right movers for your situation is the key to any successful move, but it's even more essential for people with hearing loss. The experts we spoke with repeatedly emphasized the need for clear communication during the process.
That starts with getting detailed moving quotes online — MYMOVE recommends comparing at least three — and making sure you share as much information as possible in the online form. When it comes to moving, it's always best to err on the side of over-communicating.
"Sometimes things get lost in the reservation request, which may mean important information may not be shared with the movers," said Howard A. Rosenblum, CEO of the National Association of the Deaf.
Having a clear communication plan in place with your movers will help clear the path for a smoother move.
"Inform the team about the hearing loss and provide suggestions on how they can communicate with you better," said Carolyn Ginsburg Stern, Assistant Director of Outreach and Strategic Initiatives for the Center for Hearing and Communication.
"For example, ask them to get your attention first, write down questions if it is hard to hear, speak louder and enunciate more than usual — but do not shout — and if you have to repeat more than two times, try to reword it or say it in a different way using different vocabulary."
Print a packing checklist
You're going to be swamped with lists in the weeks leading up to your move, but one you shouldn't put off is a comprehensive pre-move checklist. It will walk you through key deadlines to help keep you on track so that you're not scrambling to get everything done in the last few days. The more organized you can be during the packing process, the easier it will be to communicate your plan with the movers.
Pack an essentials box
Everyone should pack an essentials box when they move for easy access to things like toiletries, clean clothes, and a phone charger. For people with hearing loss, this bag should also include any hearing devices you might need, as well as a pen and paper.
"Set aside a special box or bag with the important hearing device items and batteries, so they're readily accessible and not buried in a box," Stern told us. "Same with alerting devices and accessories — so those can be set up right away."
Keep a contact book with your movers' information
Stop us if you've heard this before: Communication is key. That means having contact information for your movers at the ready, as well as anyone else who might be helping you move. It's also important to let your movers know how you'd like to communicate on moving day.
"In advance of the move, request text communication between the moving staff and the person moving with hearing loss or deafness," said Stern. "Even if your request was replayed properly, the team on the truck may still call you rather than text. If you're concerned about communication on the call consider setting up a phone captioning app in advance that can caption the phone call such as InnoCaption, CaptionCall, Clear Captions, or Olelo."
And even with all that prep work, things aren't always relayed clearly from the office to the movers on the ground. It's a good idea to have a plan in place if the movers arrive without much information.
"Write down all of the instructions in advance for the movers and share with them in advance, if possible, or immediately upon arrival. Review it together," Stern told us. "That can eliminate many misunderstandings."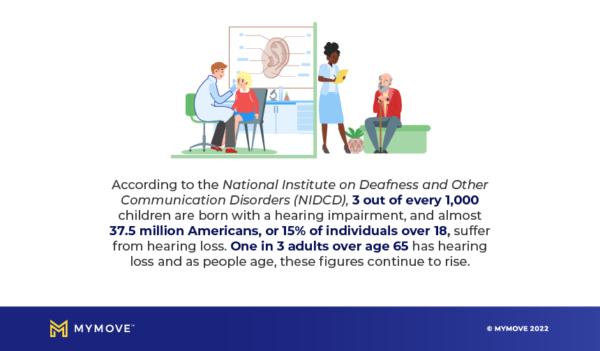 Use correct labels
The more information you can provide the movers, the better. Helping them understand where to put boxes in your new home can cut down on any unnecessary confusion. Label your boxes with the rooms they should go in, and if you want to go an extra mile, use different colors of tape for each room. You can also number each box — "Living room 1," for instance — to keep a detailed inventory of your belongings.
Acclimate pets beforehand
Moving isn't just stressful for humans. Pets can also get anxious adapting to a new environment. If you have a service dog, it is likely trained to deal with these kinds of high-stress situations, but be sure to check with the agency you've gone through about moving and recommendations they can provide.
If possible, take your pet to your new home before the move to get them familiar with the space. You can also help them adjust by bringing in moving boxes early to help them acclimate to the change gradually.
Plan for proper lighting and flashing alarms
People with hearing loss often rely on reading lips and body language to communicate, so it's essential that both homes are adequately lit on moving day.
"Have light bulbs and lamps ready if the space doesn't have built-in lighting, or open blinds for natural light," said Stern. "If the space is too dark or the move goes into the evening, it could make communication more difficult without being able to see the person's face and body language as well."
In addition, a flashing alarm could help with reminders you may have for meetings or calls with moving vendors. Having a written schedule for moving day is always good, but sometimes a visual reminder is helpful as well.
Purchase accessible equipment
Many deaf people rely on alerting devices, and if possible, you should try to install them before moving day. Things like doorbell signals, visual smoke, fire, and carbon monoxide detectors, and alarm clock signalers are all essential items. In some states, you may be able to get free used medical equipment for your new home.
Introduce yourself to your neighbors
It's always a good idea to introduce yourself to your neighbors when you move to a new home. You can even write a short note or provide a pamphlet for them to learn more in case you feel uncomfortable approaching them verbally.
Take time for mental health
Moving is exhausting for everyone, but it can be especially difficult when you're speaking to new people who might not understand all of your needs. "It can be very overwhelming at the end of the job when everyone is tired and things may not have gone perfectly," said Stern.
Be sure to take time for some breaks throughout the day, and try to find a somewhat quiet place if you can. According to Harvard Medical School, breathing deeply until your lower belly rises encourages full oxygen exchange that slows your heartbeat and stabilizes blood pressure.
Safety tips to consider after moving in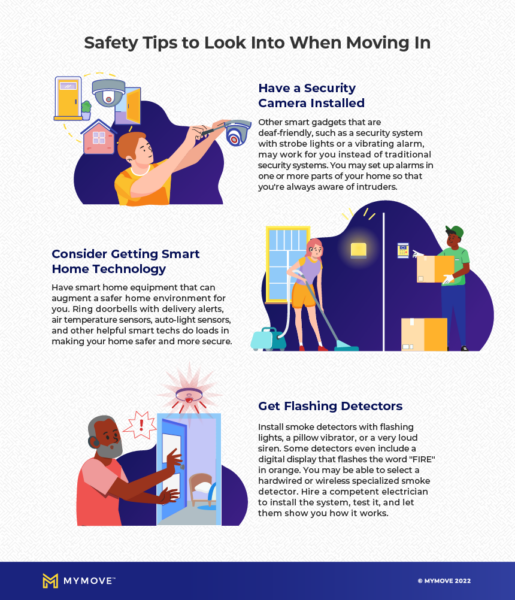 Chances are, you already had a safety system in place at your old home, but your new place may present some new challenges. Do a safety check in your new home with these essential steps in mind.
Install a security system
It may be difficult to hear intruders coming through a door or window, so having extra safety precautions in place can provide extra peace of mind. Fortunately, there are a number of security systems designed specifically for people who are deaf or have hearing loss. These often include tools like flashing lights and mobile alerts, instead of relying strictly on audio alarms.
Consider smart home devices
There are a number of smart home devices that are beneficial for people with hearing loss. Smart doorbells can be configured to use your home's lights to alert you when someone's at the door, and you can also get notified on your phone. Smart TVs and stereo systems are also equipped with Bluetooth, so you can connect many hearing devices directly to them.
Use flashing smoke, fire, and carbon monoxide detectors
Flashing detectors are essential to keeping you safe in your new home. Like security systems and smart home devices, many can also be connected to your phone. Vibration notifications in your pillows or bed are also a good idea.
Helpful apps for communicating during your move
As we mentioned above, communication is the key to a successful move. Fortunately, there are a number of apps designed to people with hearing loss.
"Speech to text apps work really well," said Stern. "But it is important to note some shortcomings: these apps work best with strong Wi-Fi, quiet background, and native American Adult English speakers."
Since there are a number of voice transcription apps offering roughly the same things, we recommend trying some out to see which ones you like best. These all came recommended by the experts we spoke with: