How to Get a PO Box When You Move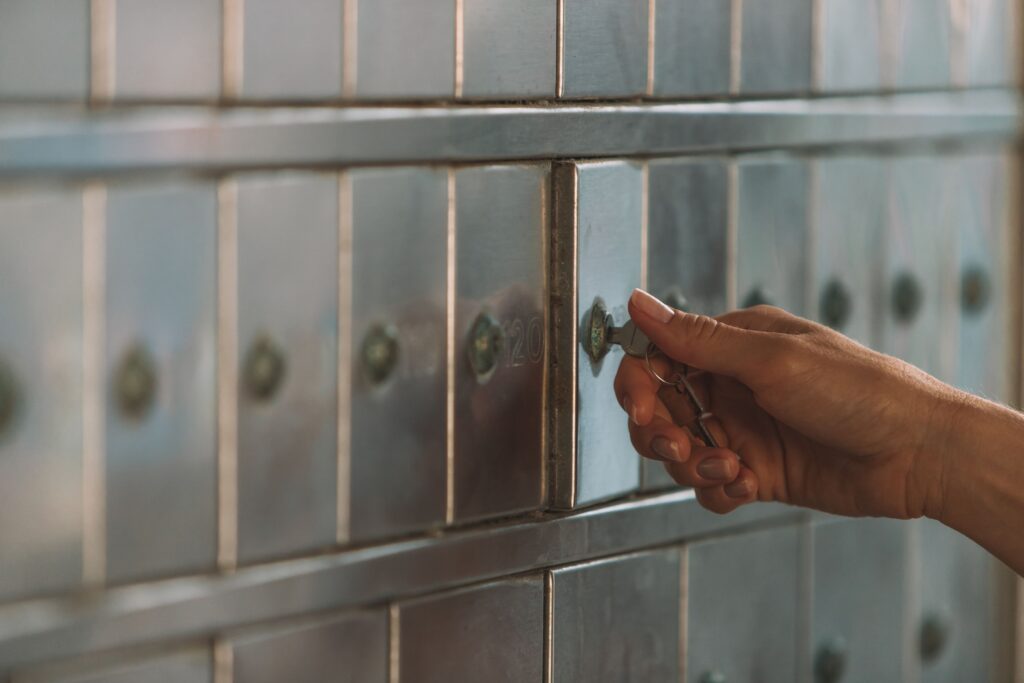 Learning how to get a PO Box™ involves visiting your local Post Office™ or renting one online, considering your mailbox needs, and then selecting the right size. If you're moving out of your old home before your new one is ready, or if you'll be staying in temporary places between moves, you can forward your mail to a USPS® PO Box. A PO Box is also an excellent option if you're moving to a place where you need a more secure mailbox solution to prevent theft or tampering.

Those who own a business or travel benefit from learning how to get a PO Box as well. If you're consistently away from your home, renting a PO Box at the local post office prevents mail from piling up in your residential box. Businesses benefit from them because they know their mail is secure and, if they cannot check daily, there's no chance for it to get stolen.

[deals-hub-ad]
What is a PO Box?
PO Boxes, or post office boxes, are lockable boxes with an address at a local post office. Typically, businesses and individuals rent PO Boxes from the post office for three, six, or 12-month terms. If it's hard for you to get your mail delivered to your home directly, then a PO Box can help to make sure everything is collected — safe and secure. If you have a home business and want to keep your residential address private, you can get all of your mail directed to your post office box and list that as your business address.
How to get a PO Box, step by step
How to reserve a PO Box online:
Step 1: Go to the USPS website to find an available PO Box near you. Click on "Find & Reserve a PO Box" to locate one in your area using your zip code.
Step 2: Select the most convenient post office location. After finding a location, pick a PO Box size, the rental term (three, six, or 12 months), and your desired payment method.
Step 3: Enter your billing and contact information to complete your PO Box reservation.
Step 4: Print out your reservation confirmation. That confirmation includes your online rental and payment information. Within 30 days of reserving your box, take that printed confirmation, along with two forms of ID, to your post office to receive keys.
How to apply for a PO Box in person:
Step 1: Complete PS Form 1093. You can either print this form ahead of time or pick one up from the post office.
Step 2: Pick your box size. On page one of the form, determine which box size is appropriate, and then select it on page three.
Step 3: Drop off the form at the Post Office and set up a payment arrangement.
What will I need to complete the PO Box application?
Reserving a PO box means you must bring the appropriate identification with you when applying in-person, or confirming your online reservation. There are two acceptable lists of identification; you must present at least one form of ID from each list. The secondary form of ID must list your physical address.
Primary forms of acceptable photo identification:
Corporate ID
Matricula Consular (Mexico)
NEXUS (Canada)
Passport
U.S. Government ID
U.S. University ID
Secondary acceptable forms of ID
Deed of trust, lease, or mortgage
Home or vehicle insurance policy
Utility bill
Vehicle or voter registration card
Does a PO Box cost money?
You will have to pay a rental cost to secure your PO Box. Costs vary by location, box size, and rental term length. To figure out how much it would cost to rent a box in your area, input your zip code into this PO Box finder.
Here's example base pricing of renting a PO Box for three months in Charlotte, North Carolina (28208):
| Extra-Small Box | Small Box | Medium Box | Large Box  | Extra-Large Box |
| --- | --- | --- | --- | --- |
| $34 | $48 | $83 | $118 | Not available at the location. |
There are also additional fees:
Key deposit: $4
Key duplication or replacement: $8
Late payment or lock replacement: $23
Are there different PO Box sizes?
There are five different PO box sizes available for rental, depending on the amount of mail you receive. For example, if you have a business that receives a considerable number of packages, the extra-large size might be best. However, if you're a resident who does not receive much mail, the extra-small size might be enough. Sizes include:
| Box Size | Dimensions | Can hold: |
| --- | --- | --- |
| Extra-small | 3″ x 5.5″ | 10-15 letters or two rolled magazines |
| Small | 5″ x 5.5″ | 10-15 letters or five rolled magazines |
| Medium | 5.5″ x 11″ | Large envelopes and magazines stacked flat |
| Large | 11″ x 11″ | Up to two shoeboxes with additional room for 10-15 letters |
| Extra-large | 12″ x 22.5″ | Multiple parcels and flat rate boxes |
PO Box pros and cons
Pros
Cons

Delivery time is consistent
Permanent address
Professional mailing address
Secure mail pick-up

Limited space; if you cannot pick up your mail regularly, the box overflows
You are responsible for picking up your mail
You cannot have a professional address listing without a P.O. Box if you are a small business operating from home
Some locations do not offer 24/7 lobby access
The bottom line
When you learn how to get a post office box, the first thing you must do is determine box availability in your location. Then, figure out what size box you need and whether or not you want to apply for it online or in-person. You can rent boxes for three, six, and 12-month terms with the option to set up renewable payment arrangements. Renting a box requires furnishing two forms of ID, one with your picture and the other with your physical address.
Other frequently asked questions
What is required to open a PO Box? 
You must present a primary and secondary form of ID. The primary must have your photograph, and the secondary must list your physical address.
How do PO Boxes work?
Postal workers deliver mail to a locked box, and that mail remains secure until you are ready to pick it up. You select the size you need and then set up a payment arrangement.
Do you have to have a physical address to get a PO Box? 
Yes — if you do not have a physical address, it is not possible to rent a post office box.