A Guide to Helping Senior Citizens Stay Safe at Home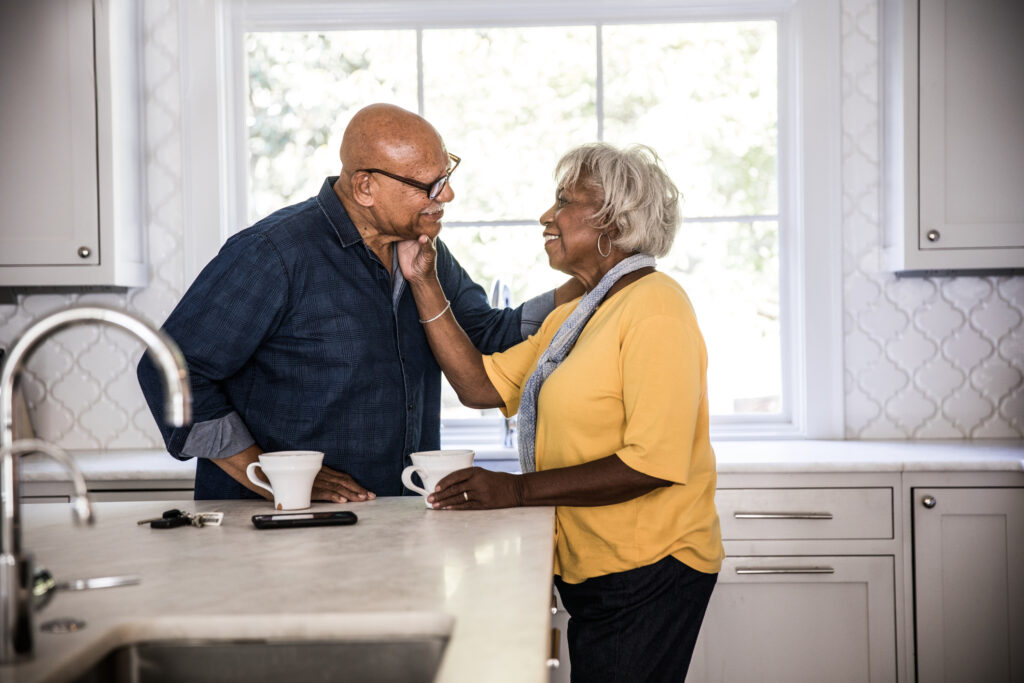 The Centers for Disease Control and Prevention (CDC) reports that one out of every four Americans over the age of 65 suffers a fall each year. Falls are the leading cause of death among older adults and account for the most non-fatal trauma-related hospitalizations. That's why ensuring home safety for seniors is vital if your loved ones choose to age in place.
With senior citizens wanting to stay in their own homes, efforts to keep them safe can be difficult and expensive. CEO of Harmony Healthcare International Ann Marie McKenna tells us that "24/7 care can cost well over $200,00 per year!"
With these kinds of numbers, it's hard to picture an environment where a senior citizen can be truly safe, and yet many older Americans prefer to stay within the comfort of their own homes.
If you're considering aging at home yourself, or have a loved one who's trying to plan the next step, know that it can be done safely — with the right precautions. We turned to the country's top experts on elderly safety to create your personal home safety checklist for seniors.
For starters, what is aging in place?
"Aging in place is staying healthy and safe enough so that you can live out the remainder of your life at home," says Katie Dodd, founder of the Geriatric Dietician.
Suzanne Asaff Blankenship is the author of "How to Take Care of Old People Without Losing Your Marbles." She says when someone chooses to age in place, they make the decision not to move into a care community — like an assisted living or nursing care facility.
According to Blankenship, there are definite pros and cons that come with aging at home:
Aging in place is a good idea if…
Aging in place doesn't make sense if…

You own the residence outright.
Your housing costs are affordable (whether your rent or own).
You have neighbors, friends, and family nearby who can help.
You're familiar with your space — especially if dementia is involved.

You're unable to make meals for yourself.
If you're living with dementia (or show early signs of it).
You have limited in-home care options. In-home care is expensive, especially if it is needed for multiple hours a day.
Dr. David T. Neuman, the Pop-Doc, works with senior patients every day. He defines aging in place this way:
It's a senior's ability to "remain in the comfort of their own home safely and effectively. To this end, it means that they can (with or without help from aides or other family members) perform their daily activities without fail or without sustaining an injury."
If you're considering aging in place, strongly think through your abilities — and your limitations — so you can make the best (and safest) decision.
Home safety for seniors: How can you best prepare for aging in place?
When your body begins to weaken from age, everyday events can suddenly become a threat to your health.
"A person can best prepare for aging in place by making the 'place' safe," Dr. Neuman says. "A fall at home due to loose carpets, inaccessible bathing areas, or difficult stairs can be devastating."
Here are some tips to follow and steps to take that will allow you to better protect yourself when living at home.
10 must-know home safety tips for seniors
Tip #1: Sit down and have the important conversations.
If you're a son or daughter who's thinking about how best to take care of your aging parent, start by having an open and honest conversation about what your parent wants
"This is so important," Blankenship stresses. "Talk to your elders about what their preferences are as they age."
If you're a senior who's considering aging in place, loop your children and loved ones into the thought process. Together, you can make a plan of action.
Tip #2: Consider the expenses.
Your home may need to be retrofit to eliminate hazards, and this is not a cheap process.
Remodeling costs range depending on the project. According to the National Aging in Place Council, some bigger changes — like specialty equipment, bathroom remodels, and back-up power generators — can range from $8,000 to $75,000.
But compare those costs to the expenses associated with assisted living can range from around $2,000 to $6,000 a month.
Crunch the numbers and look at your finances to determine which route is best for you.
Tip #3: Keep up on home repairs.
Houses age and experience wear-and-tear when you live in them for a long time. With the help of loved ones, identify any fixes that need to be made.
"Keep the home maintenance up-to-date," Blankenship advises. "Don't postpone needed repairs."
Tip #4: Take appropriate safety precautions.
Consider your safety, paying specific attention to security features like an alarm system, and security monitoring.
If you're living alone, make sure you have a plan of action in case of falls or injuries. Consider getting a medical alert system, so you have access to 24/7 help in emergencies.
Tip #5: Eliminate stairs.
With falls to blame for so many injuries each year, try to stick to single-level living as much as possible. If you're living in a multi-level home with the master bedroom on the second floor, now's the time to consider moving your room to the first-floor (if that's an option), or downsizing to a smaller, ranch-style home.
Tip #6: Manage medication.
Consult with your doctor or a healthcare professional on the best way to keep track of your medications, especially ones that are out of date.
Sheryl Maher, with Guardian Medical Monitoring, advises you to"discard old prescriptions immediately, so there is no mistake on dosing."
Tip #7: Create a support system.
This is especially vital if you're living alone. Gather a community of friends and family that you contact on a daily basis.
"Use a "buddy/family" check system," Maher suggests. "A quick call every AM or PM can sometimes save a life."
This way, you'll have direct lines of communication during emergencies. You'll also be able to combat any feelings of loneliness that can come with living on your own.
Tip #8 Use everyday caution.
Apply extra caution in your daily life to eliminate threats. Little things, like making sure you can reach all of your dishes/cookware, putting spices on the counter instead of in overhead cabinets, and removing all fall hazards from walkways, can ensure a safe living environment.
Tip #9: Be proactive about your health.
Dodd, the founder of the Geriatric Dietician, says taking steps to maintain good health is just as important as preparing for home safety.
Good eating mixed with continued regular exercise can keep you in good shape as you choose to age in place to maintain your independence.
"If muscle health is neglected, a senior will lose their independence," Dodd says, "[The senior will] have to rely on others to help them with daily tasks, have an increased risk of falling, and have an increased likelihood of going to the hospital and getting sick."
Consult with your doctor for ways to keep yourself well and healthy.
Tip #10: Bring in professionals.
Don't go at it alone. Make sure to surround yourself with loved ones, as well as with professionals that know exactly what to do in emergency situations.
"Use an emergency response system," Maher recommends from her own experience with Guardian Monitoring. "Three million falls happen at home every year, and 300,000 end up in the hospital because of falls. The longer someone stays on the floor, the worse the outcome will be."
Home safety checklist: Make sure your home is optimized for aging in place
Print out our Senior Home Safety Checklist and take these safety tips with you!
Bathroom:
Install grab bars in your shower.
Use bath mats that cover the entire floor surface of the tub or shower.
Use "grip" bath rugs (latex backed) that do not move when you step on them.
Add non-slip wax to floors.
Add a waterproof seat or chair in the shower.
Install a raised or high-profile toilet.
Use bath mats with rubber backing.
Alter the shower for walk-in entry rather than step-over entry.
Bedroom:
Avoid slip-on, soft-soled shoes.
Move light switches for easy reach from a wheelchair or bed.
Install secure window screens and locks.
Use only secure, reliable, and easily accessible furniture.
Secure all cords and wires out of the way.
Make sure necessary chargers and equipment are within arm's reach.
Kitchen:
Make sure every light/lamp has a working light bulb with glow-in-the-dark switches you can find at night.
Make storage more accessible, using lazy susans and pull-out shelving.
Replace handles for easier-to-manage styles.
Use lever fixtures instead of twist knobs on your sink.
Add textured, no-slip strips to all handles, floor mats, and appliances.
Living Room:
Evaluate tripping hazards (such as rugs and thresholds) and consider how the hazard can be minimized.
Put non-skid treads on steps.
Replace standard doorknobs with lever handles.
Create zero-threshold entryways.
Widen doorways and hallways.
Make sure your whole space is well-lit.
Make sure seating and tables are at an accessible level.
Other general tips:
Make sure doorways and entrances are accessible.
Keep home maintenance up-to-date.
Install grab bars in convenient locations throughout the house.
Make sure your home safety systems work.
Make sure rails on stairs are secure.
Install motion-sensor lights on walkways.
McKenna, of Harmony Healthcare International, offers these questions specifically to help "seniors (and the ones who love them) who are considering the option of aging gracefully at home in their golden years."
Questions to ask before you decide to safely age at home:
Can you vacate your home if there is a fire?
Are you able to shower?
Are you able to use a stove?
Are you able to use a microwave?
Do you need assistance in food shopping?
Is it safe for you to drive?
Do you require medication management? Do you need medication reminders? Consider this a strong "yes" if you're dealing with dementia and require packing daily pills.
3 tech tools and apps for elderly safety
1. Virtual caregivers
With recent medical tech advances, you might not have to leave your home for tips to the doctor. With telehealth options, they can come to your computer screen.
2. Smart devices
Whether it's your cell phone or a smartwatch around your wrist, these devices typically include special health reporting and GPS trackers that can be invaluable when you find yourself in an emergency.
3. Philips Lifeline Medical Alert Systems
McKenna says she depends on technology every day at Harmony Healthcare.
"Software or apps are only as effective if the senior person can use or carry them with ease," she says. "Lifeline (remember the famous ad, 'Help I've fallen, and I can't get up') is still a staple in the industry and most recommended."
Are there resources that help pay for senior safety renovations?
As a general rule, Medicare currently doesn't pay for most safety renovations you'd want for aging in place. But there are other options.
George Gao, a licensed pharmacist in Kansas and Missouri, says there might be some upcoming expansions to Medicare offerings that could include some home modifications.
"As a general rule, traditional Medicare doesn't cover most retrofits. But your loved ones may fare better financially if they're enrolled in some types of Medicare Advantage plans. Medicare now allows these plans to pay for shower grips and other safety devices designed to prevent falls. And beginning in 2020, the plans may pay for improvements to a member's home, such as permanent ramps or wider hallways and doors to accommodate wheelchairs."
But if you can't get the help you need from Medicare, there are other options, too.
If you need help or want additional aging in place answers, reach out to these organizations:
Area Agency on Aging: They will assign a resource officer to help you find programs and grants that will pay for your renovations.
Habitat for Humanity: This organization offers a home preservation program for low-income families. Some affiliates do help with accessibility renovations.
USDA Rural Housing Repair Loans and Grants: Gao provides another approach, recommending low-interest loans for those who qualify. "If your family's income is low, you live in a rural area and the home being modified belongs to someone age 62 or older, the renovations may qualify for the federal Rural Housing Repair Loans and Grants program from the U.S. Department of Agriculture."
The bottom line
It may take some preparation, but aging at home as a senior citizen is a possibility with the right precautions.
"The main goal of aging in place is to keep seniors happy and safe in their own homes," explains Maher. "Plenty of these suggestions are easy enough to incorporate into homes. Although some (renovations) may take time, in the end, they are worth it."
Frequently asked questions
How can you age-proof a house?
The exact requirements to age-proof your home will depend on your needs and your home's layout, but there are some basic steps you can take. Try to avoid stairs whenever possible, install rails on all stairways, consider security monitoring and caregiver services, and don't forget to use the help of your support system whenever you need them.
How do seniors keep their homes?
There are many government programs that are designed to help seniors keep their homes. You also have the option to explore a personal home loan to help you secure the kind of financing you need to make the mortgage and also custom-fit your home.
What do seniors need most when they age in place?
"Elders need interaction with others, and aging in place often means fewer interactions as they age," says Blakenship, touching on key points in her book.
No matter where you are, it's not easy aging as a senior citizen. It's important to keep a solid support system around you not only to help keep you safe but to also protect you from the claws of loneliness.
Senior aging at home is a community effort, and there is a world of resources ready to help.