Military PCS: The Complete Moving Guide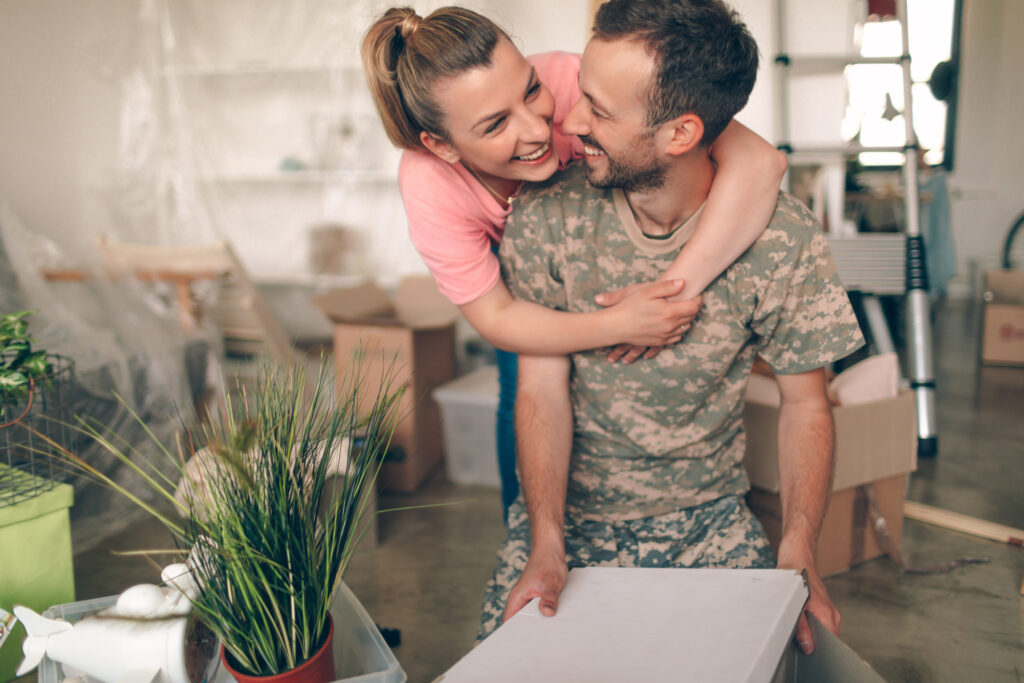 For Starters, What Does PCS Mean?
PCS is an acronym for "Permanent Change of Station." For members of the armed services and their families, this refers to an ordered move to a new duty station. PCS moves are long-term relocations for assignments that last 20 weeks or more. On average, a service member will go through this type of military move 2.6 times during their career. However, 15% of military families will move six or more times.
Considering how expensive it is to move to a new home, it's a good thing that the government covers almost all of the costs of PCS military moves. Military members and civilian employees have two options. They can arrange to have their household belongings moved by a government-approved Transportation Service Provider, or the military can reimburse them for the costs of a "Personally Procured Move" — a move that the family plans and completes on their own.
If your military move is within the contiguous United States (CONUS):
All PCS moves fall into one of two categories: CONUS or OCONUS. The military acronym CONUS means "The Continental United States," while OCONUS means "Outside the Continental United States." The two different types have different rules and requirements. Here's what to expect with a CONUS move:
Option 1: You can let the military take care of the packing and moving
Military members and civilians with PCS orders can arrange to have their belongings packed and moved using a Transportation Service Provider (TSP). Letting the military set up a TSP is a convenient option as you simply schedule your move by starting a request with United States Transportation Command. The government will arrange for the packing and shipment of items to your new duty station.
It's important to note that weight restrictions of those shipments depend on your rank, and there are some limits as to what you can include in your household goods shipment. For example, if you want to bring your pet, you'll have to do so at your own expense.
Option 2: You can decide to do a personally procured move (PPM):
If you prefer to handle the packing and moving, in many cases, you can proceed with a personally procured move. In this case, the government will reimburse you for 95% of what it could cost for a TSP to handle a move. The military determines this allowance by weight, so if you move for less than what it would cost the military to do it, then you can keep the difference. The other benefit of a PPM is that you have more control over the moving schedule and can choose your moving dates instead of having them chosen for you.
If you're moving overseas (OCONUS):
If you're a military member moving overseas, then your move would be considered OCONUS.  Depending on where you're going, your belongings may be subject to administrative weight restrictions. The good news is that if you are subject to an administrative weight restriction, the storage of your goods in the continental U.S. is covered under your regular allowance. There are also other restrictions on items when it comes to an OCONUS move, such as host countries that don't permit the importation of alcohol or personal possession of firearms.
With a CONUS move, the transportation of your vehicle isn't usually covered since it's possible to drive it to your new location yourself. But with an OCONUS move, you're entitled to one privately owned vehicle (POV) shipped to your destination on the government's tab.
How to prepare for a PCS move in 7 steps
Step 1: Contact your Transportation Office as soon as you receive your PCS orders to schedule your move.
The sooner you contact them, the more likely you can schedule the move for the dates you desire.
Step 2: Figure out your weight allowance, which is determined by rank.
Knowing how much weight you can move will allow you to better decide what to bring, what to get rid of, or what to store someplace else.
Step 3: Make arrangements for your pets.
While you may be allowed to bring your pets with you, the shipment of live animals is not covered — you will have to arrange for pet transport yourself. If you can't bring your pet with you, then find them a new home before your move.
Step 4: Plan what to do with your privately owned vehicle.
For OCONUS moves, the government will cover the cost of shipping one POV to your new duty station or the cost to store your vehicle stateside. CONUS moves won't cover shipping a car, but it will allow you to include boats, motorcycles, and other recreational vehicles as part of your overall weight allowance.
Step 5: Document the condition of your household goods.
Make an inventory of valuable items you're moving, such as artwork and heirlooms. Consider getting them appraised in the event they're damaged or lost. Take pictures or videos of all of your items to create a record of condition before your move. This documentation may be necessary if you have to file a Loss/Damage claim. Keep small valuables like cash and jewelry on your person when you move.
Step 6: Get ready for the movers to arrive.
If you're having the government handle the shipment of your household goods, there are still some things you should do to make the move go smoothly. Tasks such as emptying and cleaning your refrigerator, disconnecting appliances, removing items mounted to your walls, and more can help expedite the moving process.
Step 7: Supervise the movers and review your inventory.
You must be present during the move. Watch the movers to make sure they wrap and load everything correctly. Carefully review the inventory, and check every item and box before signing off on it.
The bottom line
The great thing about PCS moves is that the government covers almost all of the costs. However, you must follow all of the rules and guidelines to ensure everything goes smoothly. If you have any questions, contact your local transportation office right away.
Frequently Asked Questions
Does the military help you move? 
If your move is part of a permanent change of station (PCS), then the military will arrange for the transportation of your household goods at no cost to you.
Will the Army pay to move my spouse? 
The military covers the cost of moving your entire family as part of a permanent change of station (PCS). The Department of Defense will also cover the cost of licensing and certification in a new state up to $500 if required for your spouse's established career.
Can pets move with us during PCS? 
You can generally bring your pets with you during PCS moves, but you will have to cover the expense yourself as your transportation service provider cannot ship live animals. Depending on your new duty station, your pet may be subject to special quarantine rules, so be sure to plan ahead.
Can I bring my guns with me during PCS moves? 
You may include firearms as part of your household goods shipment, but you cannot pack ammunition. You must list any firearms on your inventory sheet. However, you can only bring firearms with you if they comply with state and local laws, or the laws of the country when you are stationed overseas.
Can I get money from a personally procured move? 
The government will reimburse you for 95% of your moving allowance if you move yourself. If you spend less than your allowance, you can keep the difference. PPM moves require prior approval.