How to Handle Moving Day Rain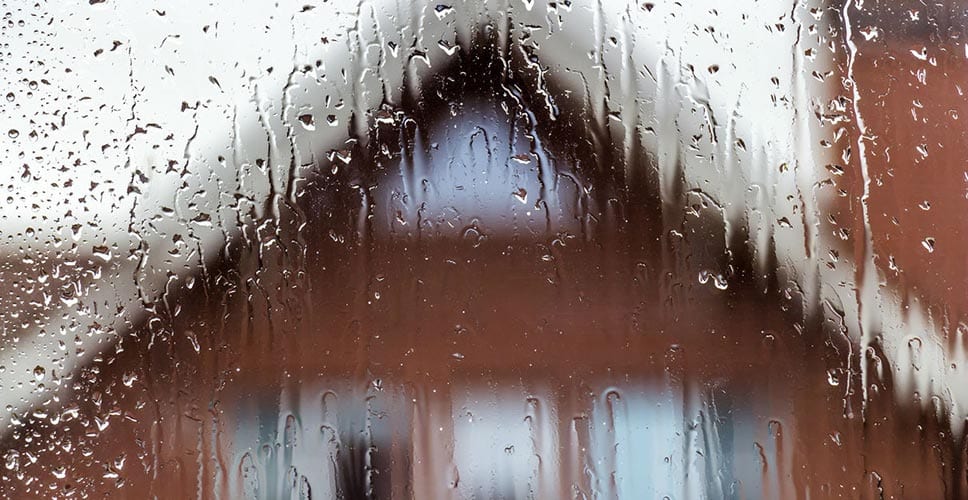 You've packed. You've planned. You've hired the movers, or bribed recruited your friends. And as you're standing outside, morning of the move, waiting for the team to arrive, you feel a cold drop of water on your nose. Another on your arm, and then another. You glance skyward and your stomach drops as you notice dark clouds rolling in from the distance.
You simply can't control the weather, but you can control how you deal with it. That's why it's smart to have a plan in place, should the elements prove unagreeable. Don't know where to begin? Don't worry. MYMOVE's got you (and your furniture) covered.
Plan ahead for moving day rain
Depending on where you live, the chance of rain may be significant, or barely a possibility. Average annual participation per state studies show that residents of Hawaii experience the highest average annual precipitation at about 63 inches per year. Residents of Nevada are the least likely to experience a rainy day move, with annual precipitation of only about 10 inches. Whether rain is a regular occurrence or a rarity, these tips will help keep you and your things dry on moving day.
Consider the pros. If you're on the fence about the extra expense of hiring movers weigh that cost against possibly having to replace belongings (such as electronics) that could be ruined in heavy rain. Professional movers have the tools and experience to pack and move the contents of a home safely, even in inclement weather.
Care for your carpets. Once you determine rain is in the forecast, purchase tarps, to be stretched from the moving truck to where movers will be entering your homes, both old and new. If you want to save money, old towels or cardboard boxes work just as well.
Prepare proper attire. If you'll be moving yourself, keep rain gear unpacked in case you need it. This includes shoes with good traction, so you won't slip and slide while lugging heavy furniture, and gloves, so your hands wont slip.
Protective packing. When wrapped tightly with tape, cardboard should be safe against a moderate drizzle, but if you're having doubts, consider purchasing plastic tubs or large outdoor trash bags to re-pack valuables, paper and textiles.
Day of the move
Here's some tips to help you keep your belongings dry if the floodgates open in the middle of your move (or just before).
Wrap everything up. Cover artwork in garbage bags to prevent rain from getting into gaps in the frame. Wrap a trash bag around groups of clothes to keep rain off. Use heavy blankets and sheets to protect wood furniture. If you need to cover large electronics, add extra layers of protection by first wrapping them in blankets and securely taping tarps together to form a waterproof barrier.
Check the truck for leaks. If you find one, plastic wrap and a waterproof tarp are invaluable in waterproofing your belongings in the back of the truck.
Lift from below. If your boxes do happen to get wet, lift them from the bottom to prevent tearing. Wrap them in plastic for added support.
Moving in
You've done your best to keep your belongings dry. Don't stop now! These tips will help you do the same for your new home.
Unpack quickly. If the boxes become wet while moving, unpack them as quickly as possible to prevent irreparable damage.
Create an assembly line. Designate teams to work as indoor and outdoor crews. This prevents mud from being tracked inside and makes the entire process flow more quickly.
Cut down on distance. This may be impractical for second-floor belongings, but moving what you can into the closest room to entrance, or even the garage, cuts down on the amount of water and leaves that are tracked inside.
When to reschedule
According to a 2011 study conducted by the U.S. Department of Transportation, more than 60 percent of all weather-related commercial motor vehicle fatalities (including moving trucks) occur in rainy conditions. And a 2015 USA Today article reports that rain causes more driving fatalities than snow in 39 of the 50 states.
If you have any flexibility about moving out of your old place, sometimes it's best to play it safe. Most moving companies will charge a cancelation fee if you call off your move to close to deadline, but trust your judgment. It might be worth it. For example, when the rain is accompanied by lightning, it's best to wait it out. While this is obviously not ideal, lightning is a serious threat that should not be ignored.
Also, if the roads are too wet or the weather too severe, a moving company may re-schedule for you. An inconvenience, but a necessary one.