How in the Heck do you Pack up a Garage?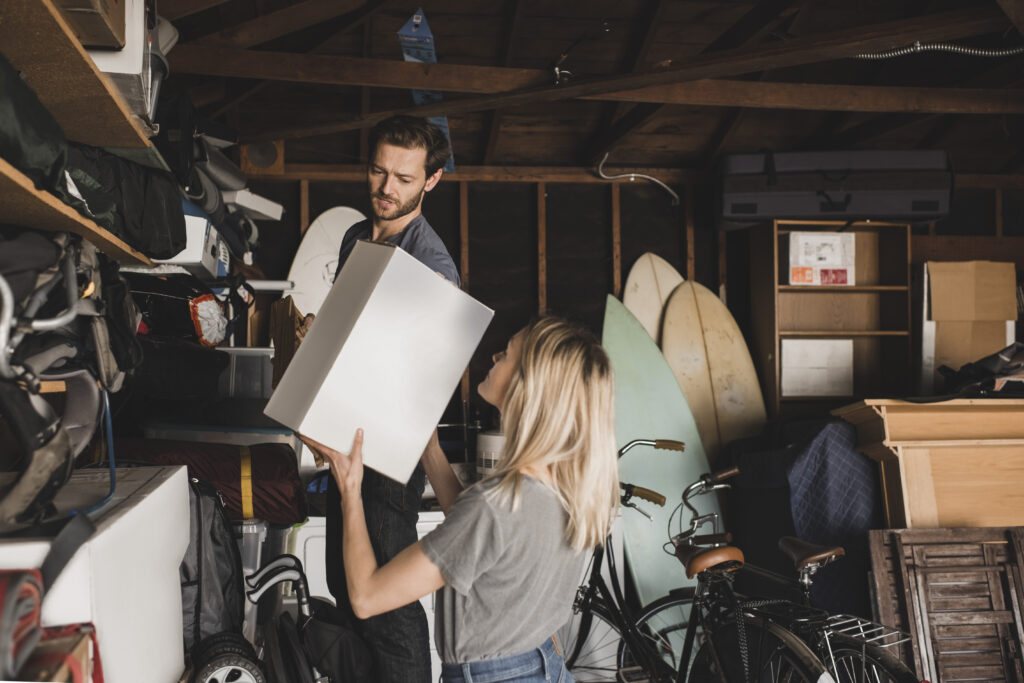 Talk about a daunting prospect. Packing up your garage is probably the last thing on your packing to-do list, and who can blame you? It's full of things that are hard to pack and heavy to move. Plus, how do you pack dangerous items, such as gasoline-filled mowers or car batteries? No worries — we're here to help. We talked to people who pack garages for a living to get their advice, and here's what they had to say.
Turbo Purge
About a month out from your moving day — or as soon as you know you're moving — turbo-boost yourself into purge mode and get rid of stuff you don't have a use for anymore. It's also a good time to dispose of all those almost-empty paint cans.
But don't just toss them in the garbage willy-nilly. According to Lowe's, latex paint can be disposed of once it's dry. Add equal parts cat litter to the paint in the can, and let it sit for at least an hour to harden. You can also buy a paint hardener if you don't want to mess with cat litter.
Oil-based paints are considered hazardous waste. They need to go to the recycling center. Consider giving your neighbor partial cans of motor oil, paint thinner, and other potentially hazardous items, as it's safer than moving them in a moving truck.
Sorry, We Can't Move That
So, technically, you can pack up a half-used can of motor oil or a jug of antifreeze in your own vehicle, but moving companies won't pack or haul certain items. "Federal law prohibits the transportation of propane, paint, car batteries, antifreeze, household cleaners, weed killer and ammunition," says Chris Bortnichak, training and development lead for Two Men and a Truck. This policy extends to gasoline-filled engines or machines.
That doesn't mean a moving company won't move them, but you will be required to empty any items that run on gasoline. "This includes items such as lawn mowers, grills, tractors, and mopeds. They must be completely empty in order to transport them," Bortnichak says.
Don't forget to ask your moving company these important questions.
Don't Be a Tool
Odd-shaped tools, gardening equipment and the like are challenging and sometimes time-consuming to pack, but if you pack correctly, they'll survive the move and be ready for use when you arrive at the new house. Any tool with a lot of moving parts needs special care before placing it in a moving box. Bortnichak says to disassemble them before packing — as long as it doesn't compromise the integrity/structure — as this makes them easier to pack and move, keeping them safe.
That Mower Isn't Going in a Box
You can't really pack mowers, tool chests, hydraulic lifts, or exercise equipment, and they are beasts to move when they don't have wheels. If you're driving the truck, rent a truck with a lift gate, and make sure you rent a four-wheel dolly as well.
"Put [heavy items] on four-wheelers and wheel them onto the truck. Wrap them in blankets to keep them from getting and giving scratches, and be mindful of what gets loaded on top of them," says Mike Glanz, CEO of Hire A Helper.
Oddly shaped items pose a challenge, too. "Put lots of old blankets on top to help create a semi-level surface so you can semi-safely load things on top of it," Glanz advises. And you'll want to save these items for last.
By the way, Bortnichak advises heavy things like generators and tool chests be placed directly above the wheel well, up against the wall. "This will distribute the weight evenly across the floor and axle, as opposed to putting the bulk of the strain on a less sturdy part of the truck box."
Driving a moving truck for the first time? Check out these tips to help you get from point A to point B safely and stress-free.
Packing Odd-Shaped Things
Traditional boxes won't work for rakes, shovels and other lengthy, odd-shaped things. Glanz suggests using a wardrobe box and leaving the top open. A tall wastebasket or garbage tote works, too.  And the best place on the truck for these oddballs is the space between the top of your boxes and the roof of the truck, provided they don't scratch your other things or get them dirty.
There are likely other spare spaces to stash these oddballs too. "Look for small spaces created by loading those bigger odd-shaped items," Glanz says.