A Complete List of What Moving Companies Won't Move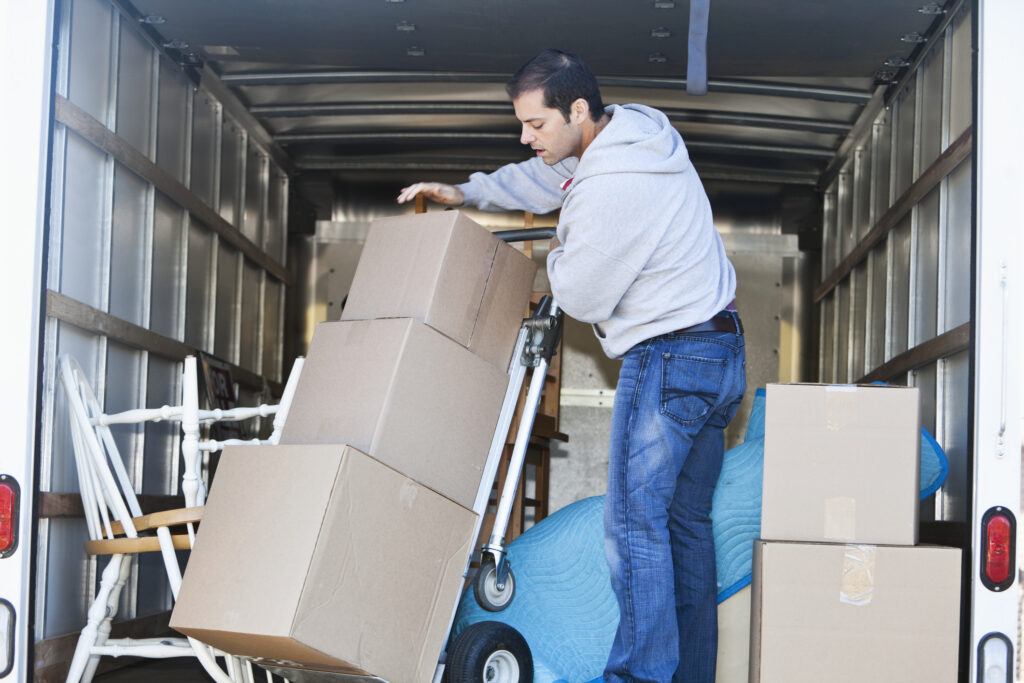 The last thing you want on Moving Day is to get stuck with leftover items that movers won't move. So, before you hire a professional moving company, do some research. Find out what movers won't move ahead of time. That way, you can decide whether or not you should dispose of those items, or try to transport them yourself.
To make sure you know the general rules around what movers won't pack and move, consult the list below.
What movers won't move:
Hazardous or potentially dangerous items:
Anything in an aerosol can
Ammonia, bleach, and other harmful chemicals or solvents
Ammunition and firearms
Fertilizer, pesticides, and weed killer
Fire extinguishers
Fireworks
Matches
Pool chemicals
Propane tanks
Scuba tanks
What do I do with hazardous items when I move?
Many household materials, like cleaning products, are hazardous, and it's safest not to include them in your move. Instead, dispose of them properly. Here are some recommendations:
Look up local waste management laws:
Every community has hazardous waste disposal rules and regulations. For example, many municipalities don't allow cans of paint to go into the trash. Research what the rules are for your area by visiting your municipality's office or checking their website.
Contact a nearby waste management company:
Many waste management companies pick hazardous materials up from homes for safe disposal. Before picking these items up, the company will give you instructions regarding how to sort and store them safely, and a list of what they will and won't pick up.
Transport materials:
If you can't find a waste management company in your area to do a pick-up, use your vehicle to transport materials to your local waste facility. Use the guidance and restrictions that you researched for your area's waste management laws and the facility itself.
Use items up before moving:
If you have leftover items you can't move, try to use them up. If that's not an option, you can ask the new tenants or property owners if they need these things. That way, you don't have to worry about transporting them or scheduling a pick-up.
Grey area: What you should think twice about letting movers move
Beyond the specifics of what movers won't move, there are grey areas that you should think twice about before Moving Day. Here are some things you should take care of ahead of time:
1. Perishable food
Food items like canned goods, oils, and spices are probably okay to include with the move. But foods from your refrigerator or freezer may not be — especially if there's a risk they'll spoil or thaw en route. Some of what movers won't move includes food that isn't preserved adequately, half-used containers of food, open containers of food, produce, refrigerated foods, and plants.
What should I do with my food before I move?
Make sure none of the cans or packages of dry goods have broken seals. Use up as much of the food as possible and, when you go grocery shopping, only purchase the essentials before you move. If you can't use up all of your perishable food before the move, use a cooler to transport frozen or open containers of food if it's a short distance. Otherwise, consider donating sealed food items and frozen foods to your local food pantry or shelter.
2. Important documents
The last thing anyone wants during a move is their valuables being lost. Because these things happen, important documents are another item movers won't move. Organize your most critical records beforehand with a moving binder or small filing box. Be sure to shred all papers that are out-of-date or no longer relevant, like decades-old tax records or statements from accounts closed years ago.
Documents that you should move include academic records, birth and marriage certificates, current tax documents, deeds, employment and medical records, insurance policies, passports, retirement plans, social security cards, stocks and bonds, and wills. Organize everything into categories — like finances and health — for easier access.
3. Family heirlooms and other priceless valuables
Even if the moving company you choose is willing to move valuables, it's best for you to keep them with you throughout the move. The main reason is, even if the moving company can reimburse you for damaged or lost items, it's impossible to compensate for sentimental value. Examples of sentimental or priceless valuables include cash, collectible items (like coins or stamps), family photos, heirlooms, jewelry, and important documents — like bonds and wills.
4. Medications and medicine cabinet items
You might be tempted to dump everything from your medicine cabinet into a box. But things like prescriptions or heat-sensitive products might not be a good idea. The box might get damaged or lost, and, in the case of prescriptions, might be more difficult to replace quickly. Instead, pack these items into a "first-night" box that you keep with you.
Before packing, look at the expiration dates for everything in your medicine cabinet. Toss any over-the-counter medications that are expired and bring old prescriptions that you're no longer using to your local pharmacy. Then, transfer all of your prescriptions to a pharmacy near your new location.
The bottom line
Keeping your items safe and secure during a move, particularly during a long-distance move, is critical. There are situations where items get damaged or lost, so you have to know what to keep with you and what to let movers move. Follow the company's guidelines around what movers won't move, as well as any local rules regarding the disposal of hazardous materials.
Frequently asked questions
Will movers move lawn mowers? 
Yes, but there are safety measures that must be met first because moving companies cannot transport anything that contains gas. Before moving anything that contains gas, such as a lawnmower, moving companies require that you drain out the gas.
What should you not move long distances? 
Don't pack anything perishable or any hazardous materials. You should also keep important documents, medications, and valuables with you.
What won't movers pack? 
Movers won't pack cash, chemicals, guns, or other firearms, jewelry, live plants, and anything showing signs of mold or other infestation.