United Van Lines: Long Distance Moving Service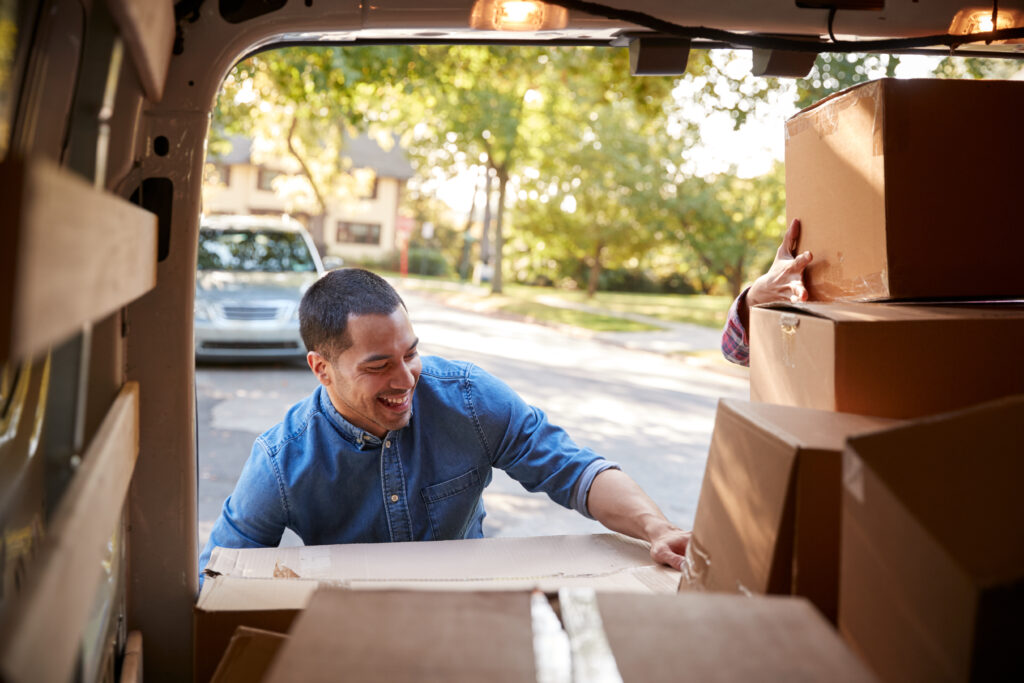 In the 44th Annual National Migration Study, United Van Lines revealed that in 2020, Americans moved south and westward, and the COVID-19 pandemic accelerated the decision to move. As a destination, Idaho tops the list (70%) for total inbound migration, followed by South Carolina, Oregon, South Dakota, and Arizona. Showing the highest outbound exodus was New Jersey and New York.
United Van Lines provides local, long-distance, cross-country, and international moving services. Its full-valuation insurance coverage with every move is a standout feature. In this United Van Lines review, we will look at how the United Van Lines stacks up in terms of pricing, special services, availability, and more.
United Van Lines at a glance
| MYMOVE Rating | USDOT Number | Phone number |
| --- | --- | --- |
| 4.41 | 77949 | (636)305-5000 |
Our two cents (what we think):
Available in 48 contiguous states and Washington, D.C., United Van Lines is both a mover and a broker, able to move you or connect you depending on your area. Their quotes can be obtained online or by phone, and are non-binding.
With a range of site services available (think: home theatre setup and destination debris pickup), United Van Lines tops our list of Best Long Distance movers with a MYMOVE score of 4.41. However, the best doesn't come cheap: United Van Lines is most affordable when used for local moves. Let's break down what to expect when choosing United Van Lines moving.
Pros
Cons

Online estimates
Online shipment tracking
Nationwide availability
Short and long-term storage options
Cleaning services, and other special services available.
Full valuation insurance coverage
Does not require an upfront deposit

Unreliable customer service
Moving quotes can vary a great deal
Special features add to the cost of your move
Pricing is a bit higher than some competitors
Doesn't move antiques, pianos, and other items that require special care.
United Van Lines pricing
Moving your belongings with United Van Lines will run you between $2,100 and $6,400 depending on the volume being moved and services used. House moving prices range from $4,200 to $11,500. An average apartment move costs about $4,000. An average household move costs about $7,750.
Local moves
Moving locally with a United Van Lines Truck is cheaper — about $2,250 for a 4+ bedroom move with packing services. Your costs will vary depending on the time of year, additional moving services you select, the weight of transported possessions, and the moving distance.
United Van Lines provides a Full Value Protection option in every initial moving quote. Their Full Value Protection option is not insurance, like with your homeowner's insurance. That's because you don't have to prove negligence. Instead, United Van Lines will be responsible for your claims (subject to certain limits). As such, this option makes the company a preferred mover.
Included in the basic price quote:
Access to a move coordinator who organizes your move.
Loading and unloading your belongings and transportation to your destination.
Full Value Protection.
Transport of your appliances.
Placement of furniture.
Qualified drivers.
United Van Lines also offers
Some offers are included in the cost of your move, while others come at an additional cost.
Corporate and government relocation
In-home estimates
Loading and unloading
Home cleaning
Auto transport
Short- and long-term storage. Local, interstate, and international moving services
Custom packing and unpacking
Trash and debris removal
Computer network and home theater and services
Full-value protection for all moves
Online shipment tracking
Online moving resources
Advertised add-on package pricing
United Van Lines FMCSA data
The Federal Motor Carrier Safety Administration (FMCSA) provides information to ensure your move is stress-free by regulating and providing safety information on commercial motor vehicles. United Van Lines currently holds a Satisfactory safety rating.
The FMCSA shows 15 complaints filed against United Van Lines in 2019, and 13 in 2020. In 2019, there were incidents of loss and damage, and in 2020, there were 10, and 7 claim settlements.
United Van Lines discounts and service programs
United Van Lines doesn't advertise promotions on its site. Unlike many other moving companies, United Van Lines does not offer discounts for the military either. That said, if you sign up for emails, you can unlock any discounts or special offers United provides.
United Van Lines reviews
If you're unsure United Van Lines is the moving company you want to use to move across the country, or just down the road, it's worth knowing what the Better Business Bureau, Trustpilot, Yelp, and Consumer Affairs thinks. Since United Van Lines has been in business since 1928, it must be doing something right.
United Van Lines is not accredited on the Better Business Bureau, but it does show an A+ rating. Depending on the location, customer ratings range from 1-star to 4-stars. Although United Van Lines claimed a Trustpilot account in 2019, there are no ratings.
United Van Lines subcontracts with movers across the U.S. For that reason, most customer reviews on Yelp are for a subcontractor and not United specifically. That said, reviews are positive, with many 4 and 5-star ratings. Consumer Affairs also gives the company 4 stars.
United Van Lines earned its MYMOVE score of 4.41 based on how it stacked up to competitors. Third-party ratings, accreditations, and nationwide availability were all weighed, as was price. United Van Lines' insurance offerings and wider-than-average range of services garnered them their MYMOVE score. To see how they compare to others in the industry, visit our Best Of page.
How to start your United Van Lines quote
United Van Lines provides a rough estimate of moving costs after you submit basic information online or by phone. However, to get an exact quote, United Van Lines prefers to do an in-home inspection. The quote you receive after your in-home inspection will remain the same unless you move more items than expected.
When you log on to the United Van Lines site, you'll find a GET A QUOTE button in the upper right-hand corner. If you'd like to get an estimate of what your move will cost, you fill in the information they ask for, including:
ZIP code from current location to destination
The date you'd like to move
Home or apartment and how many bedrooms
And if you'd like additional services like Packing, unpacking, car shipping, debris (packing materials) removal, or storage.
Your contact information
You can't get a quote online at the United Van Lines website. A representative from the company will call you to get more information and set-up an in-home tour. Better yet, visit our Free Moving Quotes page.