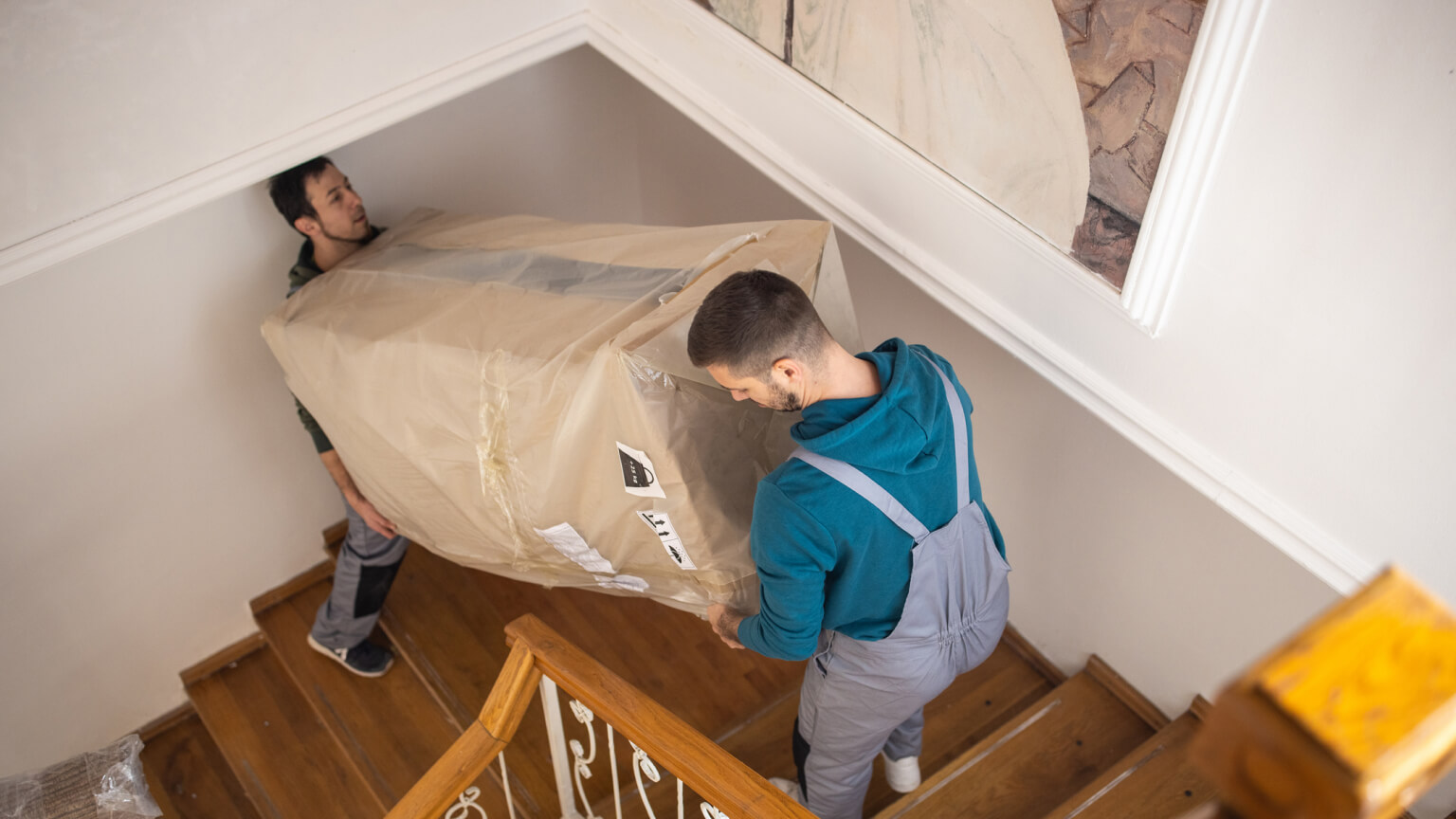 We all know the service industry tipping standard: 15% or more, based on the quality of service. However, the formula for tipping movers isn't quite as clear-cut. How do you know how much to tip a mover? When should you tip? Should you even tip movers at all? MYMOVE is here to help.
How much do you tip movers?
A good rule of thumb is to tip movers $4-5 per person for each hour of work.
Here's a guide on how much tip for movers is customary:
A half-day move (4 hours or less) – $20 per person
A full 8-hour day – $40 per person
12 hours or more – $50-$60 per person
Ultimately, the tip you provide should reflect the level of service and degree of difficulty involved. Consider the amount of stuff being moved, the number of oversize pieces, and whether stairs are involved. If there are some complicating factors that make your move more difficult, consider adding to the tip amount.
It isn't advised to use a standard percentage of the cost when tipping movers, because the overall cost of your move includes both the movers and how far the van travels. Instead, take into account the time and difficulty of the move when deciding how much to tip your movers.
How much should you tip long-distance movers?
Long-distance moves may involve different crews — one at your old home and one at the new one. The only common person may be the truck driver. In these cases, it is acceptable to tip each crew member at the rates given above.
If you want to tip your movers based on a percentage of the total bill, the tip for a long-distance move may break the bank. Moving costs can easily reach $4,000-5,000 for a long move. It is probably best to stick to an hourly tip based on the size of the crew at each end of your move.
Do you have to tip movers?
Tipping is a standard way to show your gratitude. Most movers don't expect a tip but when they get one, it's greatly appreciated. You may feel like you're already paying the moving company a fortune and that tipping movers is excessive, but few people in the service industry work as hard as movers do.
A tip is a way to show that you recognize the extra effort they put in. It is important to remember that there is usually a lot more riding on your movers' job performance than a waiter's or a barber's.
When you should tip movers
Like any other service provider, your movers want to do a good job and be recognized for it. Pay attention to how they treat your stuff and interact with you during the packing and moving process. Overall, if you feel they did a good job, it is appropriate to tip them.
You may want to tip your movers if you see them:
Handling fragile/antique items carefully
Moving large, heavy furniture up multiple flights of stairs
Moving quickly
Being extra friendly to you and your family
Helping with assembly and set-up of furniture
When you don't have to tip movers
Remember that tipping movers is not mandatory. It may be customary and polite, but if you have a bad experience, there's nothing wrong with not tipping.
You can consider adjusting how much to tip movers or not tipping if they:
Show up late
Ding your brand new bedroom walls with your headboard
Put the boxes labeled "upstairs bedroom" in the downstairs living room
Spend a lot of time "on break" and not much time moving stuff
Include gratuities with the moving quote or bill
Use your discretion. One thing to consider before not giving a tip is how the movers react if any of the above incidents occur. Accidents do happen, and it's how your movers deal with these situations that should determine if you tip at a reduced rate — or not at all.
What's the best way to tip movers?
Before the crew begins unpacking, you may want to encourage them to work harder by promising tips at the end of the move. In addition to your verbal assurance, you could hand a $10 bill to each mover at the beginning of the move as an added incentive.
However, if this makes you uncomfortable, stick to the general rule that you should tip movers after they've completed the job. Don't give the lump sum to the foreman or driver. Give each worker a tip.
Giving each worker their tip recognizes and appreciates their individual efforts. Also, there may be some dishonest foremen who will keep the whole tip for themselves. If you're happy with the service you received, let each worker know by handing him or her a tip, and smile and say, "Thank you."
Additional ways you can treat your movers
If the crew is doing a wonderful job and you want to show your appreciation other than by tipping, you can consider offering other incentives:
A cold bottle of water or a cup of hot chocolate or coffee
Cookies and snacks
Buy the crew lunch or dinner
Gift cards
Be careful when it comes to offering "pizza and beer" to your professional moving crew. Many companies have strict policies about employees consuming alcohol when they are working. You don't want to get a worker in trouble for accepting your hospitality.
Make sure to leave a review for your movers
A final tip on tipping movers: if you've received tip-worthy service, consider leaving an online review. Positive online reviews go a long way for people searching for moving companies, and it's a much-appreciated way to show your gratitude for outstanding service.
Frequently asked questions
Q:
Do you tip movers when they load or unload?
A:
Long-distance moves can involve different crews — one at your old home for loading, and one at the new one for unloading. In this case, you should tip both sets of movers once they have each finished their respective jobs.
Q:
Should I tip piano movers?
A:
Similar to regular movers, you should tip piano movers $4-5 per hour (and per person) to show your appreciation.
Q:
Is it okay not to tip movers?
A:
Anyone who has worked in the service industry know how nice it is to receive a good tip. However, if your movers damage your furniture, are careless, and show up late, it may be appropriate to skip tipping. Remember that accidents can happen, though, so use your best judgment.