Find the Best Moving Truck for Your Move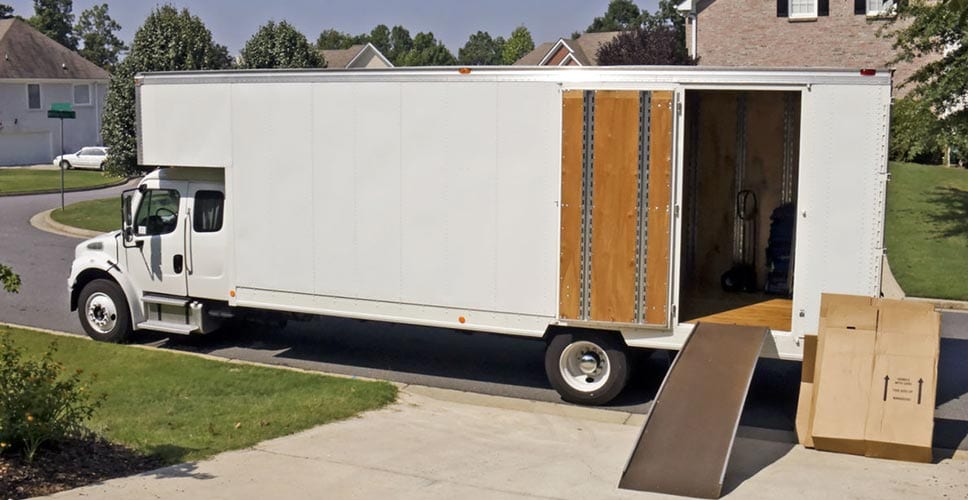 You've done the research and made the informed decision to move yourself. And while you'll be saving money, you'll be taking on the labor. There's furniture to lift, belongings to box, friends to bribe, and, most importantly, a moving truck to rent.
The two major considerations when renting a moving truck are truck size and cost, and there are plenty of questions to ask before making a decision. But don't worry — we've researched three major moving van rental companies to help you get the best truck for your buck.
What size moving truck do I need?
Choosing the right truck size is crucial, as it impacts the time, money, and overall success of your move. Rent one too large, and you'll waste money on space you don't need. Plus, you run the risk of your items being damaged as they shuffle and tumble around in the back.
On the other hand, renting a truck that's too small means unplanned trips back and forth, which means more gas money, a much longer day, and glares and grumbles from the friends you've recruited to help. Plus, most companies also charge by the mile and making multiple trips will drastically increase costs. Worst case scenario: you may even have to rent a second moving van.
Trucks tend to range from 10 to 26 feet. These are the recommended truck sizes based on the size of your home:
One-bedroom apartment: 10 to 12-foot truck
Apartment up to two bedrooms: 15 to 16-foot truck
Two-bedroom house or three-bedroom apartment: 20-foot truck
More than three bedroom house: 24 to 26-foot truck
As you shop around, you may find that a smaller-sized truck costs the same (or even more), than a larger truck, or has a higher cost per square foot. This is due to supply and demand — most moving companies have more large trucks in their fleets than small ones. If you find a 20-foot Uhaul truck that's less expensive than a 10-foot truck, don't be tempted by the price. Just because a truck is larger doesn't mean it's better for your move, for the reasons mentioned above.
How much does a moving truck cost?
We browsed the websites of three leading moving van rental companies — U-Haul, Penske, and Budget — to investigate their prices for trucks, which range from 10 to 26 feet.
These estimates were culled using identical inputs for each company: a one-day truck rental, for a move from Rock Hill, South Carolina to Charlotte, North Carolina (roughly 30 miles), with the same pick-up and return dates and times for each. Estimates were calculated on Wednesday, June 19, 2019. Rates are typically based on a variety of factors, including equipment supply and demand, and can change on a daily basis.
| Company | Truck Size | Price | Price Per Square foot | Extras listed |
| --- | --- | --- | --- | --- |
| U-Haul | 10 foot | $122.00 for the day | $12.20 | N/A |
| | 15 foot | $128 for the day | $8.53 | Loading Ramp |
| | 20 foot | $141 for the day | $7.05 | Loading Ramp |
| | 26 foot | $160 for the day | $6.15 | Loading Ramp |
| Budget | 12 foot | $62.10 per trip (50 miles) | N/A | N/A |
| | 16 foot | $62.10 per trip (50 miles) | N/A | Towing + Loading Ramp |
| | 22 foot | $89.10 per trip (50 miles) | N/A | Towing + Loading Ramp |
| Penske | 12 foot | $149 for the day | $12.41 | N/A |
| | 16 foot | $149 for the day | $9.31 | Loading Ramp |
| | 26 foot | $249 for the day | $11.31 |  Loading Ramp |
Be sure to check each company's website before deciding. The above estimates do not include discounts or special offers you may find, such as instant-redeem coupon codes or unlimited miles on one-way rentals, which can make a significant difference in the cost.
More truck rental tips
Take into account truck rental stores conveniently located near your current and new home. It may be worth paying a little extra for a simple pick-up and return.
Consider buying insurance. Most moving trucks are not covered by your car insurance nor by credit cards that sometimes can help with rental car insurance.
Saving on gas prices shouldn't be a determining factor in your search. No matter the size, all moving trucks get around 10-12 miles per gallon.
Originally published May 10, 2018. Updated June 20, 2019.