How Much Does It Cost to Ship a Car?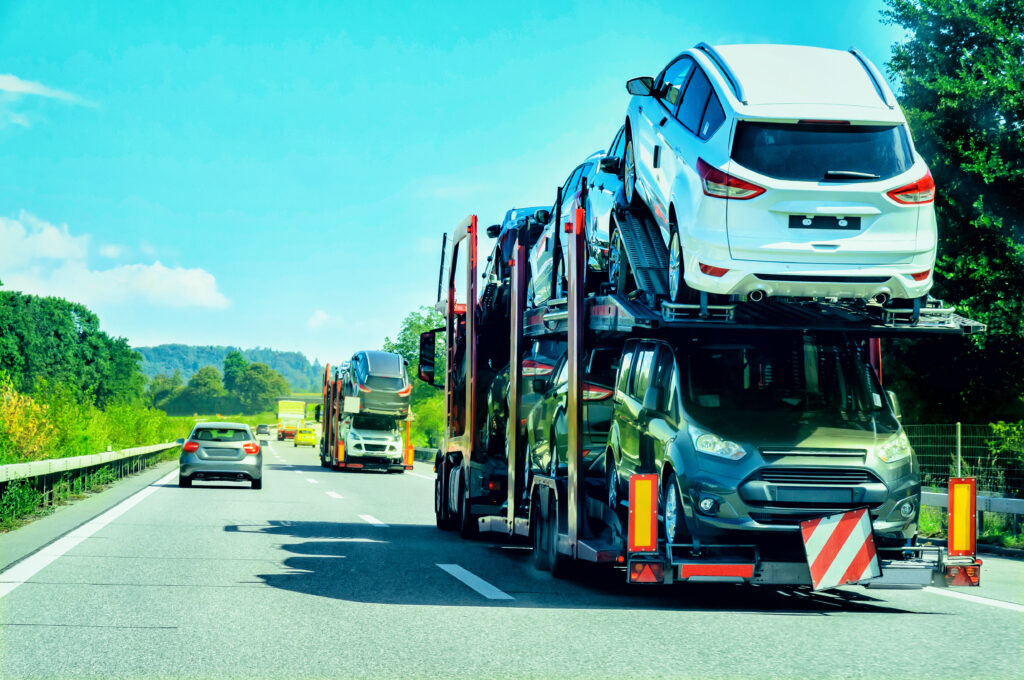 Whether you are moving to a new city or across the country, a long-distance move is a significant life event that requires adequate planning. One of the many daunting elements of the moving process is getting your car to your new home. While shipping the vehicle will help you save time, protect your car, and can be more convenient, it can be expensive and most people will have to consider the cost to ship a car in their moving expenses. Here is what you need to know.
Average car shipping costs
So, how much does it cost to ship a car? According to research from the comparison site uShip the average cost to ship a car less than 200 miles is $2.92 per mile. If you plan to ship a car 1,000 miles or more, the cost will be $0.78 per mile, making it more efficient for longer trips.
To find out how much you can expect to pay, we gathered quotes from three of the top car shipping companies for a variety of distances. The quotes we got fell right in line with uShip's data — the car transport cost per mile decreases significantly for longer trips.
| Distance | Average cost to ship car | Cost per mile |
| --- | --- | --- |
| 200 miles | $532 | $2.66 |
| 500 miles | $631 | $1.26 |
| 1,000 miles | $1,099 | $1.10 |
| 3,000 miles | $2,373 | $0.79 |
For this test, we used a newer, smaller car — a 2021 Subaru Impreza — but there are plenty of factors that will affect the final price. When we changed our vehicle to an SUV, for example, our quotes went up by about $200 for a 3,000 mile shipment.
The cost to ship a car when you move can depend on:
Distance: Since distance affects fuel consumption and shipping time frame, you will pay more for your car to be transported over longer distances.
Open vs. enclosed transport: There are two main types of car carriers: open and enclosed. While an open carrier is more affordable, your car will be exposed to the weather and road conditions. Enclosed carriers, on the other hand, are more expensive but offer added protection and security.
Time of the year: Harsh winter weather can make driving dangerous, so you could pay a higher price to ship your car during this time.
Size, weight, and condition of the vehicle: While large vehicles will take up more space on the truck, those that weigh more will affect the fuel consumption of the carrier. An inoperable or heavily damaged car may require special equipment to load onto the truck, effectively pushing up prices.
Delivery time frame flexibility: Quick pickup and delivery of the car require proper route planning that will cost more. If your requests are more flexible, the company will have time to organize delivery efficiently, which could lead to lower costs.
Pickup and delivery locations: Due to the relatively high number of car transport trucks and shipments available in urban areas, the cost to ship a car tends to be lower than in rural areas. Providing car transportation services in rural areas requires more fuel and time, which ultimately translates to higher prices.
How to get quotes to ship a car
If you are planning a long-distance move, you might be wondering, "How much does it cost to ship a car?" You'll want to get quotes from a few different companies to compare. For a rough estimate of how much you will pay to ship your car, you can use a car shipping rates calculator.
How to book a car transportation company, step by step
Considering the value of your car and the risks involved, you would not entrust the responsibility of transporting it to just anyone. Here are steps to help you book a good auto transport company.
Step 1: Determine what services you need
To choose the right car shipping company, you will first have to determine the kind of services you need, which may include door-to-door service, terminal-to-terminal service, open auto transport, or enclosed auto transport. You may also want the car to be transported within a specific time frame.
Step 2: Research the companies you are considering
Once you have reduced the number of choices, research those companies. Take time to verify licensing, bonding, and insurance to ensure you'll be dealing with a reliable company. You should also look for their ratings, reviews, and complaints.
Keep in mind that the process of shipping a car over long distances can be very tedious and, in some cases, unsafe. Depending on the method of shipment you choose, there are significant risks involved. Shipping your car makes it more vulnerable to theft, damage, road debris, and weather elements. It is important to find the best carrier for your transportation needs and budget.
Step 3: Call and speak to a representative
In addition to research, call the company to ask any questions you may have and see the professionalism of the staff and customer service. Ask about any safety measures they put in place, the services they offer, their cost to ship a car, and how long shipping will take.
Step 4: Gather multiple quotes
You want the best quality service for your money. Take time to gather quotes from different car movers and compare what each one offers to help you narrow down to your final selection.
Step 5: Decide on a car shipping company
Now it's time to decide on the car shipping company that is likely to meet your needs. Give yourself time to make an informed decision. Focus on credibility, types of service, quality of service, price, customer service, and flexibility.
Step 6: Place an order
Most car transportation companies make it easy for customers to place an order online. Simply visit the company's website and enter the pickup and drop-off locations, as well as your personal details.
Step 7: Get ready for transport
Once you have placed your order, the company should notify you of the entire shipment process, provide up-to-date information, and guarantee safe and secure delivery. Lastly, payment methods should be stable and reliable, providing a range of options through which you can make payments securely and at any time of the day or night.
How to save money on car transportation when you move
Consider your timing
When it comes to the cost to ship a car, one of the most important considerations is seasonal price fluctuation. Consider waiting until the off-peak period if you are not in a hurry to have your car transported. Either way, make your reservation a few months in advance.
Timeline flexibility
The price you pay for transport will also depend on the pickup and delivery dates you choose. Being flexible with your pickup and delivery windows will eliminate the need to use expedited auto transport service. The company will also find the most efficient way to transport your vehicle, a factor that could save you money.
Pickup and delivery locations matter
While door-to-door service is convenient, it's also more expensive than terminal-to-terminal transport. Terminal-to-terminal transport will require that you deliver and pick up your vehicle at specific terminals. The economies of scale make this option cheaper.
Choose open carriers
Although open carriers expose vehicles to weather elements and road conditions, they are more commonly used than enclosed carriers and less expensive.
Carpool your transport
If you are lucky enough to have a friend in the same location who wants to transport their car, carpooling your transport can save you some money because shipping more than one vehicle is cheaper than on a per car basis. Essentially, the trucker gets to save time when you ship more than one car, a factor that nets you lower prices.
Shop around for shipping quotes
Get several quotes from different vendors. But be careful not to compromise quality in a bid to cut back on costs. You can always ask a higher-priced quality service if they'll meet a competitive quote.
Negotiate the price
Most car movers are somewhat flexible with their quotes. If you have a company you want to use that's not necessarily the cheapest option, you can try to negotiate the price with them. Make sure you come prepared with quotes from other vendors, and be clear about exactly what type of service you want. You can also save money sometimes by paying entirely upfront or being flexible with your shipping dates.
The bottom line
A good auto transport company saves you time and stress and gives peace of mind that your property is in safe hands. Rather than focusing only on the cost to ship a car, pay attention to the quality of service that will get your car to its destination safely and intact.
Car transportation FAQs
What is the cheapest way to ship a car?
Open transport is the cheapest way to ship a car. The vehicle will be loaded onto the truck, transported alongside other cars, and delivered to its destination. The majority of auto transport companies offer an open-transport option.
What is the average price to ship a car?
If you plan to ship a car for fewer than 200 miles, expect to pay $2.92 per mile on average. However, the cost to ship a car 1,000 miles or more will be $0.78 per mile on average. This means that shipping over long distances is more cost-effective.
Is it worth it to ship a car?
Yes, unless you're looking for a road trip anyway. When you ship your car, you don't have to worry about the dangers of driving long miles, wear and tear, gas, any maintenance needed, or the cost of hotels, meals, and supplies along the way. It also saves you a lot of time.
How does shipping your car work?
When placing your order, you will share your car details and choose your preferred pickup and drop-off locations. You will also choose how you want it to be transported as well as the pickup and delivery dates. The transportation company will take it from there to deliver your vehicle.
Is it cheaper to drive or ship a car across the country?
It's generally cheaper to drive a car across the country rather than have it shipped. At an average fuel economy of 25.4 miles per gallon, the 3,000 mile drive from New York to Los Angeles would require 110 gallons of gas — or a total cost of $362 at today's $3.29/gallon prices. For comparison, quotes from car shipping companies averaged $2,373 for the same trip.