11 Things Your Dog Wants You to Know Before Moving Day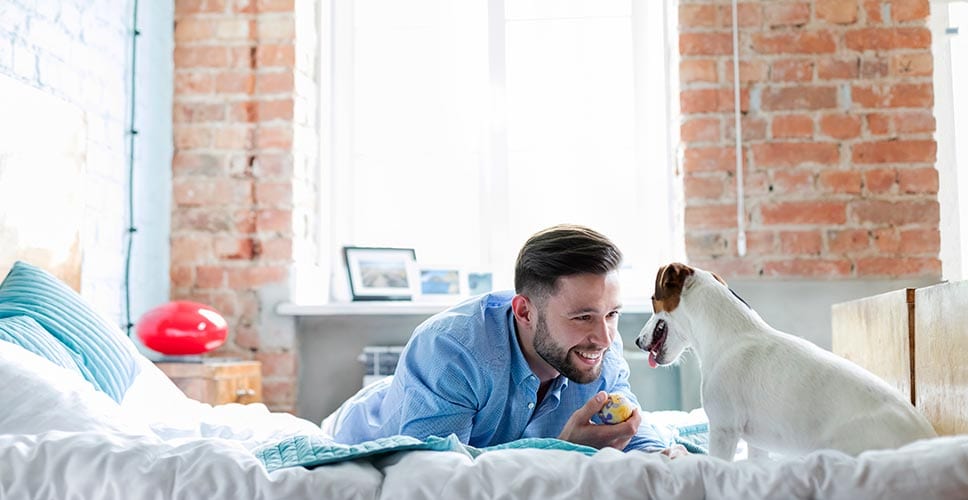 Moving day is a pretty big deal for your fur baby. It can be stressful and frightening with boxes everywhere: lots of chaos, lots of noise and a lot going on. MYMOVE spoke with a professional dog trainer and veterinarian to find out what your dog wants you to know throughout the moving process, and how you can help put your furry friend's mind at ease.
Here's what your furry friend is thinking:
Before the Move
"I want to sniff out my new digs."
If possible, take your pooch to the new house and let her sniff it out. Walk her around the yard and the neighborhood, too. Pet expert, Erin Askeland, CBCC-KA, CPDT-KA of Camp Bow Wow says this will help your dog acclimate to the new digs, so it won't be a total shock when she arrives.
"I'm a creature of habit."
Your dog will sense something out of the ordinary is going on from the second you start packing and stacking boxes.
"Stick to your pet's regular routine of feeding time, walks, potty time, bedtime, etc., while you are packing up your current home, to alleviate the stress of change," Askeland says.
"Update my digits."
While you're filling out your Change of Address Form, ensure the tags and microchips on your dog have the new address and contact information. It doesn't happen often, but your pup can freak out and get lost during moving day, or run off at the new house.
"Fetch my vet records."
It's important to let your vet know you're moving so you can get vaccinations updated, prescriptions refilled and get your pet's medical records.
"If you're moving to a new city, find a vet ahead of time," suggests Dr. Danielle Bernal, a veterinarian with Wellness Natural Pet Food. "Be prepared for the unexpected. Some dogs can have stomach upsets if they're feeling anxious. An illness can strike in the middle of the night, so make sure you know where the emergency vet is too."
Moving Day is Here!
"Get me out of here!"
The excitement of movers, noise, and open doors can be a hectic time for everyone. Taking your pet to a boarding or daycare facility on moving day ensures they aren't at risk of running away, being stepped on by movers, or getting lost in the shuffle. If daycare isn't an option, have a friend keep your dog, or keep them away from the action in a crate or enclosed room.
"I might not want to go for a ride today."
"If your dog hasn't traveled much in the car, take time the morning of travel to give him a good walk and time to recover before putting him in the car. You can also talk to your vet prior to a long trip about anti-nausea meds in the event that your pup has motion sickness," Askeland says.
"Don't forget me!"
Remember to save room for pooch when you're packing the last few boxes in your car.
"When transporting your pet to the new home, do so in a crate or safety harness so they aren't able to jump out of the car upon arrival and can be smoothly brought inside," Askeland says. "And be sure to feed them at least one and a half hours before you hit the road. Providing time for food to digest lessens the chances of your pet becoming ill."
"I need potty breaks and biscuits."
Your pooch may be too anxious to eat on moving day. Don't sweat it. He will eat when things settle down, but he probably won't turn down a treat. Avoid feeding him the chips you got at the gas station and stick to natural dog treats that won't upset his tummy. Dr. Bernal also recommends plenty of access to fresh water, and to take regular potty breaks during the trip to avoid an accident in the car.
First Day at the New Digs
"I want to mark my new territory."
As tempting as it is to rush into the new house, take a few minutes to walk your dog so she can go potty and stretch before exploring the inside. But keep that leash on, Askeland says. That way you can lead her room to room, so she can get a feel for the space, smells, and layout without running wild.
"I want my blankie."
"Once you arrive at your new home, determine where your dog will spend the first few days at the new place," says Dr. Bernal."Even if your dog is house-broken, the stress of moving and a new environment may cause them to forget."
Place all their old favorites — like their blanket, bed, and toys — in a non-carpeted room so clean up is easier if he has an accident.
"Help me settle in."
"The first few weeks are a critical adjustment time for everyone," reminds Dr. Bernal. One of the most important things you can do to help your pooch adjust is to stick to scheduled meal times and walking times (that's good advice for humans too!).
And finally, throughout the entire process, make sure you go heavy on the pets, pats, and "good dog"s.
---
Everything for your move, all in one place
Curate your personalized moving checklist, set up TV & Internet, and more with a free MYMOVE account.
Save on your move and tackle upcoming to-dos with your free MYMOVE account.