Moving a Smart-Enabled Home: What Technology Should Stay Behind?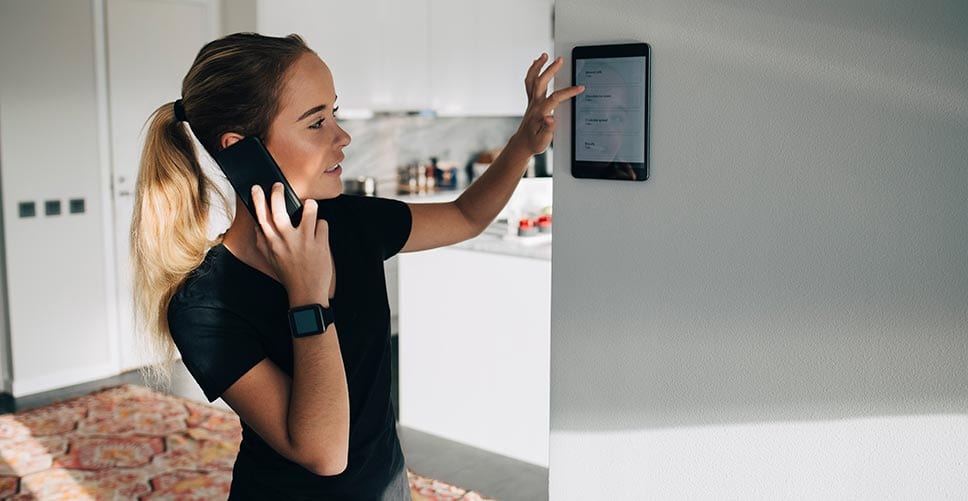 Smart Homes are convenient, environmentally friendly, and secure. It's no wonder home automation is a great investment for homeowners — they can benefit now from the features and use the technology in the future to market their homes.
But what home automation technology is best for adding value to a home? And can homeowners take it with them when they move?
Here is an overview of the Smart Home features that are worth the cost and what homeowners should do with home automation devices when they sell their homes.
Does home automation add value?
As home automation grows in popularity, it's becoming more cost-effective. Research shows the home automation industry will rise to a $21.6 billion industry by 2020.
Smart Homes have an impressive "wow" factor to a potential buyer. Today, 44% of Americans say move-in ready homes should already have smart technology installed, according to a survey by Coldwell Banker Real Estate LLC. Dozens of smart tech features exist that can simplify day-to-day home activities. But they're not all created equally — some home automation features add more value than others.
Here are three smart technologies that add the most value to a home.
Smart security systems
In 2015, burglaries accounted for $3.6 billion in property losses, and smart security systems are an excellent home burglary deterrent. Smart security systems are remotely controlled from a smartphone to turn the system on and off, and many can send homeowners text alerts about the system's status. Many modern systems include security cameras, some with two-way microphone functions.
"Automated security systems offer incredible payback for sellers," says Sage Singleton, a security expert with SafeWise. "Buyers are willing to pay extra for security, especially automated options they can use when they're away." From equipment warranties to theft protection, Singleton says the highest-ranked security systems include worthy features such as attentive customer service and equipment warranties.
Smart lights
One of the easiest ways to start automating a home is with smart lights. US News notes smart lighting controls add value at a minimal cost. Incandescent lightbulbs can be switched out for LED smart bulbs, and traditional light switches can be traded for Wi-Fi enabled light switches and dimmers. Smart lights operate on remote access from a smartphone, turn on and off based on a schedule, and run based on motion detection. Smart lights can adjust for the mood setting of a home, too.
Smart climate control
Smart thermostats are an especially appealing automation addition because they reduce energy consumption and energy bills. Creators of the Nest thermostat say their customers save $131 to $145 a year on reduced heating and cooling bills. Remote access thermostats also allow a homeowner to turn on the AC when they're on their way home, and then control their heating and cooling system hands-free with an occupancy sensor. Today's smart thermostats even monitor the weather, adjusting for humidity.
What smart technology moves with homeowners?
Smart Home devices are a big investment, and a major perk is that automated technology removes and installs without hassle during a move. Most devices are wireless and easily uninstalled, like kitchen appliances or a smart plug. But even tech wired in place, like a lighting system, or securely installed, like a keyless lock, can be removed safely by those with some basic handiwork skills. But removing appealing smart features is something that needs consideration.
Denise Supplee, a Pennsylvania real estate agent and co-founder of SparkRental, says, "A seller has the right to take with them anything in the home as long as it is agreed upon by both parties."
But if a seller and buyer agree that the smart device remains and the seller decides to remove it, the seller is "left open to an unclosed sale and worse, a possible lawsuit from the buyer which could even include damages for things such as loss of a place to live."
If homeowners really want to take tech when moving, they should protect themselves by having a written agreement with the buyer about not including the technology in the sale.
If homeowners want to sell their homes quickly or at the best price possible, including home automation technology will help. A survey by CNET and Coldwell Banker found that 81% of current smart device owners would be more willing to buy a home already automated. And 66% said they would leave Smart Home products if it meant selling their homes faster.
Moving, whether for work or personal reasons, is stressful, and most buyers crave a move that is as seamless as possible. Leaving smart technology in a residence can increase the home's value when selling — not to mention its initial appeal. Homeowners should consider the pros and cons of taking or leaving their smart technology before making a final decision.