A Complete List of Organizations That Help With Moving Expenses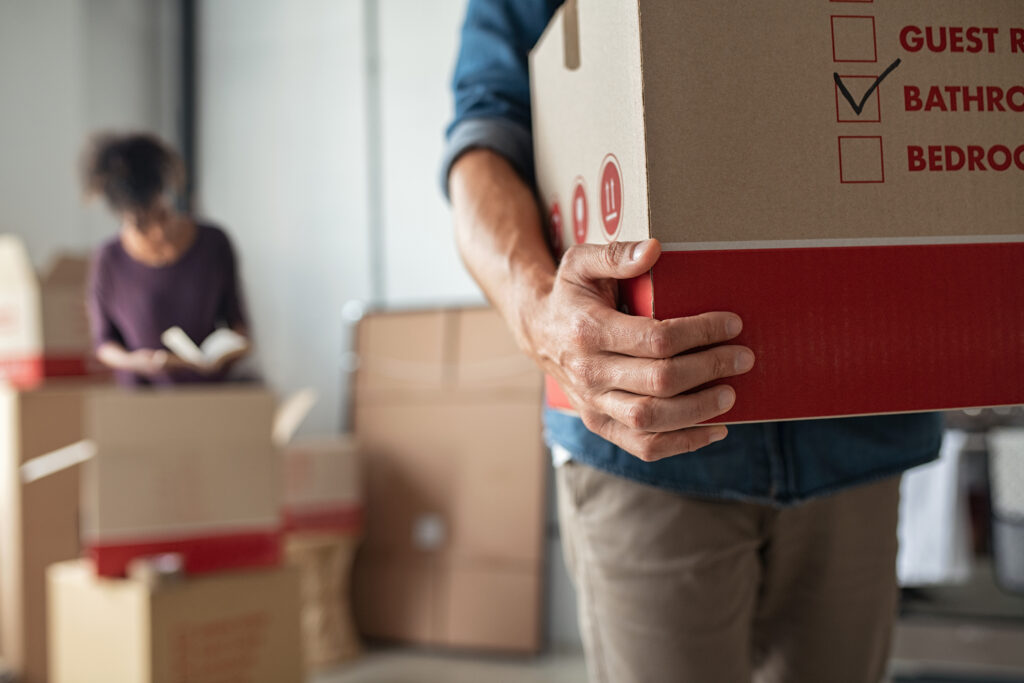 It's a well-known fact that moving can be quite expensive. For various reasons, people in the process of moving often look for charities that help with moving expenses. However, it can be difficult to find a central resource for help.
Most programs that offer help with moving expenses are focused on low-income individuals and families. Reach out to moving assistance programs in your community. Even if local organizations don't offer moving grants for low-income families, they can help connect you to resources at the state or federal level. Here are some organizations that can help you with your moving expenses.
Jump to:
Moving grants and government assistance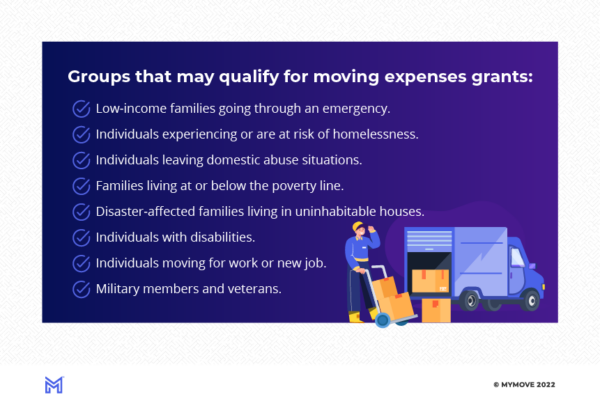 Federal Relocation Assistance Program
The Federal Emergency Management Administration (FEMA) administers funding through the Federal Relocation Assistance Program. If you're looking for help with moving costs because your home was affected by a natural disaster, this program offers resources for you. Beyond just moving assistance, this program could help you with home repairs or temporary housing.
Qualifications:
Your housing must be damaged in a natural disaster to the point where you cannot live there. Case-by-case home inspections determine which funding resources you're eligible for.
How to apply:
You can access the application at DisasterAssistance.gov. On the application, you must explain what natural disaster happened and the resulting damage. For immediate assistance, they recommend calling 911 in an emergency. The FEMA mobile app helps you locate temporary emergency shelters in cases of displacement from your home.
Relocation Assistance Program contact info:
Visit FEMA's Individual Disaster Assistance hub or call the FEMA Help Line at 1-800-621-3362.
211.org Programs
211 is a hotline phone number that connects you directly to the resources you need and qualify for. The United Way supports this program and focuses on helping you find organizations that help with moving costs or other low-income moving assistance programs.
Qualifications:
Anyone can call 211 or use their website toll-free and with confidentiality. However, your area's support services will have a range of qualifications, which your 211 hotline operator can help you evaluate.
How to apply:
Your 211 trained operator will help you get the contact information for local agencies or links to applications for resources, including those who help with one-time emergency grants and moving assistance in particular.
211.org contact info:
Call 211 or visit 211.org.
Community Development Block Grants Through Community Action Agencies
The Office of Community Services, part of the Administration for Children & Families, administers millions of dollars annually in Community Development Block Grants. If you need help with moving expenses, you may be eligible to have a portion of your first month's rent paid through a local Community Action Agency. Some CAAs have a variety of assistance available, so consider reaching out to one near you.
Qualifications:
The individual CAA organization has different priorities for the money they receive in CDBG grants, but if they have a way to help with moving expenses, you'll need to demonstrate that your family has a low income and that you cannot afford moving costs.
How to apply:
In many CAA organizations, you'll have an assessment appointment, where Supportive Services will evaluate what you're eligible to receive. You'd want to bring any documentation of your income, such as pay stubs, as well as anything else your contact at the CAA suggests.
Community Action Agency contact info:
Visit Find a CAP to find the agency closest to you; they may list an email or phone number as the best way to get in touch.
IRS Moving Expenses Deduction
While not a direct grant, one important resource when you're looking for moving assistance for low-income families is the IRS Moving Expenses Deduction. While the deduction is currently suspended until 2025 for non-military families, this can be an important benefit for military movers. Deducting these expenses from your income means you won't pay taxes on them, reducing your overall tax burden and saving you money.
Qualifications:
Anyone in the military who spends on their move (whether it's the costs associated with temporary lodging, professional movers, or storage facilities) may qualify for these deductions. After 2025, this deduction may be reinstated for other taxpayers (not just military) in the future.
How to apply:
Keep track of all moving expenses and save receipts whenever possible. Claim the allowed expenses on your federal tax return, and you don't have to file any special forms. Make sure to keep all of your receipts.
IRS contact info:
Form 3903 offers information on what expenses count as moving expenses so you can get the maximum deduction and savings.
VA Housing Assistance
The Veterans Administration, or VA, is well-known for offering loans with favorable terms to veterans who are buying homes, but VA housing assistance may also be able to connect you to local charities that help with moving expenses. They can help disabled veterans apply for housing grants, and they have a Veterans' Crisis Line that can help you know which available services will help your move go smoothly.
Employer compensation
If you're moving for a new job, you may consider asking for moving expense reimbursement as a part of your compensation negotiation. While this may not pay for every expense you incur by moving, even a small moving expense allowance can give you the upfront cash you need to get started in a new place.
*Please note that the ongoing coronavirus pandemic may impact hours and information for the groups listed above. Reach out to the organization or agency directly for the most up-to-date information.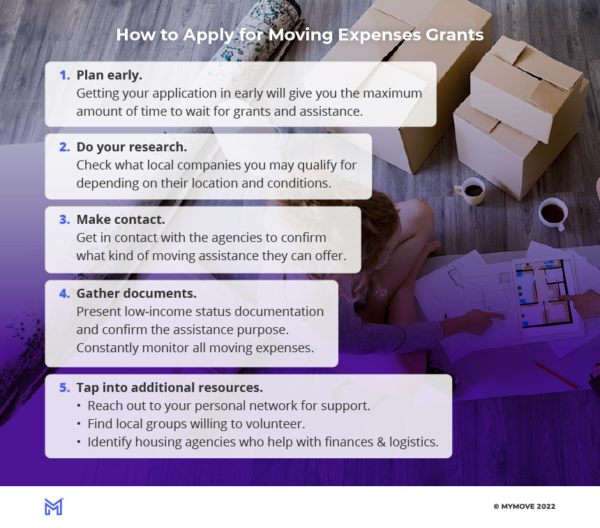 Charities that help with moving expenses
Salvation Army
The Salvation Army is a long-standing charitable organization that focuses much of its community outreach on alleviating poverty. With over 1.8 million members, the Salvation Army is able to assist approximately 30 million Americans every year. In addition to its community assistance programs, the Salvation Army also helps with moving costs.
Qualifications:
The Salvation Army offers a few moving-related programs. You'll need to show documented low-income status and confirm what the assistance is for (so make sure to save documentation of your security deposit or moving van rental confirmation).
How to apply:
Each local Salvation Army location has separate programs that they administer, so you can use the central Provide Shelter page to locate your nearest location. When you call them, ask what kind of moving assistance they can offer.
Salvation Army contact info:
SalvationArmyUSA.org or 1-800-SAL-ARMY
Catholic Charities
Catholic Charities USA is a religiously-affiliated organization working to eliminate poverty in the United States. When you're looking for charities to help with moving expenses, focus on the organization's stable housing programs. The goal of their programs is to eliminate homelessness, and part of that mission is to help with moving expenses when they're a barrier to stable, long-term housing.
Qualifications:
Catholic Charities uses multiple grant resources. So, if you're experiencing homelessness or are at risk of homelessness given your income, you're eligible. Those who are leaving domestic abuse situations can also be eligible.
How to apply:
Catholic Charities administers grants and other moving assistance locally, so you'll start by finding the nearest agency in your current community or near your future home.
Catholic Charities' contact info:
The headquarters phone number is 703-549-1390, but the main "Find Help" page on CatholicCharitiesUSA.org is the best way to reach them to access services.
The YWCA
Since the 1850s, the YWCA has worked to eliminate racism and empower women. In its modern form, many local YWCA locations offer assistance specifically geared toward women leaving domestic abuse situations, which can include financial help with moving costs.
Qualifications:
To apply for most funds, you must live near a YWCA location. Some of the moving assistance the organization can offer may be tied to leaving a situation of domestic abuse. However, various locations have specific partnerships with other community organizations, so they may be able to help in other contexts with low-income moving assistance programs.
How to apply:
Start by calling your local YWCA or exploring their website for a local application.
YWCA contact info:
Use YWCA.org to find a local YWCA chapter, or call their national hotline, 202-467-0801.
Modest Needs' Self-Sufficiency Grants
Modest Needs was founded in 2002 and focuses on making small, one-time grants of around $1,000. These grants can help you if you're living at or near the poverty line and need to get through a temporary crisis, which could include moving assistance.
Qualifications:
You'll need to show that you're living at or below the poverty line and that you've experienced either an extenuating circumstance or an extraordinary need (such as the need to move with very little warning).
How to apply:
Modest Needs recommends reading their FAQ section, signing up for an account, and then filling out their application.
Modest Needs contact info: ModestNeeds.org
The bottom line
Moving expenses are no small cost, and many people need the help of expensive professional movers to make their transition to a new home. If you qualify for financial assistance, getting your application in early will give you the maximum amount of time to wait for grants and assistance.
Frequently asked questions
Who helps with relocation assistance?
Your employer may help with relocation assistance regardless of your income level. For vulnerable populations, as well as low-income individuals and families, state, local, and federal grants may be available for specific elements of your relocation. Charitable organizations or housing agencies may help cover other elements of the move.
Where can I get help paying my security deposit?
Many cities have a Community Action Agency as a hub for assistance with major bills and security deposits. Your local Salvation Army and Catholic Charities are also major granting agencies for this sort of assistance.
Where can I get help paying my rent?
A variety of religious organizations, local housing agencies, and national charities offer rent assistance. A good place to start is your county or city United Way office since they often fund and work with a wide variety of agencies that have access to rent assistance.